Record Highlights in TF2 (Team Fortress 2) without Lagging
Team Fortress Classic was first released in 1999, and was able to release a second game in 2007. With its upcoming major update, players cannot wait to play and record Team Fortress 2 with its new taunts, maps, Steam Workshop Creator's content, and other items. This multiplayer shooter game creates a dynamic fight with rivals, and you might need to capture the highlights and share them with other players. In this case, this article will provide helpful tips for recording TF2 with memorable gameplay.
Part 1: What is Team Fortress 2 and How to Play
The game was first introduced in 2007 as a multiplayer first-person shooter game. Developed and published by Valve Corporation, Team Fortress 2 is the sequel to the Team Fortress mod in 1996. The game was part of The Orange Box for Xbox 360 and Windows, then was ported to PlayStation 3 in December 2007. Players can join one or two teams and choose one of the nine characters to play as. It also has game modes for different genres, like Capture the Flag and King of the Hill. You can download and play the action game on various operating systems like Windows, macOS, and Linux.
Part 2: How to Record Team Fortress 2 with AnyRec
For the best recording experience, AnyRec Screen Recorder is a must-have recorder for recording TF2 gameplay. The desktop software offers a user-friendly interface where you can access all the controls you need while playing and recording. The Preferences menu allows you to configure many settings, including the output, sound, and screenshot format. It ensures capturing the onscreen content without missing details from the gameplay, webinar, and presentations. Other features include: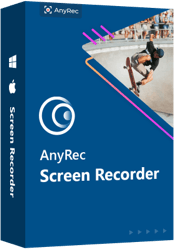 AnyRec Screen Recorder
Support 1080p and 4K UHD resolution for recorded video with H.264 and H.265 codecs.
Customizable screen display to capture the full screen, a chosen window, or a region.
Provide a sound check for the microphone and system sound when recording TF2.
Record the TF2 gameplay with less CPU usage while playing it to avoid frame drop.
Step 1.Download AnyRec Screen Recorder from the official website. After then, run the application and click the Game Recorder button to record Team Fortress 2 gameplay.
Step 2.From the Select the Game section, choose the window for the game. Click the OK button and then set up the microphone and system sound of your TF2 game.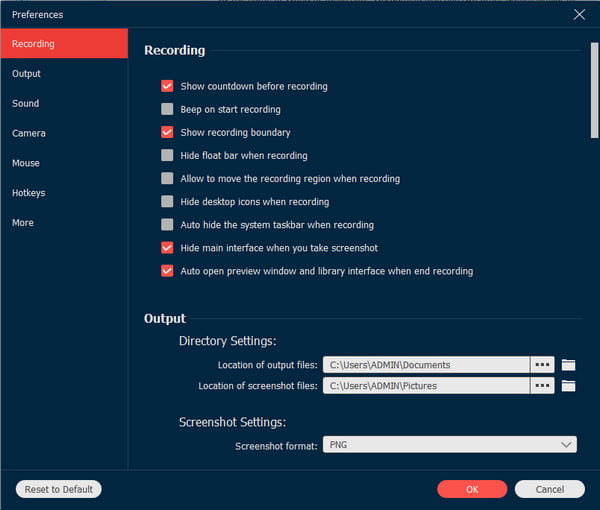 Step 3.Click the REC button to start recording. The widget menu will provide the controls to pause or stop. You can also find additional features like Recording Schedules and SnapShot.

Step 4.After recording, preview or trim the video on the next window. Click the Save button to continue. Input other information for the recorded clip, such as a title, cover, etc.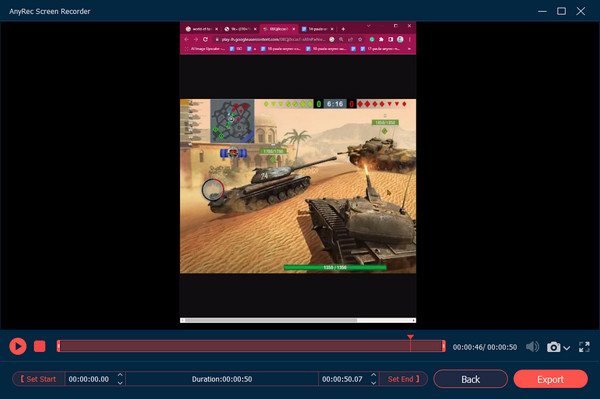 Part 3: How to Record Team Fortress 2 with Bandicam
A lightweight program like Bandicam creates a dynamic experience when playing games. With game booster features, Bandicam became popular among professionals and YouTube creators. Moreover, it allows recording content from DirectX, OpenGL, and Vulkan. Bandicam offers a free trial version where you can record the gameplay for up to 10 minutes.
Step 1.Run Bandicam on your device and select the Game Recording option from the main interface. Open Team Fortress 2 and configure the settings for better video quality.
Step 2.Press F12 on your keyboard to start recording. If you use the free trial version, the recorded video will have a Bandicam watermark, which you can remove when purchasing the premium app.
Part 4: Comparison of AnyRec and Bandicam When Recording TF2
The two recommended screen recorders are excellent to some degree. Still, you can maximize the recording experience when you choose the right one. Here is a simple AnyRec Screen Recorder and Bandicam review comparison chart as game recorders for Team Fortress 2.
| | | |
| --- | --- | --- |
| Category | AnyRec Screen Recorder | Bandicam |
| Supported Platforms | Windows, macOS | Windows |
| Social Media Direct Sharing | YouTube, Facebook, Flickr, Vimeo, Google, Instagram | YouTube |
| Addition Features | Built-in video editor to compress, convert, and trim recorded clips. | Separate software for video editing. |
| Designated folder | Default Recording History folder | Output folder on a computer system |
| Free Versions | Offer a 3-minute video without a watermark. | Offer 10 minutes with a watermark. |
Part 5: FAQs about Recording TF 2 Gameplay
1. Is it possible to capture a replay of TF 2?

Yes. The recording will be fine for replays, but you must first connect the game to a server to have the replays. Ensure that you join a server allowing the recorded clips to be downloaded, and you can easily find one by filtering the server list.

2. Can I play and record offline Team Fortress 2?

It has an offline mode allows you to play without connecting to an internet connection. However, the game will downgrade significantly because you cannot obtain items, there are no story modes, and you can play with bots. Still, it is a great alternative when you are bored. Use AnyRec Screen Recorder to record offline games in the best quality.

3. What are the requirements of TF 2 for Windows, macOS, and Linux?

It is recommended to use Windows 7 with 32 or 64-bit for Windows. The Processor must have a Pentium 4 processor, 1GB RAM for memory, and storage of 15GB available space. If you have Mac, it must be OS X version Leopard 10.5.8 and above. The processor can be better than 1.7 GHz with a memory of 1GB RAM.
Conclusion
Team Fortress 2 has been an excellent game for many years, and it will be more impactful because of the upcoming updates. Since then, you can record the TF2 game's highlights with Bandicam for good game recording, but you must purchase a premium membership to unlock more features. Meanwhile, AnyRec Screen Recorder has more potential to capture onscreen activities without any interruption. Visit the main website to download the software on Windows or macOS.
Related Articles: