Top 10 Review for the Best Game Boosters [Windows, Mac, Android, iOS]
When you play your favorite games, you want to enjoy them to the fullest. Using a game booster is an excellent way to have a better gaming experience whether you are using a smartphone, computer, or laptop. In many cases, a game's performance depends on the device's hardware, so enhancing gameplay using a game booster will help you optimize graphics, game control, and more. Find the best game booster for your gameplay by reading further.
1. Wise Game Booster
The first game booster is the Wise Game Booster which is worth optimizing your games on Windows. It helps you increase game stability by stopping the programs that are not needed for the gameplay. This game booster will suggest what actions are required for the game process after a quick scan of your device.
Features:
◆ Comprehensive features to improve gameplay.
◆ Increase game performance by 85%.
◆ Multilingual game optimization.
Pros

The size of the app is only 3.64MB.
It doesn't drain the device's battery.
Cons

Lacks on setting the resource thresholds.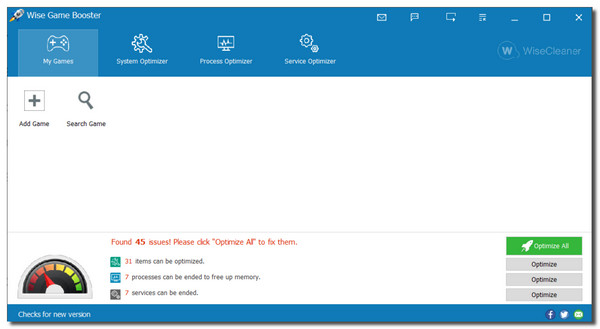 2. WTFast
This game booster is for you if you want to reduce high ping whenever you play your favorite game. When you turn on WTFast, it will show you how it improves your internet connection. This is the reason why this game booster stands apart from other tools because it focuses on improving the internet speed for smooth gameplay.
Features:
◆ Easy to navigate and use.
◆ It has Custom Game Support.
◆ Optimize game connection through GPN.
Pros

Save the last game's setting.
Only little battery drainage.
Cons

The price is high - $99.90.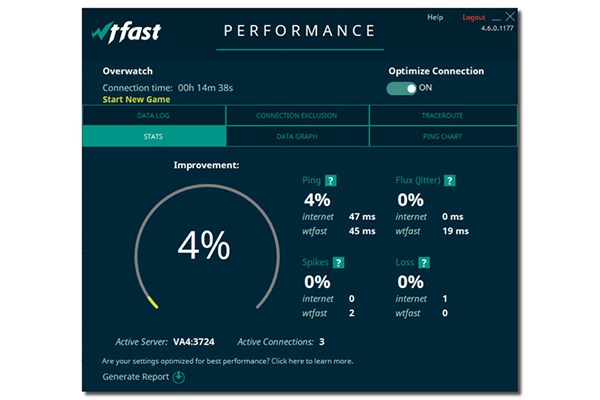 3. Advanced System Optimizer
Advanced System Optimizer is an excellent multi-purpose game booster that keeps your device in good shape. To make it happen, this game booster cleans the unnecessary temp files and residues to make your gaming performance smooth and increase by 95%. Moreover, the Game Optimizer module allows you to switch between games and tasks without degrading gameplay.
Features:
◆ Wide range of modules to modify game performance.
◆ One-click and thorough junk cleaning.
◆ Game Optimizer runs the game in sandbox mode.
Pros

Registry Cleaner, Driver Updater.
Only occupy small storage space.
Cons

Outdated system and security advisor.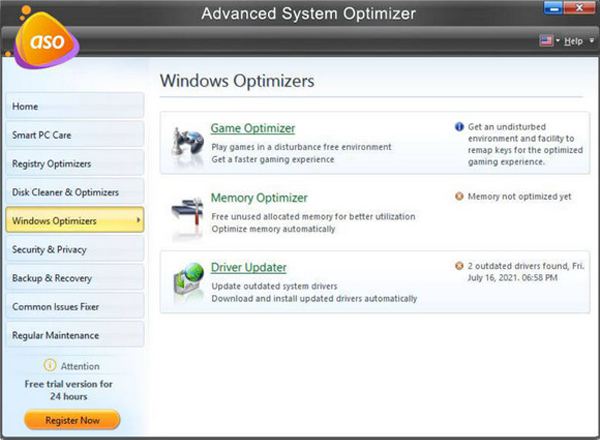 4. MSI Afterburner
This game booster is another fantastic solution to boost your game performance. MSI Afterburner has the essential features to provide you with the best experience in your game performance. This game booster gives you complete control of customizing benchmark video records, monitor, and fan speeds. What's more, it indicates information about usage, clock speed, temperature, and more.
Features:
◆ The gold standard for performance boosting.
◆ Work well with the majority of GPUs.
◆ Allow modifying full potential of installed graphic card.
Pros

Offer overclocking functions.
Provide complete control over frequency and GPU voltage.
Cons

Harsh pushing of GPU will lead to crack graphic visuals.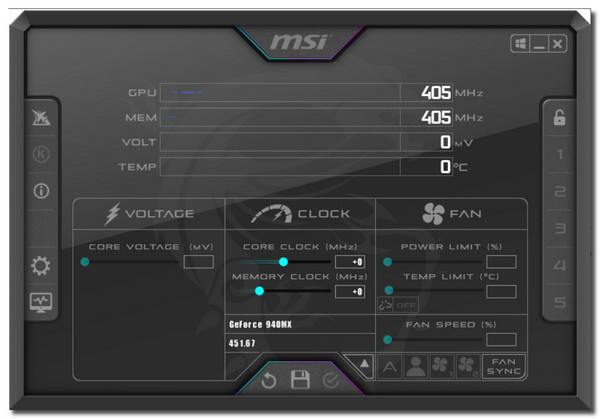 5. EZ Game Booster
EZ Game Booster manages your device's resources with its new updates and strengthened features for all modules. This intelligent game booster removes persistent issues, clears the clutter, and speeds up your internet connection, allowing your computer to maintain its peak performance. This game booster is good to use if you want to record your gameplay and broadcast it on social networks.
Features:
◆ Guaranteed secured optimal experience and PC health.
◆ Optimizing, managing, and repairing systems.
◆ Modify internet speed three times faster.
Pros

It doesn't interfere with background music and the player's voice
Monitor your RAM, CPU, and hard drive performance.
Cons

The interface is not user-friendly.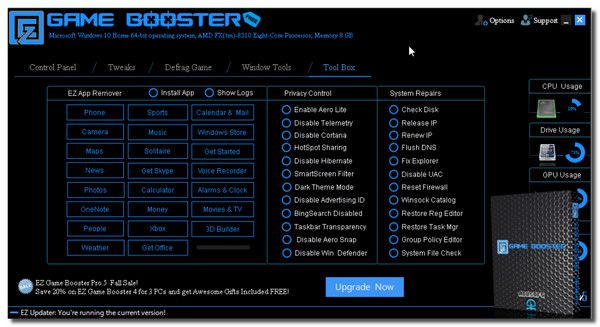 Part 2: Top 5 Popular Game Booster Apps for Android/iPhone
Nowadays, you can get much on playing high-end games on smartphones. However, smartphones game performances are prone to be a disaster without a game booster. Read further to know the top pick for game booster apks for Android and iOS.
1. Dr. Booster
Dr. Booster is an essential game booster to improve your game performance on a mobile device. It has a function that real-time boosts up your internet connection and performance to a certain degree. Moreover, it neatly categorizes your installed games to access play when required quickly.
Features:
◆ Enable users to move the game booster to an SD card.
◆ A floating button for a one-click game boosts easy access.
◆ Automatic antivirus scans to installed apps.
Pros

Intelligently free up memory space.
Lightweight app.
Cons

Customer support is not reliable.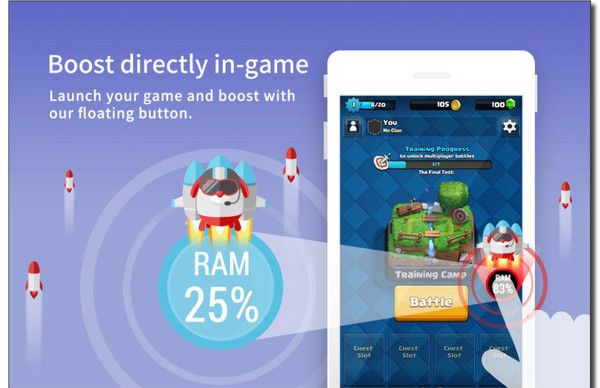 2. Game Booster & Launcher: Infolife LLC
A simple game booster apk yet a powerful tool to boost all your installed games. It can free up the phone's memory to reduce the lag you might encounter when playing on your phone. Just launch the game booster on your device, and it will automatically enhance the game performance.
Features:
◆ Boost all installed apps in one click.
◆ Smooth game performance.
◆ Work well for all game types.
Pros

Turn off not required apps.
Doesn't consume too many device resources.
Cons

No frequent updates from developers.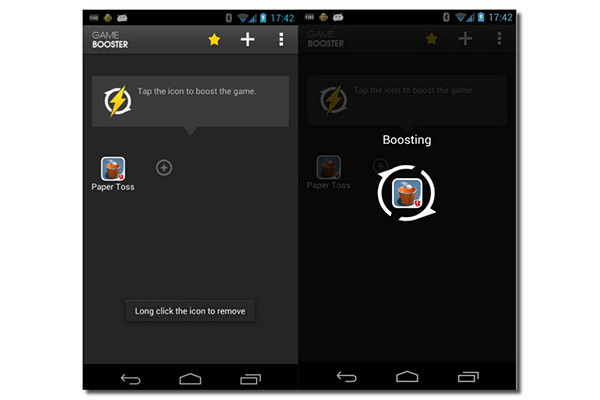 3. All-In-One Toolbox: Cleaner, More Storage and Speed
All-In-One Toolbox has pre-loaded with a package of 30+ valuable features to boost your game performance and optimize your smartphone. With this game booster apk, you can get Battery Optimizer, Speed Booster, App Manager, and so many more. It also allows you to take complete control over the launched apps.
Features:
◆ The CPU cooler helps long-hour gameplay easier.
◆ Plugin for optimum speed during gameplay.
◆ Clears junk in one click.
Pros

It releases an appropriate amount of RAM.
Device hardware information in one place.
Cons

Too many ads spoil the overall experience.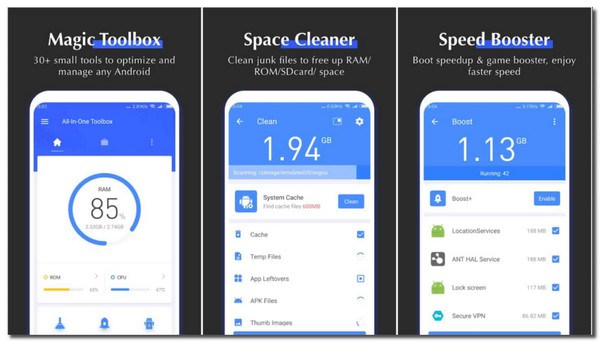 4. Droid Optimizer
This powerful game booster features excellent functions that you will not find in other game booster apps. Its Ranking System module tells the overall rank based on managing and using your device. By doing this, you can delete the unnecessary files on your device to keep the higher maintenance status with Droid Optimizer.
Features:
◆ Improve rank by freeing up caches.
◆ Helpful against data chaos.
◆ Conserve battery power.
Pros

No advertisement.
Rid of internet traces.
Cons

The dashboard may be too advanced for some users.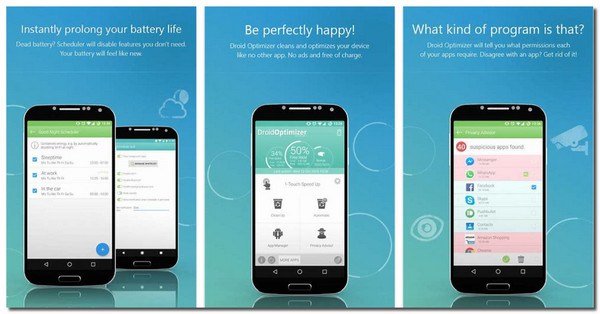 5. Smart Phone Cleaner
Another one–tap game booster you can find in the market is the Smart Phone Cleaner. It is a multi-function app that helps you enhance your device by cleaning up junks, removing app cache, optimizing battery life, and more. You can also set this game booster as your storage manager to clean your storage space in unnecessary files.
Features:
◆ Updated scan engine for an accurate and fast scan.
◆ Eliminate game lag and unresponsive controls.
◆ Improve battery consumption by turning off unneeded functions.
Pros

Improve private browser function.
Offer more essential features for game boosting.
Cons

Some features can only be accessed by unlocking paid version.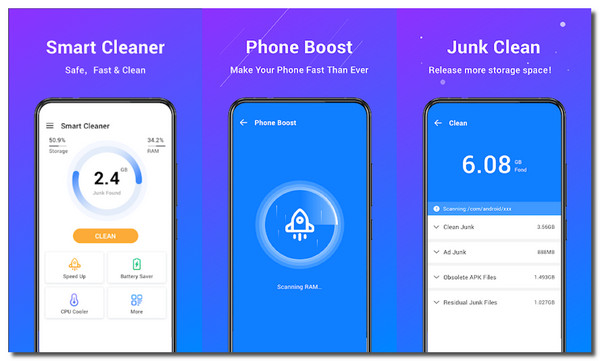 Bonus Tips: How to Record Gameplay with High FPS and Quality
With the best game booster you use for playing games, now you need a powerful screen recorder to capture your gameplay with high frame rate and quality. AnyRec Screen Recorder is for you. With the customized settings, you can use it to record your gameplay smoothly without lags for a more effortless recording experience.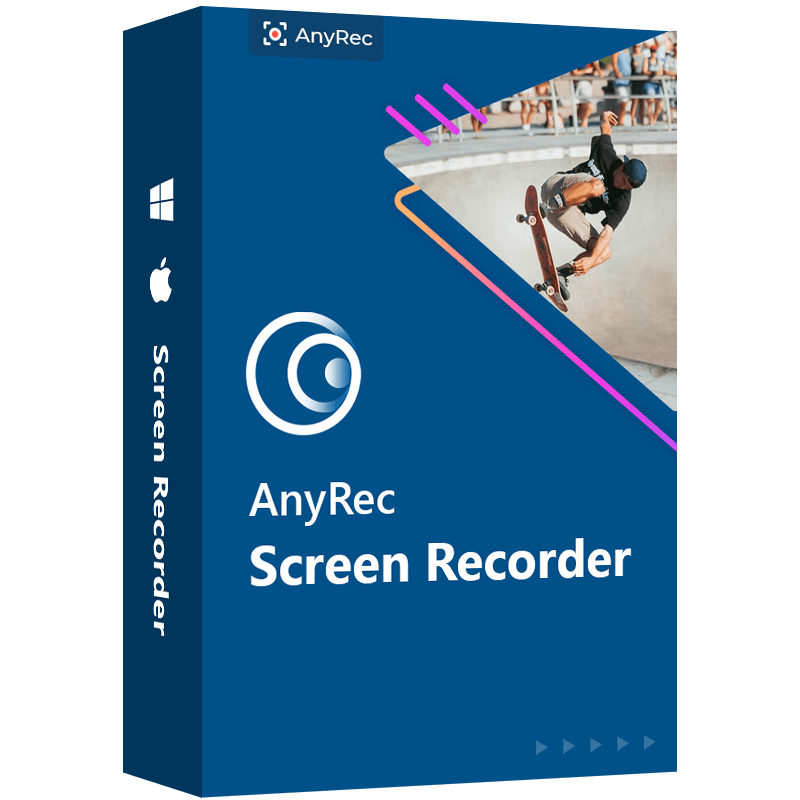 AnyRec Screen Recorder
Record gameplay in any custom screen size and annotations.
Guarantee no time limit, no lag, and no watermark.
Able to capture gameplay with webcam and microphone mode.
Provide high resolution, quality, and frame rate to keep smooth.
Part 3: FAQs about Game Boosters on Any Device
1. How do game boosters work?

A game booster's core idea is to turn off the background operations and tasks not required for the gameplay. It also removes the filing junk and caches that may cause a slower speed.

2. Is a game booster safe for my phone?

Certainly, yes. To ensure that a game booster is safe to use, you can read the reviews from other users and also the statement from the developers for a secure environment. The users of a game booster are what make the app more trusted.

3. Is there another way to boost my game performance?

Definitely! As mentioned, the best game performance is based on the device you are using. So, you need to take care of your smartphone or PC by changing the screen refresh rate, overlocking the phone CPU, removing unnecessary apps, and more.
Conclusion
With a game booster, you can enjoy playing gameplay with outstanding performance. You don't need to hold back anymore when you have the best tool to boost speed, manage applications, and optimize battery life. And with the help of AnyRec Screen Recorder, you don't need to worry about losing quality and fluency when recording high-quality gameplay.
More Related Articles