8 Ways to Convert HEIC to PNG on Windows/Mac/Android/iPhone
Since the release of Apple 11, the captured photos on the device will be saved as HEIC. The format imposes lesser space and better image quality compared to JPEG. But many people still want to convert HEIC to PNG because it is still not the standard. And despite Apple's support for the new format, other platforms and operating systems can only support other image formats. In case you don't want to lose the photo quality, it is best to convert HEIC to PNG, and this post has the best recommendations.
5 Ways to Convert HEIC to PNG Online/Windows/Mac
Downloading a converting program can be risky for the device and consume too much space. On the other hand, online converters are as effective for HEIC conversion. See the table for the recommended tools.
| | | | |
| --- | --- | --- | --- |
| Tools | Batch Conversion | File Size Limit | Price |
| AnyRec Free HEIC Converter | Supported | 5MB | Free |
| CloudConvert | Supported | Unlimited | Free |
| heic2png | Supported | 5MB | Free |
| FreeConvert | Supported | 1GB | Free, Premium |
| Convertio | Supported | 100MB | Free, Premium |
1. AnyRec Free HEIC Converter Online
AnyRec Free HEIC Converter Online is 100% free to access on any browser. AnyRec supports HEIC conversion by batches, so you can easily upload files while it processes each photo. When it comes to the menu, it is clean from advertisements, which helps to focus its algorithm on producing high-quality photos at a great pace. Meanwhile, this converter protects the EXIF data, which includes the date, GPS location, dimension, and other details. Try AnyRec Free HEIC Converter Online now!
Features
◆ Free online converter without installing a launcher.
◆ Convert HEIC to a standard format without losing data.
◆ Fast-process speed even while uploading more files.
◆ No requirements for creating an account or paying.
Step 1.Visit the online HEIC Converter. Click the "Add HEIC/HEIF Files" button to upload your HEIC images.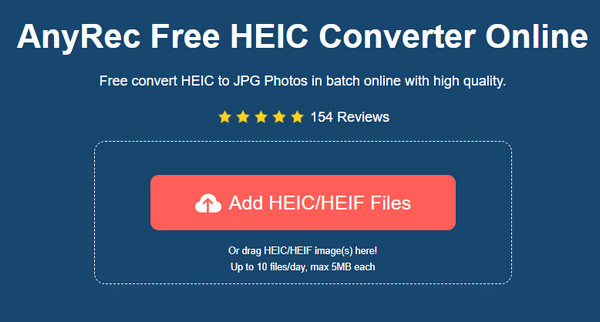 Step 2.Click the "Download" button to export the converted pictures.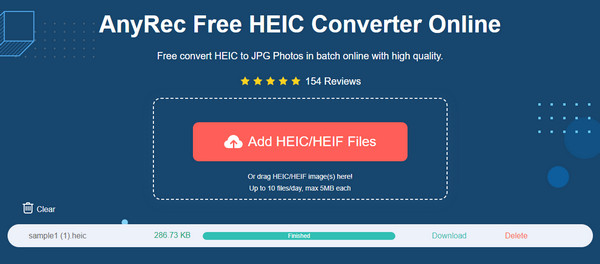 2. CloudConvert
For CloudConvert, changing the file extension is only a simple task. CloudConvert is a safe tool that provides a simple conversion interface yet is filled with options to edit the width, fit, quality, height, and strip. It also allows batch conversion for multiple types of images, which you can edit individually. The best part of this HEIC to PNG converter is its wide range of supported formats, so converting to any output format will be effortless.
◆ Convert for free without registration.
◆ No file size limit.
◆ Fast-speed conversion.
◆ Real-time preview before downloading.
Step 1.From the main interface, set the input and output formats inside the two boxes at the upper right.
Step 2.Click the "Select File" button to import an image from your folder. You can also choose to edit the advanced options or settings.
Step 3.Once done, click the "Convert" button to start the process. Download the PNG image and repeat the converting procedure.
3. heic2png
A great alternative to online conversion. This tool is free to access with a clean interface with effective features to convert. Other than this, users can also change the language setting other than English, such as Indonesian, Spanish, Portuguese, and so on. Remember that the website is only for HEIC to PNG, and other formats are unsupported.
◆ Reliable conversion speed.
◆ Support batch conversion.
◆ Formats are interchangeable.
◆ Simple overlay for easy navigation.
Step 1.Click the "Upload Files" button or drop the image from your folder to upload.
Step 2.After converting, click the "Download" button to export the PNG photos.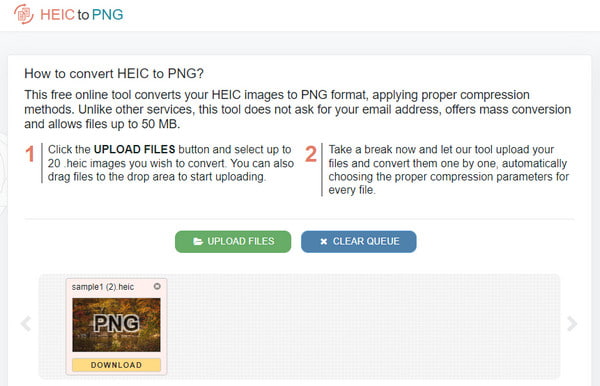 4. FreeConvert
Do you need a converter with configurable image settings? Check out FreeConvert with its intuitive interface and generous advanced settings. The tool allows you to upload from different sources like Google Drive, Dropbox, and URLs. Unlike other HEIC to PNG converters, FreeConvert supports 1GB of upload, but it can make unlimited when you purchase one of its plans.
◆ Fast upload and convert process.
◆ Determine compression level.
◆ Support batch conversion.
◆ No interrupting advertisements.
Step 1.Go to the official website and choose the source or platform to upload the file.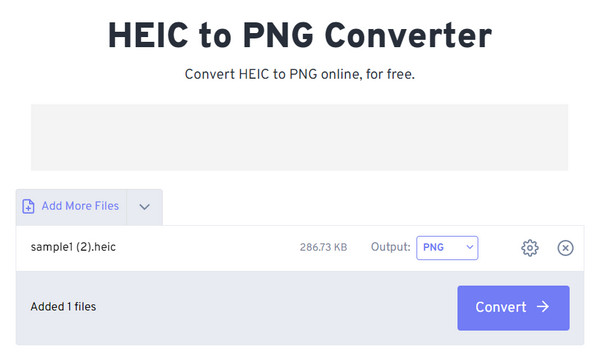 Step 2.The settings will be on the Cog icon, where you can edit the compression level, quality, and other information. Click the "Convert" button to convert to PNG.
5. Convertio
Convertio is one of the most popular tools you can find online. It gains popularity because of simple conversion and high security regarding user privacy. Although you can only upload a file within 100MB, Convertio offers more functions when you sign up or create an account. With this, HEIC conversion is a simple task.
◆ Support a wide range of image types.
◆ Upload files from the local folder, Dropbox, etc.
◆ Offer other converters for documents, videos, and more.
◆ Affordable pricing plans.
Step 1.Click the "Choose File" button to import the image on the website.
Step 2.Select the output format. Click the "Convert" button to process and download.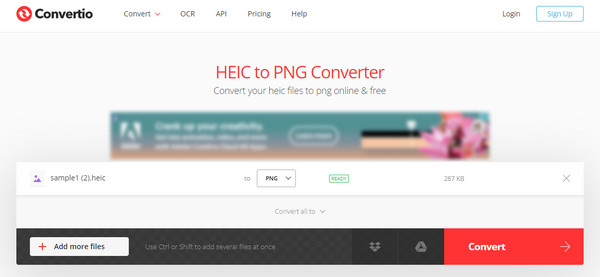 3 Ways to Convert HEIC to PNG on Android/iPhone
Since iOS mostly produces HEIC images, you can convert your pictures directly on your phone. You can find conversion apps here for Android and iPhone.
| | | | |
| --- | --- | --- | --- |
| Apps | Supported OS | Output Formats | Price |
| Heic to JPG/PNG/WEBP Converter | Android | JPEG, PNG, WEBP | Free, In-app purchases |
| HEIC to JPG Converter | Android, iOS | JPEG, PNG | Free |
| The Image Converter | iOS | JPEG, SVG, GIF, PSD, etc. | Free, In-app purchases |
1. HEIC to JPG/PNG/WEBP Converter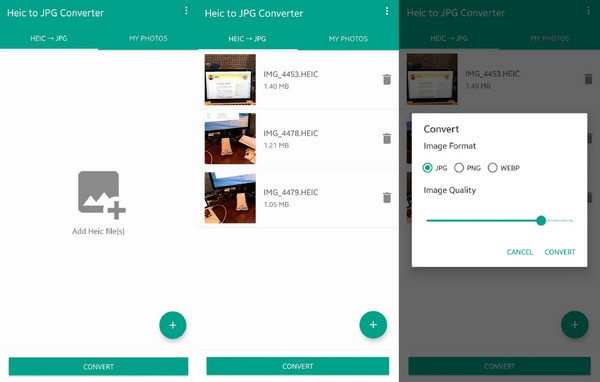 It is an easy-to-use app that allows you to convert pictures to popular formats like HEIC, JPG, PNG, and so on. It is a good option for Android users since it covers all formats that they will need. The drawback is the often updates, causing random crashes when using the app.
Allow batch conversion.
Fast processing speed.
Available on any Android version.
Lightweight.
2. HEIC to JPG Converter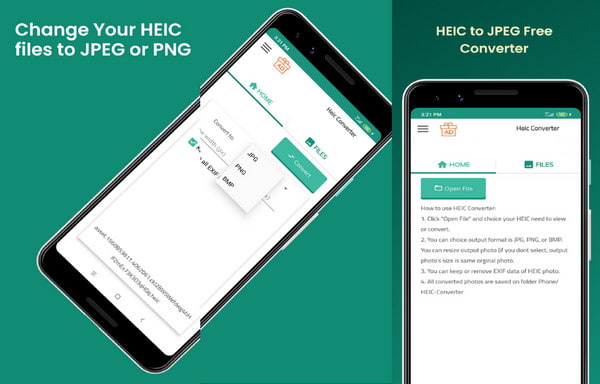 The app also converts HEIC to PNG with options to remove or keep the EXIF metadata. It is one of the unique converters to use on Android and iOS because it keeps the original quality while no payment is involved.
Frequent updates.
Preserve resolution and quality.
Support HEIC, PNG, JPG, and BMP.
No required email or account.
3. The Image Converter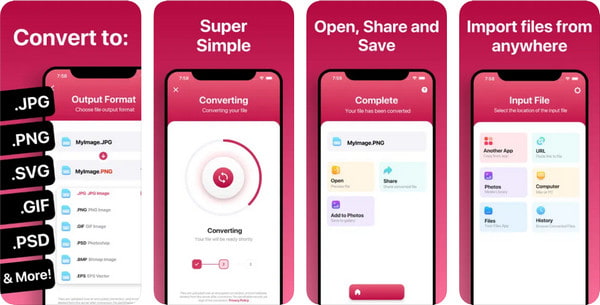 It is an iOS app that quickly changes the file extensions of your pictures. Besides standard formats, the Image Converter supports GIF, EPS, EXR, ICO, WBMP, TIFF, and many more. The conversion only takes less than fifteen seconds, so you can immediately AirDrop photos to other devices.
Automatically manage files.
Connect the main device to other gadgets.
Secure cloud server.
Local conversions do not require a server.
FAQs about HEIC to PNG
1. How to set camera photos to JPEG?

Instead of converting HEIC to PNG, you can edit the default settings to JPEG. To do this, you only need to go to the Camera settings. Open the Format menu and choose the Most Compatible option, which is JPEG. Remember that this option will also affect video, exporting it in H.264 format.

2. Why do I need to convert HEIC to PNG?

HEIC is a great format for storing high-quality files with smaller file sizes. However, its disadvantages rely on the lesser support from applications, programs, and operating systems. These are enough reasons to convert your HEIC to standard formats like PNG.

3. Is it safe to use PNG as the output format?

Yes. In actuality, the format is used for transparent images. However, it is also suitable for HEIC conversion. PNG has lossless compression while it can display high-quality images on your phone.

4. How to convert HEIC to PNG with native tools on Mac?

The Preview app offers a built-in converter for your images. All you need to do is to open the image on the app. Go to the File menu and select "Export." From the dialog box, change the file extension to PNG, then save the image.

5. Can I convert HEIC to PNG on iPad?

Yes. Most online tools and apps on this post are accessible on iPad. You can convert HEIC photos with Convertio, FreeConvert, AnyRec Free HEIC Converter Online, The Image Converter, and so on.
Conclusion
HEIC has the potential to become the next standard format for pictures. But for now, you can convert HEIC to PNG to open photos for an effortless sending process to another device. Meanwhile, converting HEIC to JPEG with AnyRec Free HEIC Converter Online is also suggested to preserve the original quality of your favorite photos.
Related Articles: