10 Popular MP3 Compressors to Reduce File Size (Software and Online)
If you love music, it is common to have a lot of songs stored on your device. However, even if your songs are in MP3 format, it will take huge storage space, and this could be a problem for you as you can't save other files on your device. Thus, you need to use an MP3 compressor. This kind of tool will help you compress all of your MP3 files, which is a suitable method to save up some space. In this article, you are about to know the ten best MP3 compressors and which works well on your device. Let's get started.
Part 1: The Best Way to Reduce MP3 Files with High Quality
The only thing you need is a professional tool to minimize file size. AnyRec Video Converter is an all-in-one MP3 Compressor with conversion as its primary function. It is not difficult to achieve smaller file sizes when you use the program to convert multiple files in one go. Moreover, it guarantees to keep the original audio quality even when you upload it to social media networks.
Pros
Compress MP3 audio files to smaller sizes with high quality.
Offer editing tools to modify audio such as volume booster, delay, and more.
Support other audio formats to convert, such as WAV, AAC, AIFF, FLAC, etc.
50x faster speed of applying changes in MP3 files in just one go.
Cons
Provide no certain file size to choose.
How to reduce MP3 files with AnyRec Video Converter:
Step 1.Download the MP3 Compressor on your device and launch it. Click the + icon in the middle part of the pane to select the MP3 file you want to convert. You can add another file by clicking the Add Files button on the top left part of the pane.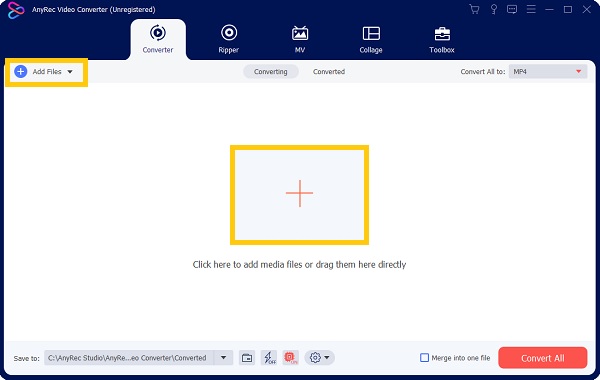 Step 2.Once you upload the files, click the Convert All To option in the top right part. In the audio part, select the MP3 format. There are options for your MP3 files: Same as source, High Quality, Medium Quality, and Low Quality.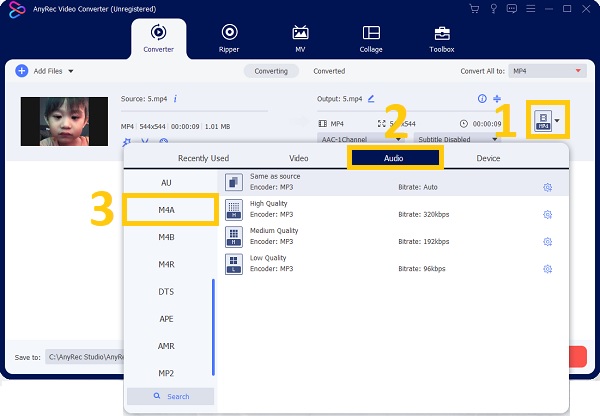 Step 3.You can also customize one of these quality options by clicking the Custom Profile (Gear) icon. You can lower the audio sample rate, channel, and bitrate to compress your MP3 files. Click the Create New button to save it as one of the quality options.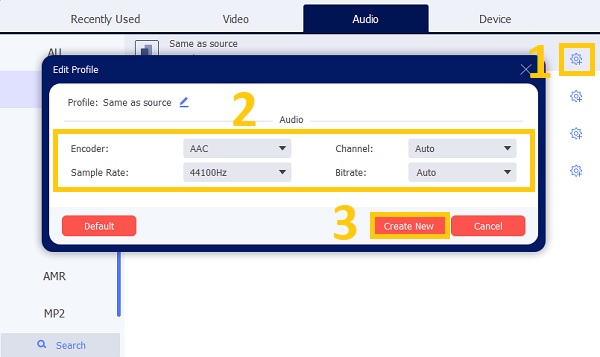 Step 4.Once you are satisfied with the editing, browse the Save To option on the lower left to choose the designated folder. Click the Convert All button to start the conversion process. The folder you chose as the selected folder will automatically appear with the newly converted MP3 files once it is done processing.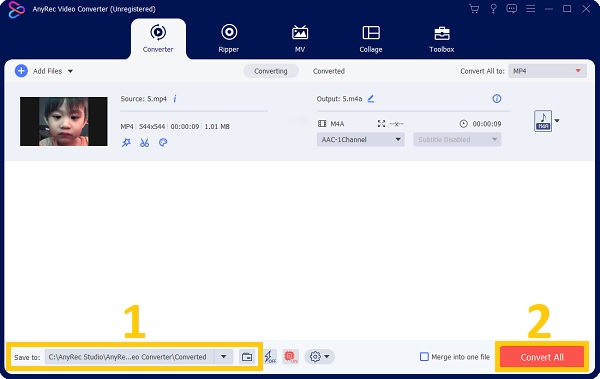 Part 2: Other 4 Best MP3 Compressor Software on Windows/Mac
1. Audacity
Audacity is a well-known application to modify audio files professionally. If you are a DJ or take music as your profession, you can't go wrong with this tool if you use it as your MP3 compressor. You can have compressed MP3 files with high-quality audio with its powerful features.
Pros

Compress both recorded or existing MP3 files.
Offer up to 320kbps to optimize MP3 files.
Cons

Too complex to navigate.
Sometimes lags or breaks when launching the software.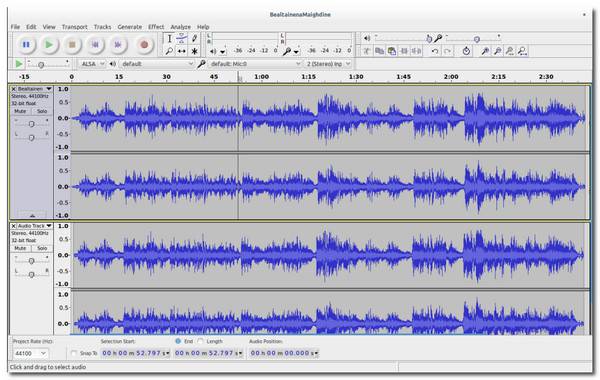 2. Freemake Audio Converter
This software is free to download and use as an MP3 compressor. Unlike Audacity, Freemake Audio Converter is easy to use and beginner-friendly. It offers ready-to-use settings, so you don't have to set up things to compress MP3 files. It compresses MP3 files with 6x less file size than the original size.
Pros

Fast MP3 compressor.
Support audio formats like FLAC, WMA, WAV, etc.
Cons

It doesn't offer editing tools.
Loses original medata.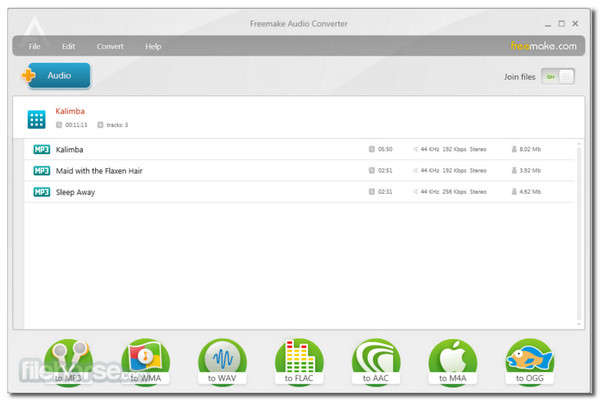 3. VIP Video Converter
This MP3 compressor is a paid software that allows multiple compressions. It can produce good quality results, and what's more, it reduces an MP3 file by 60% file size, and it also support compressing MP4 video files. VIP Video Converter also keeps the file metadata for every compression. Just keep in mind that it can't compress other audio formats such as WAV.
Pros

Offer easy-to-use options.
Fast compression process.
Cons

Offer too basic features.
You need to buy the Pro version to compress other audio formats.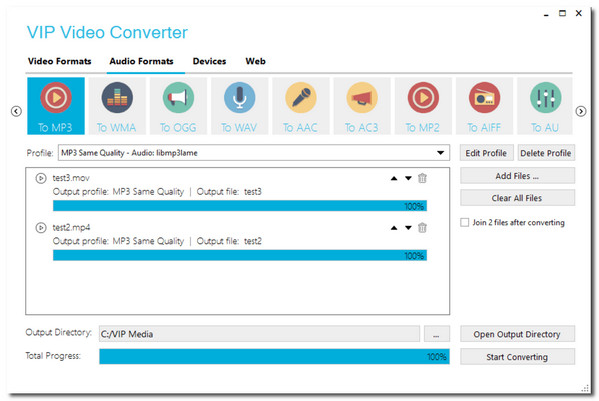 4. Monkey's Audio
Monkey's Audio is another fast MP3 compressor that works well with Windows later versions. It is entirely free and easy to use. With its straightforward interface, you can't get lost in compressing 5 MP3 files in one go. Aside from that, this tool offers complete control with the options to have a better experience in compressing.
Pros

Efficient and highly optimized compression.
Compress with high quality.
Cons

Not available for Mac users.
Use too much CPU when compressing.
Part 3: Top 5 Online MP3 Compressors to Shrink MP3 Files Easily
1. Online Converter
With Online Converter, compressing MP3 files is quick and easy. It promises high audio quality for your MP3 files, while it also offers quality options for you to choose from. However, the MP3 compressor will still reduce your files as much as possible. If its' not to your liking, you can use the first method.
Pros

Simple interface.
Fast compression process.
Cons

Encrypted and protected files are not supported.
Sometimes buffers.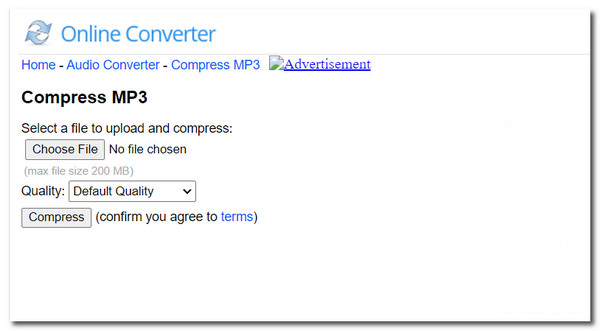 2. YouCompress
An online tool like YouCompress is a fantastic MP3 compressor to use. It can automatically compress audio files in just a few clicks. Just upload the MP3 file, and the online compressor will do the rest.
Pros

Encrypt the MP3 files to secure the data.
Allow multiple compression in a day.
Cons

No compression ratio options.
No decrypt of protected files.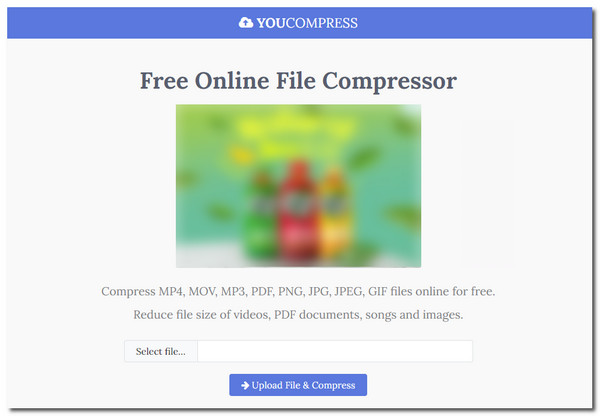 3. MP3Smaller
This free online MP3 compressor has a simple interface when you go to its website. It shows the exact bitrate you can get before compressing your files. Moreover, it works well with any operating system such as Windows, Mac, and Linux.
Pros

Beginner-friendly.
Fast MP3 compression.
Cons

Unable to compress large files.
It only supports MP3 format.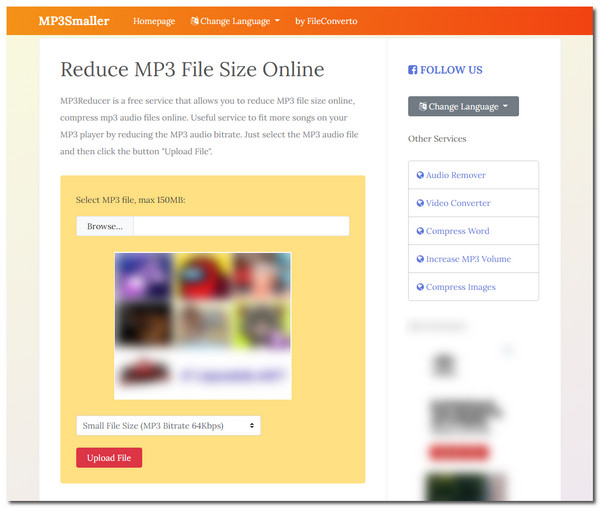 4. Online Audio Converter
Configure your MP3 files before compressing them with this advanced MP3 compressor. It supports batch conversion with file formats such as MP3, OGG, WAV, and many more. If you want to extract audio from a video file and turn it into an MP3 file, you can do it with Online Audio Converter.
Pros

Intuitive and straightforward interface.
Save batch conversion in a ZIP archive.
Cons

Pop-up advertisements.
Cannot process protected MP3 files.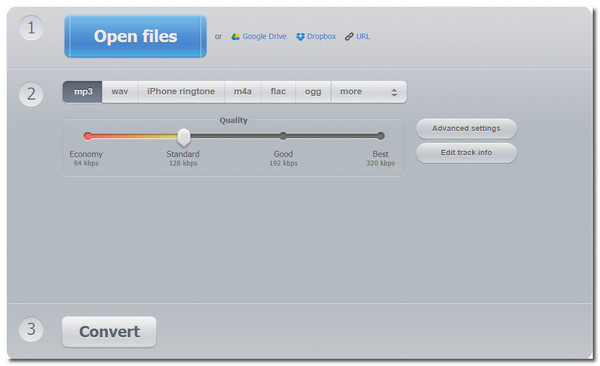 5. Blaze Media Pro
Another free MP3 compressor online is Blaze Media Pro which has a '90s interface style. However old it may look, this online tool has the capability to compress MP3 files up to 60% smaller size than the original. It also enables you to choose the audio's channel, frequency, and more.
Pros

Offer other audio tools for audio.
Free to use every feature.
Cons

The interface is outdated.
No ready-to-use options.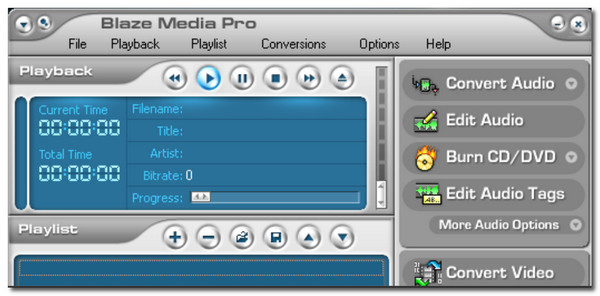 Part 4: FAQs about MP3 Compressors
1. How to compress MP3 using VLC?

Open VLC on your device and go to the Media menu. Choose the Convert/Save option, then proceed to select an MP3 file. Locate the Profile option on the next window to choose the audio codec. For a smaller MP3 file size, go with a frequency under 44100Hz. Click the Start button to begin compression.

2. What is the best MP3 compressor for Android?

There are tons of audio compressors in Google Play Store, but you can use Audio: MP3 Compressor to help you compress files on your Android device. It is a newly developed app with a few reviews on Play Store.

3. How does compressing MP3 work?

Compressing MP3 files works by changing the audio bitrate, sample rate, channels, and other audio settings. With the right tweak of the settings, you can achieve a smaller MP3 file size without losing the audio quality. It is better to know your MP3 info to get the best result you want.
Conclusion
With this article, you have learned the essential MP3 compressors you can use on any device. Although some tools are only compatible with a particular operating system, there are still other MP3 compressors you can try. AnyRec Video Converter has the proper function for you to fully customize the MP3 files to minimize their file size. Download and try it now!
More Related Articles