What is HEIF Image and How to Convert It to Other Image Formats to Open
Pictures are saved from JPEG as the default image format, which is used by most devices to store images. But in 2017, Apple launched a conference to introduce HEIF images as photo capture and storage across its products. HEIF image is now gaining people's trust regarding saving pictures. But what is a HEIF image and how to open it without Apple products? This post will give you the perfect answers.
Part 1: What is HEIF Image?
Although we know that Apple company likes to have its own media formats, HEIF was developed by the Moving Picture Experts Group (MPEG). Instead of a format, the HEIF image is a container that is flexible enough to store multiple photos, audio, metadata, thumbnails, and depth information. It claims a two-to-one increased compression over JPEG with the same quality levels.
It often has the .heic file extension and has the specification of High Efficiency Video Codec or HEVC. Interestingly, Apple uses still images compressed with H.265 codec in HEVC. So, there is an encoded storage system for intra-images and HEVC-encoded video image sequences with inter-prediction applied.
As it uses a modern compression scheme, HEIF is an improvement over JPEG. It allows an image file to keep and store the same data as JPEG, but it is smaller in file size. So, even if you use a high-quality camera to capture photos with increased details, HEIF can store the data without a problem. Moreover, it supports faster file transfer to online services and can save storage space because of smaller file sizes. A great example is uploading HEIF photos to the iCloud Photo Library at a faster speed.
HEIF images are set to be encoded and decoded faster than JPEGs, without unnecessarily overloading the processing system or exhausting the battery. Another excellent feature of HEIF is you can edit photos with amazing details. It supports up to 16 bits of color depths, captures extended dynamic range, and records more highlights and shadows for incredible details. In contrast with JPEG, the HEIF image is set to solve the issue of banding in photos from compression.
Part 2: How to Open HEIF Image?
Since its launch in 2017, HEIF image has been supported by macOS High Sierra, iOS 11, and later versions. You can open the file with Apple Preview, Apple Live Photos, and iOS Photos. Aside from the Apple products, you can also open HEIF images in Windows 10 with the 1803 version and later. However, you must install HEVC Video Extensions from the Microsoft Store. If you want to open HEIF with Windows Explorer and Windows Photo Viewer, you can install the CopyTrans HEIC to open HEIF images as JPEGs.
That said, it seems that common portable devices do not directly support HEIF, even with the extensions or tools to open an image. The tools mentioned here also can't open a HEIF image in its container, but they need to convert the photos to JPEG. You can be thankful to iPhone and iPad because you can transfer HEIF images via email, and they will automatically convert the files to JPEG for device compatibility.
Part 3: Convert HEIF Image
Learning more about HEIF images gives you the idea that it is still not acceptable to most devices like Windows and Android. Even if there are tools to open HEIF images, some data may be lost in the process. So, the best way to do this is to use a converter like AnyRec Free HEIC Converter Online. It is a free online converter dedicated to converting HEIF to JPEG without losing too much quality. You don't have to sign up or install a launcher to operate the site, and you can convert files instantly!
Features:
◆ Quickly convert HEIF or HEIC to JPEG images without losing the original quality.
◆ Support batch conversions up to 10 pictures a day with 50x processing speed.
◆ Allow users to import photos with a maximum 5MB file size to convert to JPEG format.
◆ Help to open HEIF files in Android or Windows OS in the best image quality.
How to convert HEIF to JPEG with AnyRec Free HEIC Converter Online:
Step 1.Visit AnyRec Free HEIC Converter Online to convert HEIF to JPEG. Click the Add HEIC/HEIF Files button to upload the file from your folder. Click the Upload Photo button to add another file to create a batch conversion.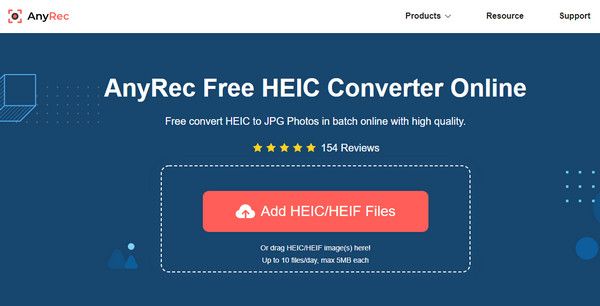 Step 2.Once the pictures are successfully uploaded, the online tool will automatically start the converting process. Once the word Converting appears, it means that the conversion will be done in a second.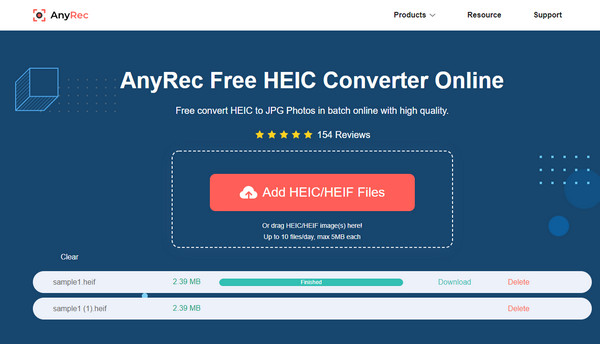 Step 3.Finally, the photos will be ready to save to your device once you see the Finished word. Click the Download button to save them to your device. You can now open the files without the need for third-party software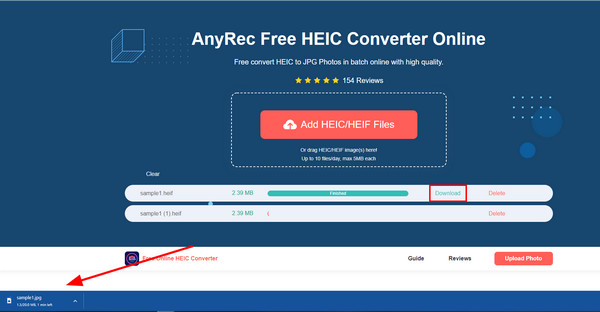 Part 4: FAQs about HEIF Image
Can I upload HEIF images to the web?

As of now, no webpage nor browser supports HEIF or HEIC as a native format. The only place you can open or transfer HEIF files is through iOS 11 or macOS High Sierra. To successfully upload the files, you need to convert them into JPEGs. It will make the transferring procedure to be smooth with no abruptions. The recommended converter to use is AnyRec Free HEIC Converter Online, as it supports batch conversion and a faster-converting process.

How to convert HEIF with the Photos app?

Using the Photos app, you can convert HEIF to JPEG on Mac or iPhone. First, you need to transfer HEIC images to your Photos library. Simply drag and drop photos, and the app automatically converts them to JPEGs. It gives you control over color, quality, profile, picture enhancements, and more. However, converting pictures with the Photos app is a slower process and might take some time to finish.

How to change pictures to HEIF format on the settings?

The only iPhone you can change image format is iPhone 11 to later versions. Go to Settings and tap Camera menu. Under the Formats option, tap Most Compatible and choose the HEIF or HEVC format. These changes will give you the best photo and video quality when using the built-in camera.
Conclusion
The HEIF image format can store huge data but is half the JPEG file size. However, it is still unsupported by many devices and programs, making it impossible to share, edit, or open to portable devices. Fortunately, AnyRec Free HEIC Converter Online can help you convert HEIF files without charges. The online tool is accessible to any browser and is excellent for batch conversion. Try the best online HEIC converter today!
Related Articles