The Ultimate Guide to Search and Edit Funny Photos
How to find some funny photos to lighten your days? So, here's the great news! Thanks to technology, some websites and apps can help you create funny photos in a matter of seconds. If you're a cat lover, a single funny cat photo can make your day. If you live and work miles away from your loved ones, you might relieve your longing for them by looking at funny family photos. The websites and applications listed below allow you to see and edit funny photos to turn a bad day into a good one.
Part 1: Top 5 Websites to Find Some Funny Photos
Method 1: Tumblr
Tumblr is an excellent platform for graphic blogging and funny photos with few words. Users post unique and captivating content beyond Tumblr, even on other social media sites. Tumblr is a free site that even beginners can utilize. The user interface is easy to understand and use. This social media tool allows users to publish a 'tumblelog' or short blog post.
Pros
You may look up popular topics such as movies, sports, and current events.
Inspirational quotes, videos, news, and chats may be found here.
You can come up with recent GIFs and funny meme photos by following the personal blogs of people you admire.
Cons
You may apply a range of filters and auto tones in Facebook and Google Photos to improve your photos. Unfortunately, Tumblr lacks this feature; it would be fantastic if they added it.
Tumblr cannot be considered as a complete alternative to other social networks such as Facebook and Twitter.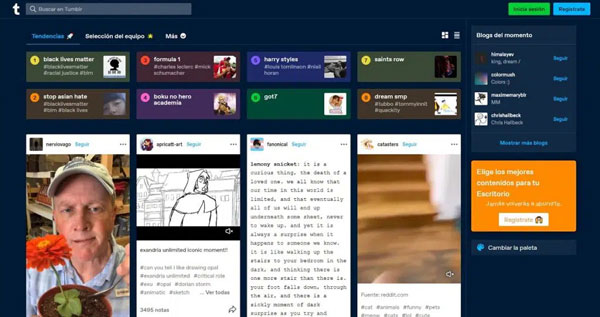 Method 2: GIPHY
Alex Chung and Jace Cooke had the fantastic idea of building a Google for GIFs in 2013, the GIF search engine which they could share with their colleagues. GIPHY, on the other hand, did not remain a modest social network for pals. It was developed over the weekend and received 1 million views. It now has 500 million daily users who share more than 7 billion funny photos in GIFs every day!
Pros
If you're a newbie, GIPHY is a great place to start.
GIPHY will also keep you up to date on the latest trends.
Embedding GIF links in your blog or sharing them on social media is simple.
Cons
The search bar might be made a little more precise and more transparent.
Giphy delays or crashes from time to time.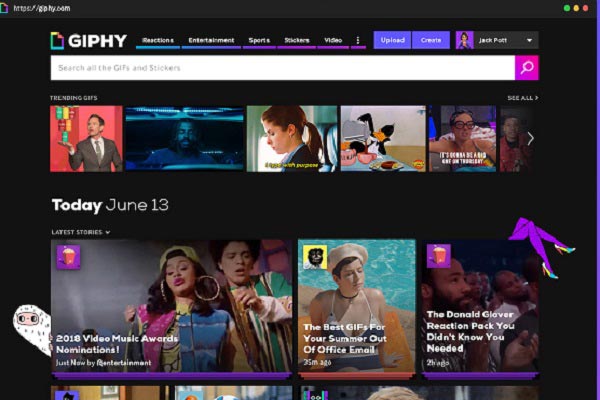 Method 3: IMGUR
The main page of IMGUR offers a selection of funny photos and GIFs that can be sorted mainly by a viral, subscriber, most prominent, latest, or highest-scoring. Random mode selects full-screen memes and allows for linear surfing. Any meme can be downvoted, upvoted, favorited, flagged, or commented on by children. Registered users upload images or start with pre-made memes, then select whether to keep them private or publish them after receiving email confirmation via six different link ways, including message boards, discussions, and Reddit threads.
Pros
Beginners will find it incredibly easy to utilize because they won't lose access to the photos they've saved.
Smartphone versions are also available, allowing you to connect to your images, graphics, and other files.
Imgur is a visually appealing technology that might be beneficial to the organization.
Cons
Uploading photos can take a long time sometimes.
This web page does not have an editing option.
Only the love button is available as a reaction.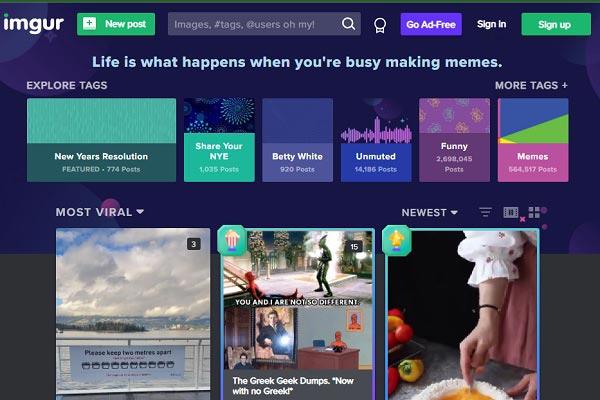 Method 4: Reddit
Founded with an original and creative mindset, Reddit encourages more discussion and information than other social networking platforms, including multiple funny Christmas photos. On Reddit, GIFs can be found in specialized subreddits. For example, dance GIFs, mechanical GIFs, analogy GIFs, and reaction GIFs have subreddits. GIFs are taken to a whole new level on Reddit.
Pros
You can leave comments on or upvote GIFs that you find interesting.
You may share your own original GIFs and communicate with other users.
Cons
You have to be creative because Reddit will not help you even if your heading is good enough and attractive.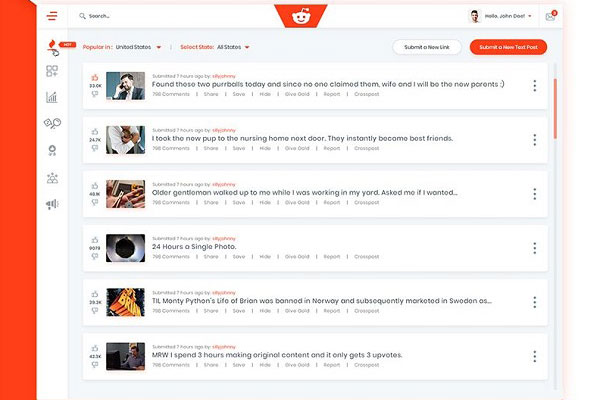 Method 5: Know Your Meme
Browsing for a funny photo comic that relates to your brand to make your audience laugh out loud? Or perhaps you'd like to add some unique emojis to your blog? Know Your Meme is the site to go to! It is also useful because it teaches you about the origins of your favorite memes. You may find out who created a particular meme, how many times it was shared or upvoted, and fun information that no one else knows about it.
Pros
For the documenting of memes as they evolve and the contribution of viral material as it spreads, the site is heavily reliant on crowdsourcing.
Special blogs are published from time to time that review the year's most popular funny photo memes.
Cons
It has a small crew of support staff.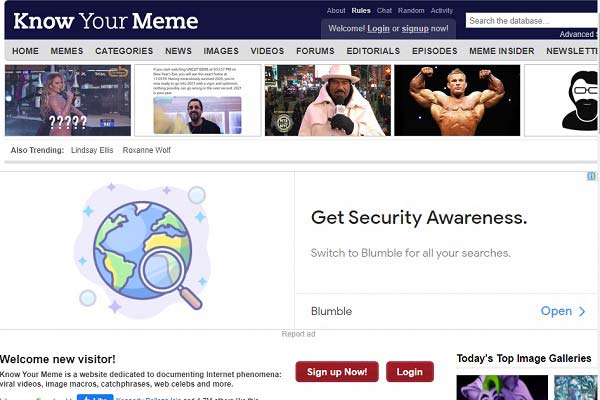 Part 2: Best Funny Photo Editor to Make Group Chat Photos
Transforming photographs into cartoons is now an achievable goal for everybody! ToonMe is a funny photo app that turns users into cartoon characters. Snap a photo of yourself or a friend, and your subject will transform into an animated character. There are numerous cartoon styles from which to choose. This funny photo software can turn you into a Disney princess, whether you want to be a traditional or trendy Disney princess. If princesses aren't your vibe, consider being a Simpsons villain!
Pros
ToonMe offers a free version with a large number of cartoon styles to choose from.
You can make your own hand-drawn cartoon style or just use digital styles.
The good thing about this funny photo editor is that it is available for both iOS and Android.
Cons
To upgrade ToonMe to ToonMe Pro, you have to pay first for the subscription ($4.99 a month).
On darker skin, it looks fine, but on lighter skin, it appears to be smoother overall.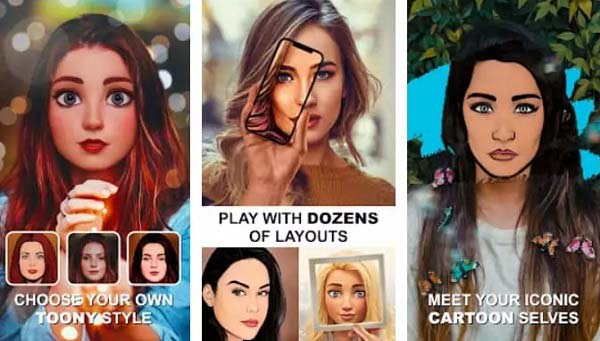 Part 3: FAQs about Funny Photos
1. Does a funny photo pique your interest?

Yes, since funny photos are pretty appealing. Make your images more interesting if you want to acquire more likes on social media.

2. What style would you use to turn your photograph into a funny photo?

Kittens are adorable, so I'll turn my images into funny cat photos. If you're silly, consider taking some funny family photos to tease your relatives. That'll be a lot of fun!

3. Is it creative to take a funny photo?

You're exercising your creativity when you edit or make a funny photo since you're expressing your views and ideas. Moreover, you can also search them from TikTok profile pictures.
Conclusion
That concludes the discussion. The websites and fun photo editor listed above might assist you in realizing your funny photo dreams. Just remember, if the world throws you challenges, find something fun to do and tackle them with a smile. Moreover, you can also record some funny GIF photos with free screen recorders on Windows and Mac.
Related Articles