Unable to Open HEIC: Here are 3 Ways with or Without HEIC Viewer
The high-resolution advantage of HEIC also brings a disadvantage to those people who do not use Apple. The trouble is they cannot open the photo without a HEIC viewer. Many people who use Windows or Android want to open HEIC will receive the system notice that this file format is not supported by the system. Luckily, this post will solve this problem. You can learn how to convert HEIC to JPG or use some HEIC viewer to open it in this post.
Part 1: Check the HEIC file without HEIC Viewer
When you cannot open the HEIC file and do not want to download any HEIC viewer to check the picture. The best way is to use AnyRec Free HEIC Converter Online. This website can easily convert HEIC files into JPG and then you can open the HEIC without any HEIC viewer. And one important thing is that you do not have to worry about quality-loss issues. The conversion will retain the quality and information of the HEIC picture.
Features:
◆ Convert HEIC to JPG easily to avoid downloading HEIC viewer.
◆ Retain the quality of HEIC to let you see the same high-resolution picture in JPG.
◆ Remain the original EXIF data, including the basic size, dimension, and so on.
◆ Protect your privacy by deleting photo cookies after converting.
Here are the brief steps to convert HEIC to JPG:
Step 1.Copy the URL and paste it on your browser: https://www.anyrec.io/free-online-heic-converter/
Step 2.Click the Upload Photo button and choose the HEIC file you want to open.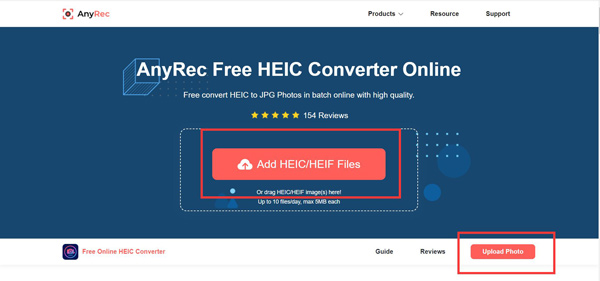 Step 3.Then you can wait for the conversion to finish. The next step is to click the Download button to download the JPG file to your computer. So, you can open the HEIC as JPG without any HEIC viewer.

Part 2: Open HEIC with Photo Extension [Windows 10/11]
Actually, you can use the Photos app in Windows as a HEIC viewer. But the premise is you have to download an extension on the Photos app so that you can open HEIC files. And this method is also workable on Windows 11. Now, let us take a look at how to use the Photo app as a HEIC viewer:
Step 1.First, locate a HEIC file in File Explorer on your computer and double-click it. If you're asked which application you want to open it in, click the Photos button. And if the HEIC file doesn't open in the Photos app, right-click the HEIC file and click the Photos button from the Open With.
Step 2.The Photos app will tell you that the HEIF Image Extension is required to display this file. Click the Download and install it now button to get it from the Microsoft Store. It's a free download; installing it will only take a few moments.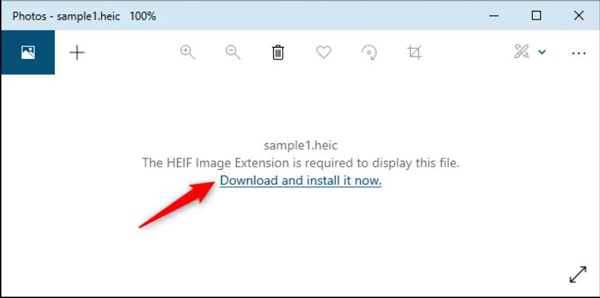 Step 3.When Windows asks Did you mean to switch apps? You should click the Yes button. This will open the HEIF Image Extensions page in the Microsoft Store app. Click the Install button to download and install support for HEIC image files.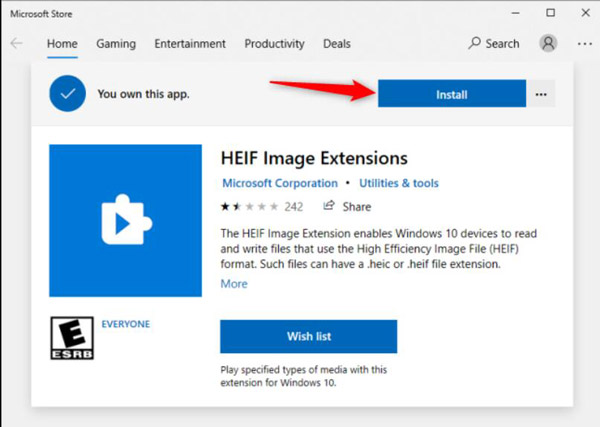 Step 4.Now, when you open a HEIC image in the Photos app, you'll be able to view it like you would any other image file, like a JPEG, PNG, GIF, or BMP. Windows 10's File Explorer will also automatically generate and display thumbnails for your HEIC image files.
Part 3: Using Google Photo to Open HEIC [Android]
In Android phones, you can use the Google Photos app as a HEIC viewer to open HEIC files and even edit HEIC files. Most phones that use the Google framework have the Google Photos app on them. But if you uninstall it or you cannot find it on your phone, you can also download it from Google Play Store. And here are the steps below to use Google Photo:
Step 1.Open the Google Photos app and tap Library.
Step 2.Now, locate the folder where you've saved the HEIC file. And open the folder.
Step 3.Finally, tap the image you want to open, and you'll be able to preview it in the app itself.
Part 4: FAQs about HEIC Viewer
How do I take JPG photos on my iPhone?

If you want to take JPG photos so you do not have to use the HEIC viewer on the other system, you can set it on your iPhone. In the Settings menu, find and tap Camera. Then tap Formats at the very top of the Camera menu. Here you can tap Most Compatible, which will have your phone capture JPG.

Are HEIF/HEIC raw file types?

No, the HEIC/HEIF file type is not a raw capture format. It can be best described as an improvement over the existing JPEG file type. That is why you need to use a HEIC viewer to open it when you are not using the Apple product. You have to decode the HEIC to be compatible with your device first.

Is HEIC lossless?

While JPEG always produces lossy 8-bit images, even at the highest quality setting, HEIC can store images up to 16-bit, lossy, or lossless. And some photo viewers do not support this bitrate, you have to convert the HEIC bitrate or download some extension to make it become a HEIC viewer.
Conclusion
After you see the article, you must know what to do when you are unable to open HEIC files. Using the HEIC viewer can see the photo. However, what if you do not only want to see it but also want to edit it? You can use AnyRec Free HEIC Converter Online to convert HEIC to JPG to do further work like adding filters, changing resolution, and so on. This website could totally solve your HEIC problem.
More Related Articles: