How to Do Photo Enlargements in 8 Easy Ways (DIY Provided!)
Photo enlargement allows you to see the detail in a picture. After enlargement, the pictures can be used in several scenarios, including the house decoration, street poster advertisement, etc. And you need to keep the best resolution after enlarging the size of your photos. If you are looking for the best photo enlargement service, this post will fill you with the best 8 recommended tools so you can print or have good-quality digital images.
Part 1: The Ultimate Way to Do Photo Enlargements On Your Own
The best software for photo enlargements is using AnyRec AI Image Upscaler. Without registering or paying for a subscription, this online tool gives excellent features for photo enlargement, including magnification options, reducing image noise, and more. Thanks to AI technology, you can enlarge any photo to share, print, or present to work without worrying about the quality.
◆ Support multiple image formats like JPEG, BMP, PNG, TIFF, etc.
◆ Allow users to have a real-time preview to adjust photo enlargement.
◆ Smart AI Image Upscaler with magnifications up to 800%.
◆ Auto-detect blurry parts of an image and fix them with more details.
How to use AnyRec AI Image Upscaler:
Step 1.Click AnyRec AI Image Upscaler to quickly direct you to the website. Click the Upload Photo button and add a picture from your local folder to do photo enlargement. You can also drag and drop the image file to the website.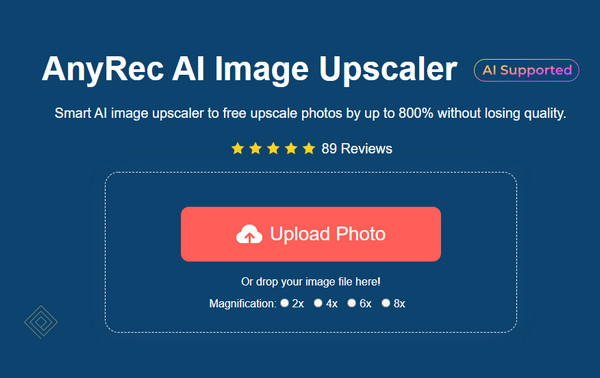 Step 2.Select the desired image upscale by click 2X, 4X, 6X, or 8X buttons next to the Magnification once the image is successfully uploaded. You can compare the original image from the left part of the window to the output on the right part.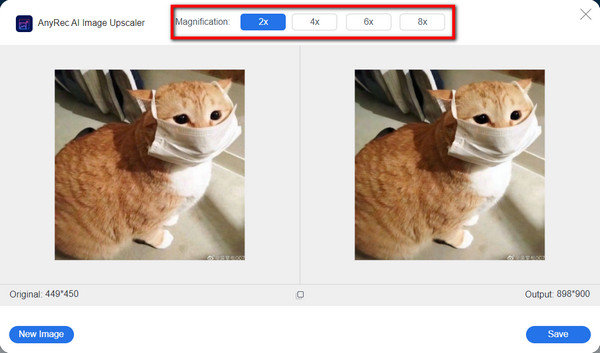 Step 3.If you want another picture to do photo enlargement, click the New Image button, then choose a new one. Repeat the steps and click the Save button to download the image to your device.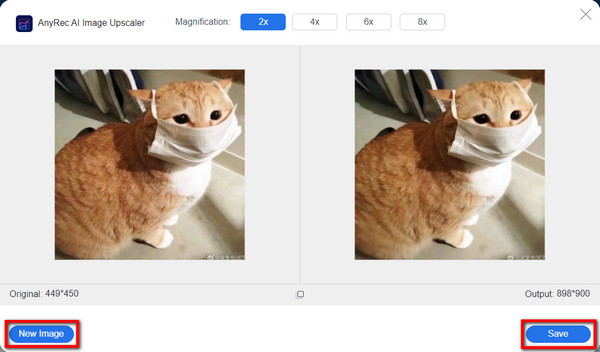 Part 2: 7 Best Photo Enlargements & Printing Services Online
There is no need to seek professional help since you can achieve photo enlargements with online services. There are lots of image-enlarging tools out there offering high-quality services. Meanwhile, the customer services from these image enlargement services help resolve any of your enlarging questions. Keep reading and check them out.
1. Amazon Photo
If you are looking for an excellent image enlargement service with a good reputation, the Amazon Photo tool offers more than expected. Although individuals have different requirements, the photo quality produced by Amazon Photo is quite the best. It also provides you with unlimited photo storage space if you have a Prime membership.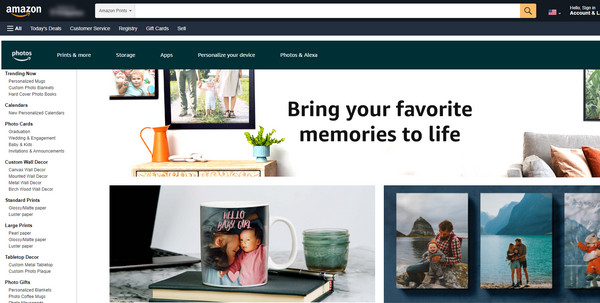 Pros
Automatic synchronization.
Save you from piled-up photos.
Simple operations for each step.
It has an app version to download on the phone.
Suitable for photo enlargement for mugs, calendars, etc.
Cons
Unclear security policy.
Photo editing options are too basic.
Identify the faces in pictures without permission.
The membership is expensive unless you have Amazon Prime.
2. Walmart Photo
The store is known for its product variety and reasonable prices, so it is not a surprise if it has a photo service for photo enlargement. Unlike Amazon Photo, Walmart offers a wide range of printing services like metallic easels, Christmas cards, jewelry, wall tapestries, etc. What's more, the photo service will give you free shipping when you purchase or print photos over $25.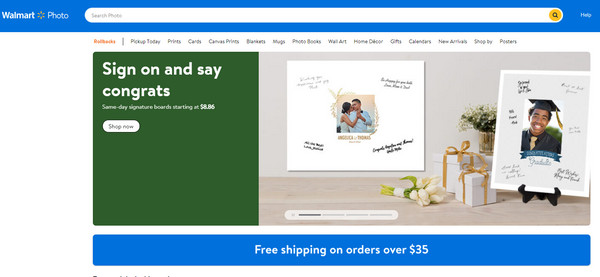 Pros
Reasonable price.
Same-day pickup with fast photo processing.
Allow customers to upload photos from diverse platforms like Instagram.
A local pick-up option is available.
You can place orders in a mobile app.
Allow customers to upload photos from diverse platforms like Instagram.
Cons
Minor errors in the photo's colors.
The print quality can be better.
The printed image is not sharp.
The delivery packaging is not protective enough.
3. Nations Photo Lab
The Nations Photo Lab produces good-quality photo enlargements. Its interesting photo products will guarantee amazing images which you can choose from any theme. The upload process is easy, but you can't expect Nations Photo Lab to have Facebook and Instagram as uploading sources. Fortunately, you can use a hard drive to upload images you want to do photo enlargements.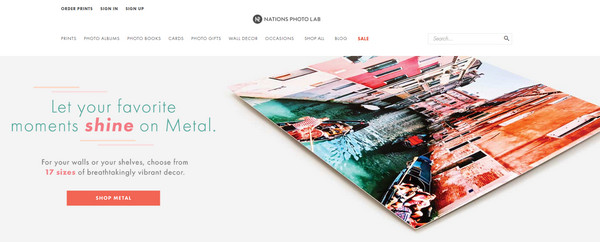 Pros
Offer a variety of paper types, mounting options, etc.
Photo enlargement includes photo albums, bracelets, ornaments, and books.
High-end papers and processes.
Support diverse image formats, including TIFF.
Cons
The print quality of wallets is a little bit dark.
High price for color correction.
Limited customizable options for online editing.
You can't add photos from a third-party cloud service.
4. Snapfish
If you want to import from other sources, you can use Snapfish. Photo enlarging can be of good quality, but it is not the same with wallets. Some reviews stated that some of the photo enlargements had darker shadows when printed, which was both loved and hated by the same crowd. Overall, Snapfish is an ideal print service for lower prices.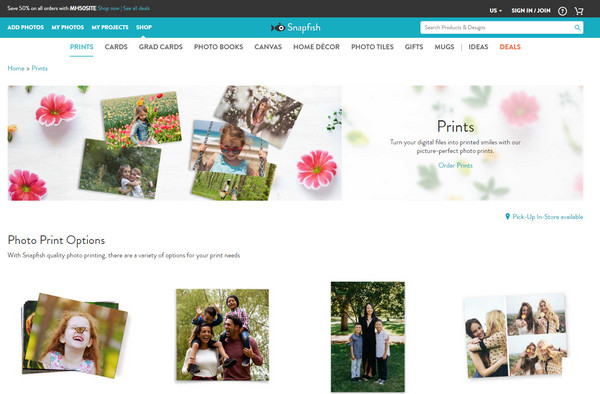 Pros
Enable users to import from Facebook, Google Photos, Instagram, etc.
Offer lower prices than other print services.
Employ a modern web interface.
Automated and free color correction.
Offer photo gift options with individuality.
Cons
Some parts of the image are distorted.
Limited support for image formats.
The shipment packaging is not as good as other competitors.
5. Shutterfly
Another way to do photo enlargement is Shutterfly. Aside from its wide range of print options, Shutterfly gives you reasonable prices for the best photo quality. Your pictures can be lighter, brighter, which helps to make tiny details to be visible. It is ideal for creating more photos hanging on your walls or even invitation cards without any distorted colors.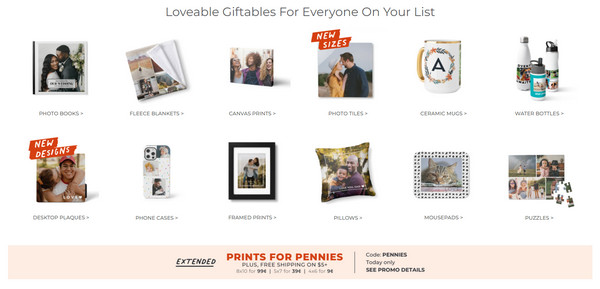 Pros
Great paper quality and color.
Fast delivery up to three business days.
Offer a handful of styles and sizes for any event.
Collaborate with others on your photo project.
Multiple photo book templates of diverse themes.
Cons
More extensive photos are too expensive.
Expensive shipment fee.
Bookbinding is not strong enough.
6. Walgreens Photo
Same-day pick-up is always available at a local Walgreens Photo. It is a great way to do photo enlargements in Walgreens Photo by going to its website or downloading its app version on your phone. A large selection of Christmas ornaments is also available on the photo service at reasonable prices.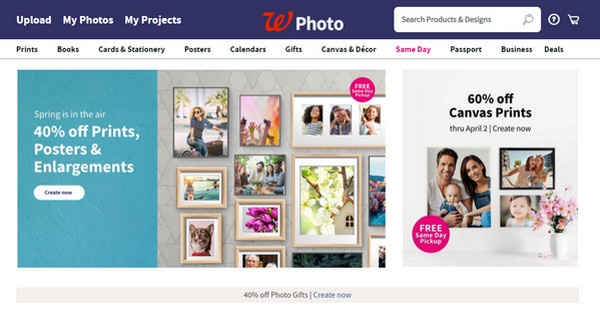 Pros
Good quality for any photo size.
Many uploading methods.
You can specify the images' purpose with many options.
Cons
Support only JPE, PNG, and HEIC formats.
The prints are not sharp enough.
Deliver into a thin paper envelope which may rough up photos.
7. Printique
Initially known as AdoramaPix, Printique secures all the photo enlargements you will do under their care. It will also feel overkill because you don't have to pay extra charges even with its secured packaging. Photo enlargement also is affordable with Printique compared to other photo services, but don't expect too much on the photo quality.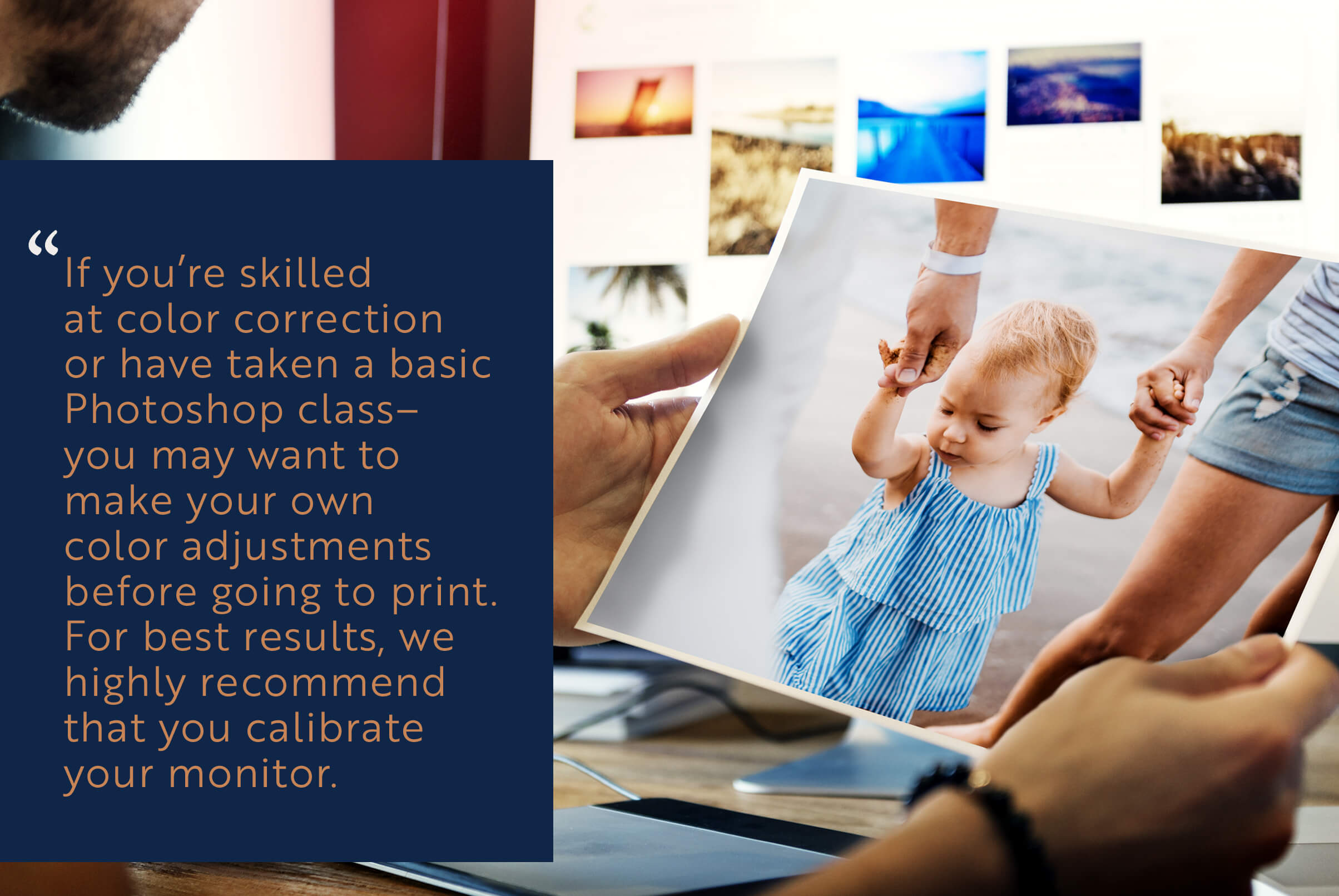 Pros
Safe photo packaging and delivery.
Offer app version for easier photo enlargements.
Supportive customer service.
Good for printing photographs collection.
Cons
All different image styles are darker.
Size options are limited and small.
You can only have 100 pages for a book.
Part 3: FAQs about Online Photo Enlargements Tools
What is the best resolution when doing photo enlargements?

The best resolution to do photo enlargement is to ensure you can set the image up to 300 pixels/inch. Another thing you need to make sure of is the tool you are using to fulfill the required pixels and resolution.

How much does a photo enlargement cost?

The cost of doing photo enlargement depends on sizes and printing services. However, suppose you are looking for an 8x8 print, it may cost around $3.99. Standard photo enlargement can also cost approximately $3.99 to $8.97.

Why does my enlarged photo look wrong?

If you received your photos from a photo service and they appear to be not what you expected, there are various reasons for some changes. It could be the appearance of your screen and how your monitor's brightness is set. Another one is the wrong printer driver that you might have been used. If you are not satisfied with the result, it is time to look for another print service.
Conclusion
Photo enlargement is best with an excellent print service. You can make photo enlargement for photo print. If you want to make your photo enlargements, AnyRec AI Image Upscaler is always free and open to use. Visit the website today and bring the best colors out of your images! If you have more questions, please contact us now.
Related Articles