What is HEVC Codec, and How is it Relevant for Videos
Videos? HEVC codec is a new video codec. This video codec has another name H.265. Most Apple devices could play this video codec directly. But on other devices, they may need some third-party software or extension to play this kind of video codec. With the popularity of the HEVC codec, not only do Apple users use it, but how to open it without Apple devices? This article will tell you what is HEVC codec and give you three methods to open it.
Part 1: What is HEVC Codec
Before proceeding to the essential part, many things need to be discussed about the HEVC codec and why it is important to today's file saving. Codecs such as HEVC are vital for media streaming. Without them, you will be unable to open and play media on your device or record high-quality videos.
The HEVC or H.265 format can be encoded lossless entirely with resolutions up to 8192 × 4320 supported. It is also 50% more efficient in compression than AVC, allowing a file to have maintained video quality with half the bitrate or double quality with the same bitrate. Thanks to Apple's iPhones, the HEVC codec is now widely supported by many mobile devices and computers. With that said, Microsoft requires you to pay to be able to open HEVC files on your PC. If you need to play such files, HEVC video extensions are free to download on Windows and Mac. Read further to see alternatives.
Part 2: How to Make HEVC Codec Work on Windows/Mac
1. AnyRec Video Converter
The first recommended tool you can use is AnyRec Video Converter. The software allows you to use its powerful tools to convert HEVC codec with just a few clicks on your mouse. Its advanced settings enable you to change information in the output, including video encoder, bitrate, resolution, and quality. The best part of the video converter is you can upload as many files as you can to create a batch conversion. Fast and reliable, AnyRec Video Converter is available for Windows and Mac.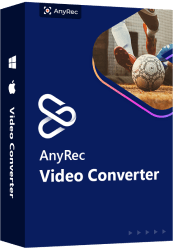 AnyRec Video Converter
Support HEVC codec to convert to a supported format like MP4, WMV, MOV, WebM, AVI, etc.
There is no file size limitation for every uploaded video file, allowing users to convert media files in batches.
Provides more functional tools like Video Collage, Movie Maker, and Toolbox, which consists of 16 more tools.
Guarantee the best quality of every converted, compressed, and edited media file with the help of AI technology.
How to convert HEVC codec to another format using AnyRec Video Converter:
Step 1.Download the software from AnyRec's official website. Once it is installed on your device, launch AnyRec Video Converter to start converting HEVC codec. Click the Add button in the middle part of the main interface to import the media file.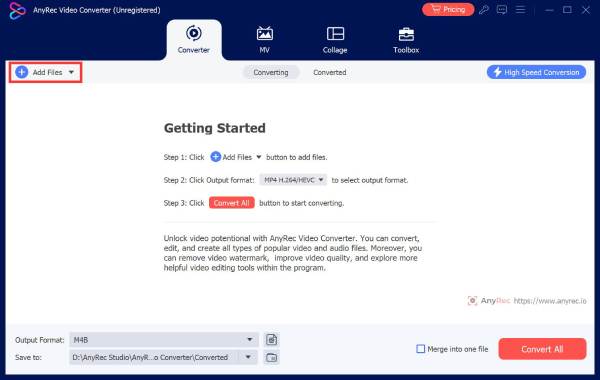 Step 2.After uploading, click the Format button beside your file. Go to the Video tab and select the desired output format. Choose the one resolution option from the list, or click the Custom Profile button with the Gear icon to go to the settings.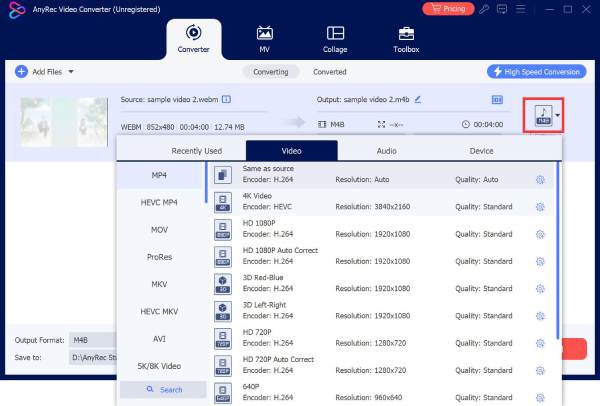 Step 3.From the dialog box, you can change the video codec to H.264 or MPEG-4. Also, you can adjust resolution, bitrate, quality, frame rate, and more. Once satisfied with the changes, click the Create New button to save it as an output option.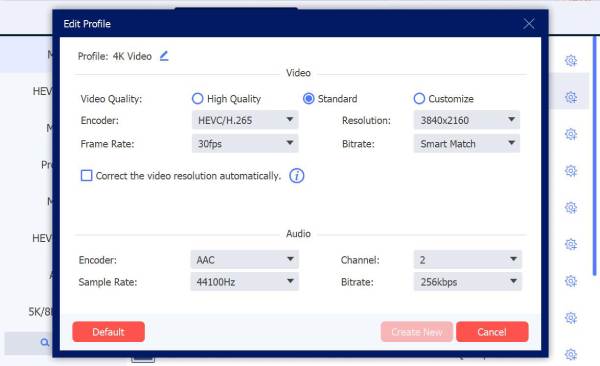 Step 4.To save the output file, click the Save To button from the bottom part of the menu. Browse the designated folder for the converted video file. Finalize the procedure by clicking the Convert All button to start processing.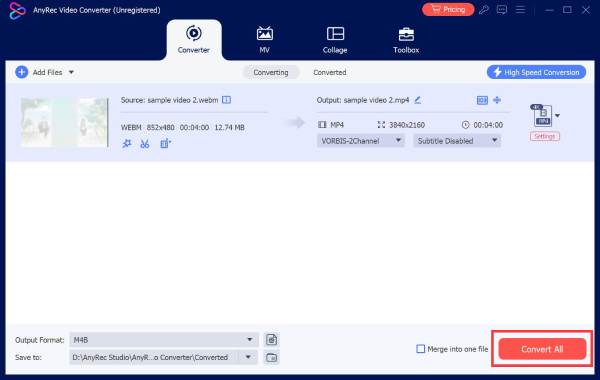 2. VLC Media Player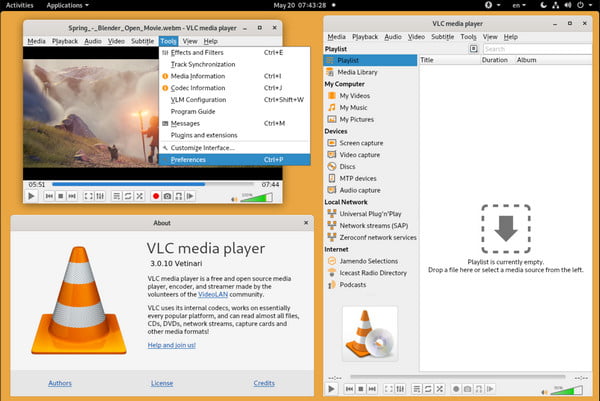 VLC is a famous media player for both Windows and Mac users. Its intuitive interface allows you to play any media, including the HEVC codec. If you are unsure which HEVC extension to get, VLC is free to download and use for computers. The only problem you might encounter on the media player is the constant change in the settings to watch a movie with good quality, especially if you have various files to open.
Features:
◆ Reliable to open unique file formats.
◆ Free of charge.
◆ Enable to record desktop.
◆ Provide a DVD ripper.
3. HEVC Video Extension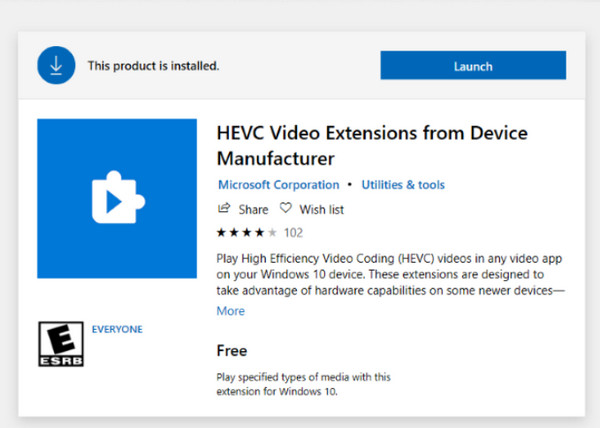 The software is a free extension for Windows. It takes advantage of the hardware capabilities such as Intel 7th Generation and newer GPU to support 4K and Ultra HD content. You can download HEVC Video Extension from any browser for free. Unfortunately, it requires users to have an OS version of Windows which can be 10 or 11.
Features:
◆ Encode content on a PC without a hardware-based video encoder.
◆ Allow users to view HEIC files.
◆ Safe to use to open files.
◆ It doesn't distort the quality of HEVC files.
Part 3: FAQs about HEVC Codec
What are the best benefits of HEVC?

HEVC has claimed the top seat as one of the best codecs in iPhone video codecs. You can take its advantages, such as better compression for HD videos. Also, the HEVC codec became more popular because it allows many people to get HD in lower bandwidth. However, ensure that your device is up to date or is upgraded because the result of opening HEVC will only show you distorted quality.

Does HEVC consumes more data?

The best part of HEVC is you can save more data by using it. A good example is when you use HEVC for live streaming on YouTube. Instead of a live stream on 1080p at 8Mbps via AVC, you can do it on HEVC with 1080p at 4Mbps.

How to run HEVC smoothly?

Since HEVC codec is mainly supported by Apple products to have a smooth run, you can convert files to H.264 codec, which is supported by Android and Windows. For excellent video quality, it is recommended to use AnyRec Video Converter for any media conversion.
Conclusion
HEVC codec is perfect to have 4K quality for video. Thanks to Apple, the number of portable devices has increased. Unfortunately, Microsoft Store requires you to pay for HEVC video extensions. Still, you can try the recommended one to have your files played on Windows 10. AnyRec Video Converter is the reliable one to convert media. It guarantees you to keep good quality output. Free download it now!
Related Articles