Ultimate Guide on How to Trim Video in VLC Media Player Easily
Can you trim videos in VLC? Sometimes, unnecessary parts of the video are needed to eliminate because they just make the video long and boring. For that reason, you will need to cut a small portion of your video to make it suitable for posting. VLC Media Player is one of the most popular media players, with several basic editing features in addition to video and audio playback. Although VLC Media Player lacks a video trimming feature, there is still a method to trim videos in VLC. This tutorial will show you how to trim video in VLC. Furthermore, it includes a powerful video editor recommended for better video trimming without sacrificing quality.
Part 1: Detailed Steps to Trim Videos in VLC Media Player
As previously stated, VLC Media Player is not really intended to be a video editor. Actually, it is just a media player with some basic editing capabilities. Moreover, it does not have a so-called cutting function that allows you to trim videos in VLC Media Player directly. When trimming a video, you must utilize VLC's recording feature to collect the desired video content and then export it as a new clip. But if you still want to use VLC to trim video, follow the detailed steps below.
Steps to Follow:
Step 1.Once you have closed all the programs on your MacBook, go to the Apple Menu bar to restart your MacBook.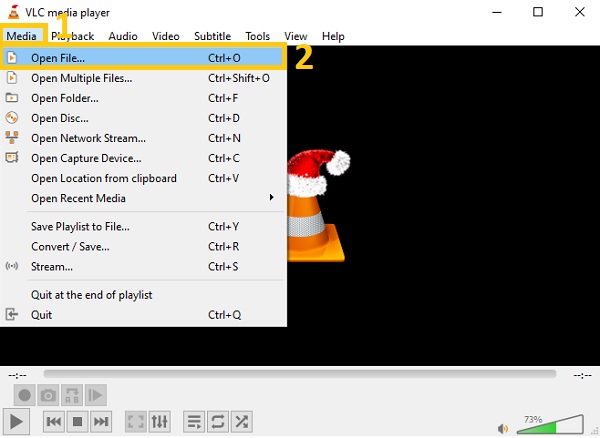 Step 2.After the file has been uploaded on the software, you should adjust the progress bar beneath the playing window until you find the desired starting point you want to remain. Then press the Record button to begin recording the video.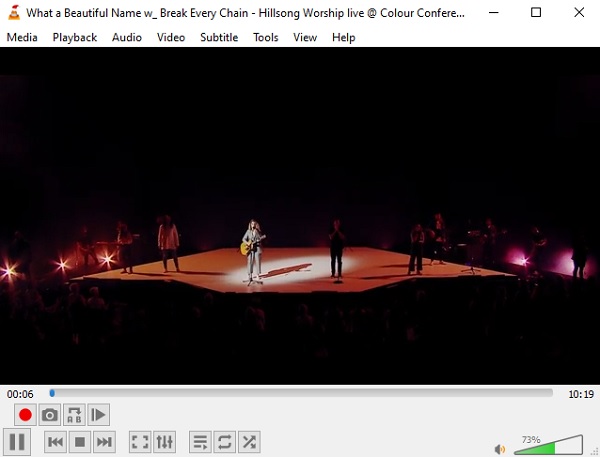 Step 3.When you have reached your target ending of the video, click the Record button again to finish it. Then, by default, you have trimmed videos in VLC and the recorded video is immediately saved in the video folder. To see the shortened video, go to the video folder.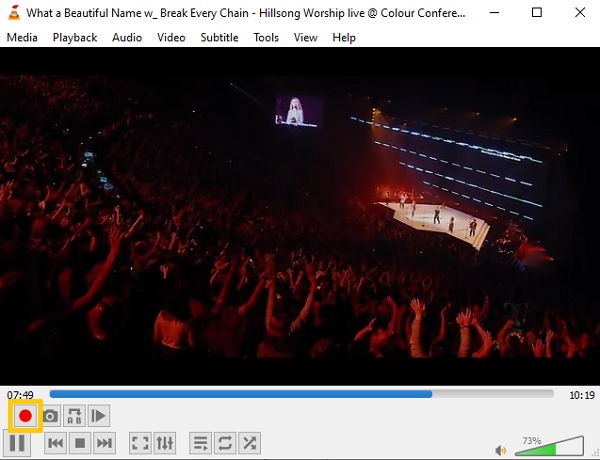 Note
Recording videos in VLC will only export the quality in 1080p with the original video format. So, if you trim high-quality videos in VLC Media Player, it will decrease the video quality.
Part 2: The Ultimate Alternative Way to Trim Videos without VLC
As mentioned above, you cannot immediately trim your videos in VLC Media Player. Thus, the best solution you can do is to download the professional video editor - AnyRec Video Converter on your Windows/Mac devices. This tool allows you to trim your VLC videos in just a few clicks directly. Moreover, it has many excellent features that make it top tier among the video editors on the market. Please do not waste your time searching for another solution. Download this excellent app now on your device and experience its fast and easy service. Follow the outlined step-by-step procedures below to trim videos without VLC successfully.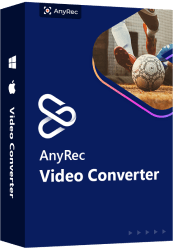 Exceptional Features of the Top Tier Video Trimmer:
Crop, rotate, flip, merge, add text, and watermark on your trimmed videos.
Add filters and effects to your videos to make them more appealing.
Add background music and subtitles to your trimmed videos.
Trim videos into several segments and then merge them.
Steps to Follow:
Step 1.Add Desired VLC Videos
First and foremost, download and launch the AnyRec Video Converter on your Windows/Mac device. After the installation process, you can now add your videos to the software. Just click the Add Files button and choose the video that you want to trim. You can also simply drag/drop all your videos at once to the software.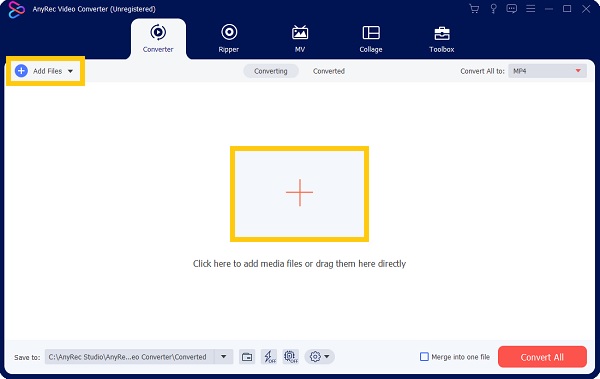 Step 2.Trim Videos Easily
After that, click the Cut symbol to launch this video trimmer. Upon clicking, a new pop-up window will appear on your screen. From there, you can set the start and end of your video. You can also adjust the drag bar to trim VLC videos freely according to your desire. Moreover, you can click the Add Segments button to trim videos to several parts. Once you are done, just click the Save button.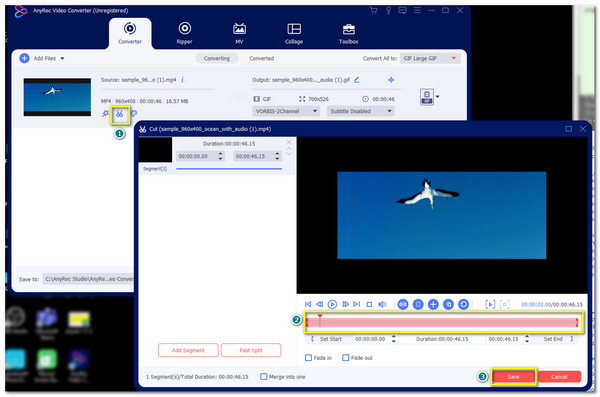 Step 3.Additional Editing Tools
As a bonus tip, you can also click the Edit symbol to make your trimmed videos more appealing and beautiful. Then, a new pop-up window will appear on your screen. From there, you can rotate, flip, crop videos, and adjust the aspect ratio. Then, when you are done, just click the OK button.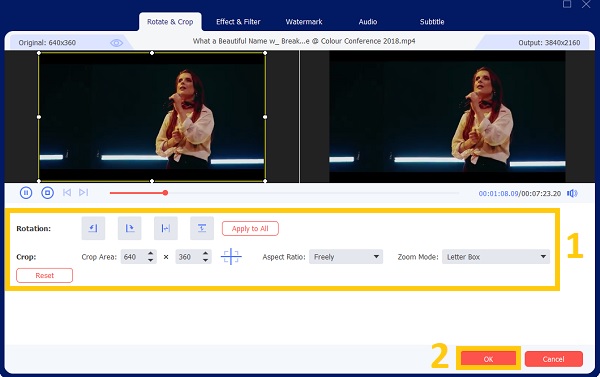 Step 4.Export Trimmed Videos
Finally, you can now save your trimmed VLC videos. But before saving them, choose their file location first for you to locate them quickly. Just click the Save To button and choose a folder. Then, click the Convert All button.
Part 3: FAQs about Trimming Videos in VLC
1. Can you trim a video in VLC Media Player directly?

Unfortunately, you cannot straight-forward trim your videos in VLC Media Player. However, you can utilize its recording features, start recording your desired video content and save it as a new video clip.

2. Is there any easier way to trim videos without VLC?

Of course. The easiest way to trim a video is to use the recommended AnyRec Video Converter. It has many unique features that enable you to trim, flip, crop, rotate, and even convert your videos to over 1000+ video and audio formats. You can simply drag the borderlines to trim VLC videos freely.

3. Where can I see my trimmed videos in VLC?

Once you trim your videos, they are automatically stored in your VLC library. You can go and see your trimmed videos on your My Videos menu.
Conclusion
There you have it! If you have carefully followed the given steps above, you can successfully trim videos in VLC Media Player. As you go through the given procedures above, you can confidently say that AnyRec Video Converter is the easiest and fastest way to trim VLC videos. Moreover, you can make your videos more attractive and appealing by utilizing its fantastic editing features. If you have some further queries, do not hesitate to send us your message. We promise to respond to you as soon as we get your message.
Related Articles