Get to Know the Best 10 Audio Recorder Apps for Android/iPhone
Since technology has been rapidly advancing, people can now record themselves at hand through audio recorder apps. Whether you are a musician who wishes to record a song, a journalist who wants to record an interview, or a student who wants to take note of your lesson, the good news is, your mobile phone is more than capable of taking care of it! Here are the best Android and iPhone audio recorder apps. You'll see the top picks below.
Part 1: Top 10 Best Audio Recorder Apps on Android/iPhone
There are numerous audio recorder apps available for Android and iOS. However, the following are the market's top options. Continue reading and rely on the reviews provided below.
1. Voice Memos (iPhone)
Did you know that your iPhone has a default audio recorder app? Voice Memos has a highly user-friendly design and offers all of its capabilities for free to all iOS users. It's pretty simple, yet it allows you to cut recordings, change sections, and enhance them while preserving the original.
Pros
Enable you to transmit files by AirDrop, text message, or email.
Cut out the extra clips that you don't want to save.
Cons
It is a straightforward app, but it falls short in voice editing usage.
2. Easy Voice Recorder (Android)
Easy Voice Recorder accomplishes just what its name implies. This audio recorder app enables you to record events on your phone easily. You open the app, press the mic button, record, and share as necessary before closing the app. Additionally, it includes a few additional capabilities, such as the option to modify the file type to which you record.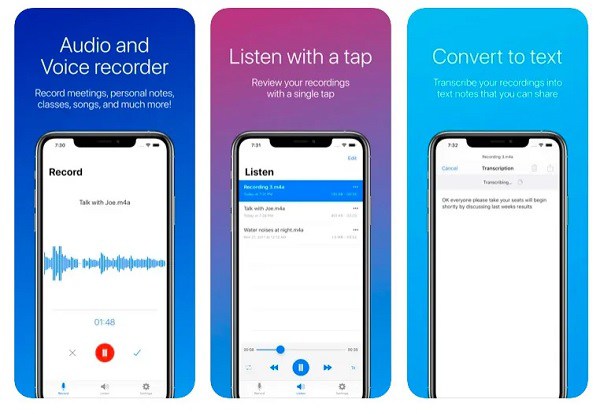 Pros
The free audio recording app can attempt to decrease background noise automatically.
You can choose from various audio compression methods to degrade the quality of your clips if necessary.
Cons
This app cannot record phone calls.
3. Rev Voice Recorder (Android/iPhone)
Rev Voice Recorder is available for free for Android and iPhone devices. This audio recorder app exists to entice you to use Rev's transcription services powered by humans. Whether you pay for those or not, the basic app is excellent for recording audio. And there are numerous alternatives for sharing, like texting, emailing, or sending to Slack. Apart from storing clips on your phone, you can upload them to cloud storage services like Dropbox or iCloud.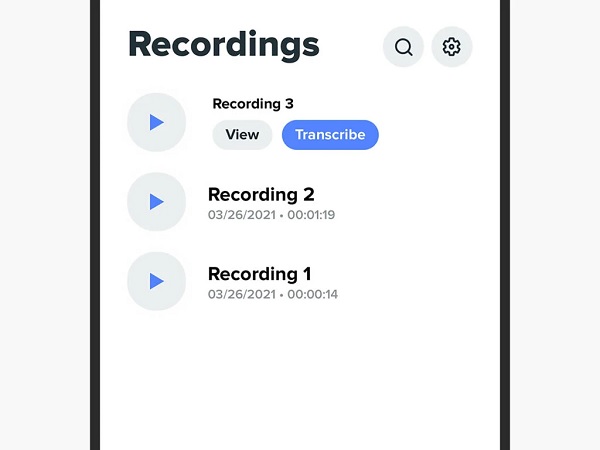 Pros
The program can record in the background.
Trim and append recordings are both possible.
Cons
There are limited features.
Some audio files have inferior and degraded quality.
4. Otter Voice Notes
Otter is a pleasant audio recorder app that converts live recordings to text. It records and takes notes during meetings in real-time, allowing you to focus on the subject at hand while remaining confident that all pertinent information, actions, and participants are saved, easily searchable, and shareable with your team.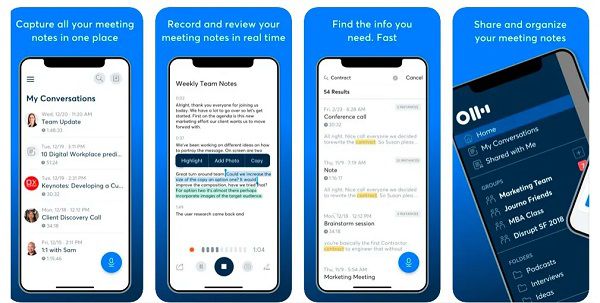 Pros
It performs the essential functions of recording, sharing, and playback.
Quickly scan your voice notes and convert them to text documents.
Cons
English is the only language supported.
It lacks an internal voice recording capability.
5. Evernote
Evernote enables users of voice recorders to synchronize their data from any location. This audio recorder app also includes a web clipper and document scanning feature along with voice recording. Additionally, it has built-in reminders for completing various chores. Evernote is still missing a variety of functions.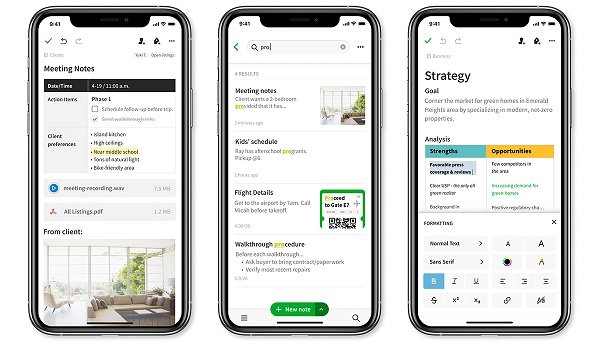 Pros
The pro edition also searches text within photographs and other documents.
All data (blog posts, lists, notes, and research) is all in one place.
Cons
It lacks comprehensive audio editing options.
It provides customers with a limited amount of space.
6. ASR Voice Recorder
ASR Voice Recorder is a capable audio recorder app. It supports many file types, including MP3, FLAC, WAV, OGG, and M4A. Additionally, a cloud connection allows for quick uploading to Dropbox, Google Drive, and other services. Moreover, you can keep meetings, notes, lessons, and music records. It is entirely free and does not impose any restrictions on the amount of time you can record.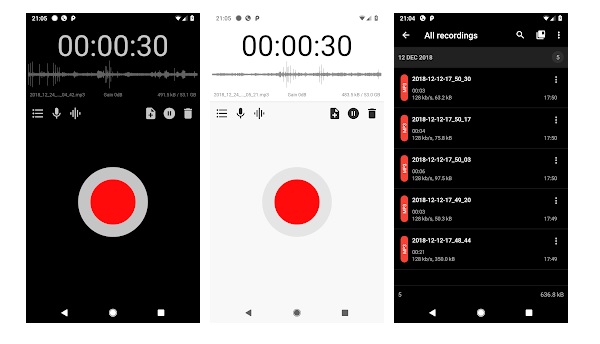 Pros
Record and playback recordings while the app is running in the background.
Support all the popular video and audio formats to export.
Cons
There are no options for audio transcription.
7. Voice Recorder Pro
This audio recorder app lets you record audio using external microphones. It has a high sensitivity retractable mechanism to record speech from considerable distances. Additionally, the interface is user-friendly, files are easily accessible and manageable, which may be used to record phone calls.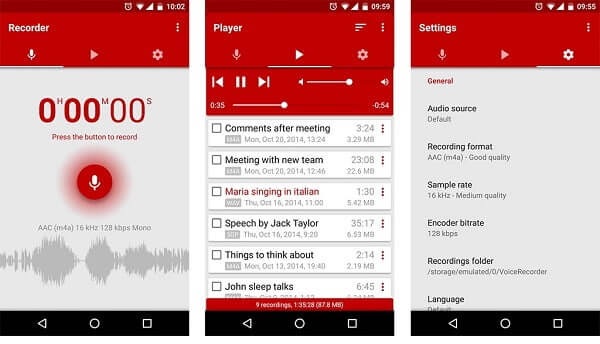 Pros
Record audio in the following formats: MP3, WAV, AAC, or 3GP.
This audio recorder produces high-quality recordings without regard for time constraints.
Cons
The application is still lacking in audio editing capabilities.
This voice recorder is not capable of operating in the background.
8. Smart Recorder
Smart Recorder is a top-notch voice recorder app. It has all the standard functions, including online storage and recording. You can also skip silences in the track, modify sensitivity, and change sample rates.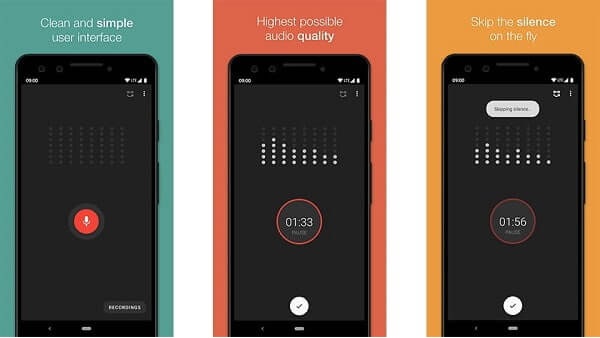 Pros
It controls the audio recording process fully.
The Wave Lock feature prevents the gadget from going to sleep.
Cons
It has limitations on file-sharing
9. Hi-Q MP3 Voice Recorder
Hi-Q MP3 Voice Recorder is a helpful MP3 recorder available on Android/iPhone. Since it records MP3 files., the sound files are compatible with almost everything. Additionally, you may configure it to upload immediately to Dropbox after the recording is complete.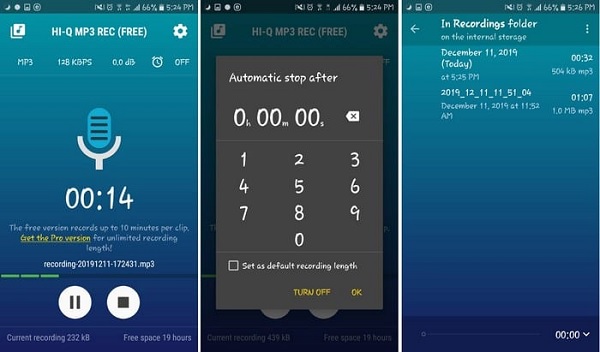 Pros
This audio recorder app can record for a specified amount of time.
It has a simple setup of an audio recording session.
Cons
It does not support recording phone calls.
External microphones are not permitted for recording.
Bonus Tips: The Best Screen and Audio Recorder on Windows/Mac
Aside from the compiled list of the most promising audio recorder apps, you can also utilize a powerful desktop voice recorder, AnyRec Screen Recorder. It also has a phone recorder feature that enables you to mirror your mobile device's screen and record anything on it. So, hurry up! Download this excellent audio recording app now on your Windows/Mac to enjoy hassle-free recording.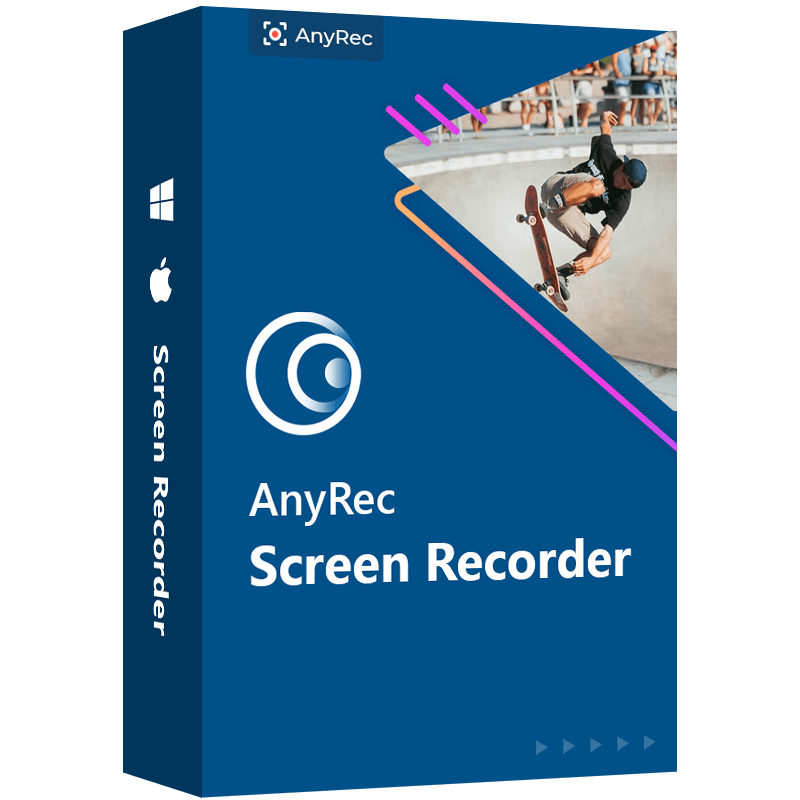 Key Features of the Best Screen and Audio Recorder App:
Record audio from the computer and microphone simultaneously or separately.
Export audio recordings in a variety of formats, including MP3, M4A, AAC, etc.
Boost low-quality audio, remove background noise, and eliminate audio echo.
Provide task schedule and other editing functions to improve recordings.
Part 2: FAQs about the Best Audio Recorder Apps
1. Is there a built-in voice recorder app on Android?

Google included a voice recorder in Android 10, although it lacks certain essential functionality, such as audio editing. It is solely capable of recording voice.

2. How can I record my voice on my phone?

You can utilize its built-in audio recorder app if you are an iPhone user. Open the Voice Memos, then tap the Start button to record your voice. Then, when you're done, click the Stop button.

3. Is there any audio recorder app can record the internal audio on Mac?

Yes. To record the internal audio on Mac, you can rely on AnyRec Screen Recorder. It allows you to record the system sound from your Mac and capture your voice from the microphone.
Conclusion
Now that you know the top 10 handy audio recorder apps for Android/iPhone, you can select one that suits your recording needs. With them, you can do voiceover, record your songs, and more easily. If you have more questions, please contact us now!
More Related Articles