Ultimate Guideline to Transfer Text Messages from Android to iPhone 14
When they buy a new iPhone 14, many people want to transfer text messages from Android to iPhone. Text messages are unlike media files you can easily send to others. So, You may think it is difficult to transfer data between different operating system devices. But do not worry about that; this post will give you three ways to help you how to transfer text messages from Android to iPhone.
Part 1: Use AnyRec to Transfer Messages Across Different Systems
You're mistaken if you think transferring text messages from Android to iPhone is impossible. AnyRec PhoneMover is a solution that helps you export data from phone to phone, phone to PC, etc. It has a user-friendly interface where you can select multiple files to export. Moreover, text messages are supported to transfer on iPhone, also pictures, videos, documents, and others. AnyRec PhoneMover is a powerful program to get you to transfer data at a fast speed.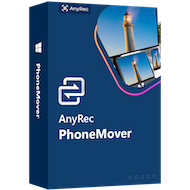 AnyRec PhoneMover
Effectively transfer text messages from Android to iPhone via connecting to a WiFi network or USB cable.
Let users back up their contact list between devices without needing iCloud or iTunes.
Offer other valuable functions such as HEIC converter for HEIC pictures to convert to standard formats.
Manage and delete duplicates on the user's device to free up storage space while transferring files.
Step 1.Download and install AnyRec PhoneMover from the official website. You can also use the Free Download button to install the software directly. Once finished, open your phone and download the MobieSync app to connect to PhoneMover. Select the Android option from the main menu.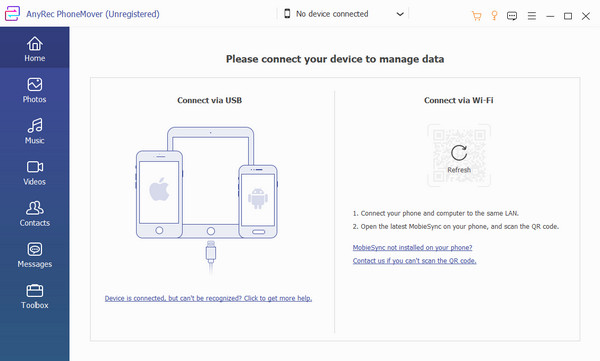 Step 2.If you are using a USB cable, ensure that the cable is supported for both devices. MobieSync will scan the QR code from the software's interface while your devices are connected to the same WiFi network. Once the connection is successful, you will see the mobile unit's information on the monitor.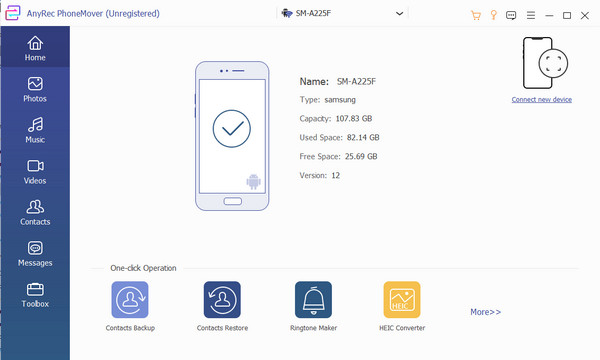 Step 3. When permission is granted, go to the Messages menu and select the text you want to transfer. You can also export your contact list, documents, calendar, and other files. Select your device's name and click the Connect New Device button. Scan the QR code from the iOS device. Then, click the Export to Phone button to complete the process.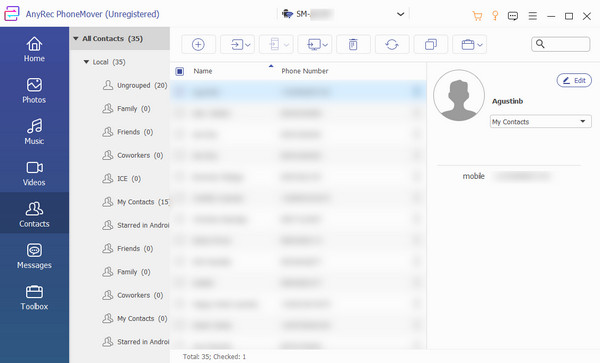 Step 4.To make a ringtone or convert files, go to the Toolbox menu and select a tool. Other recommended products are also present for other activities. Disconnect the devices when done with data transferring.
Part 2: Sync Text Messages to New iPhone 14 via Move to iOS
Move to iOS is a default app for transferring text messages from Android to iPhone. It helps you to migrate data with automatic and secure features. It supports exporting Android data, including message history, mail accounts, WhatsApp content, etc. After a few seconds of file transferring, you can see your message history from sent to received. Unfortunately, Move to iOS only works with a new device or a newly reset. So, it is only part of the initial transfer when you change devices. And it only supports Android 4.0 version and higher.
Step 1.Launch Google Play Store on your phone and install Move to iOS. While waiting for the app to get installed, prepare the new iPhone by following the set-up steps. Connect to a WiFi network as prompted. When you are asked about file migration, choose the Move Data from Android option. Remember the security code given on your screen.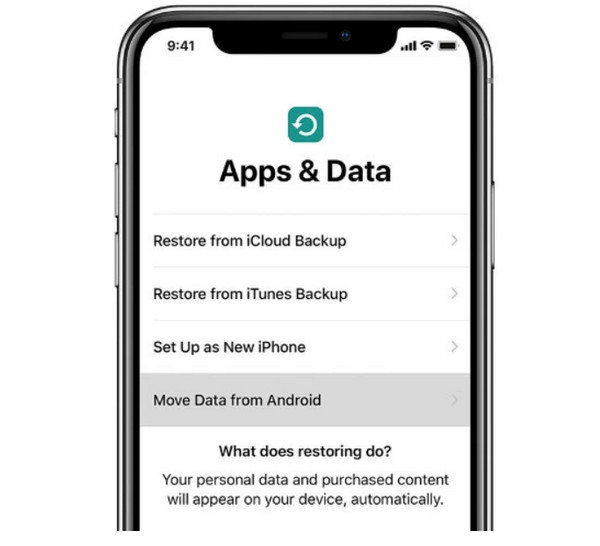 Step 2.Open the Move to iOS app and enter the pin code from earlier. Select the files you want to move to the iPhone, including the messages. Follow the prompts to wrap up.
Part 3: Send Anywhere Helps You to Send Messages Between Devices
Another third-party app to try is Send Anywhere. It is a free application that is great for transferring text messages from Android to iPhone. It is a popular app because of its easy setup and unlimited file sharing. The best part of Send Anywhere is that you can use it without an internet connection!
Step 1.Once you have downloaded and installed Send Anywhere, permit it to access your device. Then, mark the Android device as the sender and the iPhone as the receiver. Ensure that the devices are connected to a WiFi network.
Step 2.When the app asks which file you want to transfer, select the message option and other data. You will get a one-time generated code from the Android device to enter on the iOS device. Tap the Upload button and wait for the process to finish.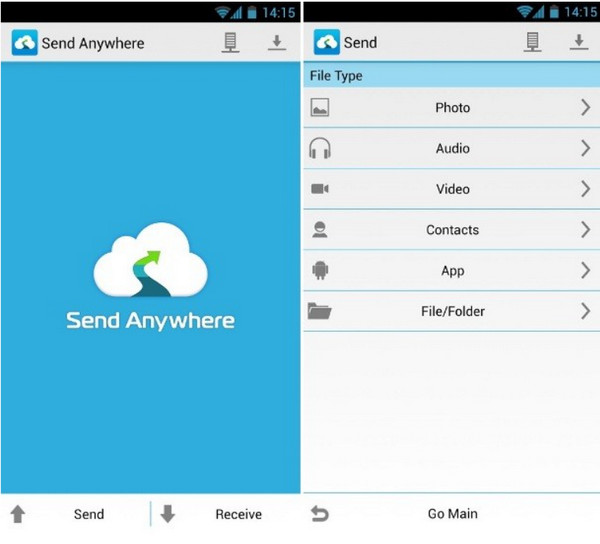 Part 4: FAQs about Transferring Messages from Android to iPhone
1. Why do I receive an error when transferring messages from Android to iPhone?

The reason for this might be the internet connection on your end. If you are using Move to iOS, ensure a stable connection because the app relies on a private network connection to transfer files.

2. Is there a way to transfer text messages on WhatsApp from Android to iPhone?

Yes. The only way to have your WhatsApp data from a new device is to log in with the same number you used from the old phone. WhatsApp does not support transferring messages from Android to iPhone as the operating systems' backup functions differ.

3. Can I save my text messages from Android to PC?

Yes. You can sync and save text messages with the help of Google Backup. When you keep your files with this feature, you can restore them when necessary, including text messages from your Android device.
Conclusion
You can enjoy the new iPhone now that you have text messages from your old device. Transferring text messages from Android to iPhone has been easier with Move to iOS and Send Anywhere. However, due to the incompatibility of these apps with other Android and iOS versions, AnyRec PhoneMover is the best alternative to export data. Make it effortless with the best file-transferring software!
Related Articles: