PhoneMover
Transfer photos, videos, music, contacts, and messages between any iPhone and Android.
What to Do When You Switch from Android to iPhone 14
Many people want to switch from Android to iPhone because iPhone 14 has developed many new features attracting people's eyes. Those old iOS 16/15/14/13/12/11 users can easily transfer files to a new iPhone. As for Android users, you can continue reading to transfer data from Android to iPhone 14/13/12 without losing data.
Part 1: How to Easily Move Your Android to iOS with AnyRec PhoneMover
If you are looking for the best Android to iPhone transferring software, AnyRec PhoneMover could be the best choice. You can transfer everything from one device to another device with only a few clicks. AnyRec PhoneMover can detect and display all your stored files, which helps you to manage, edit, and transfer files more easily. And for those iOS 16/15/14 new users, there is a ringtone tool that could help you make your iPhone ringtone. So take it easy. AnyRec PhoneMover can take care of you about the first Android to iPhone switching tour.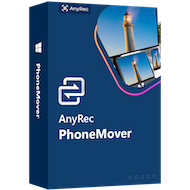 AnyRec PhoneMover
Transfer data from Android to iPhone 14/13/12 quickly.
Move photos, videos, music, contacts, and messages between phones.
Preview, edit, manage, and delete all scanned phone files.
Support the latest iOS 16 and Android 10.
Step 1Run AnyRec PhoneMover on PC. There are two connection methods supported for you to connect your phone to the computer. You can choose to connect them via a USB cable or scan the QR code. And if you choose to scan the QR code, you must install the software MobileSyncand make sure your phone and computer are connected with the same Wi-Fi.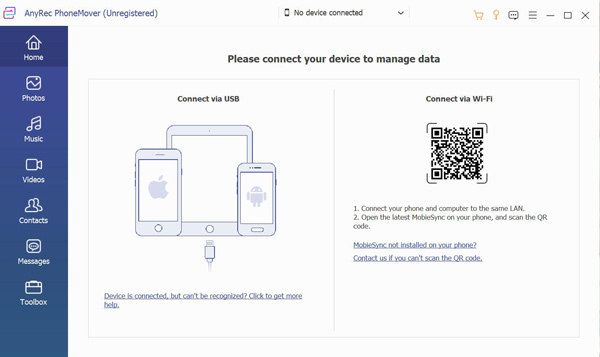 Step 2After you connect your Android, the information about your phone will be displayed. And the next step is to click the Connect new device button to connect to your iPhone, so you can transfer data and files when switching from Android to iPhone.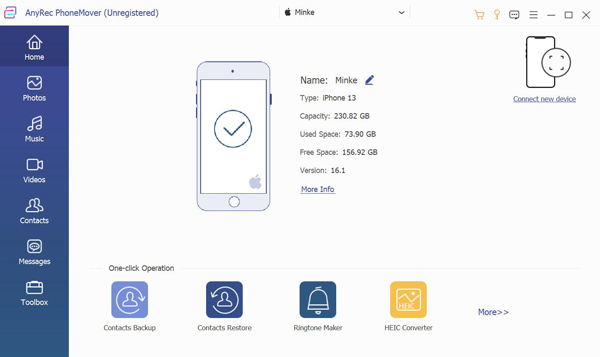 Step 3When the connection is over, you can see the left bar will display the file of your phone. For example, if you want to send video files, you can click the Videos button. Then all video files on your Android will be shown to you. And you can right-click the video to preview it. If you want to transfer messages, photos, contacts, and others, you can just click the button to see the files on your phone.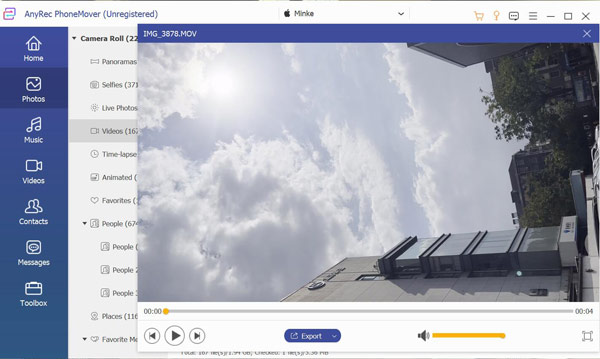 Step 4If you have chosen the files you want to transfer, you can click the Transfer button with the phone icon and choose which device you want to send. When you are successful to send the video, there will be a window to let you know.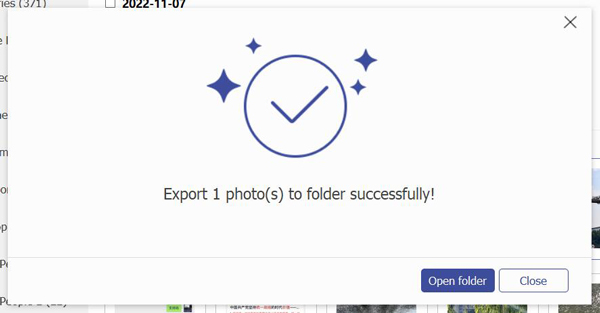 Part 2: Use Move to iOS to Transfer Data from Android to iOS
Move To iOS is an Android app made by Apple to help you switch from Android to iPhone. It can transfer contacts, message history, website bookmarks, mail accounts, calendars, photos, and videos. Move To iOS also identifies any Android apps you had on your old phone and, if they're free in the iOS App store, downloads them on your new iPhone.
Step 1When you get the new iPhone, you should set up the language, network, password, and so on. Once you reach Apps & Data, tap Move Data From Android.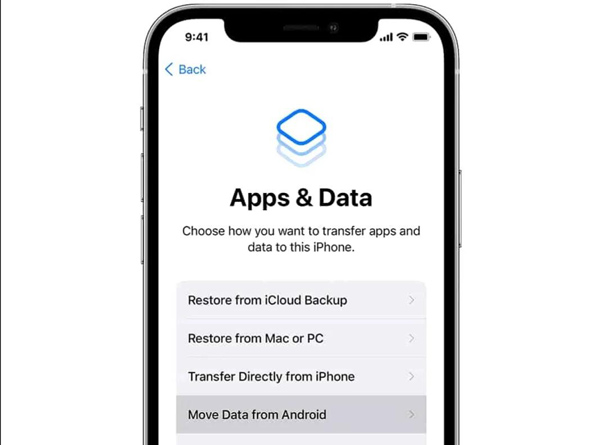 Step 2Then you should download the Move To iOS app on your Android phone. You can find the app in the Google Play Store.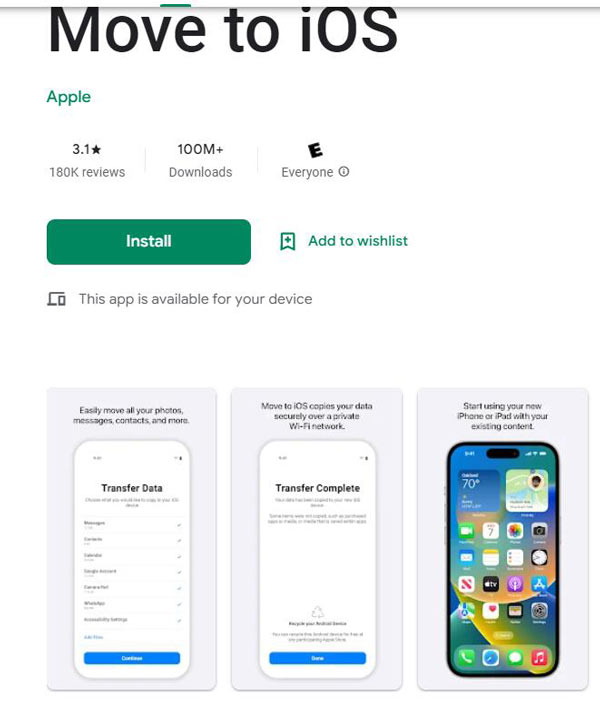 Step 3Then head to the Find Your Code screen and tap Continue. There will be a code created on your screen. And enter the code on your Android device and tap Connect. This will form a temporary Wi-Fi connection, allowing you to transfer your data.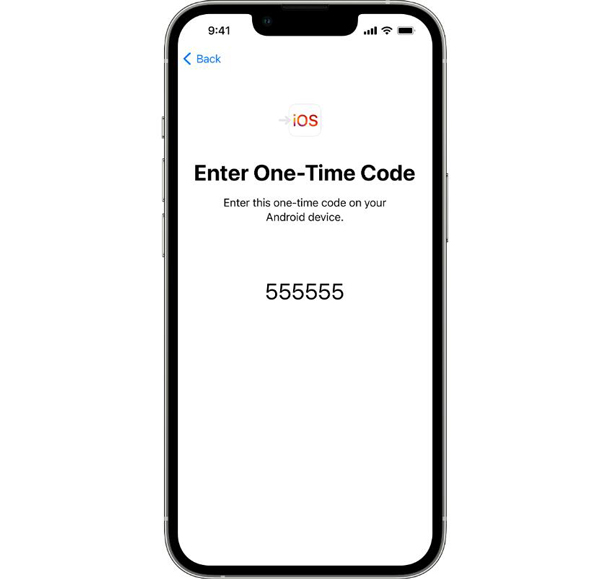 Step 4Choose which content you want to transfer to your iOS device and tap Continue. Then, just wait. You'll want to make sure the two phones remain close to each other and that no other apps are opened on the Android device. Once the transfer is complete, you can continue to set up your iPhone.
Part 3: FAQs about Switching from Android to iPhone
What should I do before switching from Android to iPhone?

The first thing you should do is back up the data and the files. There is a chance that you could lose the data if you use Move to iOS to directly transfer them. But if you use AnyRec PhoneMover could safely send files.

What will I miss switching from Android to iPhone?

Layout customization will be lost when you switch to an iPhone. You can keep the layout customization between iOS systems and android and iOS systems.

How long it takes to switch from Android to iPhone?

There is no accurate time. The time depends on the size of your files and data and also depends on the stability of the network connection. But, if you use AnyRec PhoneMover, you can move data fast and you can also use them while transferring.
Conclusion
Now you must know what to do when you switch from Android to iPhone. Move to iOS is a way for people who do not use computers. Although it seems convenient, there are many troubles when you use it like the connection interrupts, transferring fails, and so on. So, the best way is to use AnyRec PhoneMover on your Windows to keep the process fast and safe!
Related Articles: