Top 10 Split-Screen Video Editors on Windows/Mac/Android/iOS
A project such as a video collage might need a split-screen video editor to insert more clips professionally. This is an excellent way to give your audience different points of view while delivering one message. If you are new to this kind of video, it is sure that you must find a simple split-screen video app to execute video editing efficiently. This guide presents the top ten split screen video apps for desktop and mobile devices.
Part 1: Top 5 Split Screen Video Editors for Windows/Mac
Video editing on a laptop or PC gives you a more comprehensive view of your video. With more features to help you edit, these top five split-screen video apps are a must-have for effective video editing on Windows or Mac.
An excellent desktop tool with a split-screen video feature. It offers a collage video editor where you can add essential elements, including various templates, borders, and filters. It enables to save video output to different formats such as MP4, MOV, MKV, WMV, and more. The audio can be disabled and input a new music background. There are more powerful functions that are beneficial for both Windows and Mac users. Try AnyRec Video Converter now!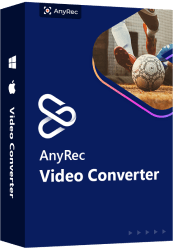 AnyRec Video Converter
Split-screen video editor with frame presets, filters, and audio editor to improvise videos all at once.
Enable to export the split-screen video to different format, frame rate, resolution, and quality.
No file size limitations and accepts any video file format like MP4, AVI, WebM, MKV, etc., for video editing.
Provide more functional tools to convert, compress, merge, and reverse video files without distorting the original quality.
Step 1.Download the software from AnyRec's official website. Once it is installed, launch the split-screen video editor to begin video editing. Click the Collage button from the top part of the main interface. Click the Add button to import the video files you want to do a split screen.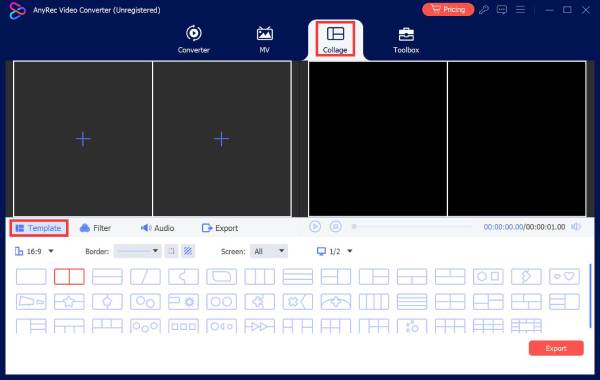 Step 2.Depending on your chosen border type, you can import video files of up to 13 clips. There are also options to change the border's design, size, and background. You can apply a filter for every clip you import, disable the audio, and add a new audio track.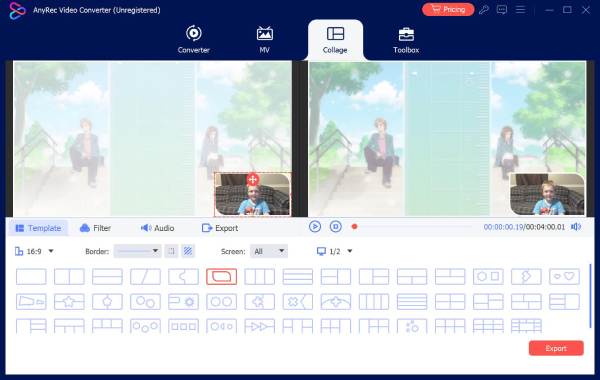 Step 3.Point your cursor to a clip, and you can see a small widget menu. It will allow you to crop, rotate, trim, and enhance the resolution of every video file. Once you are done, watch the Preview on the right part of the window.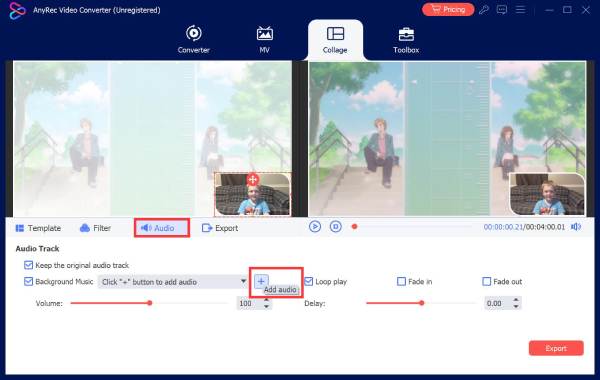 Step 4.Click the Export button under the video clips to change the video output accordingly. You can change the video frame rate, format, resolution, and quality. Another option in this section is the designated folder path where you want to save the output file. Then, click the Start Export button to finalize your project.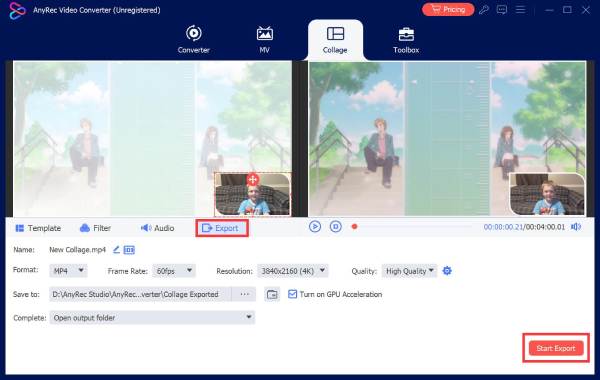 2. iMovie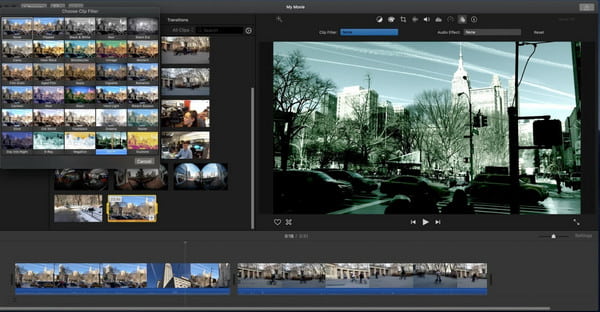 For Mac users, iMovie is the best split-screen video app to utilize. The software is a default video editor for any Apple device, offering more advanced video editing features. The learning curve with iMovie is also for beginners to intermediate users, so it is easier to do a split-screen video.
Features:
◆ Free to use any split-screen effect with 2 videos side-by-side.
◆ Smooth transitions between different videos.
◆ Enable to edit every clip for one split-screen video.
◆ Able to adjust split-screen videos via Video Overlay Settings.
3. Kapwing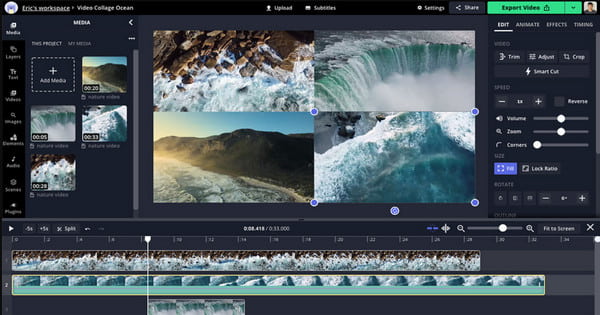 If you don't want to download a desktop tool, you can use an online split-screen video editor like Kapwing. This online tool enables you to edit videos just like you want. It has a wide range of video editing, from preset collage templates to basic add-ons features.
Features:
◆ Suitable to split-screen images and videos.
◆ Allow to fill the whole frame with the clips.
◆ Time out tracks to play them at the right moment.
◆ Save split-screen video without a watermark.
4. Lightworks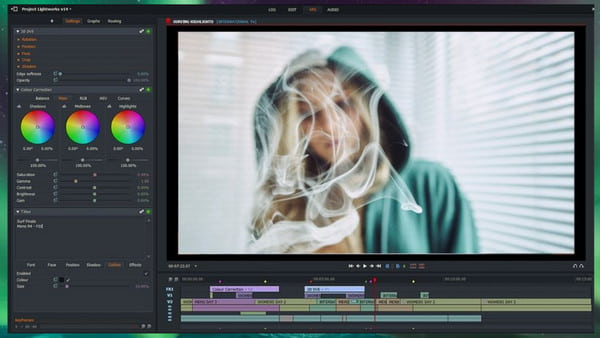 Lightworks is an ideal split-screen video editor for Windows, Mac, and Linux. It is a professional tool that combines multiple clips in one frame while giving you the best presets for various designs.
Features:
◆ Enable to add four clips in one split-screen.
◆ Support various video formats like MP4 and MOV.
◆ Adjustable video color and blend for enhanced split-screen video.
◆ Allow users to use the transitions and effects in the collage function.
5. VSDC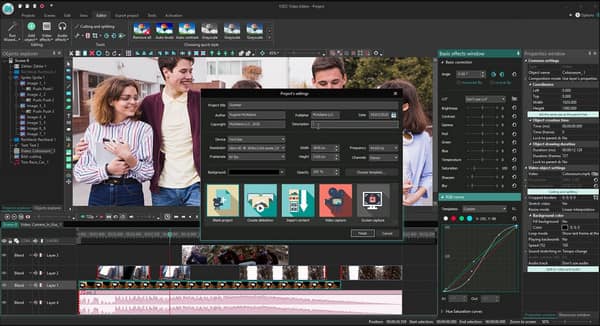 The last recommendation for a split-screen video editor for desktop is VSDC. You can free download the software to your device and use it to edit videos on a professional level. Its straightforward interface makes it easier to add videos to your screen.
Features:
◆ Overlay clips effortlessly to make split-screen video.
◆ Offer both basic and advanced video editing tools.
◆ The learning curve is not difficult.
◆ Excellent in resizing in same aspect ratio of all clips.
Part 2: 5 Best Split Screen Video Editor Apps for Android/iPhone
You are not limited to having a split-screen video app on your phone. If you are unsure which app to get, this part will present you with the best split-screen video apps for Android and iOS.
1. Video Collage and Photo Grid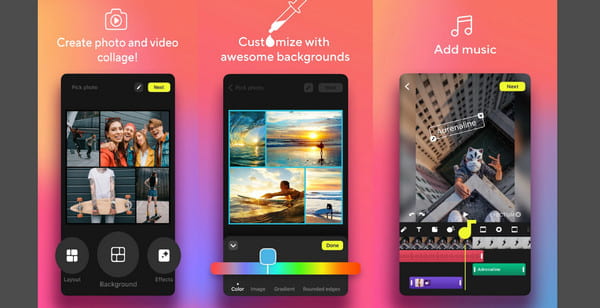 If you are an iPhone user and want to explore a split-screen video editor, this one is for you. It is a free app specializing in video collaging, providing you with various layouts to add multiple videos on one screen.
Features:
◆ Freely adjust every layout to create the split-screen.
◆ Offer more than 100 templates for video and photo collage.
◆ Directly share split-screen videos to linked accounts.
◆ Enable to combine about 10 videos in one frame.
2. Vidstitch Frames for Instagram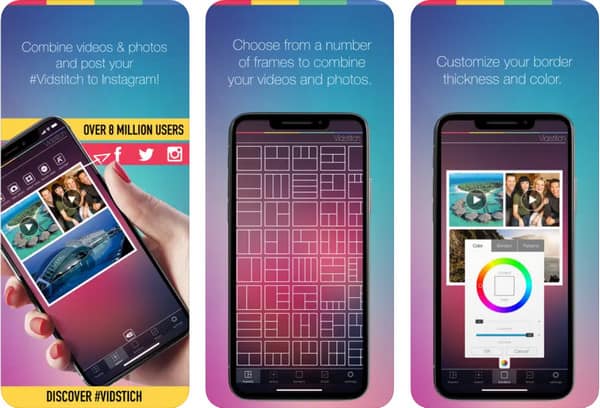 This split-screen video editor app provides more video editing features suitable for creating Instagram content. It has iOS and Android versions; you only need as low as $0.99 to unlock other features.
Features:
◆ Suitable for Facebook and Instagram content.
◆ Support importing user's own soundtrack.
◆ Save good quality split-screen clip.
◆ Allow photos to include in video collage.
3. Acapella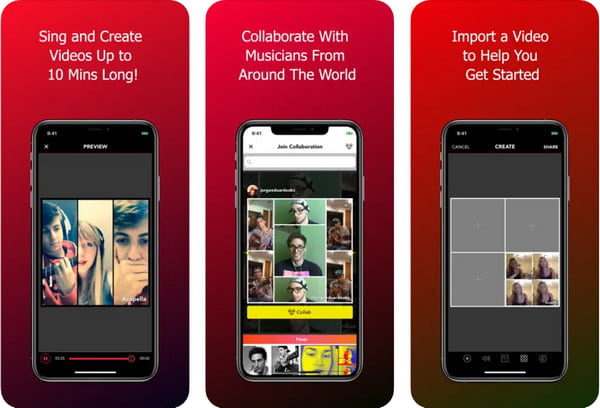 Although this app is for editing music, it also offers a split-screen video editor. It supports layouts for multiple videos to be inserted on one screen. Adding multiple tracks is also not a problem where you can also configure the settings.
Features:
◆ Suitable for duets from two different videos.
◆ Enable to record audio for 10 minutes.
◆ Optimize sound with equalizer per video clip.
◆ The borders are great and are free to use.
4. Multiple Videos at Same Time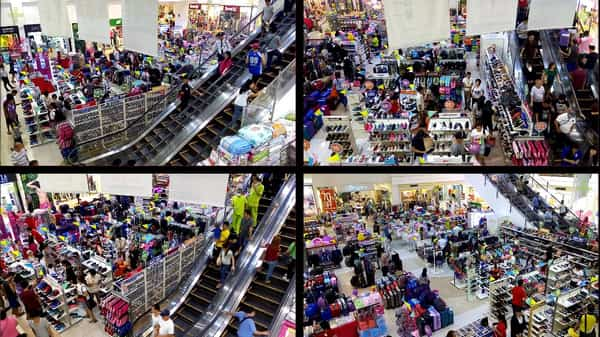 With its intuitive interface, this split-screen video app, you can add four videos and play them simultaneously. It allows you to use its basic viewing-related commands, including search, rewind, and volume level.
Features:
◆ Save multiple configurations for split-screen.
◆ Easily import and export split-screen clips.
◆ Require minimal hardware requirements.
◆ Collect videos from various sources on phone.
5. Split Screen Video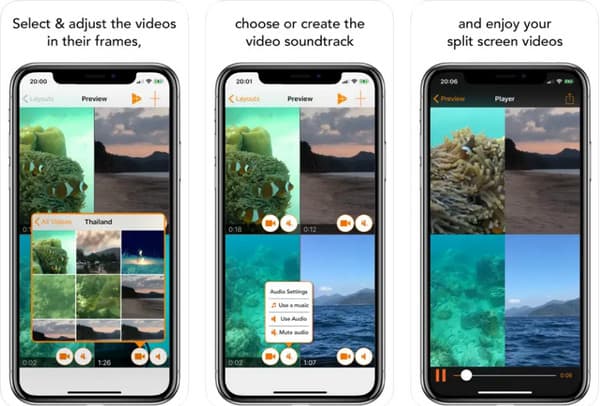 A simple split-screen video editor app that is suitable for everyone. Whether you are a new or a professional video editor, Split Screen Video can easily combine four videos simultaneously. The downside of the app is it is only available for iOS devices.
Features:
◆ Configure the size and style of the videos.
◆ Enable to control the video speed.
◆ Save split-screen videos in high quality.
◆ Good collections of templates and borders.
Part 3: FAQs about Split Screen Video Editor
Can I combine two video files with different formats?

Depending on the split-screen video editor you use, adding two different video formats on one screen is possible. But if you don't find any editor that can do this, AnyRec Video Converter allows you to import various videos and make a video collage.

Does making a split-screen video lower the quality?

You can avoid getting a low-quality split-screen video by configuring the output to a higher resolution. It is also a great idea if you could convert all the video clips into one format file to not risk getting distortion.

Is it possible to make a split screen when I'm on live?

Yes. Just like on Facebook, you can activate a setting where you can do a split screen live. Just tap the Live Video button. You can add another person to your live streaming by tapping the profile-shaped icon. Then, the split-screen will automatically appear on your live.
Conclusion
Now you can make all the split-screen videos you want with the recommended apps. The split-screen video editors are not out of your reach whether you are using a laptop or mobile device. You can also use AnyRec Video Converter for a more convenient way to play multiple videos at once. Try the free trial version today.
Related Articles