Get to Know the Top 9 Alternative Sites to FLV2MP3 Converter
Using the FLV2MP3 converter can bring you convenience in converting online music. Its fast conversion process helps you save time and even supports multiple formats like MP3, MP4, MP4 HD, AVI, and more to convert. However, the FLV2MP3 converter has some issues leading to blocked access to the USA and United Kingdom. Fortunately, there are many alternatives you can replace the FLV2MP3 converter. Read further to learn about the best sites like FLV2MP3 converter.
Part 1: Top 10 Sites Like FLV2MP3 to Convert Any Video to MP3
It is a matter of online service when you look for an alternative site like FLV2MP3 converter, especially if you want the same experience from your favorite online converter. Also, there is a chance that you might encounter an unfixed bug from a site which can lead to a longer conversion time. To avoid this, here are the best sites like FLV2MP3 converter, with their best features introduced in detail.
AnyRec Free Video Converter
The first site like FLV2MP3 to recommend is AnyRec Free Video Converter, which has accessible features to convert files. It has a clean interface that is easy to understand and navigate. It also offers the essential functions you need for converting, such as editing the output settings, quick access to formats, and more. AnyRec Free Video Converter is the ideal site like FLV2MP3 converter.
◆ The easiest online converter to convert files for beginners like FLV2MP3.
◆ Allow making changes in a video encoder, frame rate, resolution, etc.
◆ Support any video and audio file format to convert, such as MOV, MP3, etc.
◆ Fast and reliable converting process that will only take a few minutes.
Step 1.Go to your browser and search for AnyRec Free Video Converter - the site like FLV2MP3 converter. Once you are on the actual site, click the Add Files to Start button and wait for the launcher to be successfully downloaded on your device.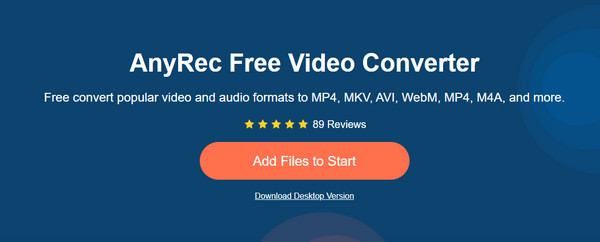 Step 2.After that, click the Add Files to Start button again and import the file you want to convert. You can also add another file by clicking the Add File button at the top part of the window. After that, select the file format you want for the imported file on the window that appears. You can also export your videos for social media platforms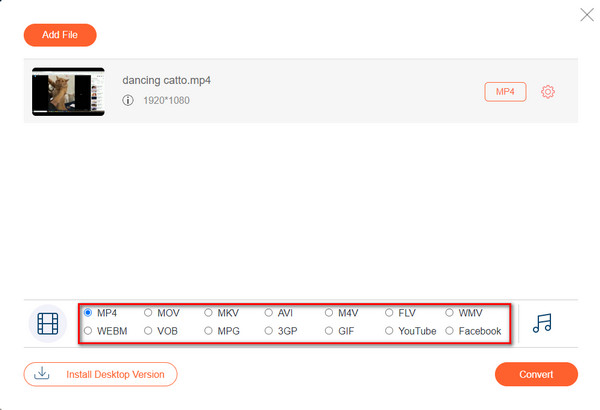 Step 3.For advanced settings, click the Settings button, and you will be able to make adjustments to your video or audio settings such as video bitrate, resolution, etc. Click the OK button to save all the changes.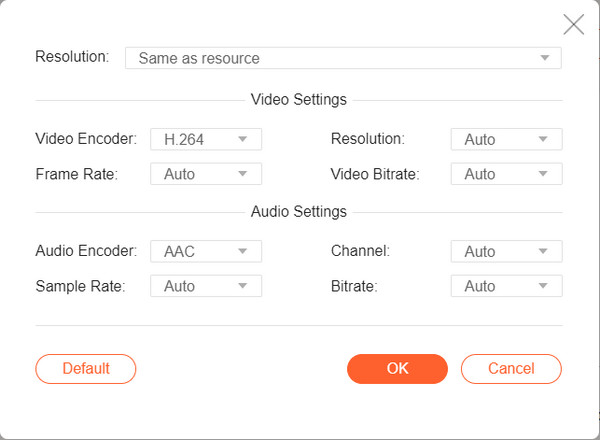 Step 4.Once satisfied with the changes, click the Convert button and wait for the process to finish. The conversion might take some time, depending on the file size. You can also download the desktop version - AnyRec Video Converter of this site like FLV2MP3.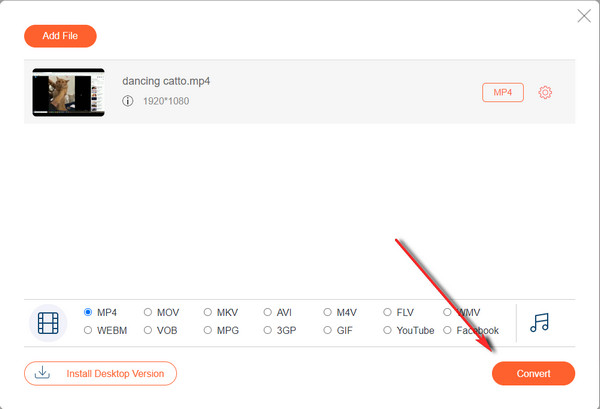 2. FLVTO
FLVTO is a simple online tool, just like the FLV2MP3 converter. It freely offers its service to convert MP4, MP3, AVI, and more. You can access this site even if you have a device with macOS, Windows, or Linux as the operating system. If you are not a native English speaker, FLVTO allows you to choose other languages like Italian, Spanish, French, etc.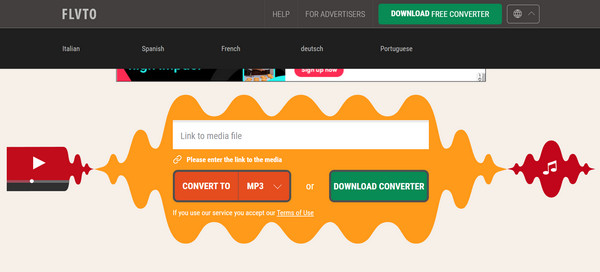 Pros

It has a simple interface.
A 2-minute interval for conversion.
Cons

Only a handful of file formats are supported.
3. Zamzar
For sure, you have used Zamzar for converting, and as one of its frequent users, you know its potential as an alternative to the FLV2MP3 converter. You don't even need instructions to navigate this online tool, just upload a file to convert, and everything will follow. Moreover, Zamzar has other valuable conversion options if you want to convert documents, eBooks, music, and more.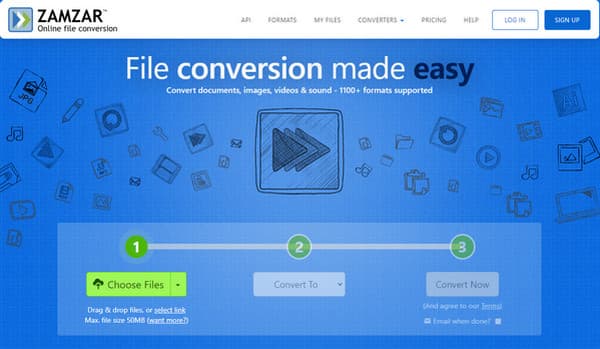 Pros

Allow maximum size of 50MB per file.
No launcher to download.
Cons

Too basic and no advanced settings to offer.
4. VidToMP3
If you want to simply extract MP3 from an online music video, VidToMP3 can help you, just like the FLV2MP3 converter. Its convenience brought to freely and unlimitedly convert FLV to MP3 without installing a launcher. Just copy the link from an online video, then paste it to the online converter. After accepting the terms, click the Convert button, and you are done.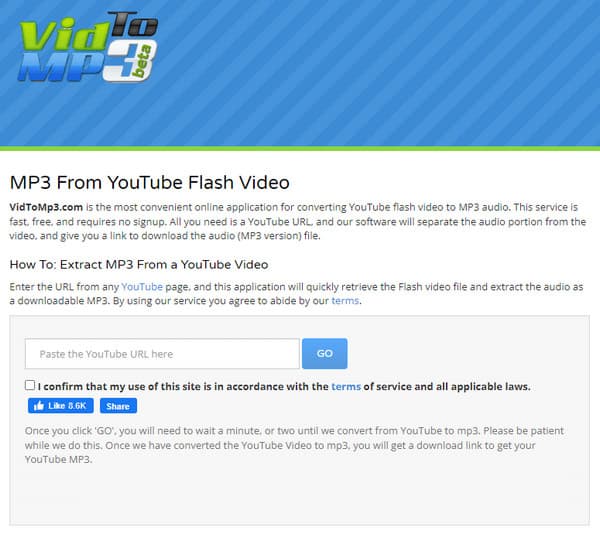 Pros

Dedicated to converting files to MP3.
Simple steps to convert files.
Cons

The interface looks outdated.
5. 2Conv
The unique part of this site, like FLV2MP3, is you can copy a link from TikTok and other websites to any file format. It is so flexible that you don't have to worry about how many files you have converted using this tool. The 2Conv website also promises that it is not infected with malware and not too many advertisements.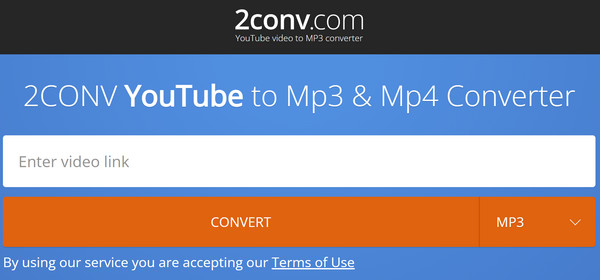 Pros

Partnered with 20 online tools.
Easily converts files from social networks.
Cons

Slow conversion process.
6. noTube
Converting online video files has never been easy and fast with noTube. It supports file formats like 3GP, FLV, M4A, and more which is an advantage for people who needs to convert old file formats to new ones. The noTube website is one of the most efficient platforms and an effective alternative to the FLV2MP3 converter.
Pros

100% free online converter.
Compatible with all devices.
Cons

Lack of essential tools.
7. OnlineVideoConverter
Another popular site to be an FLV2MP3 alternative is the OnlineVideoConverter. Since its first launch, many users have been engaged to convert their files unlimitedly effectively. The online converter is as simple as others, but it provides three converting options: via a link, upload a file, or record real-time. You can also freely convert files to FFLV, MP4, MP3, WEBM, and more.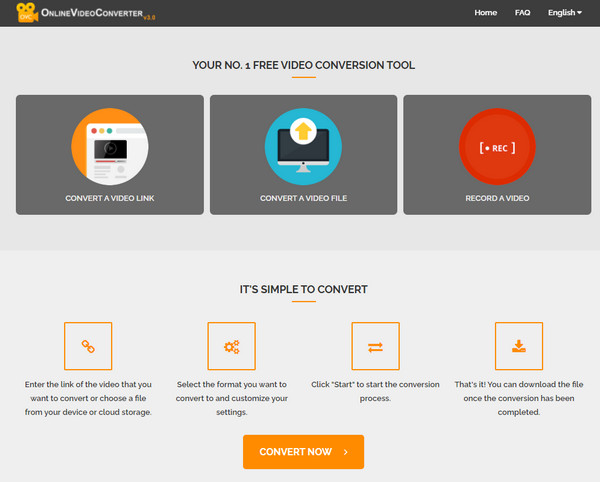 Pros

Accessible even on mobile devices.
Provide customizable settings.
Cons

The conversion is so slow.
8. Dirpy
This online tool is not only best for converting online media but also for an internet video recorder. If you want to record a TV show and convert it to a more compatible format, Dirpy is the right online tool to use. As an FLV2MP3 converter alternative, it will not let you down to convert and record your favorite content.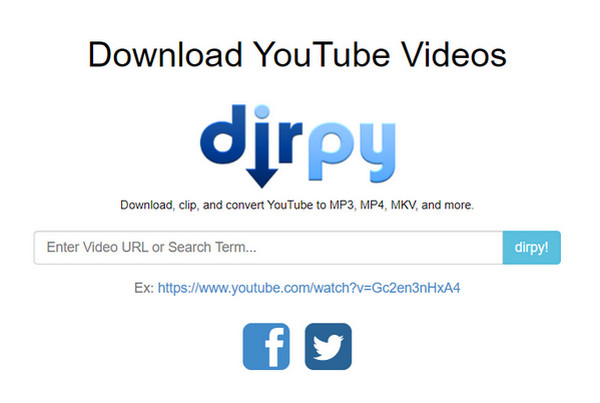 Pros

Has a straightforward interface.
Free to use.
Cons

The recording function is only available on the premium version.
9. Convertio
Last but never least, Convertio is one of the best sites for the FLV2MP3 converter alternatives. This is an online tool has a lot to offer, such as advanced output settings, uploading methods, and more. You don't even have to provide any credentials, just copy a video URL then paste it to the URL box.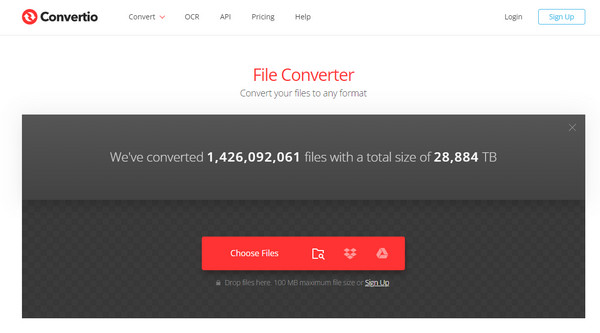 Pros

Offer service as a Chrome extension.
Support 300+ file formats.
Cons

Buffers and lags sometimes.
Part 2: FAQs about the Converting Sites Like FLV2MP3
How to use FLV2MP3 to convert audio files?

Go to the official website, scroll down, and you will see the other options for the conversion. Select the desired format to convert, and then enter the link you want to convert.

Is there any software like FLV2MP3 to convert video/audio?

There are many apps to choose from to be an alternative. You can download AnyRec Video Converter, SnipMP3, FreeVideoConverter, and more.

Can I convert WebM to MP4 through the sites like FLV2MP3?

Yes. Although FLV2MP3 only support converting audio files, you can use Zamzar, Online-convert, AnyRec Free Video Converter to convert WebM to MP4 without losing quality.
Conclusion
You will never run out of options to use the recommended sites like FLV2MP3. In addition to the mentioned online tools, you can also have a try on AnyRec Video Converter on your Windows/Mac to export high-quality videos. Moreover, it supports many editing tools to help you make the best video.
Related Articles