Discover the Trouble-Free Ways to Convert MP3 to AIFF on Windows/Mac
When listening to music, audio quality is one of the most important factors to consider enjoying it. And converting MP3 to AIFF is a good idea if you want to keep the quality. MP3 is without a doubt one of the most extensively used media file formats, with most devices supporting it. However, because MP3 is a lossy file format, there is a fear that it makes a little but significant quality sacrifice. On the other hand, AIFF (Audio Interchange File Format) is a standard audio file format used by Apple Macintosh systems. This file format includes high-quality audio in an uncompressed, lossless format. Fortunately, this article will provide you the most convenient way on how to convert your MP3 files to AIFF. Please keep reading to be guided well.
Part 1: What is AIFF and Why Should You Convert MP3 to AIFF?
1. What is AIFF?
AIFF or Audio Interchange File Format is primarily used in Mac and Apple devices. It allows you to record and listen to studio-quality audio. AIFF registers the audio waveform as accurate samples (slices) using PCM to offer the highest possible audio recording quality and sound replication. It has the same sample rate and bit depth options as WAV files. AIFF also stores data in an uncompressed, lossless format, which means there is no degradation of quality. In 1988, Macintosh introduced AIFF, a format that allows complete studio-quality audio recording and playback on Apple computers.
2. Reasons for Converting MP3 to AIFF:
● MP3 files are converted to AIFF because it provides the best audio recording quality and sound replication.
● AIFF also saves data in a lossless, uncompressed format. While MP3 is a lossy file format. That means there might be audio quality sacrifice.
● If you want to play your MP3 files on your Mac for better quality, you must convert MP3 to AIFF.
Part 2: The Easiest Way to Convert MP3 to AIFF on Windows/Mac
As previously stated, even if MP3 provides a smaller file size than AIFF, AIFF offers higher audio quality than MP3. In line with that, you can enjoy listening to your all-time favorite music without sacrificing the audio quality. So why compromise the audio quality if you can easily convert MP3 to AIFF with the help of a video converter? Download the Video Converter now and with just a few clicks you can enjoy listening with high quality audio.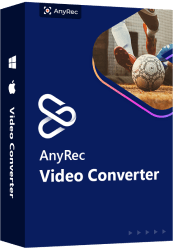 Best Features of the Leading MP3 to AIFF Video Converter:
Allows you to convert any format into different file formats, such as AIFF.
Easy conversion with up to 30 times faster conversion speed.
It guarantees high-quality audio output with customized sample rate and channel.
Able to edit the audio files and even add other background audio tracks.
Steps to Follow:
Step 1.Step 1: Launch the Video Converter on your Device
Download and launch the Video Converter on your device. After successfully launching the app, you may proceed immediately in adding your files to the app. Just click the Add Files button or directly drag your files to the app's interface to begin the process.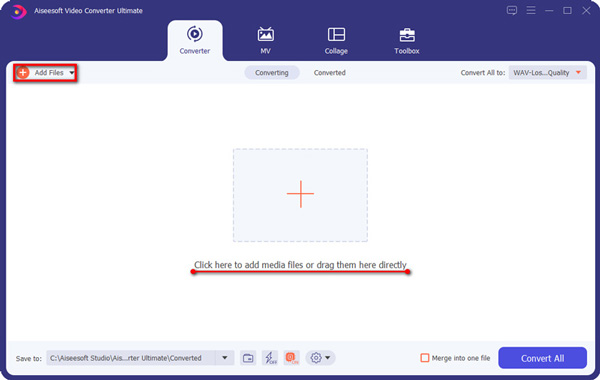 Step 2.Select the Desired Format
After adding the files, you may now choose your desired audio format. On the right side of the app, click the Format icon. Then, select the Audio button. After that, you will see a list of audio formats just choose the AIFF format.
Step 3.Convert your Audio
Finally, after a few clicks, you may now convert your MP3 files to AIFF. To choose the location of your file, click the Save To button. After that, you may now click the Convert All button to start converting and saving them to your device.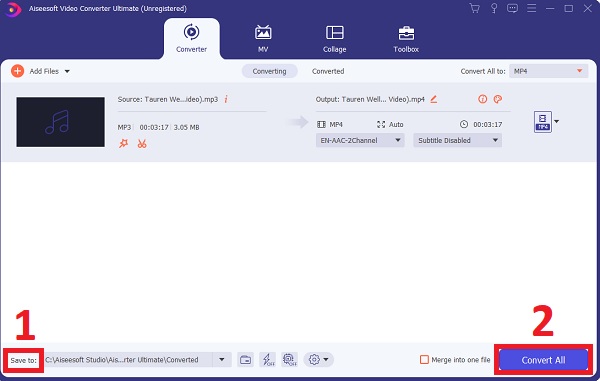 Through this powerful video converter, you can also transfer between videos, including RAR to MP4, AVI to MKV, etc.
Part 3: 2 Efficient Methods to Convert MP3 to AIFF Online for Free
Aside from the most competent and powerful video converter mentioned above, you may also consider the following two convenient video converters to transfer MP3 to AIFF files easily.
1. iDealshare VideoGo
iDealshare VideoGo is a mid-range video converter that is freemium. You can convert half of a file that is five minutes or less, or the first five minutes of longer files, with the free trial version. The user interface is straightforward, making it excellent for newcomers.
Steps to Follow:
Step 1.To import the audio, click the Add File button. Drag and drop files to iDealshare VideoGo, is also supported. Then select the appropriate video or audio format from the General Video.
Step 2.To begin and complete the video or audio format conversion, click the large round Convert button. In this way, you can convert MP3 to AIFF files.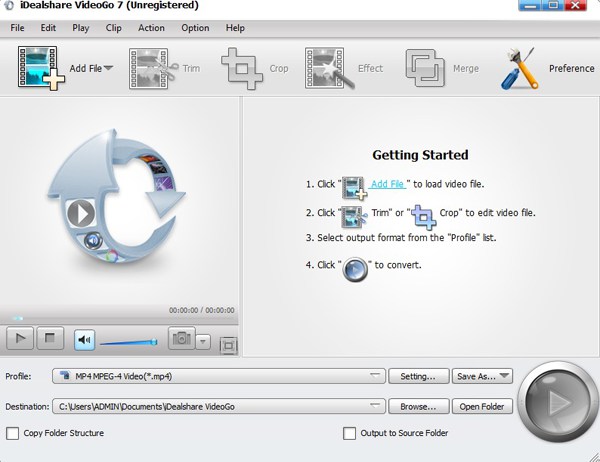 2. Online Convert
Online Convert is a free online application that provides a self-explanatory web interface with a drop-down list of output formats for your source file. Choosing a relevant extension for the converted file is comparably easy when utilizing this online conversion solution because the landing page offers separate listings for different file types.
Steps to Follow:
Step 1.Navigate to the official website of Online Convert. In the Audio converter section, select AIFF from the drop-down list.
Step 2.On the next page that appears, click the Choose Files button. Then click the Open button to open an MP3 file from your computer.
Step 3.To convert MP3 to AIFF online, click the Start conversion button. After a few minutes, you can click the Download button to save the AIFF files on your computer.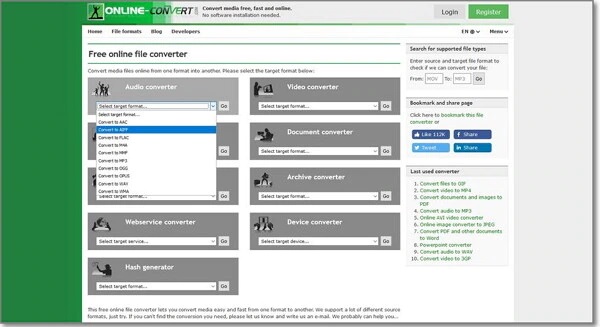 Part 4: FAQs about Converting MP3 to AIFF Format
1. What are the benefits of using AIFF?

AIFF files also have the added benefit of storing metadata such as album artwork and description tags. Of course, the downside of uncompressed formats is file size.

2. Does AIFF have a better sounding format than MP3?

MP3s are compressed audio files, which means there is some quality loss. AIFF files are uncompressed and hence sound better than MP3s, but they take up more disk space. Thus, you can transfer MP3 to AIFF for better audio quality.

3. What programs can play AIFF files?

Windows Media Player, iTunes, QuickTime, VLC, Media Player Classic, and presumably most other multi-format media players can play AIFF & AIF files. Apple's applications, as well as Roxio Toast, can open AIFF and AIF files on Mac systems.
Conclusion
There you have it! What stated above are the 3 most efficient MP3 to AIFF converters that you can easily find online. We have also provided simple steps for you to follow. We hope you can enjoy your music with higher quality after converting MP3 to AIFF format. In case you have questions and clarifications, you may freely send us your queries.
Related Article