Top 10 Best Screenshot Apps to Take Snapshot on Android/iOS
Simply pressing the power button and volume-low button together will take screenshots on your Android phone. iPhone also provides an overlay screenshot app in the control panel. However, you might have experienced some lacks from your built-in screenshot. For example, you can only capture the whole screen on your Android/iOS devices, and you need to edit them with other tool. Thus, in this post, you can search for the best screenshot app compatible with your device.
Part 1: 10 Best Screenshot Apps to Capture Every Moment on Android/iPhone
Some smartphones don't allow you to take a quick screenshot as some were built with facility and all. If you do not like the default screenshot app of your device, here are 10 best screenshot apps with different features you can download on Android and iOS.
1. Assistive Touch for Android (Android)
A must-have tool if you are an Android user. The Assistive Touch Team made this excellent screenshot app with more useful tools included. It works smoothly on any Android device like smartphone and tablet. Like iOS built-in screenshot, Assistive Touch for Android also has a floating panel, giving you easy access whenever you need it.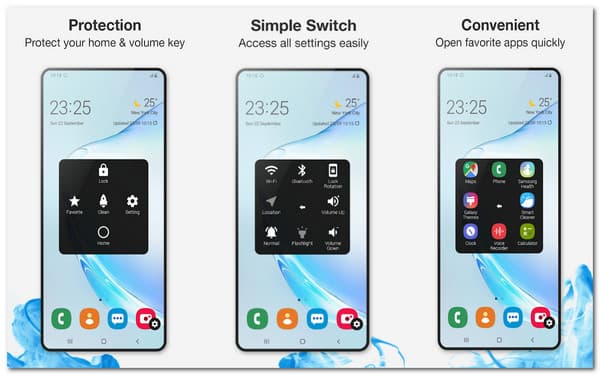 Pros

Provide high-quality screen recording function.
Include battery-saving technology.
Cons

The android device should be at least a 5.0 version for the app.
2. Awesome Screenshot for Safari (iOS)
iOS users can find this screenshot app more valuable than the default one. If you also have iOS as your device, you can download the screenshot app on the App Store and try to take a screenshot. You can use it on Safari and take a full-page screenshot. With its recent update, you can download Awesome Screenshot for Safari on iOS 8 and higher.
Pros

Sharing options include Facebook and Twitter.
Text annotation, arrows, and shapes included.
Cons

It does not work on some sites in Safari.
3. AZ Screen Recorder (Android)
This best screenshot app is one of the most trusted apps for Android users. With over one million downloads, the answer is on users' reviews. The primary function of AZ Screen Recorder is to do screen recording on your phone. But even if you only use the screenshot feature, the picture is high quality.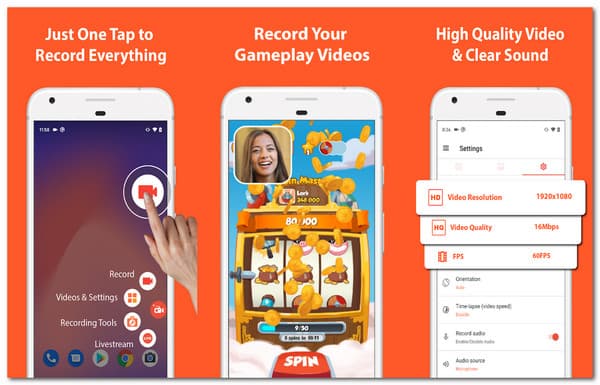 Pros

Free of charge and no watermark.
Screen recorder quality is up to 1080p.
Cons

Some users experience lags in the app.
4. Screenshort (iOS)
Offered by Mayank Sanganeria, the Screenshort app is an ideal screenshot app for iOS users. It enables the cropping function for cropping the only important part of a screenshot. When you iPad/iPhone screenshot isn't working, it's the best choice to take screenshots and directly post them on your Twitter account.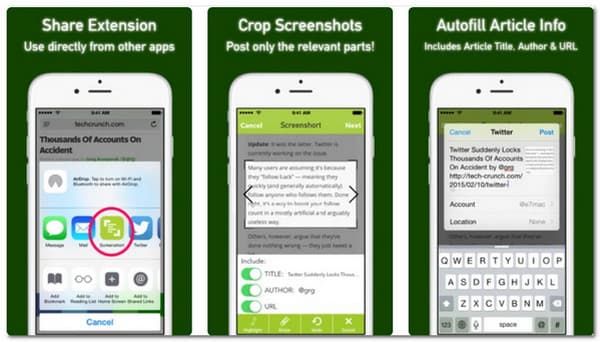 5. Capture App (iOS)
You can download the Capture App to quickly share screenshots with your coworkers, friends, or family. It prioritizes safe and secured photo sharing through any app. This screenshot app does not compress the captured images but will save them at full resolution and quality. Download this best screenshot app for free.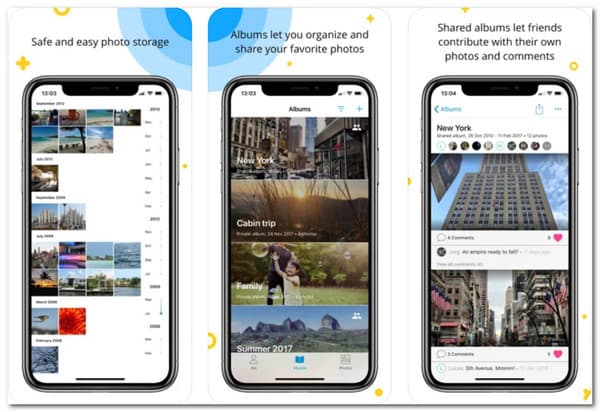 Pros

Offer 2GB storage space for screenshots.
Safely back up photos in the cloud.
Cons

Take time to sync photos, even on high-speed WiFi.
6. Screenshot Maker Pro (iOS)
The Screenshot Maker Pro is another excellent screenshot app for iOS devices. It is simple than other screenshot apps, which saves up your time. The app was initially made for the iPad, but the developers created an iPhone version because of its quick screenshot functions. You can also use more of its features to enhance your images to share on social media.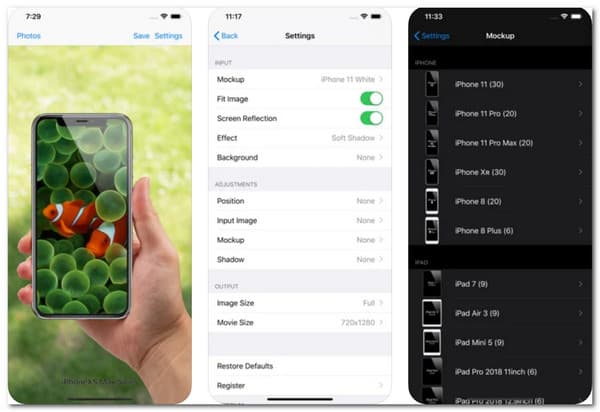 Pros

Provide frames for photos and videos.
Display reflection, shadow, 3D background, etc.
Cons

The app looks a bit outdated.
7. Screenit (Android)
This screenshot app's core feature is the editing tools you can use right after taking a screenshot. It provides various elements and add-ons such as effects, stickers, overlays, etc. It feels like you are using an image editor rather than a screenshot app. Of course, taking a screenshot only takes a few taps to do.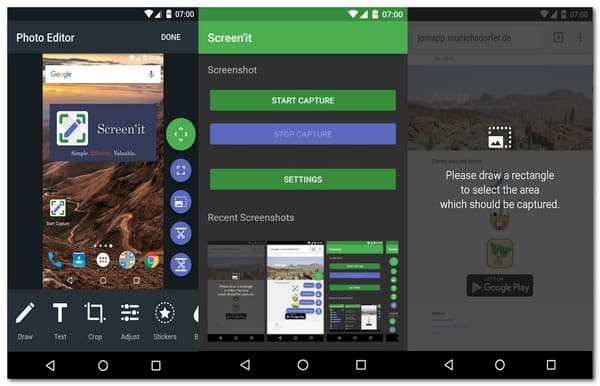 Pros

Multi-sharing options to other apps.
Provide floating panel for taking screenshots.
Cons

Some users reviewed the app crashes.
8. Firefox ScreenshotGo Beta (Android)
If you are having difficulties looking for a screenshot on your gallery, this screenshot app can help you. It organizes all your screenshot images, giving a simple overview of the photos. Moreover, you can search for a screenshot just by inputting a text, and the screenshot app will find it for you.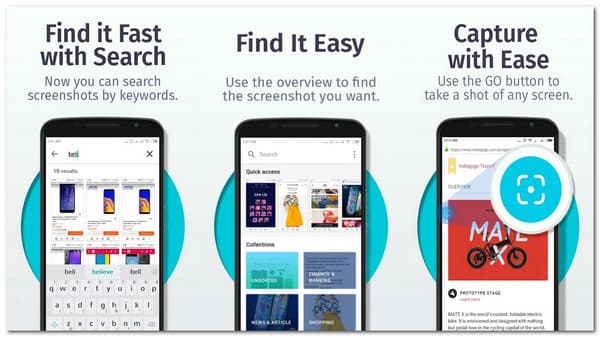 Pros

Search screenshots via keyword.
The Go button can be accessed easily.
Cons

No essential editing tools like crop, rotate, etc.
9. SCAR (Android)
Screen Capture and Recorder is another easy screenshot app for Android devices. It is packed with features that can enhance the screenshot you take. With its screen recorder feature, you can capture any phone activity up to 4K quality. This excellent screenshot app also provides a service for merging images to create a panorama-like image.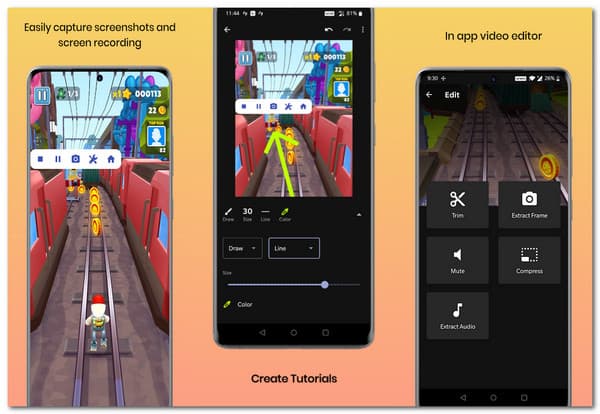 Pros

Add text, filters, effects, and more.
Extract still images from a video clip.
Cons

Duplicate screenshots were taken.
10. ScreenMaster (Android)
A powerful screenshot app like ScreenMaster is a must-have tool for your smartphone. If you want to invest in an excellent screenshot app, ScreenMaster is relatively cheap yet provides features including image intonation, whole web page capture, etc. The app also allows you to paste the URL of a website you want to take a screenshot.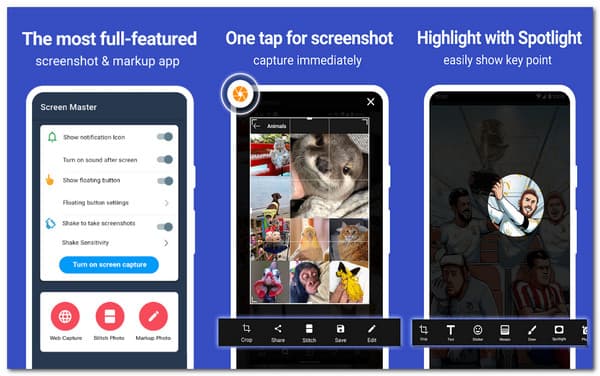 Pros

The screengrab function activates by shaking the device.
Save screenshots in high-quality resolution.
Cons

The status bar is visible in the images.
Bonus Tips: The Recommended Screenshot Software on Windows/Mac
Even with a PC or laptop, you need a reliable screenshot app. Most users of Windows and Mac recommend AnyRec Screen Recorder because of its intuitive interface and powerful features. Since there are different activities you can do on a laptop or PC, AnyRec Screen Recorder can be customized to take a screenshot of the preferred area of the screen. It also allows you to capture the screen of your mobile through mirroring. Great for sharing photos over the internet or editing them with the provided tools.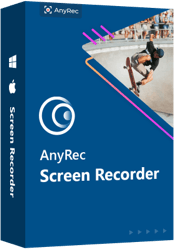 AnyRec Screen Recorder
Capture screenshots on your computers and mobiles in high quality.
Customizable hotkeys for quick access to screenshot functions.
Offer other features like screen recorder, audio recorder, Webcam, etc.
Provide drawing tools like spray paint, shapes, numbers, text, etc.
Part 2: FAQs about the Best Screenshot App on Android/iPhone
Does the default screenshot app on Android capture a partial screen?

No. The built-in snipping function on Android can only take screenshots of the whole screen. Thus, you can choose the mentioned ScreenMaster, Screenit, SCAR, and other screenshot apps to capture a selected area.

How to take a screenshot on the iPhone X default screenshot app?

To take a screenshot on iPhone X, press the upper volume and power buttons simultaneously. The captured photo will appear on the lower-left corner of your screen. Another method is to use your Assistive Touch. Tap the Device option, locate the More option, and find the Screenshot option.

How to find the screenshots on my Android?

If you don't know where are screenshots saved on your Android phones, you can directly search them on your Photo app. Normally, the screenshots are concluded in the Screenshot album.
Conclusion
These best screenshot apps can save you waste your time editing captured photos on image editors. As most of the recommended apps have editing tools to offer, nothing can stop you from being productive and creative. You can also have a try on AnyRec Screen Recorder to capture mobile screen on your Windows/Mac. If you have more questions about screenshot apps, please contact us now.
Related Articles