3 Ways to Remove People from Photos on PC/Mac/Online/Phone
Many people want to remove people from photos when they see the person they dislike showing in the pictures. And someone only knows how to cut them off rather than erase them without damaging the photo. You can easily remove those annoying people and make that part naturally blend into the background. If you need to learn how to do it, this post will give you three good tools to help remove people from photos on your computer and mobile.
Part 1: Remove Tourists and People from Photos Online
If you are looking for a simple online tool to help you remove people from photos, you can use AnyRec Free Watermark Remover. This tool could perfectly remove the unwanted part of your picture without damaging the resolution or pixel of the original photo. It has an AI-based algorithm that detects and blurs possible watermarks automatically. What's more, the program is friendly to beginners. You will not be confused by many photo editing tools like other professional photo editors.
Remove people and object by Polygonal, Lasso, Brush, and Eraser.
Keep the resolution of the other parts in your picture.
Remove a person from a group picture with a real-time preview window. 100% free and safe to use. No watermark.
Step 1.When you go to the official website of AnyRec Free Watermark Remover https://www.anyrec.io/free-online-watermark-remover/, you can see the Upload Photo button. Then you can click it to upload the photo you want to edit.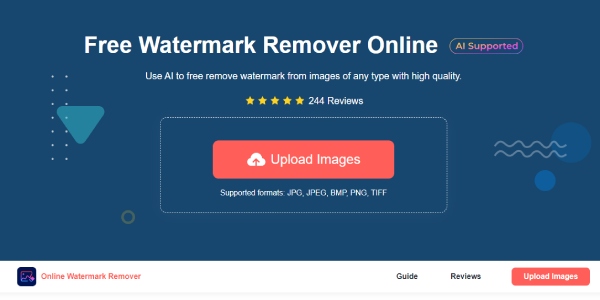 Step 2.There are four tools for selecting the people you want to remove from your photo. You can use Polygonal to identify a point of the people at one time. You can also use Lasso to lasso the area of the people or use Brush to select the size. And if you have chosen the wrong area, you can use Eraser to remove the selected area.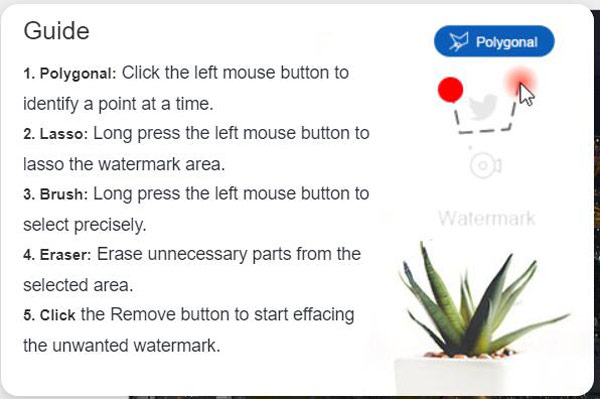 Step 3.When you have selected the people you want to remove, you can click the Save button to see the photo without the people.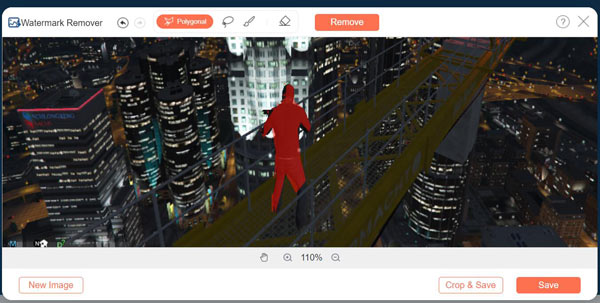 Step 4.After you are satisfied with the photo you edited, you can click the Save button again to download the image.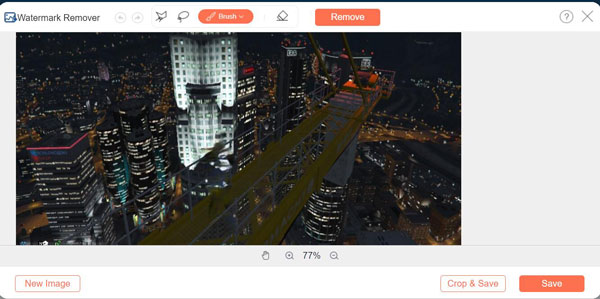 Part 2: Use Photoshop to Remove Needless Objects on Photos
Photoshop, a professional photo editing tool, has a people remover feature. But as mentioned, the professional editor has too many features and tools. From those multiple ways, this post chooses the Stamp tool to remove an unwanted person from photos with Photoshop.
Step 1.You can use the Clone Stamp tool to remove the person in Photoshop. If you cannot find this tool on the left bar, press the shortcut S key in Photoshop.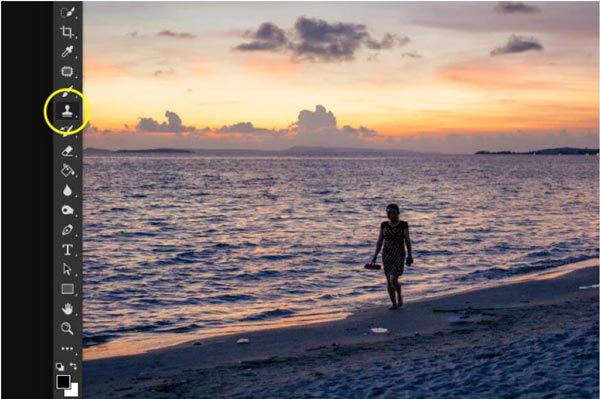 Step 2.First, select a clone source before removing it. When choosing the clone source, you can blend the removed part into the background more naturally. If you are using a MacBook, you can press Option + Click. And if you are a Windows user, you can press Alt + Click.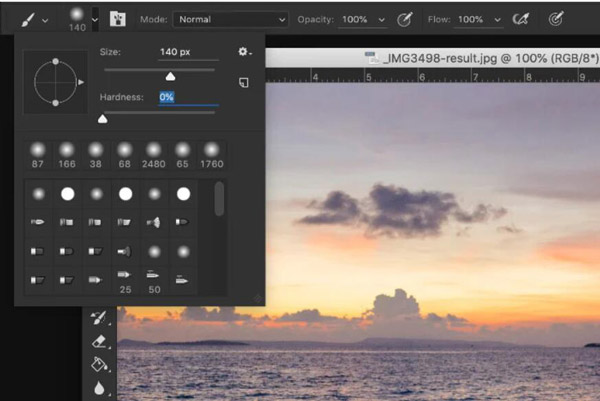 Step 3.The next step is to select the area of the person you want to remove. And if you make the result as natural as possible, you can repeat selecting the clone source.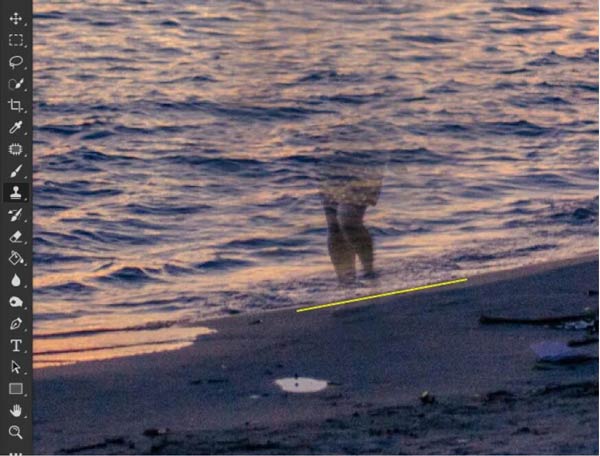 Step 4.Photoshop automatically removes the part when you brush the person. So, you can do it until you are satisfied with the result. And then save it.
Part 3: Erase Undesired Part with Snapseed on Phones
If you want to remove people from photos on your phone, you can use Snapseed, a professional photo editor on mobile. This application supports both Android and iOS.
Step 1.When you choose the photo, you can tap Editing on the bottom right of your screen. And there will be a list of tools; you can tap Healing to remove unwanted parts.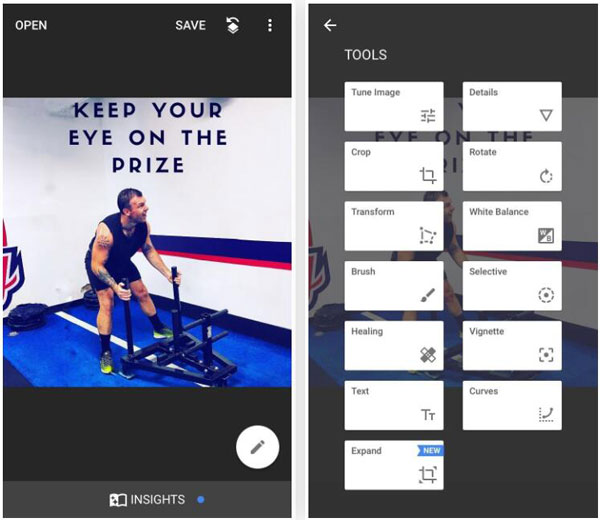 Step 2.Now, you can tap or draw over the area you want to remove from the photo. You can zoom into your photo to tap or draw more specifically if you want a more precise outline.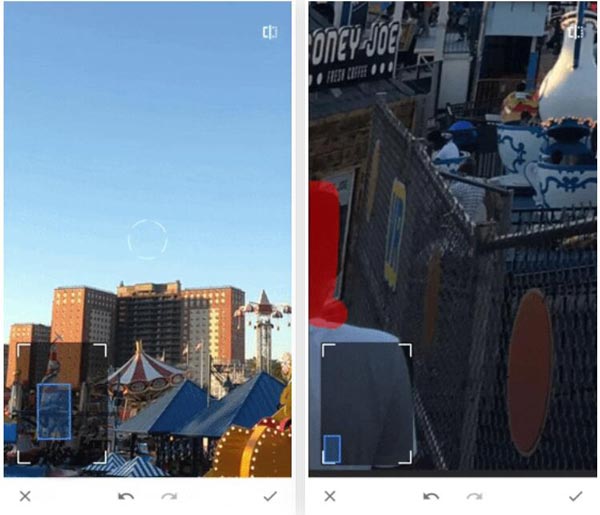 Step 3.When you stop tapping or drawing on your phone screen, Snapseed will remove the drawn part automatically. And then, you can tap Save on the top of the screen to get your picture.
Part 4: FAQs about Removing People from Photos
Does removing people from photos reduce the quality?

No, it doesn't. Removing objects or people from a photo will only blur the selected part, and the resolution will not be decreased. And if you use a better tool like AnyRec Free Watermark Remover could make the part chosen blend into the background.

Can I paste another person after removing people from a photo?

Yes, you can. You can add someone to a photo you already taken by using Photoshop, YouCam Perfect, Pixlr, and more. Just create a new layer to insert a person from another picture.

Can I remove people from a live photo?

Yes, you can. But it is tricky. You can make the live photo video, remove the people, and save it as a live photo. Or you can use apps like Retouch that can handle live photos to remove the people. But you may get a blurry result.
Conclusion
Finally, you have learned to remove people from photos instead of cropping someone out. Now you do not have to see the annoying person in your photos. And if you want the best final result with an easy tool, AnyRec Free Watermark Remover is the best choice. You do not have to download any third-party software; you can remove the person you dislike from the photo.
Related Articles