Amazon Product Images: Remove Background and Make It White
As you all know, Amazon is among the most popular online marketplace around the world. Since many are selling products on this platform, making sure your product stands out is vital. To do this, you should know the basic image requirements for Amazon product pictures, like having a plain background only. If deleting background is challenging looking, especially for those who aren't techy, read on to get to know all the image requirements of Amazon and how to remove background from product photos.
Part 1: Get to Know All the Image Requirements for Amazon Products
The first stop before you learn how to remove background from product photos is knowing all Amazon image requirements from different aspects. Below are the things you should consider before you post a product to sell on Amazon to attract buyers.
File Format. Amazon supports uploading product photos in JPEG, PNG, TIFF, and GIF formats. Although many are supported, the recommended format is JPEG, as it loads images quickly.
Image Background. As mentioned earlier, a plain background is one of the requirements for Amazon product pictures. But, it is not just plain; it should be in a white background color.
Image Size. As for the image size, ensure your image uses a width or height of 1000 pixels by 1600 pixels width or height since Amazon prefers it. The product you will be posting shouldn't surpass 10,000 pixels.
Product Image. The item to be posted must fill the image frame by 85%. And if you are asking about the best way how to take photos for Amazon, make sure the product is positioned at the center and is taken clearly.
Color Mode. Finally, for the color mode of Amazon product pictures, the requirement is RGB because it is best for digital work as well as the CMYK since it is excellent to use for print ones.
Part 2: Free Way to Remove Background for Amazon Product Images
After knowing Amazon main image requirements, one of which is having a white colored background, the second stop is learning how to remove the background for Amazon product you've taken. It might be challenging at first, but AnyRec Free Background Remover will make it easy for you! After uploading the product image, this online tool is capable of detecting the portrait with AI and removing the background for Amazon product images in seconds. For other purposes, a background changer is also available, where you can make picture background black, white, and many other colors.
Make background transparent/white for your Amazon product images.
A totally free product background remover, 100 % safe and easy to use.
The AI remover detects the background of any image in just seconds.
Keep all details after image background removing.
No watermark. No user account reuqired.
Step 1.Navigate to AnyRec Free Background Remover on any web browser. Click the Upload Image button from the banner part to select the product images.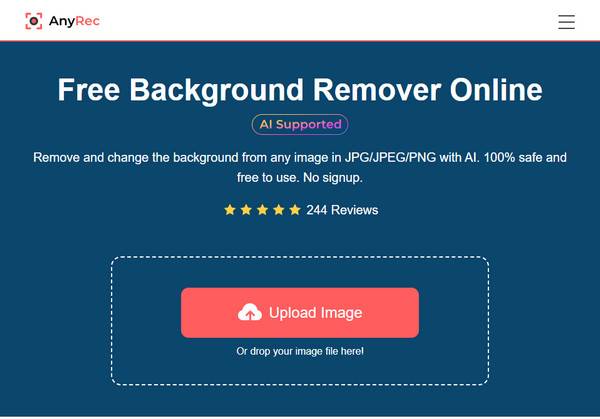 Step 2.It will process the image and remove the background for Amazon product images in seconds. Then, you can see the comparison with the removed one and the original one. You can use the Brush tool for further cleaning on the sides of the product if you wish.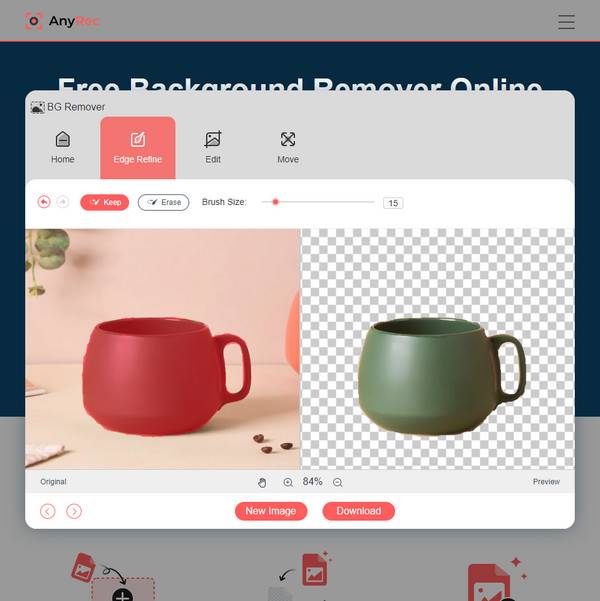 Step 3.Once satisfied, click the Download button to save it on your PC as JPG. You can also use this tool to remove the background of your brand logo for Amazon.
Part 3: How to Upload Products on Amazon after Removing the Background
And now you have removed the background of Amazon product pictures and turned them into a white background; it's time to upload them to the online marketplace! You can check each product first before uploading it to Amazon. Ensure the images are in the supported file format of Amazon and follow all the basic requirements. After logging in with your credentials to your Amazon account, follow the steps below.
Step 1.Open the Amazon site, and enter the Inventory menu. Click the Manage Inventory button from the menu, and there, you will have several types of products.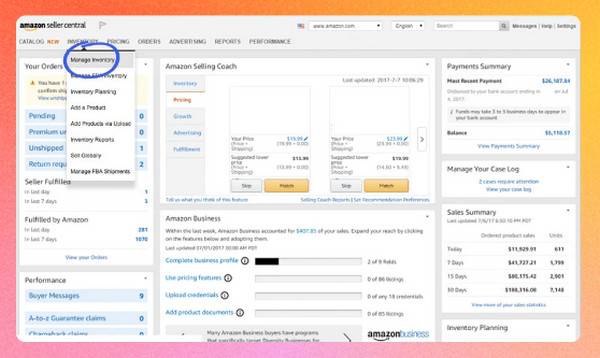 Step 2.Find the type of product you need on the list in the search bar. After that, click the Manage Image button. Then Browse Files buttons to locate the Amazon product pictures you turned into the white colored background. Finally, choose the Amazon product pictures with removed background and click the Upload Images button.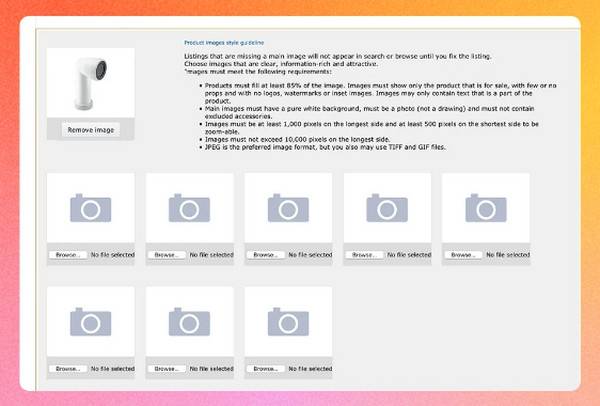 Suppose this isn't your first time using Amazon, and you have posted a product you wish to replace or re-upload; you can also accomplish it. However, reuploading them to Amazon is complicated, so ensure you post high-quality Amazon product images after removing the background to the marketplace.
Part 4: FAQs about How to Remove Background for Amazon Product Images
What are the requirements for Amazon product pictures?

Use file formats such as JPEG, TIFF, PNG, and GIF. Also, make sure the image is not above 10000 pixels and uses a white-colored background. As for the position, it should occupy 58% percent of the frame.

How to take pictures with white background for Amazon?

If you have a good-looking white plain cloth or white wall in your home, you can consider using them as the backdrop. Moreover, correctly positioning the light is also vital. However, if you don't have any of these, you can simply take a picture of the product on a plain background, then remove the background for Amazon product images.

Does Canva support removing the background for Amazon product pictures?

Yes. Canva does have a background remover feature, but it is accessible in Canva Pro. Simply upload your photo, then use the Remove Background tool to trace the object you wish to keep.

Why Amazon product pictures or other marketplace be on a white background?

The benefit of it is the store consistency and focus on the product only without any distractions. And it is much easier to transfer or change other objects using a plain white background.

What should be the quality of Amazon product images?

The product image should be the focus; no pixelation or jagged edges must be seen. It must use at least 1000 pixels.
Conclusion
That's all for creating Amazon white product pictures! You've learned the requirements for the Amazon image you will be posting. More importantly, you answered how to remove the background of the Amazon product with AnyRec Free Background Remover. This reliable online tool lets you easily remove the background and turn it into white or other colors or images. With the help of it, now you are ready to upload all products to the Amazon marketplace.
Related Articles: