How to Play Audible AAX Files on Windows/Mac/iOS/Android
Audiobooks are a great alternative to physical books. You can play AAX files to listen to the story while doing work or house chores. One of the best audiobook services is Audible, which offers a wide range of podcasts, books, original content, and other audio files. If it's your first time to audiobooks, AAX files might be new to you, and if there is an AAX player available. You can learn more about this file extension with this post.
Part 1. What Are AAX Files
Audible Enhanced Audiobook is a file format developed by Audible, containing audio, hyperlinks, bookmarks, images, etc. Since it is encrypted with M4B files, you can expect that Audible DRM protects all Audible AAX. However, many media players and devices do not support the audio file format. Playing AAX on Mac won't be a problem as it has Apple Books and iTunes. Meanwhile, the older version of Windows can only play the file or download iTunes or other media players that support the format.
More details of AAX file format specifications:
Sample Rate: 22.050 - 44.10 kHz
Channel: Stereo or Mono
Bitrate: 32 - 128 kbit/s
Container: MPEG-4 Part 14
MBytes per hour: 28.8
Quality: AAC sound
Part 2. How to Play AAX Files on Windows/Mac
AnyRec Blu-ray Player is a desktop program that supports discs and digital files to play with high quality. For AAX files, you can enjoy listening to audiobooks as the media player is equipped with DTS-HD Master Audio, Apple lossless audio codec, and Dolby TrueHD. Meanwhile, you can change the audio channels to reverse stereo and other options to create immersive audio playing.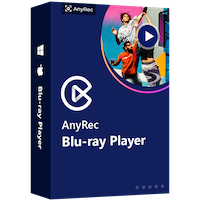 Anyrec Blu-ray Player
Play AAX files with a high-quality listening experience.
Adjust audiovisual effects by setting multiple parameters.
Choose the AAX chapter, parts, and other titles to listen to.
Support other formats like AAC, WAV, MP3, AIFF, etc.
Step 1.Install AnyRec Blu-ray Player. Once the application is opened, click the "Open File" button and choose the AAX file from the local folder.
Step 2.After uploading the audio file, the media player will play it automatically. Click the "Playlist" button from the bottom part of the interface to open the audio list.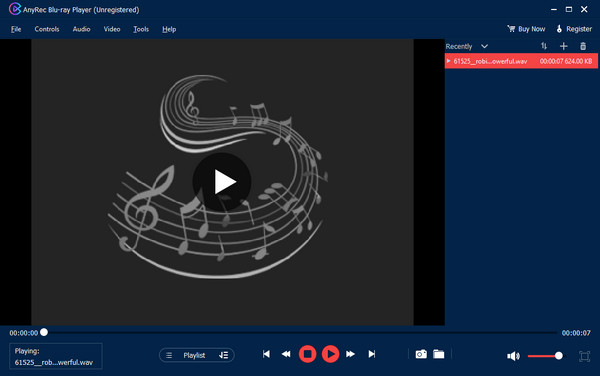 Step 3.Disable the track from the Audio menu and choose an audio channel and device. Click the "Play" button to enjoy listening to audiobooks.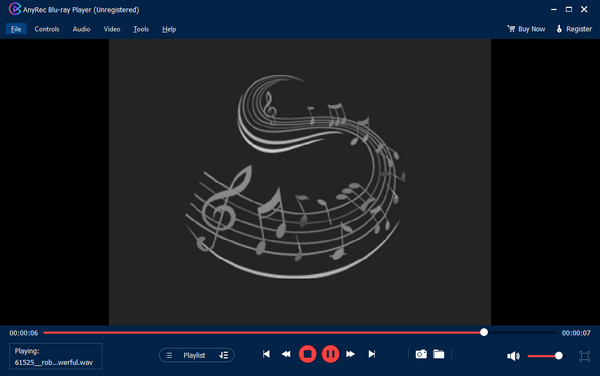 Part 2. How to Play AAX Files on Android and iPhone
Of course, the most convenient way to play AAX files is with your smartphone device. You can listen at home with headphones, and even more effective when on the go. But you can use only one AAX player on Android and iOS: the Audible app. You can stream the bestsellers novels, comedic podcasts, and love stories with Audible's library of titles. It is updated regularly so that you can stay updated on the weekly episode and original releases. Moreover, you can build your collection for nonstop audiobook streaming. You can also record your own audiobooks to listen to those stories anytime.
Support Car Mode to listen to audiobooks while driving.
Sync audiobooks with Kindle and WhisperSync.
Wide range of genres like crime, romance, etc.
New audio content is added daily with originals and top books.
Step 1.Download and install the Audible app on your phone, then open it. Search for the audiobook you want to play from the Library menu at the bottom of the screen.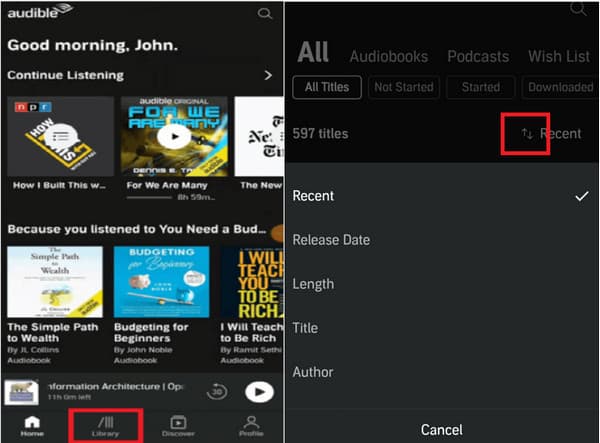 Step 2.Use different lenses to filter the books. You can also use the arrow icon to sort the content by title, author, and other categories. Tap on the desired audiobook and enjoy listening.
Bonus Tips: Convert AAX to MP3 for Smooth Listening
Indeed, AAX files are unsupported by most media players, and only one AAX player is available. However, an alternative way to listen to an audiobook is to convert it to a standard file format like MP3 or AAC. You can use AnyRec Video Converter for an effective conversion with a straightforward interface. The all-in-one solution has AI technology to convert high-quality files while creating a fast-speed batch conversion for multiple audio files.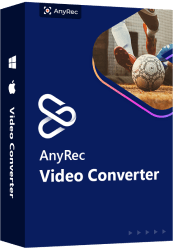 AnyRec Video Converter
Convert AAX files to MP3, AAC, WAV, and other formats.
Support batch conversion without file size restrictions.
Provide audio editings like Audio Sync and Compressor.
Add AAX audio to videos and remove the original audio.
Step 1.Launch the app and click the Add button after downloading. Choose the file you want to convert and click the Open button to confirm.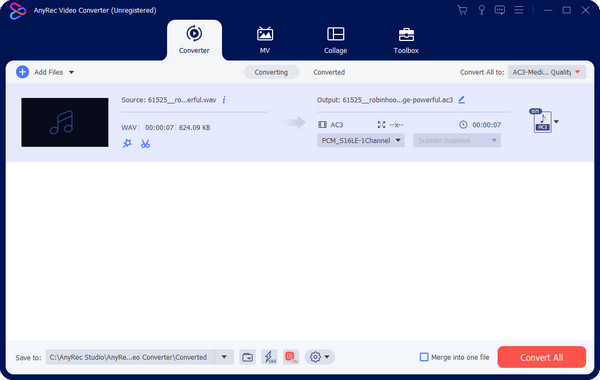 Step 2.Select the output format on the "Format" menu. To select one format for multiple uploads, go to the "Convert All To" menu. Click the "Custom Profile" button to configure settings.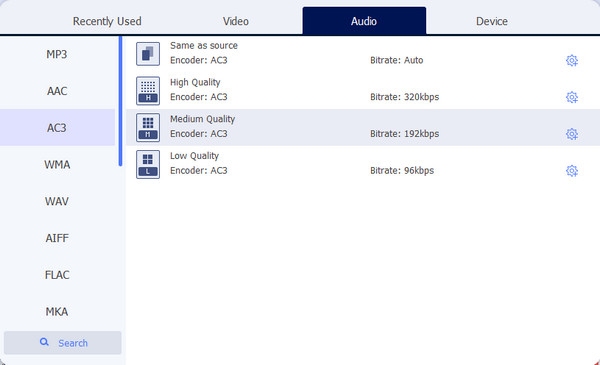 Step 3.Click the "Convert All" button to start the process. Depending on the files you uploaded, the conversion may take some time.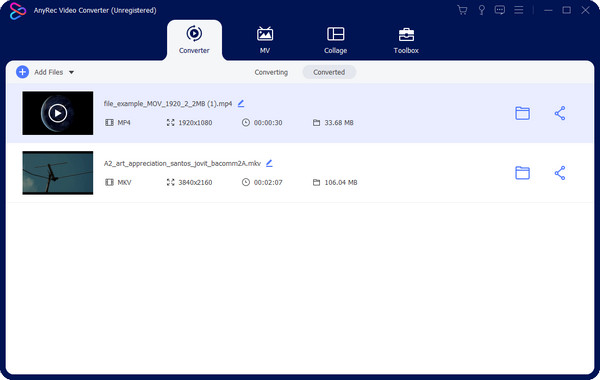 Part 4. FAQs about AAX Files
What is another alternative to open AAX files?

Aside from the Audible app for smartphones and computers, you can also use Prime Reading by Amazon to play and listen to AAX files. However, you can only get a small selection of audiobooks with your Amazon account.

Can I still access AAX files after canceling my subscription?

Yes. Audible allows you to access audiobooks even after canceling your subscription. However, using the remaining credits on your membership is suggested, or it will be gone after the cancelation.

How to listen to AAX files with Sonos?

First, you have to download the Audible and Sonos apps. Then, select the AAX file you want to play from Audible. Go to the Player menu, select the Connect to a Device option, and choose Sonos. Once done, press Play and enjoy listening to the audiobook.

Where to get more AAX files aside from Audible?

There are other audiobook services to get AAX files. You can try Scribd, Chirp, Spotify, Hoopla, and Kobo.

Is Audible free to download AAX files?

No. It requires a subscription for unlimited audiobook listening. It offers different subscription plans, so you can choose one that benefits you the most.
Conclusion
An AAX file is created Audible for the audiobooks. It also contains various data like images, audio, hyperlinks, etc., suitable for picture books. This post discussed how to play AAX files on devices and convert them. With AnyRec Blu-ray Player and AnyRec Video Converter, you can easily play AAX or convert it effortlessly. Moreover, if you want the visual experience to make a video podcast, you can still use AnyRec Video Converter to create one. Try these excellent solutions on Windows and Mac.
Related Articles