Get Rid of Duplicate Contacts on iPhone 14 with 4 Possible Ways
Knowing Apple devices, you can't easily make changes to its settings. If you want to delete duplicate contacts on your iPhone when changing to an iOS 16 device, you may have no idea how to start. So, the best solution for this issue is to learn how to remove duplicate contacts on an iPhone, especially if it's your first-time having iOS 16 as your smartphone. This post will give you four workable ways to help you.
Part 1: Easiest Way to Remove Same Contacts on iPhone with AnyRec
Removing unwanted files can take time, but you can avoid wasting your precious time with AnyRec PhoneMover. It is a desktop tool that was initially developed for file transferring. You can organize or delete duplicate contacts on your iPhone with a few clicks. Moreover, transferring files is fast with a compatible USB cable or wireless connection with Wi-Fi. Download AnyRec PhoneMover to quickly delete and manage contacts on your smartphone.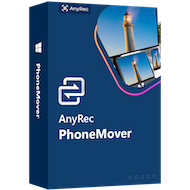 PhoneMover
Seamlessly transfer data from iOS, Android, or another computer without losing quality.
Manage and delete files on the connected device to free up some storage space.
A great alternative to iTunes for files on iPhone and iPad without complex setup.
Back up and restore your contacts for you accidentally delete them.
Step 1.Go to the official website of AnyRec PhoneMover. Then click the Download button. Launch the program after the installation. Connect the iOS device with a compatible USB cable or Wi-Fi network.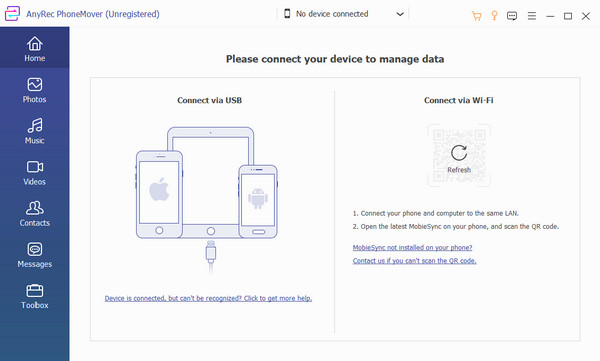 Step 2.Once the software detects the smartphone, you will see the information on its interface. Go to the Contacts menu and select the contact numbers you want to delete. After ticking the checkboxes, click the Delete button with the trash bin icon on the top part of the window.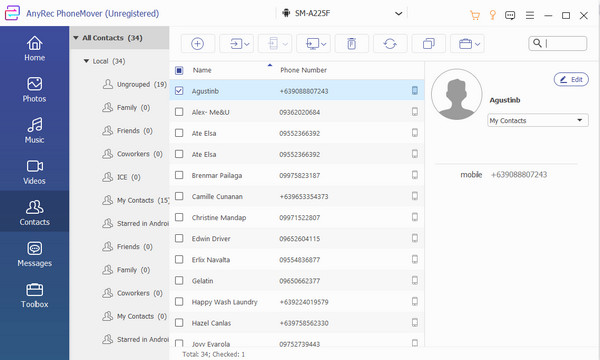 Step 3.Additionally, go to the Toolbox menu. You can use other features like Contact Backup or Contacts Restore to sync your phone's numbers to other devices and restore them anytime. Disconnect the mobile device from your computer once you delete or manage the files.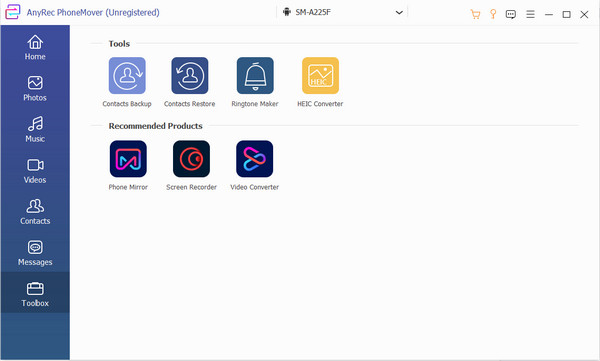 Part 2: Search Your Contacts One-by-one to Delete Them
There can be redundant contacts when you have multiple sources on your phone. Although the link contact cards appear only once on the Contact list, you might see some contacts displayed more than once. So, this part will show you how to manually delete duplicate contacts on your iPhone.
Step 1.Open the Contact app on your iPhone. And then enter a name on the search bar to see duplicates. Select one of the duplicates and tap Edit from the top right corner of your screen.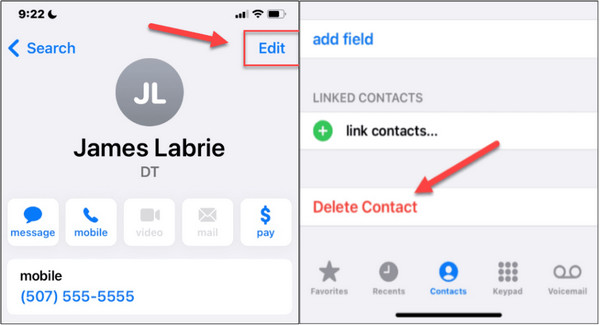 Step 2.Browse the menu and tap Delete Contact. Confirm the deletion by tapping Delete Contact from the verification message. Do the same procedure for other duplicated contacts.
Part 3: Use Mac to Merge Duplicate Contacts from iPhone
If you don't like to delete duplicate contacts on your iPhone manually, there is a trick or alternative to do so. For this part, you will need a Mac to remove the contacts from iCloud and save a little device space for other files.
Step 1.Ensure that your iCloud contacts are synced with your computer. You can check it by clicking the Apple logo button on the top left screen and clicking the System Preferences button. See the checkmark on Contacts under the Apps on this Mac using iCloud.
Step 2.Afterward, open the Contacts app on Mac and see if all the contacts are synced from the previous and current devices. Select the menu at the top menu and click the Card button. Click the Look for Duplicates button. Your device will then gather all the contacts. Click the Merge button to migrate duplicate contacts into one.

Part 4: Delete Contacts at Once with iCloud on Windows and Mac
This last solution only requires you to open iCloud on a browser. The cloud service has all the files from your Apple devices, including important ones like uploading photos, documents, contacts, calendars, and others. However, this is only applicable if you enable iCloud on your iPhone for all your files.
Step 1.Visit the iCloud website on Safari and sign in. Click the Contacts button from the main menu. Hold the Ctrl or Command key on your keyboard while selecting the contacts you want to delete.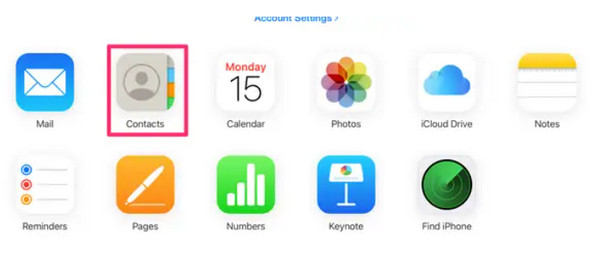 Step 2.Select the Settings button from the bottom left of the screen. Then click the Delete button. Confirm the action when a popup appears.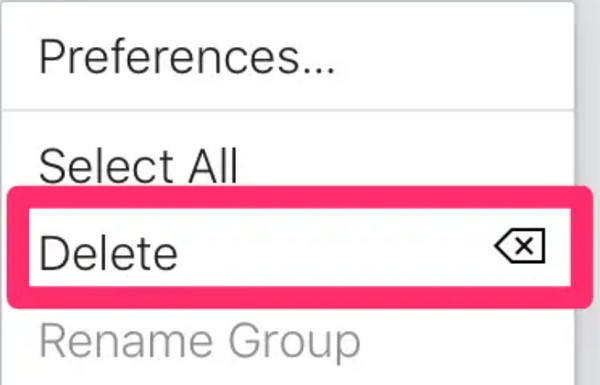 Part 5: FAQs about Deleting Duplicate Contacts on iPhone
Why do I have duplicate contacts on my iPhone?

The possible reason for duplicate contacts is the issue with your address book or when using iCloud. Most users have this problem when using the device for business and personal purposes.

Can I still see the deleted duplicate contacts on iPhones from other devices?

Yes, but it depends. If you use iCloud to back up your files, you can still find the deleted contacts from other devices with the same iCloud sign-in. However, if you remove a reference from your email account, it will be permanently deleted from all devices with the same email account.

Does contacts consume more storage space on my iPhone?

No, it doesn't. Contacts only take up a small amount of space on your device, and depending on the information and numbers you save, contacts are not a risk to the mobile device. You need to look for photos, videos, and songs that can lead to space running out.
Conclusion
After learning to delete duplicate contacts on your iPhone, you will not get annoyed with many contacts with the same information. If you are worried about deleting the original contacts, AnyRec PhoneMover can help you manage them. Feel free to click the Download button right now!
Related Articles