'
Why Transferring Data to iPhone 14 Gets Stuck and How to Solve it
Getting the new iPhone 14 means transferring data from your old device, and that's when many people meet transfer data to iPhone stuck issue. However, many users are stuck for over a few minutes waiting. And they do not know what is the next step to solving this problem, and they may worry about their data safety. Don't worry, this post will show you 5 ways to fix iPhone transferring data stuck.
Part 1: Why It Gets Stuck When Transferring Data to iPhone
There are many reasons why you get stuck when transmitting data to the iPhone, especially wireless transfer. You can check whether your iPhone is stuck due to these reasons.
Unstable Network Connection: When the quality of your iPhone network is poor, it will cause your iPhone to stuck during data transmission. Or the distance between two devices is too far, which leads to unstable connection.
The Transmitted Data is Too Large: If the data or file you want to transfer is too large, it may also cause your iPhone stuck. You can try to transfer data to your new iPhone in several times.
Outdated iOS Version: If you do not update the iOS version in time, your iPhone may get stuck when transferring data. The outdated version will cause some problems, so it needs to be updated in a timely manner.
Part 2: 5 Methods to Fix Transferring Data to iPhone Stuck Problem
Many reasons can cause transferring data to a new iPhone stuck, including poor internet connection, large file transfer, system software, bugs, and more. This issue is surprising because it's relatively new, and no one knows the exact causes. Still, you can try these solutions to get through transferring data to your new iPhone.
Solution 1: Place Devices Near
The simplest way to fix the iPhone transfer when it's taking forever is to place the two devices near each other when exporting files. Be patient when keeping the devices when transferring data, as you may encounter interruptions otherwise.
Solution 2: Wait for the Process
Another obvious solution you can do is to wait for a little while. Check the progress now and then so you don't need to keep repeating the process all over. If transferring progress does take a bit, use other solutions.
Solution 3: Ensure the iOS Updated
Ensure that your old iPhone and the new one run on 12.4 or later versions. It will be faster in data transferring because Quick Start will help you migrate quickly. You can still update the software by going to your phone's Settings. Go to the General menu and tap the Software Update button.
Solution 4: Restart the New iPhone
Best to check the new iPhone when the transfer takes too long to finish. The process must have been completed, and the interface is only stuck. Stop the transfer or force start the device when there is no progress.
Solution 5: Provide a Stable Wi-Fi Network
Poor Wi-Fi network can lead to slow file transfer, so ensure your internet is stable. To make it faster, disconnect other devices from the list to lessen the interruption. Moreover, you can reboot the router for a quicker file transfer.
If these solutions are not working, you may need to use another alternative for transferring data to a new iPhone without getting stuck. Read the part below to see the recommended software for you.
Part 3: Best Way to Avoid the Transferring Data to iPhone Stuck Issue
After learning how to fix transfer data to a new iPhone stuck, it is better to have an alternative whenever the issue occurs again. File transferring can be easier with AnyRec PhoneMover. which supports popular devices like iPhone, Android, Mac, and Windows. It allows you to connect your devices with the same units and operating systems without getting stuck for one minute. The software also has a user-friendly interface, where you can move documents, photos, videos, and other files effortlessly. AnyRec PhoneMover is the best solution for transferring data to a new iPhone when stuck.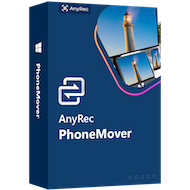 AnyRec PhoneMover
Effectively transfer data from old devices to new iPhones like music, videos, pictures, and other important files.
You only need one click to transfer files with larger file sizes and unique formats in a few seconds.
Organize files by deleting duplicates and freeing up storage space for both the sending and receiving devices.
An excellent iTunes alternative to manage files on a user's iPhone and iPad without restrictions.
Step 1.Download and install AnyRec PhoneMover on your device and launch it after. At the same time, open App Store and install MobieSync to connect AnyRec PhoneMover. Connect the device to the same Wi-Fi network, then proceed to the next step.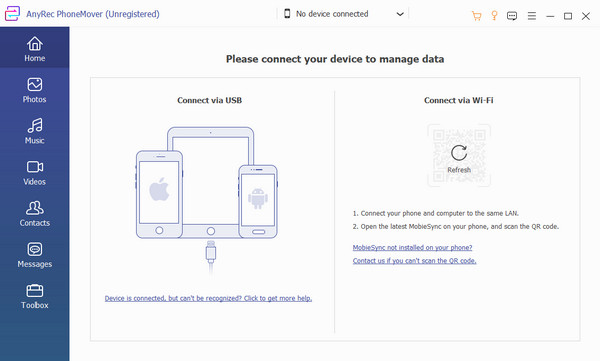 Step 2.From the app on your phone, tap the Connect to Computer option and scan the QR code from the software to connect the devices. You can also use a compatible USB to connect your smartphone to the computer.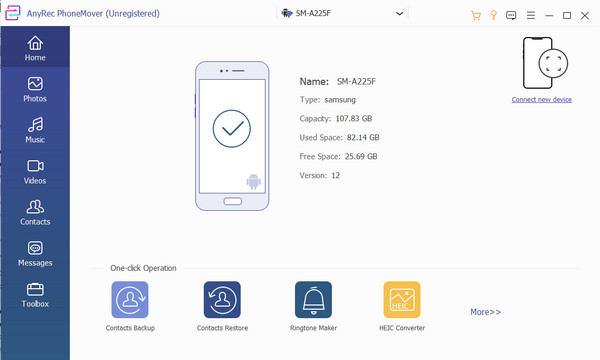 Step 3.You will see your mobile's information on the software's interface once you connect it successfully. From the menu on the left pane, go to the Photos tab and tick the checkboxes for the file you want to transfer. Do the same to other menus like music, videos, contacts, messages, etc. You can also find tools like HEIC Converter and Ringtone Maker in the Toolbox.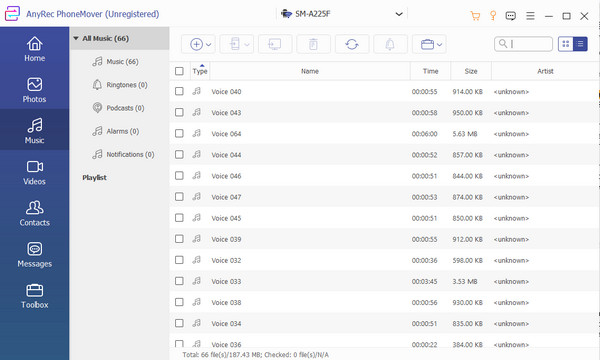 Step 4.After selecting the files, click the Connect New Device button from the top menu and connect the new iOS phone. You can also transfer data to your computer by clicking the Export to PC button. Explore the software to discover more helpful features.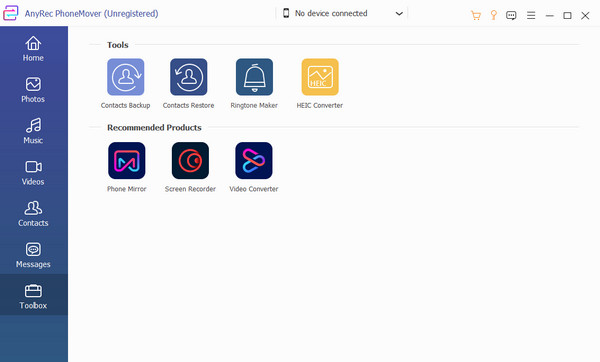 Part 4: FAQs about Transferring Data to iPhone Stuck
1. How long does it takes to transfer all photos from an old iPhone to a new device?

Exporting pictures can be faster or slower depending on the internet connection and software update. But if you use iCloud service, you only need to log in to your account on the new iPhone and download the images. Moreover, saving selfies on iCloud will unlikely reduce the image quality.

2. How to avoid getting my old iPhone stuck on transferring data?

Suppose you don't want another long waiting time. It is suggested to avoid transferring bulk large files or apps. You can also clear caches and cookies before proceeding to transfer. Find another Wi-Fi connection with a stable network if you are on a wireless transfer.

3. Does Low Power Mode affect transferring data to a new iPhone?

Yes, it does. Low Power Mode is a feature to limit an iPhone's functionality to save power. But it can cause a slower transfer when this is activated, and you may need to deactivate it for the time being. Launch Settings on your device and go to the Battery menu. Toggle off the switch Low Power Mode.
Conclusion
Finally, you can fix the issue of getting stuck while transferring data to your new iPhone. While there are many causes why exporting takes a while, it is truly disappointing to know that you can experience slow progress on data transferring to your new iPhone device. Additionally, AnyRec PhoneMover is an excellent alternative for moving files to another device. At least with this software, you will not experience delays or get stuck. Click the Free Download button to try it!
Related Articles: