Top 13 Popular Deepfake Apps to Change Faces on Android/iPhone
There is news circulating on social media about how some celebrities talked most unexpectedly. You wouldn't know; they are only ordinary people messing around to gain popularity. They use a deepfake app that can change the face and even voice into one of the celebrities. This fantastic yet scary app is made of advanced AI technology that can professionally replace your idol's voice and face with yours. It is also possible to manipulate an image or video as if it is real. If you want to see yourself talking like your favorite idol or movie star, try the following recommendations of 13 deepfake apps below.
Part 1: Best 13 Deepfake Apps for Android/iPhone to Make Funny Videos/Photos
Deepfake apps offer different features when it comes to changing faces. However, you can still have a blast editing an animal's, celebrity's, or famous painting figure on your video and photo. Here are the best deepfake apps to make funny videos and photos on Android or iPhone.
1. Reface - Funny Face Swap App for iPhone and Android
This free deepfake app enables you to beautifully combine your picture with your chosen figure. swap faces with videos, pictures, and GIFs in a realistic way. It is super easy to make a funny meme video or GIF with Reface. Moreover, you can Reface has a built-in artificial intelligence system resulting in a perfect realistic photo. Edit your best image with Reface's bright interface and convenient control system.
Pros

Use one selfie to make creative deepfake video, picture, or GIF.
Create your own deepfakes based on Ai and machine-learning technology.
Switch faces on iPhone and Android with the latest sources.
Cons

Not guarantee safety for a private policy.
It is not easy to bypass inappropriate content of teenagers.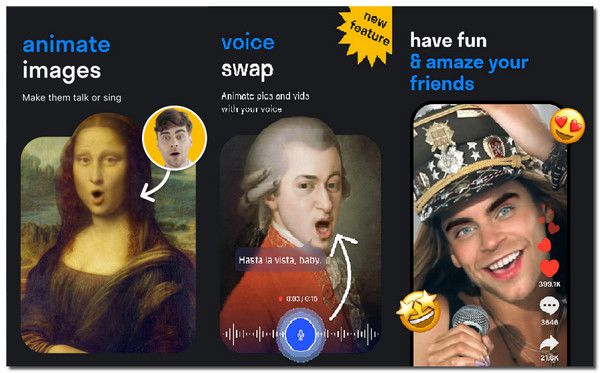 2. Zao - Chinense Deepfake App to Swap Face with AI Movie Characters
Zao used to be a brand new Chinese deepfake app that was introduced in 2019. According to Forbes, Zao goes viral overnight. Its AI engine face swapping can detect and deepfake anyone's face with celebrities perfectly. However, Zao was slammed as a potential privacy disaster. Now if you want to download Zao face replace app, you can visit the zaodownload dot com website. Or you can search its new live broadcasting, which is Smart-telecaster Zao App.
Pros

Make funny video clips with your friends faces with movie scenes.
The Zao deepfake app can work with popular phones, tablets, and computers.
Cons

Zao is not available in Google Play Store and App Store.
Most deepfake templates are Chinese movies and TV shows.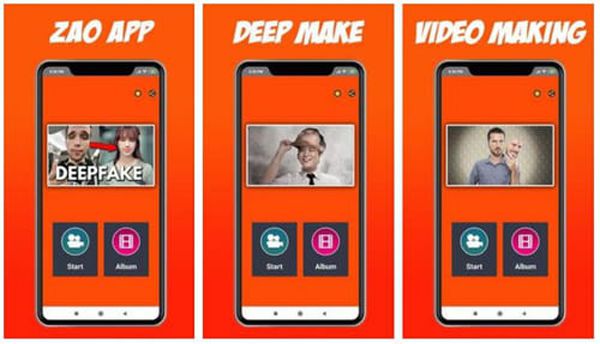 3. Face Swap Live Lite - Deepfake Face with Pictures and Live Videos
Here you can replace faces in live video on iPhone and Android. Just record a video or take a selfie. Later, you can swap faces with any celebrity, friend, or other funny pictures that you downloaded. What's more, you can switch face with your pets too. Here you can get lion face, kitten face, werewolf, and more.
Pros

Switch faces with both static pictures and live videos.
Get a face editor to make your swapped face look better.
Cons

The deepfake app hasn't been updated for about 2 years.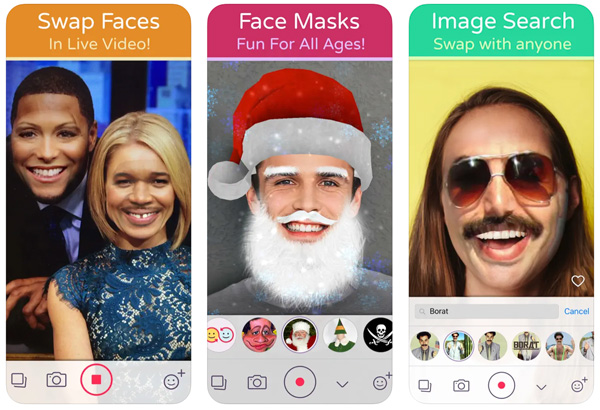 4. Anyface: Face Animation
This free deepfake face animator app allows you to relive your favorite idol's photo by moving your mouth and head. You can add voiceover to the image. Moreover, you can record it to share with your friends online. You can also adjust skin tone, eye movement, filters, and more.
Pros

Improve the overall edited content.
Accurate movement of facial expressions.
Cons

The paid version is expensive.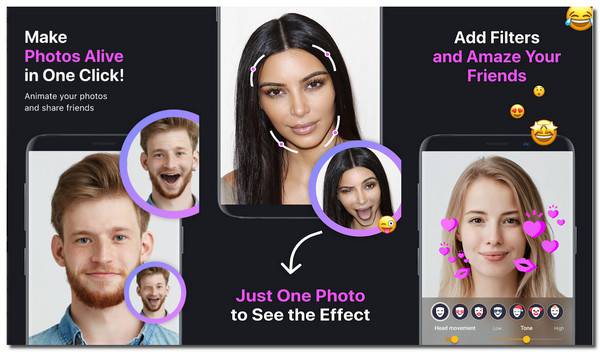 5. Copy Replace Face Photo Editor
Filled with unique features, Copy Replace is a fantastic deepfake app that many users delight in using it. Like other deepfake apps, it is easy to use, yet it allows creative photo editing.
Pros

Edit with realistic looks.
Adjust face at the discretion of the user.
Cons

Cannot edit a video.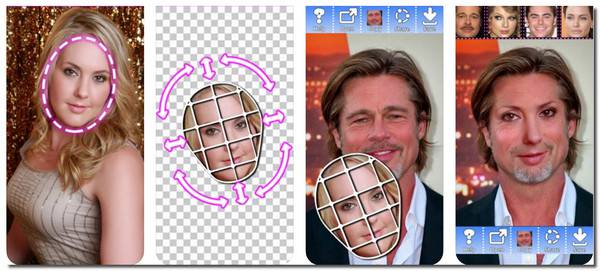 6. Mixbooth
If you want to mix two faces, Mixbooth can help you. This deepfake app can combine two faces, and the result can even shock you. You can try the various combination to entertain yourself and your friends.
Pros

Work well without an internet connection.
Convenient control panel and discreet interface.
Take photos in real-time.
Cons

The tools are not noteworthy.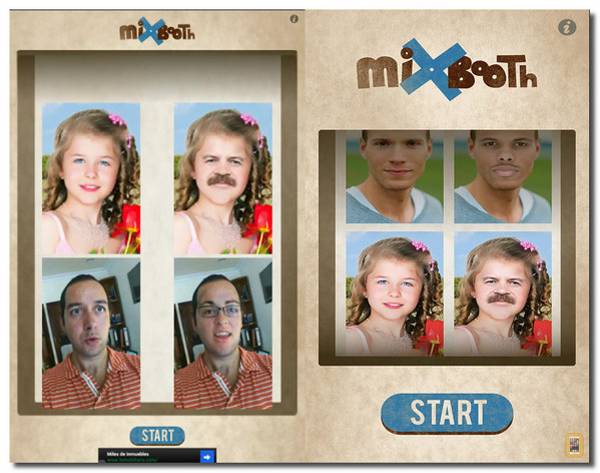 7. Snapchat
Snapchat is a well-known app to over 10 million users around the world. It has many features, and you can use it as a deepfake app. Swap your face with your friends or import your favorite idol and have fun decorating it with built-in stickers and filters.
Pros

Direct sharing to other friends.
Receive frequent updates.
Cons

Lower photo quality.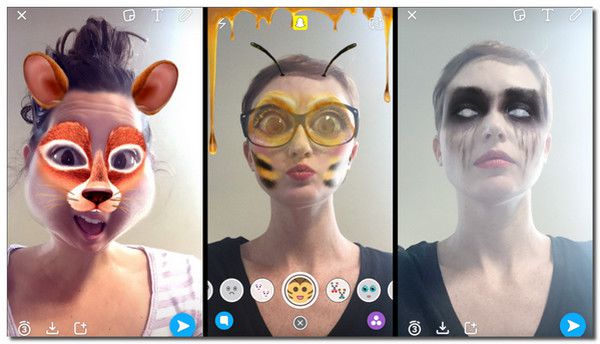 8. MyHeritage
Are you feeling nostalgic? Relive your family photo with a deepfake app such as the MyHeritage app. Its Deep Nostalgia feature lets your ancestors come to life and even share the wonderful reliving on your social media.
Pros

Bring back old family photos.
Authentic human gestures.
The processing only takes seconds.
Cons

Require creating an account.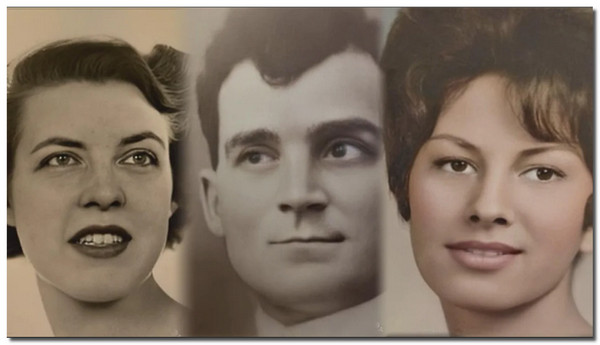 9. Deepfake Studio
Another Android deepfake app that will create fabulous-looking face swap photos and videos. This deepfake app also supports other clips from your favorite movie, music video, and more. With Deepfake Studio, there are infinite possibilities for face swapping.
Pros

Powered with artificial intelligence technology.
Smooth and seamless switch.
Cons

Take too much storage space.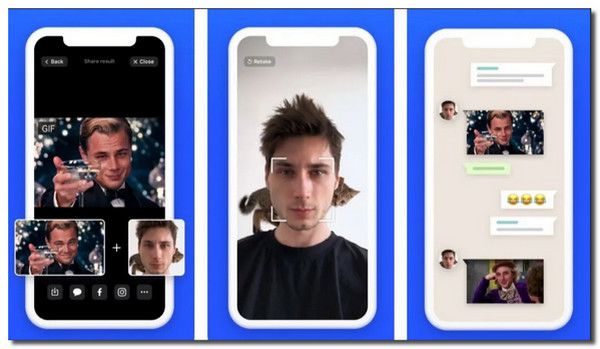 10. FaceMagic
Do you want to be Gal Gadot in the Wonder Woman movie? Or do you want to look like you attended the recent Met Gala? Use FaceMagic to create realistic face-swapping. With this deepfake app, you can change faces in any video, image, and even GIF.
Pros

Straightforward interface.
Include gender swap.
Cons

Not too accurate for face swapping.
11. Wombo
If you want to look like your favorite singer and do a lip-sync, Wombo as your deepfake app will not let you down. It offers the essential tool to make hilarious singing powered by AI technology.
Pros

Easy steps to edit photos and video.
Import desired music background.
Cons

Sometimes crashes or lags.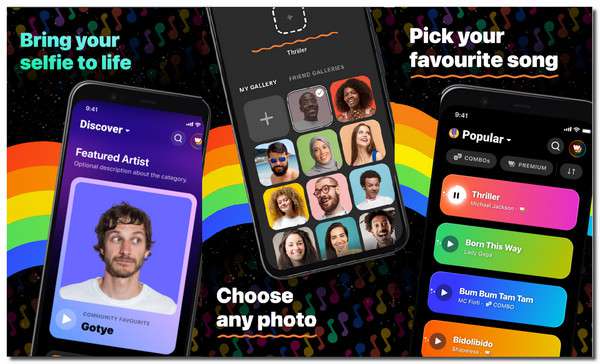 12. Face Swap Booth
This deepfake app is specifically designed to make you and your friends laugh! Enjoy face swapping with Face Swap Booth's unlimited features to make you look like your favorite celebrity or artist.
Pros

Come with pre-loaded celebrity faces.
Automatically detects faces.
Cons

Complex editing with many options.
13. FaceApp
FaceApp is famous for being the most popular deepfake editor. It neatly categorizes all the face-swapping options to help you choose the best editing tool you need. What's more, you can edit a live-action video with beautiful filters to apply.
Pros

Face swap options like old, young, etc.
Various effects like backgrounds, effects, and more.
Cons

Too many advertisements.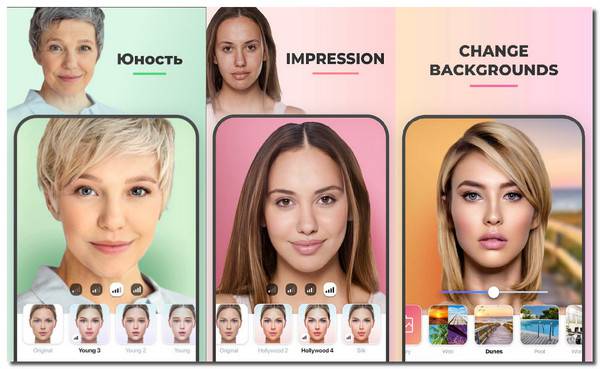 Bonus Tips: Make Your Photo Bigger without Blurring
Part 2: FAQs about the Popular Deepfake Apps
Is there any deepfake software on Windows/Mac?

Yes. You can have a try on AvengeThem, Deepfakes web, MachineTube, and more. But you should note that they are more difficult to use than deepfake apps on Android/iPhone.

How to spot a deepfake app?

Some deepfake apps are not professional and only want to entertain people. But to some professional editors, it might be challenging to spot the fake ones. The close spot you can tell is the difference in skin tone, and if you know your celebrity, you can distinguish their bodybuild in a careful inspection.

Does using a deepfake app dangerous?

Yes. Although many are entertained to use a deepfake app to change faces, this can also lead to a dangerous situation. For example, face-swapping a president and giving a false statement can lead to people's frustration, or some use a deepfake app for pornography purposes.
Conclusion
Using a deepfake app is enjoyable when combining or changing your face with your favorite idol. It also makes you laugh hard if you swap the faces of one of your friends or family members. Since the 2023 Christmas is coming, you can replace your face with those Christmas movies. Don't forget to add Christmas songs to welcome the Christmas season. Share your creation with them and have a good time!
Related Articles