Top 6 Blu-ray Burning Software to Make Your Homemade Blu-ray Discs
If you want to keep high-quality media files, you might need Blu-ray burning software to help you make a Blu-ray disc. The question is which Blu-ray creator does the best job. Well, you can check the following 6 recommendations and get your best choice here.
Part 1: Top 6 Acclaimed Blu-ray Burning Software
1. AnyRec Blu-ray Creator
AnyRec Blu-ray Creator is a powerful Blu-ray burning software on Windows and Mac to help you create discs. You can use this software to burn all kinds of video formats, famous or strange, like MP4, MPEG, VOB, M2TS, etc. And all Blu-ray discs are perfectly compatible with all players, including Sony BDP-S5, Samsung BD-F, etc. And the steps are easy to operate.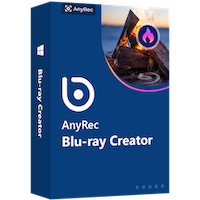 AnyRec Blu-ray Creator
Create a Blu-ray disc from all kinds of videos to work with all players.
Add and edit the audio track in a different language, volume, latency, etc.
Insert SRT, SSA, and ASS subtitles into Blu-ray videos and adjust them.
Have a fast speed to turn the video into a high-quality Blu-ray DVD.
Step 1.When you open the software, you can see brief steps to instruct you how to use this software. You can click the Add Files button on the top of the screen, then choose the videos you want to burn.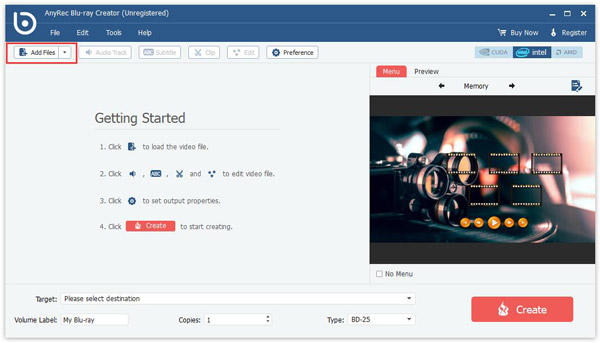 Step 2.Before you create the Blu-ray disc, you can also click the other buttons on the top of the screen to edit the video. You can edit the audio track, video, and subtitles.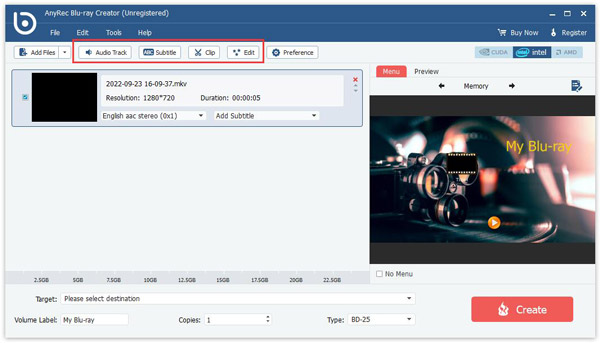 Step 3.After you adjust the video, you can click the Target button to open the drop-down menu. And then choose the Blu-ray disc as your destination. The final step is to click the Convert button to burn a Blu-ray disc.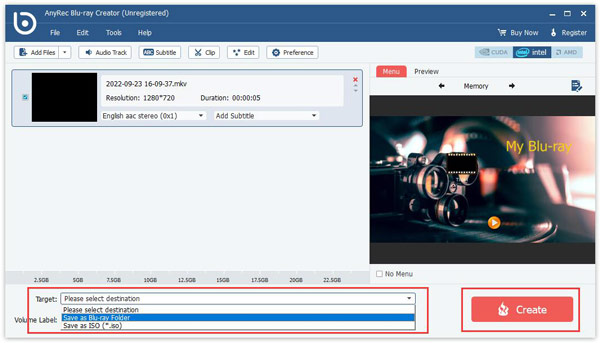 2. BurnAware
BurnAware is one of the best free Blu-ray burning software to create Blu-ray discs of all types, including M-Disc. Users can easily make and burn DVDs, CDs, and ISO files. And there are many advanced options in BurnAware you can use to edit the video when burning.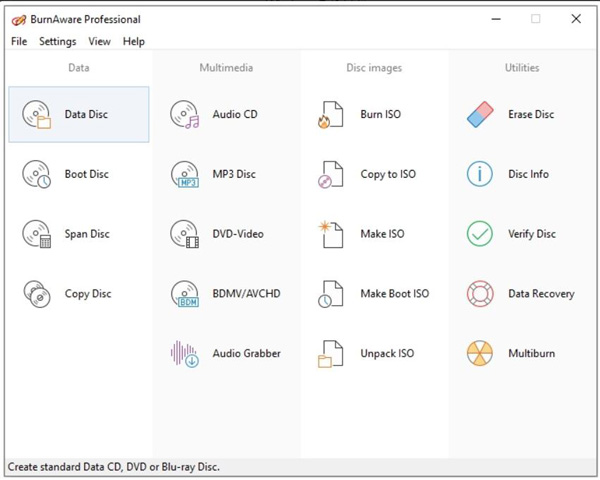 Features:
◆ Support a wide range of data formats, including double layers.
◆ Have an internal translator when you add subtitles to the video.
◆ Recover data from the damaged DVDs and CDs.
3. Express Burn
Express burn is another popular Blu-ray burning software. This tool has many unique features like creating menu and button templates for Blu-ray and DVD authoring. And when you burn video files to the discs, this software will re-encode the video for standard movie discs.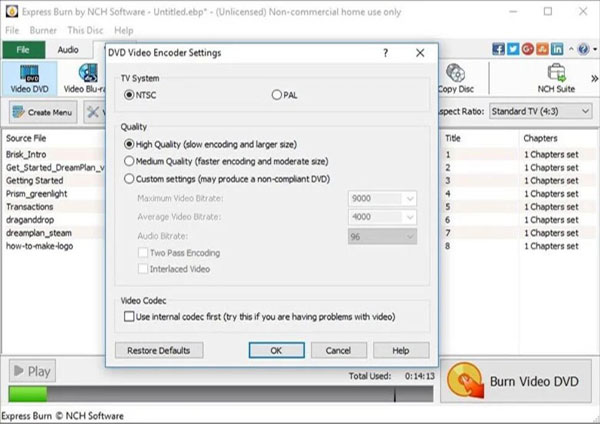 Features:
◆ Create and manage video chapters on Blu-ray discs.
◆ Record video files in PAL or NTSC formats.
◆ Command operation for automation and integration.
4. Creator NXT 9
Creator NXT 9 is a combination of disc-burning software. If you want to use Blu-ray burning software, you have to buy the software package of Creator NXT 9. But the DVD creation and editing functions are decisive for the whole package. You can edit, cut, and trim the video on Windows and Mac with its editing tools. And you can even encrypt your DVD with WinZip in Creator NXT 9.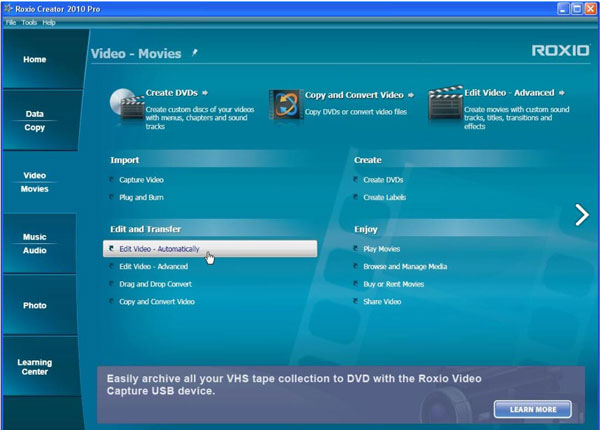 Features:
◆ Secure and encrypt your Blu-ray disc with protective tools.
◆ Convert your media into other formats when burning Blu-ray.
◆ Custom DVD menus with the Template Designer tools.
5. Leawo Blu-ray Creator
This is a comprehensive and easy-to-use Blu-ray burning software that has intel acceleration technology. It could convert and burn video to Blu-ray with a practical mini video editor. Moreover, you can use its 2D to the 3D converter to make the Blu-ray video become 3D.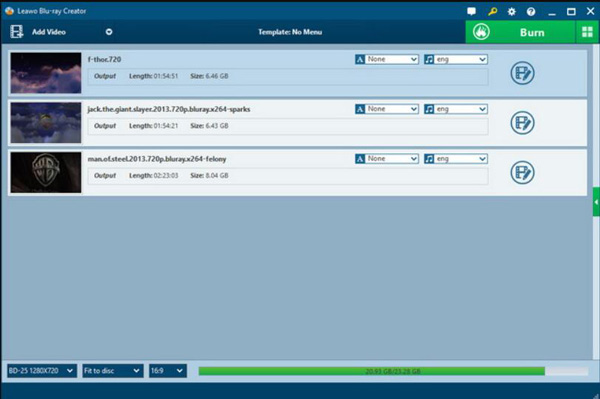 Features:
◆ Have 40+ free disc menu and template models and allow you DIY them.
◆ Burn 2D video to 3D Blu-ray with 6 different effects.
◆ Provide a built-in video editor to edit videos before burning them to DVD.
6. ImgBurn
This is an old Blu-ray burning software. But if you want to do some easy steps to burn a Blu-ray or DVD disc, you can still use it to complete the task. Before you use this software, you should know it has stopped updating the software since 2012, so the interface may need to be updated.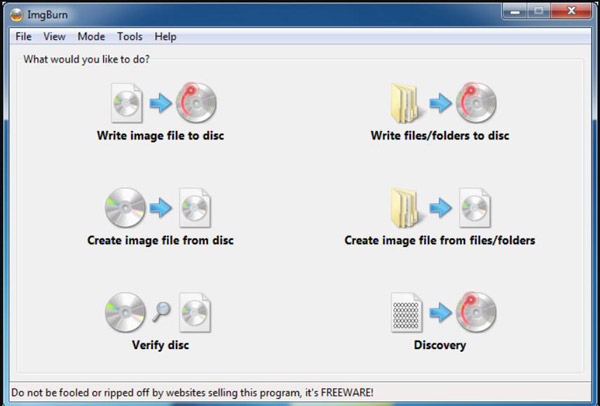 Features:
◆ Support many image formats to burn into DVDs.
◆ Have an outdated but straightforward main screen interface for you to operate.
◆ Supports Unicode file names for n using an international character without issue.
Part 3: FAQs about Blu-ray Burners
Can I use VLC as Blu-ray burning software?

No. You cannot use VLC to burn DVDs. But if you want to play or rip Blu-ray DVDs, you can easily use VLC.

Can I change the Blu-ray resolution when I burn a Blu-ray DVD?

Yes, you can. As long as you change the video to digital video format, you can change the resolution of the video. And you can also do it in AnyRec Blu-ray Creator without downloading any other software.

How long does it take to burn a Blu-ray DVD?

Usually, it will take three times time of your video files length. For example, if you want to burn a 10-minute-long video, it may take half an hour to burn it into a Blu-ray DVD.
Conclusion
Now, you must know enough number Blu-ray burning software to help you make a homemade DVD. But if you want to output high-quality videos to DVD with high speed, you should use AnyRec Blu-ray Creator. This software could help you more to store those good memories on a disc.
Related Articles