Unbiased Reviews on 5 Best 2D to 3D Converters - Pros and Cons
3D technology is becoming more and more popular. When you want to make an ordinary video or image more three-dimensional, the 2D to 3D converter can quickly solve the problem. But it is challenging to choose the best among so many tools. Fortunately, this post has carefully selected five 2D to 3D converters for you and listed their advantages and disadvantages one by one. You can choose the best one according to the characteristics of this software.
Part 1: Top 3 2D to 3D Converters for Videos on Windows/Mac
Top 1: AnyRec Video Converter
Although it is not easy for beginners to convert ordinary video to 3D, AnyRec Video Converter can make you complete it easily, and the results are unexpected. When you upload your videos, this excellent 2D to 3D converter automatically turns a general video into a 3D one. Moreover, you can enable split the screen effect, change the video format, switch left and right, and set depth.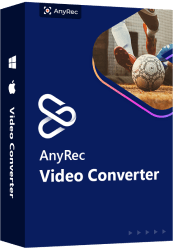 AnyRec Video Converter
Convert videos from 2D to 3D easily without click.
Provides powerful editing features to adjust your videos, like watermarks, subtitles, and filters.
Support customizing the settings, such as format, quality, and depth.
Excellent 2D to 3D converter without any file size and format restrictions.
Step 1.Download the AnyRec Video Converter on your computer for free and launch it immediately. Click the Toolbox button at the top. Then select the 3D Maker from the interface. It will pop up a new window, and you should click the Add button with the Plus icon to upload your video.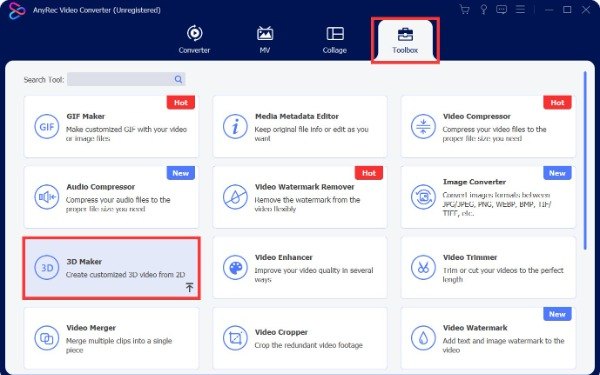 Step 2.It will automatically convert your normal video to 3D. If you want to adjust the effects of the video, you can click the dropdown icon of the Anaglyph to choose other modes, like Green/Magenta anaglyph(monochrome). Moreover, you can also add subtitles to your video by clicking the Edit button at the right.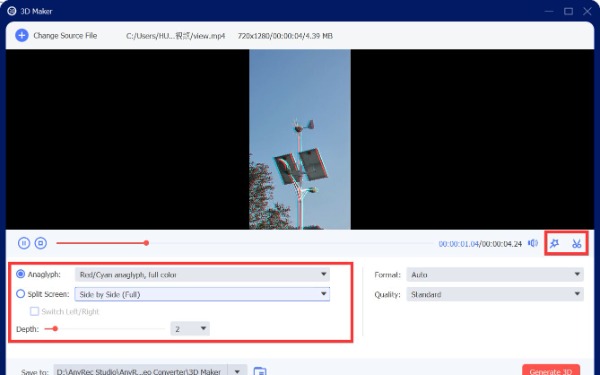 Step 3.You can change the video format by clicking the Format button, including MP4, MOV, MKV, AVI, and TS. Then click the dropdown icon to select the output folder. Finally, click the Generate 3D button to convert the video to 3D.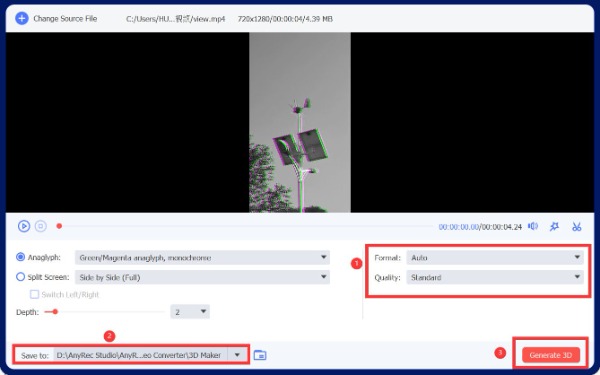 Top 2: Xilisoft 3D Video Converter
Xilisoft 3D Video Converter is also a 2D to a 3D converter that is compatible with Windows and Mac. It can convert 2D video to 3D video and switch modes between 3D videos. Moreover, it supports almost all popular video formats, whether in SD or HD.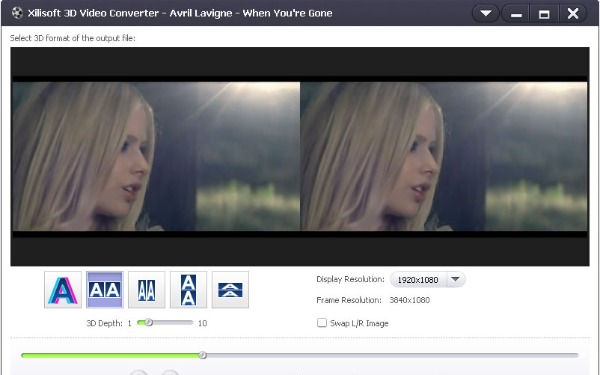 Pros

Convert 2D to 3D in five types, including Anaglyph, Side by Side, Top and Bottom.
Support various popular formats and output devices.
Cons

Limited free trial to convert 2D to 3D.
It has a complex interface for beginners to use.
Top 3: DVDFab
DVDFab is not only a copy, conversion, and recording software; you can also use it to convert videos from 2D to 3D to enjoy a more viewing experience. Moreover, the conversion speed of this 2D to 3D converter is fast, which helps to save a lot of time.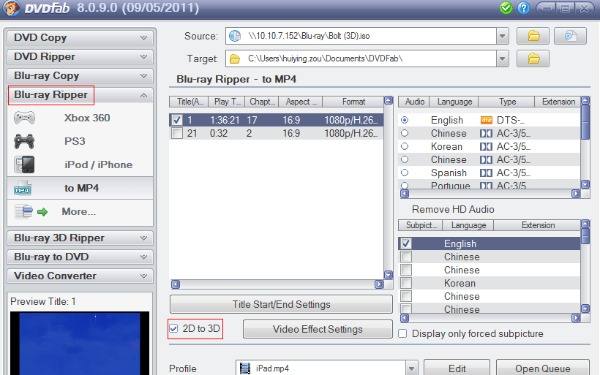 Pros

It has a straightforward interface for beginners to convert 2D to 3D.
Supports HDR10 and HD audio output.
Cons

The free trial version has limited functions.
It sometimes crashes in some versions of Windows.
Part 2: 2D to 3D Converter for Images: 2 Tools You Can Try
1. Photoshop
Photoshop is a well-known image editor among many tools. You can also use it as a 2D to the 3D converter to adjust your photos. It provides a full range of editing functions to adjust your images. Moreover, this tool has been constantly updated and optimized to improve users' experience.
Pros

Provide rich and excellent editing features to adjust your images.
Convert 2D to 3D on Windows/Mac freely.
Cons

Complex operation is not suitable for beginners.
No batch to convert images from 2D to 3D.
2. Insight 3D
If you want to get an open-source 2D to a 3D converter, Insight 3D is a nice choice you can try. The feature of this free tool is that it can extract pictures from moving scenes and create 3D models immediately.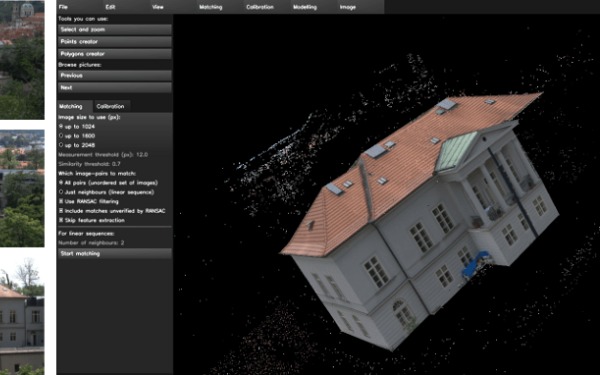 Pros

Support exporting 3D images to other file formats.
Suitable for high-quality and ultra-complex models.
Cons

Unable to batch convert images from 2D to 3D.
This tool only supports Windows/Linux, not Mac.
Part 3: FAQs about 2D to 3D Converter
1. Can I turn my videos from 2D to 3D on a mobile phone?

Yes. You can search for 2D to 3D converters on your App Store directly. For iPhone, you can download 2D to 3D Image Converter.

2. What is the difference between 2D and 3D?

A 3D-shaped object comprises the length, width, and height visible to our eyes. 2D is a plane vision. For example, a square is 2D, and a cube is 3D.

3. How do I play 3D videos on my Windows?

To watch 3D video converted by 2D to 3D converter on Windows, you should rely on special 3D video players, including RiftMax VR player, Codeplex VR player, Magix, etc. In addition to specific players, you also need special glasses to watch 3D videos.
Conclusion
Now, you have learned the five best 2D to 3D converters. You can pick one as the best tool according to your needs and preferences. But if you want to convert videos from 2D to 3D without clicking and enjoy more features, AnyRec Video Converter must be the perfect tool you can't miss! To turn your videos or images from 2D to 3D right now!
Related Articles: