Easy Tutorial | How to Add Text in DaVinci Resolve 16/17/18
DaVinci Resolve, developed by Blackmagic Design, is powerful all-in-one editing software widely appraised by YouTubers and Hollywood professionals. Although the interface is like Premiere Pro, DaVinci Resolve is the only solution to achieve all tasks with just one tool, including editing, color correction, visual effects, motion graphics, and audio post-production. For newbies who just started using this helpful editor, here is a basic tutorial about how to add text in DaVinci Resolve 16, 17, and 18 on your computer. Take a quick look and start polishing your videos with colorful text.
Quick Preview:
Open Effects Library, choose Titles, and select a text preset.
Drag the text and overlay it above your timeline.
Change color, font, size, and position in Inspector.
Part 1: Add Text in DaVinci Resolve 16/17/18
Whether you have DaVinci Resolve 16, 17, or 18 on your computer, the following guide suits them all with slight differences in the buttons' positions. After adding the text in DaVinci Resolve, you can make it more beautiful or vivid by adjusting its format or animating it. Keep diving to find all these steps.
DaVinci Resolve: Add Text in Four Steps
Step 1.Import the Video Clip
To add the text, import a video file to your timeline in DaVinci Resolve. You can import the video by clicking the File, Import File, and Media buttons consecutively. Then, the video will be in your media pool. You can drag it directly to the timeline section to create a new one.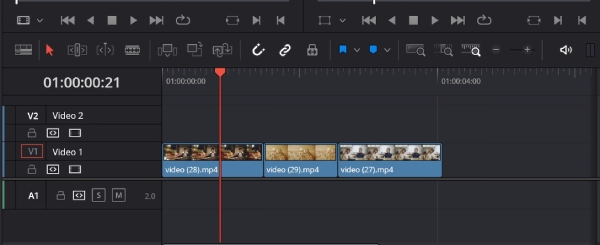 Step 2.Choose Titles
Then, you must choose a text preset. Click the Effects button on the left and choose Titles from Toolbox. You will see different titles there with different presets. You can simply choose a basic title and drag it to the timeline. Place the title above your video on the timeline.

Step 3.Trim the Title Length
To trim the title and make it as long as your video length, click the Snapping tool with a magnet icon and drag the end of your title. It will stick to the end of your video and be the same length as yours.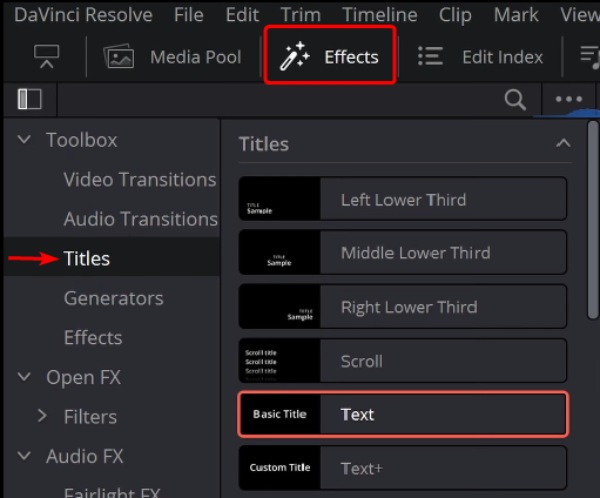 Step 4.Enter the Text
Click Inspector above and scroll down under the Video tab. Enter your text in the blank. Then, you can change your text font by clicking the Font Family dropdown option.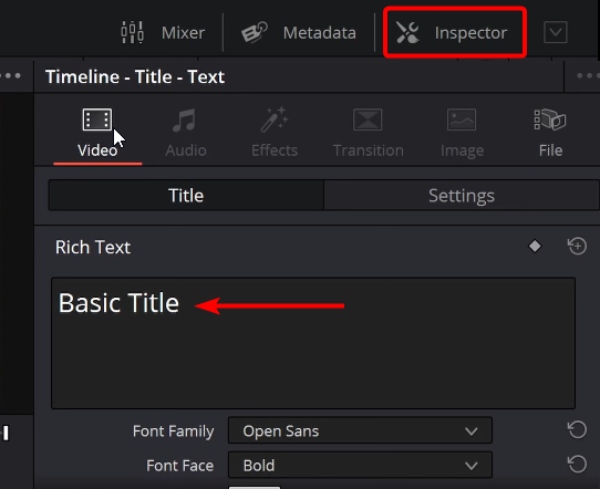 Text Format: Adjust Style and Animation
After using DaVinci Resolve to add the text to the video, you can adjust the text format, change the style, or make animated text.
Adjust text style in DaVinci Resolve:
On the Inspector panel, scroll down under your text. There are various options: Font Face, Color, Size, Tracking, Line Spacing, Font Style, etc. You can always double-click these options to reset the values. Meanwhile, if you drag the text on the monitor, you can adjust the position directly.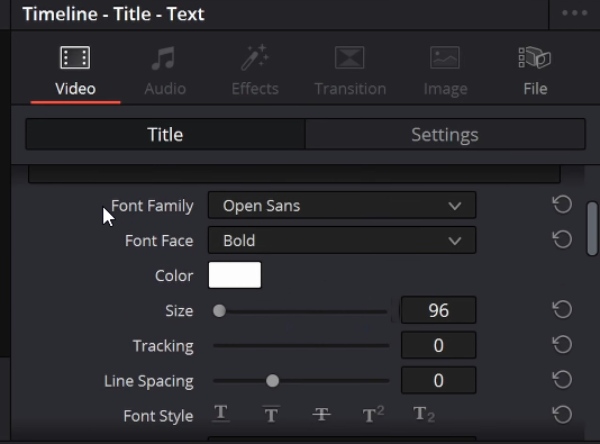 Make text animation in DaVinci Resolve:
Having animated text on your video can make it more interesting. To add animations, go back to the Effects panel on the left and choose Video Transitions under Toolbox. Drag one from it and drop it to your text on the timeline to apply the effect. You can change the animated effect's duration, alignment, and others in the Inspector panel.

Part 2: Solution: Why Are My Titles Not Showing in DaVinci Resolve
Several situations may cause titles not to show in DaVinci Resolve; find the one that matches yours below and try the following solutions to resolve the issue.
Text not showing after rendering or exporting
Check the track that contains your text. Make sure it is enabled before you export the whole video.
Text not showing in the Preview window
You might use a pre-designed template to add the text and do not have enough RAM on your computer. In this case, you must upgrade your hardware equipment.
Text is behind the video track
Right-click your text track on the timeline and choose Add Fusion Clip. Then, choose a shape and fill in the shape with a solid color. Place the shape behind your text. Then, your text will be visible on the video.
Text not showing: media offline
When you see media offline causing text not to show, you must force DaVinci Resolve to render your video while consuming a few resources. To do so, click the Playback button and then Timeline Proxy Resolution. Next, choose 'Half' or 'Quarter.'
Part 3: Quick Alternative for Adding Text in DaVinci Resolve
Apart from adding text in DaVinci Resolve, here is another more straightforward tool, AnyRec Video Converter, to quickly add simple and plain text for videos. The biggest advantage of adding text in a converter is that you do not need to worry about the format. Because this converter from AnyRec is compatible with over 1,000 media formats, you can export the video into regular formats like MP4, MKV, or AVI to share it more conveniently. When adding the text, the converter allows you to achieve basic operations like changing text color/font, adjusting position, setting up opacity, etc.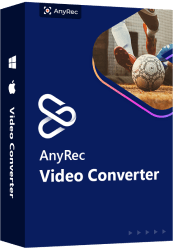 AnyRec Video Converter
Import any video or audio files for editing or conversion.
Apply multiple texts to a video simultaneously.
Control the appearing time of your text in the video.
Export your video with the original or high quality.
Provide various editing tools like Trimmer, Rotator, Cropper, etc.
Step 1.Install and launch the converter on your computer. Navigate to Toolbox and choose the Video Watermark tool. A window will pop up. Click the Plus icon to import your video and add the text.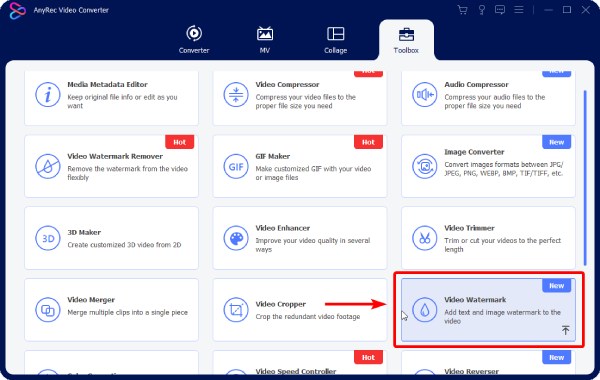 Step 2.After importing the video, click the Add Text Watermark button to add text. You can keep clicking the button to add more than one text.

Step 3.Type the text in the blank. Then, you can change the text format with the options below. For example, you can change the text font, size, color, and opacity. Meanwhile, to control the text duration, drag the timeline to adjust it.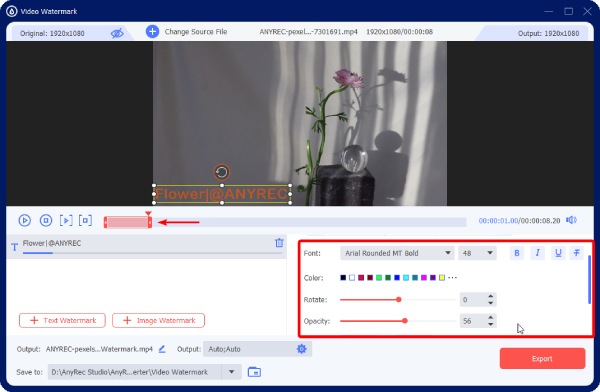 Step 4.Next, you can save the video. Choose a destination folder by clicking the down arrow near Save to. Then, choose Browse and Select Folder and choose a folder on your computer. After that, click the Export button to export the video with text.

Part 4: FAQs about Adding Text in DaVinci Resolve
Does DaVinci Resolve have a watermark?

No, it doesn't. Although DaVinci Resolve is freeware, there is no watermark for your exported video. But, if you use features like Noise Reduction or others that are only available for the Studio version, there will be a watermark on your video.

Is DaVinci Resolve safe?

Yes, it is. Meanwhile, the public beta version from DaVinci Resolve is also safe. But the beta version might work slowly on your computer.

Can I add subtitles in DaVinci Resolve?

You can add subtitles by adding text in DaVinci Resolve repeatedly to make a subtitle. If you want a less time-consuming way, you might want to turn to other subtitle generators for help.
Conclusion
Now, you must know well about the exact steps on how to add text in DaVinci Resolve. No matter which version of DaVinci Resolve you are using, 16, 17, or 18, the above tutorial fits all. Meanwhile, if you find the text not showing after rendering the video, there are also solutions above to help you. Share this article with friends unfamiliar with DaVinci Resolve's operations and help more people learn video editing skills.
Related Articles