Export DaVinci Resolve Project as MP4, Check Your Ultimate Guide
Many people find it difficult to export MP4 videos using DaVinci Resolve, especially some novice users. Unlike other video editing tools, it is exported by adding to rendering. How on earth can DaVinci Resolve export MP4? Keep reading with all your questions, and this article will tell you the answer. In addition to DaVinci Resolve, you can obtain another video converter that can easily export MP4 with just a few clicks.
Part 1: How to Make DaVinci Resolve Export MP4 [Step by Step]
DaVinci Resolve is a powerful tool for editing, color correction, visual effects, dynamic graphics, and audio post-production. It also provides a cloud-based workflow for remote collaboration, which means you can work with editors, color mixers, visual effects artists, and sound engineers simultaneously. But it's difficult to let DaVinci Resolve export MP4 for the first time for beginners. Don't worry! This post will provide a specific guide to teach you how to export MP4 videos from DaVinci Resolve step by step.
Step 1.Launch DaVinci Resolve on your device like Windows. Click the New Project button at the bottom. Then it will pop up a window, and you can name the project and click the Create button.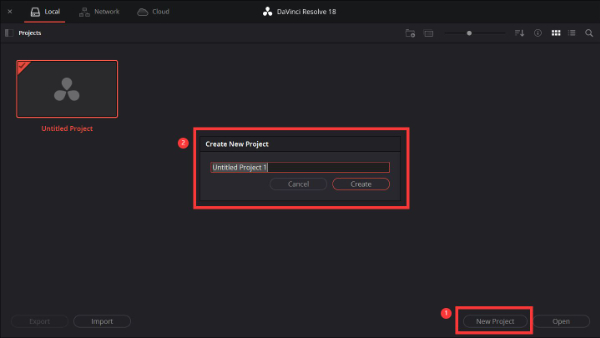 Step 2.After that, you can upload your video file by clicking the File button at the top. And choose the Import option from the list. Then select the Media option to import the file.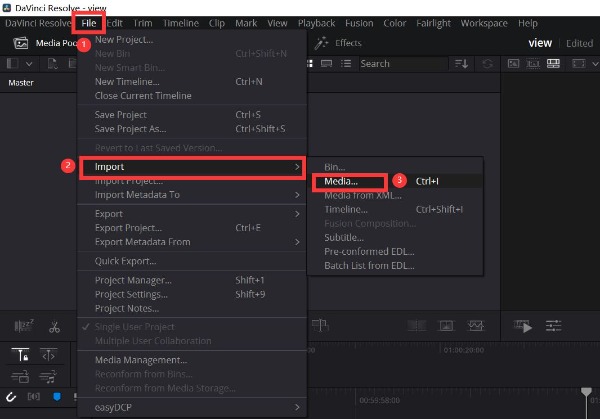 Step 3.You should drag your video into the timeline. Then click the Deliver button with a rocket icon in the lower right corner. Click the Custom Export button to name the file, and choose the output path by clicking the Browse button.
Step 4.You can make DaVinci Resolve export MP4 below the Export Video section. Then, it also allows you to customize the settings, like resolution, codec, and frame rate.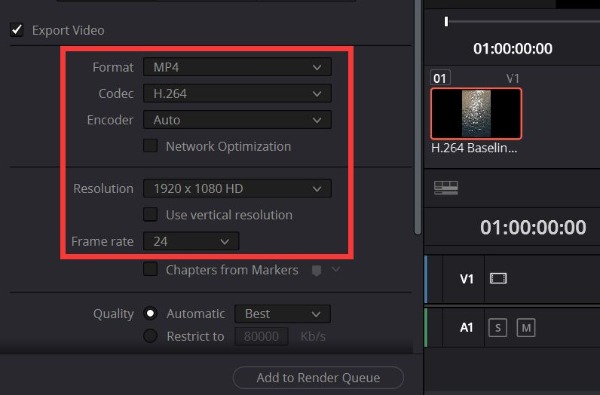 Step 5.Click the Add to Render Queue button at the bottom. Then you can export the DaVinci Resolve project as MP4 by clicking the Render All button at the right.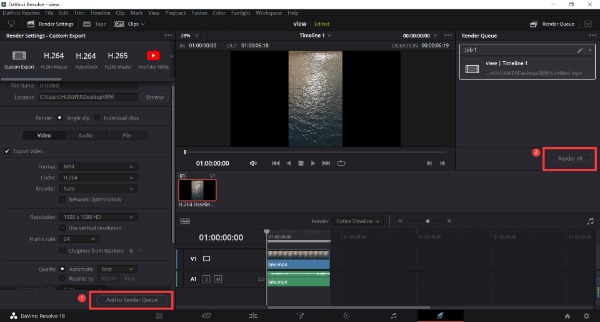 Step 6.You only need to wait a few minutes for the conversion to succeed, and it will automatically save the file in the output folder you selected earlier. That's it, done! Note: DaVinci Resolve supports batch conversion; you can convert multiple videos to MP4 simultaneously.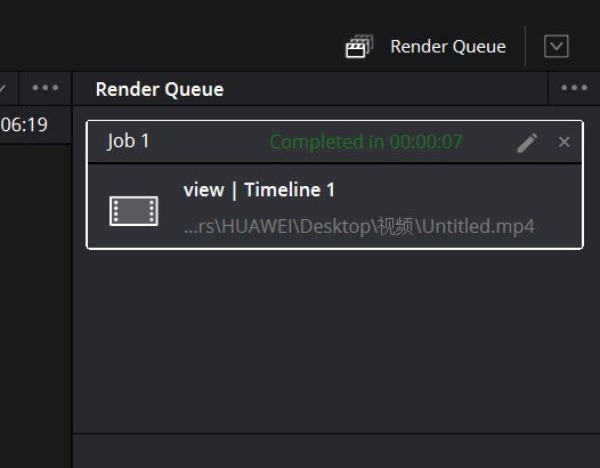 Part 2: Best DaVinci Resolve Alternative to Export MP4 Easily
If you are still stuck on exporting the DaVinci Resolve project to MP4, why not try using other simple video converters to solve this problem? Fortunately, this post introduces the AnyRec Video Converter for you. This excellent tool supports more than 1000 formats, so you can convert any video to MP4 without file size limitations. It also provides batch conversion. In addition to simple conversion, you can also edit videos, like cropping, trimming, and adding watermarks/effects/subtitle. Simple interface and operation steps are friendly to both novices and veterans!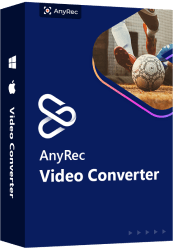 AnyRec Video Converter
Convert video and audio files in 1000+ formats.
Keep updating video editors and quick tools.
Adjust the output video and audio settings freely.
Support batch conversion without file size limit.
Step 1.Free download AnyRec Video Converter from the official website and launch it immediately. Click the Add Files button in the upper left corner to import your video file. You can also choose to import a file by dragging the file directly to the square.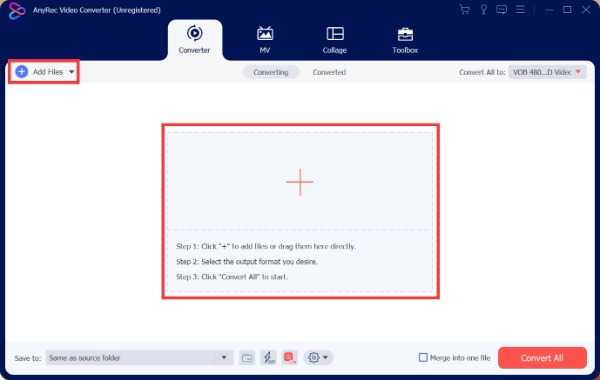 Step 2.Choose the Format menu next to the uploaded file, and then go to the Video section. Then select the MP4 from the menu.
Step 3.Adjust the parameters of the video by clicking the Custom Profile button with a gear icon. You can set the resolution, bitrate, frame rate, and encoder at will.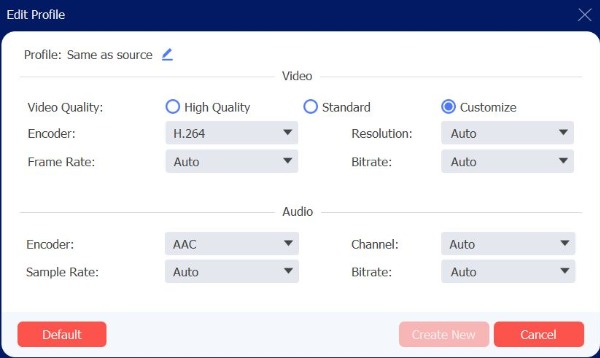 Step 4.The last step is to convert videos to MP4 by clicking the Convert All button.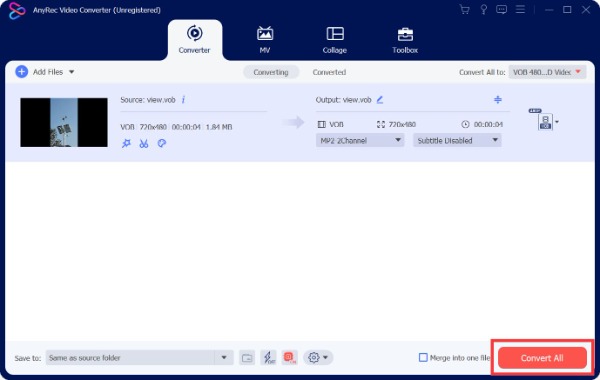 Part 3: FAQs about DaVinci Resolve Export MP4
Does DaVinci Resolve support MP4?

Yes. Da Vinci Resolve can encode and decode MP4 files through H.264/H.265 codec. However, the free version can only process H.264 MP4 video, while the paid version can process H.264 and H.265 MP4 files. But you can let DaVinci Resolve export MP4 without hassle.

How to export MP4 with 60 FPS in DaVinci Resolve?

First, set the Timeline frame rate to 60 FPS. Then you can set the Frame rate of 60 FPS in the Render Settings tab. Finally, click the Add to Render Queue button to select the Render All option.

How can I export a video from Davinci Resolve to YouTube?

Click Delivery in the bottom menu to see that Custom is selected by default. Click the YouTube button under the rendering settings, and finally, you will complete the upload according to the instructions on the screen.
Conclusion
That's all. This article will help you if you want DaVinci Resolve to export MP4 videos. Detailed operation steps even novices can follow this article to export MP4 by DaVinci Resolve. Moreover, you will also get another useful guide to easily export any video format to MP4 with AnyRec Video Converter. If this article offers you any value, please add a line in the comment to let me know.
Related Articles