Action Cameras Comparison – Take Best Photos and Videos Outdoor
There are many types of vlogs, but they all have one thing in common: a good camera. Whether you're shooting outdoor activities or underwater adventures, you'll need an action camera that's both durable and portable. You must consider budget, portability, image and audio quality, recording time, and battery life. Here's everything you need to know about buying an action camera, as well as the best models we've tried.
Part 1: 10 Best Action Cameras Review
1. GoPro Hero 10 Black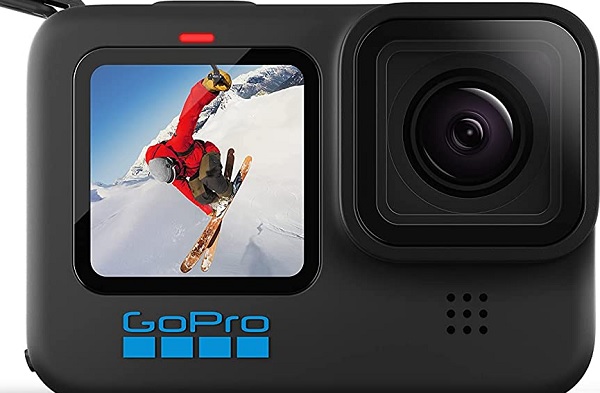 HERO10 Black is a multi-purpose tool that may be used on any journey. Whether you're ripping through water, snow, or dirt, its rugged build quality can take a hammering and keep going. Take a look at the sharpest-shooting GoPro of all time. HERO10 Black boasts twice the frame rate for incredibly smooth motion, with outstanding 23MP pictures and 5.3K video resolution at 60fps. There's also 8x slo-mo at 2.7k, as well as the ability to pause recordings and capture stunning 15,8MP still shots from 5.3K footage. The scratch-resistant and sturdy lens cover gives even more protection and is simply replaceable if necessary.
Pros
This camera is ideal for divers because it is waterproof to a depth of 33 feet.
With the GoPro Hero 10 Black Action Camera's HyperSmooth 4.0 features, you may obtain the video stabilization you desire.
Cons
You can purchase this camera for $587.77
Still no king of low-light photography.
2. Sony RXO II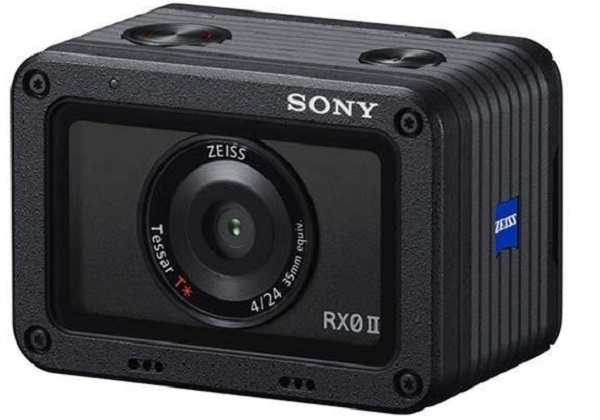 The RXO II Sony action camera is tiny and light, measuring only 2-3/8 in × 1-5/8 in (59.0 × 40.5 × 35.0 mm) and weighing only 4.7 oz (132g). But it wasn't the modest size of this tiny gadget that piqued my interest; it was its appealing characteristics! With a 15.3 megapixel 1
Pros
The ability to frame a vlog with a flip-up screen speeds the process.
The audio quality of the recorded footage is excellent.
You can separate the subject from the background without losing the excellent quality of the image.
Cons
It's challenging to photograph swiftly without continuous autofocus.
The field of view isn't quite as large as that of a GoPro.
It costs $698.00, slightly more expensive than other action cameras.
3. Insta360 ONE R Twin Edition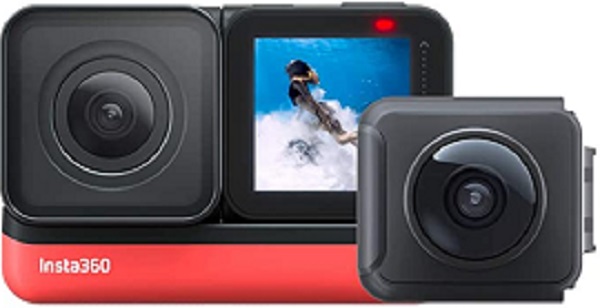 Are you having trouble deciding between an action camera 4k and a 360o camera? So why not enjoy the best of both worlds? The Insta360 ONE R Twin Edition, a detachable action camera that blends the two most popular trends in consumer filmmaking, was designed with this in mind. It's small and light, yet it has a unique appearance and feels. A multiprocessor unit with touchscreen (44g), a dual-lens module for 360o (51g), a 4K-capable module (43g), and a 1190mAh battery base (34g) that connects them all together. And when you do that, you can have a 4K setup that weighs only 121g, plus a few additional grams in your pocket in case you need to switch to 360o immediately.
Pros
This item is waterproof and can be submerged to a depth of 5 meters (16.4 ft).
The audio quality of the captured video is excellent, however, if you are filming in a windy location, it is recommended that you employ the background noise reduction feature.
Cons
For $501.82, you can get the Insta360 ONE R Twin Edition.
Unfortunately, there is no GPS sensor on this action camera.
Because the battery life is just around an hour, serious users should consider purchasing the Boosted Battery Base.
4. Akaso Brave 7 LE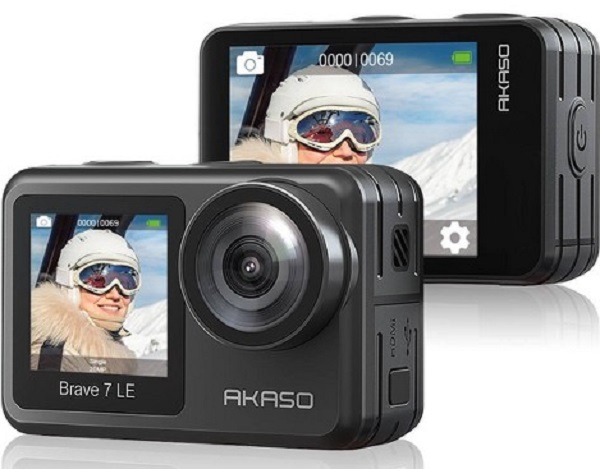 With a dual-screen design that allows users to see themselves on a second selfie screen that's positioned next to the lens, Akaso is attempting to bridge the divide. With image stabilization and 4K resolution, the Akaso Brave 7 LE might be the most fantastic vlogging camera and the affordable best waterproof action camera at the same time. It brings a revolutionary dual-screen design. The rear screen for you to see the world and the front screen to frame yourself. Moreover, it has an EIS system that enables you to capture stable movies.
Pros
There are two batteries included.
Image stabilization that works.
Cons
The Akaso Brave 7 LE cannot capture 4K at 60 frames per second.
The selfie screen is quite small.
It is only waterproof to a depth of 3 feet/1 meters out of the box.
5. GoPro Hero9 Black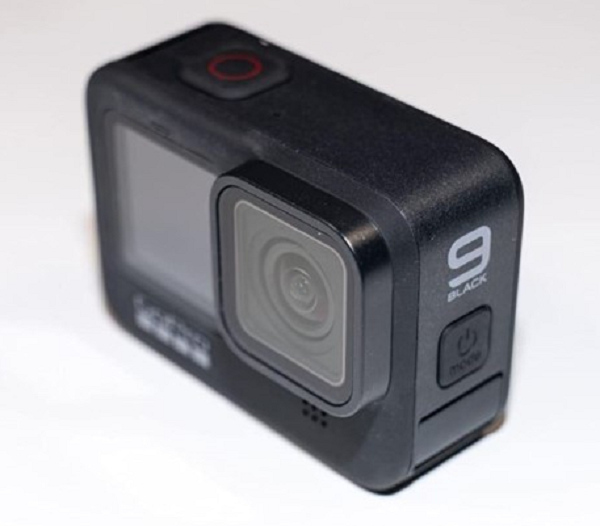 The GoPro Hero 9 Black is the first GoPro action camera to have a resolution boost since the Hero 3 Black in 2012. Instead of the standard 12Mp resolution, the latest model has a 23.6Mp resolution. The Hero 9's higher resolution allows it to film at 5K@30 frames per second and adds HyperSmooth Boost stabilization to both 5K and 4K recording, something the Hero 8 couldn't do. Moreover, it also provides TimeWarp 3.0, 8X Slo-Mo + with tons of other features to nail any shot. If you are using the captured videos on your iPhone or Android phone, you can always edit them with the Quik app.
Pros
For vlogging, the front display is helpful.
Longer battery life.
Cons
HEVC files necessitate the use of modern editing software.
There is still no 4K/120p mode available.
6. DJI Action 2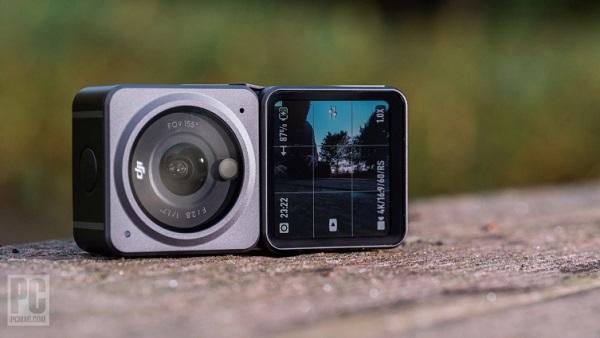 The main unit of the DJI Action 2 is small and portable. This teeny-tiny cube only weighs 56g, which is great news for everyone because it may be worn on the head, chest, arm, or any other body region. The DJI action camera has the latest built-in stabilization algorithm that detects and corrects camera shake and rotation in real-time. The camera unit can be used at depths of up to 10 meters and at 60 meters when paired with the Waterproof Case.
Pros
Up to 33 feet of water resistance.
It can be used as a webcam.
Cons
The risk of overheating is a worry.
There is no card slot or charging port on the main camera module.
7. DJI Osmo Action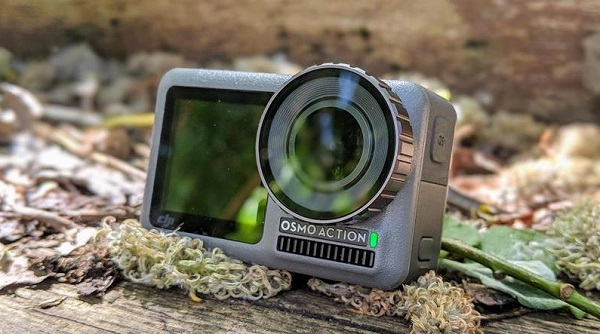 The DJI Osmo Action camera resembles a GoPro in appearance. It features the same dark, boxy design, with a lens on the left side. Because Osmo's screen has a 16:9 aspect ratio, displaying a larger image. It's only 1.4 inches square, so you won't be able to see much, but it'll suffice to see if your silhouette is in the frame. This DJI action camera can capture video in 4k60 and 1080p240 resolutions and 12MP still images in JPG and RAW formats.
Pros
Slow-motion function built-in to the camera.
Video and photo quality is excellent.
Menus are simple to navigate.
Cons
There is no GPS or HDMI port.
Image quality isn't quite up to the standard with GoPro.
8. GoPro Hero8 Black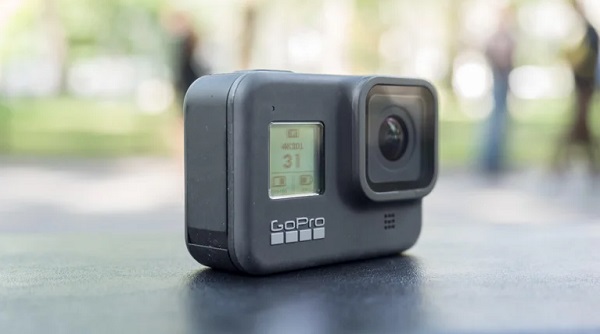 The Hero 8 is a frameless camera. The bottom of the action camera features built-in loops that fold in and out. The Hero 8 is significantly thinner front to back than the Hero 7 (28.4mm vs. 33mm), but it's also slightly wider and higher (66.3mm by 48.6mm vs. 62.3mm by 44.9mm, respectively). When it's in a frame, though, it's smaller than the Hero 7, and given that you need the structure for pretty much everything, the Hero 8 is a lot more compact.
Pros
The HyperSmooth 2.0 stability is outstanding
4K/60p video is excellent
Cons
Repair service on a subscription basis
In some cases, HyperSmooth creates an odd panning effect.
9. Akaso V50 Pro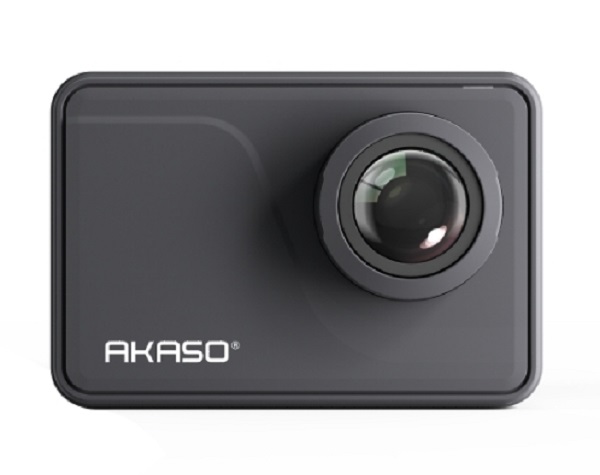 The Akaso V50 Pro has a modern design around its 170-degree wide-angle lens, measuring 60×41×32 mm and weighing 64g. It's also functional, with a massive 2-inch display and a haptic silicone shell that doesn't gather fingerprints. You can always adjust the view angle of this action camera according to your needs between Super Wide, Wide, Medium, and Narrow. Moreover, it has the distortion calibration feature, which offers image distortion improvements.
Pros
A lot of extras are supplied, including an extra battery.
It is very affordable, as it only costs $120.
Cons
The microphone isn't very significant.
A live stream is not possible.
10. Sony FDR X3000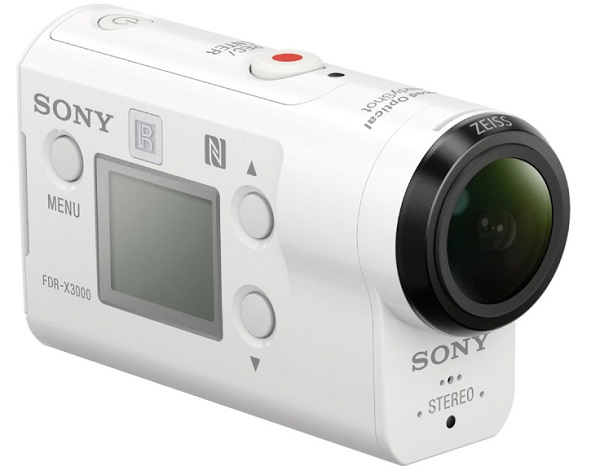 The FDR-design, X3000's, which measures 29.4 × 47 × 83mm, is obviously out of the ordinary, yet it's pretty ergonomic. Recently, most action cameras have given the nod to the tried-and-true GoPro designs. On the other hand, Sony has chosen to stand out with an extended white outer plastic shell suggestive of portable camcorders. It is simply pocketable and deployable when the perfect occasion calls for it, weighing only 114g with the battery installed and complemented by its small form.
Pros
Remote control for Live View is included.
Image stabilization is fantastic.
Cons
The LCD is monochrome.
Part 2: The Best Video Editor to Polish High-Quality Footage
The above are the best action cameras that will help you film your activities. However, having a friendly camera isn't enough; your videos must be polished first to make them appealing and enjoyable to watch before being shared with the rest of the world. You can easily edit your videos using AnyRec Video Converter's powerful editing filters; you can rotate, flip, crop, trim, merge, add watermarks, and apply other video effects. Of course, you can convert your videos from over 1000+ various formats after they've been edited. Download this app for Windows/Mac today to ensure the quality of your videos!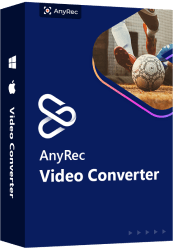 AnyRec Video Converter
You may use customizable filters to add subtitles and audio tracks to your video.
It is possible to put two, three, four, and more videos in one frame because here, you can get 44+ different split-screen; each split-screen layout is adjustable.
It cuts the size of large videos by a percentage.
Your edited video can be converted 50 times faster in bulk, potentially saving you a lot of time.
Part 3: FAQs about Action Camera You Should Know
What purpose does WIFI provide in an action camera?

This proper function allows you to watch the feed from your camera from a distance, which can help you line up photos. It also allows you to start and pause recordings and transfer files with your camera and other devices like your smartphone or computer.

Which should I choose, a DSLR camera or an action camera?

DSLR cameras can shoot professional-looking videos less expensive and more accessible than expert camcorders. Why should you choose an Action camera? Action cameras beat DSLR in terms of size, mobility, and narrow angles it could penetrate.

Is it possible to capture excellent shots with action cameras?

Yes. Some action camera provides the night photography mode, such as GoPro Hero 9, which also provides night lapse mode and auto low light mode, you can take some nighttime videos and photos with excellent quality.
Conclusion
That concludes our discussion. We've compiled a list of the top 10 best action cameras for documenting your outdoor adventures. We strongly advise you to download the AnyRec Video Converter because it has been confirmed and tested to edit and convert high-quality videos.
Related Articles