2023 Recommended Video Stabilizers to Smoothen Shot Videos on Camera
Whether you are creating videos for personal or professional use, it is better to see them in high quality. That's why a video stabilizer is needed to remove the shakiness from shooting on your smartphone or camera, allowing the recorded video to look like a cinematic film. Since camera shake is inevitable and often occurs in any film, this article will show you the top eleven video stabilizers for Windows, Mac, Android, and iOS.
Part 1: 5 Video Stabilization Software to Reduce Shaky Footage [Windows/Mac]
When it comes to removing video shakiness, it is better to trust professional tools for precise fine-tuning. You would like to have a smooth effect on your film without distortion to any clean shots. With that said, let's look at the best video stabilizer for Windows and Mac.
1. AnyRec Video Enhancer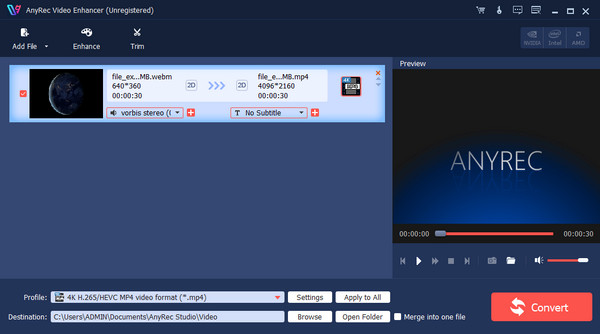 This video stabilizer is an effective solution to enhance your video to any preference. It offers features to improve quality, such as upscaling the resolution, removing video noise, reducing video shakiness, and optimizing brightness/contrast. Besides the said features, AnyRec Video Enhancer provides essential tools to edit movies, including trimming, merging, cropping, and applying filters and effects. Download the best video stabilizer and edit videos with just a few clicks.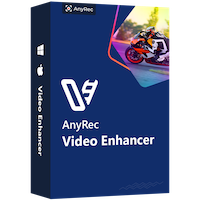 AnyRec Video Enhancer
Easy way to stabilize shaky videos with anti-shaky technology.
Remove picture and background noise when stabilizing video.
Improve the video quality after reducing the shakiness of the video.
Support popular video formats such as MP4, AVI, MOV, and so on.
2. Adobe PR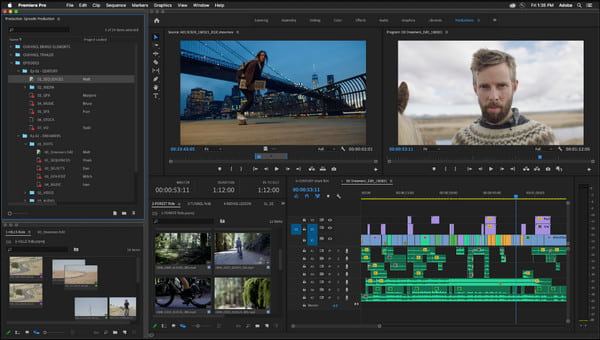 A powerful tool like Adobe PR is one of the best video stabilizers to download on Windows and Mac. Its Warp Stabilizer effect removes unwanted shakiness from capturing video clips and excellent precision to have the exact look you want for the film. Adobe PR is best for shots on GoPro, drones, cameras, and more.
Features:
Support a wide range of output formats like H.264, HEVC, MPEG-4, etc.
Include free transitions, templates, titles, and other presets.
Suitable for editing 3D video and image editing.
Manage files with the content library for video clips, audio, and photos.
3. VSDC Free Video Editor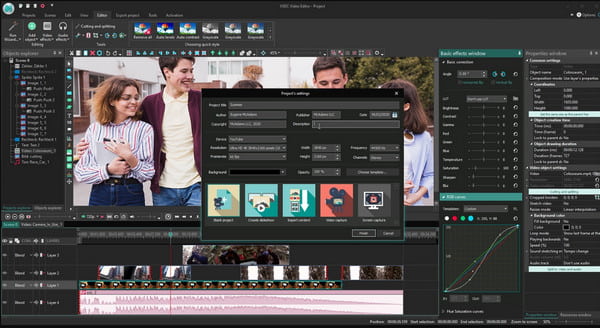 VSDC has a video stabilizer that provides modern solutions for video shakiness. Even if you are shooting for sports, action, or other activities requiring much movement, this tool can help smoothen the unstable film with just a couple of clicks. You can also export the output to social media channels like Facebook, YouTube, and Instagram.
Features:
Support professional editing tools for videos.
Offer a large set of filters, effects, and transitions.
Outstanding Chroma Key to delete the green background.
More tools like 360 video editing, color correction, etc.
4. iMovie
If you are a Mac user, you don't need to install a third-party app because iMovie is already an excellent solution for video stabilizing. It is a free program that does not require a difficult learning curve or additional plugins. Its video stabilizer is also effective for high-quality footage shots from iPhone and other Apple devices. And you can also find some alternatives to iMovie for Windows to use.
Features:
Support 4K videos to edit and stabilize.
Free to download on Mac, iOS, and iPad.
Built-in special effects and filters.
Excellent app for creating videos from scratch.
5. Final Cut Pro X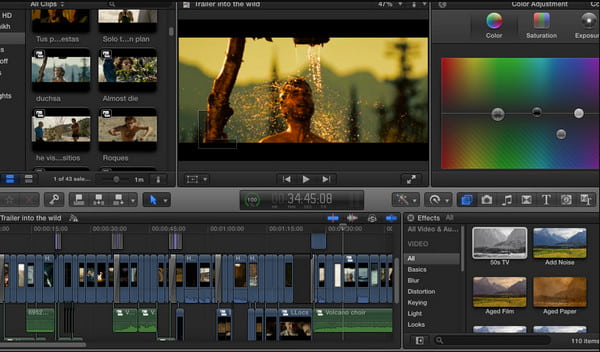 This video stabilizer is another solution for Mac users. It allows you to elevate your creativity by transforming films into cinematic movies by detecting the objects from your camera and matching the movement with titles and effects. Final Cut Pro X can be your best video editor with unrivaled performance.
Features:
The Object Tracker allows the adjusting of focus points.
Dynamic text and color correction.
Efficient movement analysis to stabilize video clips.
One-click algorithm to enhance the footage.
Part 2: 3 Recommended Online Video Stabilizers [Desktop Tool]
Aside from professional desktop tools, you can also remove video shakiness with online tools without the news to download any software. So in this part, you will see the best three video stabilizers online.
1. Online Video Cutter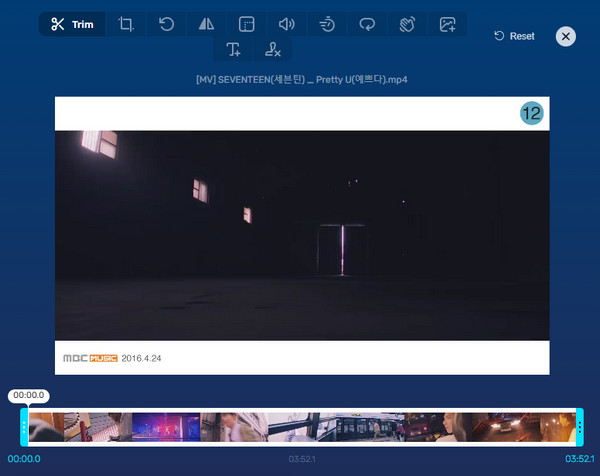 This online tool is a free program you can access on any browser. It has a simple interface with various source options, allowing you to pick videos from Dropbox, Google Drive, or URLs. It is an excellent alternative if you are working on a short clip, as Online Video Cutter accepts videos with 700MB.
Features:
Have excellent output quality.
Free converter for ten files per day.
Remove the video logo and create a new one.
Available as a Chrome extension.
2. Ezgif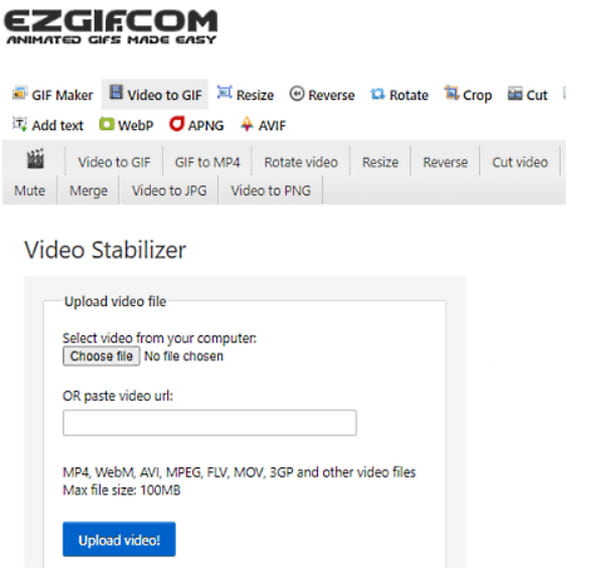 Ezgif is a well-known website where video and photo editing become convenient for beginners and pros. It is also an ideal alternative for video stabilizers as it supports formats such as MPEG, FLV, AVI, MP4, and more. The only drawback of Ezgif is that it only accepts clips with 100MB, which is too small compared to other offers by online tools.
Features:
Have various tools for videos, GIFs, and images.
Provide essential functions to resize, rotate, and cut videos.
Excellent speed in applying video stabilization.
Free and no installer is required.
3. Online Converter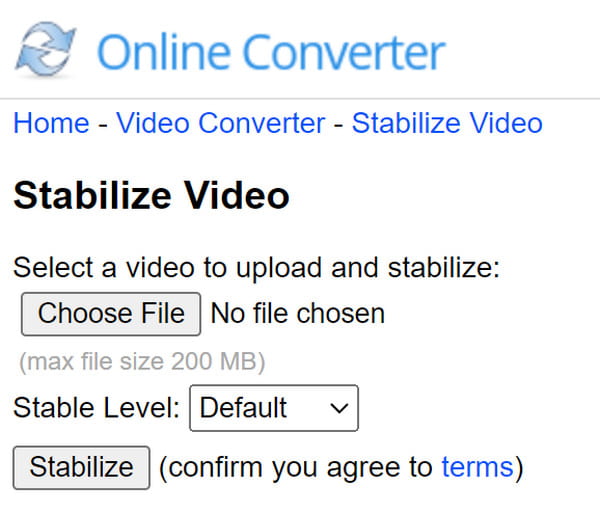 If you are in for a quick converter, you must have encountered the most straightforward online tool. Online Converter is convenient as a video stabilizer because it is free and provides more tools. Unfortunately, editing video clips with Online Converter means you need to re-upload the same clips and visit its other sites.
Features:
Support popular formats such as WebM, MKV, etc.
Provide stable level up to maximum.
Offer max file size up to 200MB.
Completed the process in a minute.
Part 3: 3 Rated Application to Stop Shaky Video [iPhone/Android]
Even for iOS and Android users, video stabilizing tools are available. Rather than using a computer to edit video, this part will show you the best video stabilizers for Android and iPhone.
1. Shaky Video Stabilizer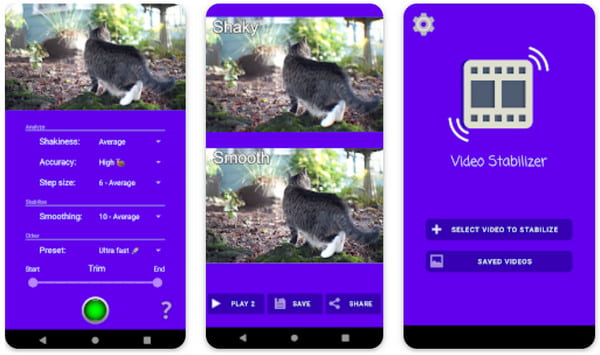 This video stabilizer app allows you to smoothen the motion in a clip. You can analyze the stability by choosing the level of shakiness, step size, smoothing, and accuracy. Shaky Video Stabilizer has over a million downloads from Google Play alone, which makes it a great solution.
Features:
Free to download without watermarks.
Directly share output to social platforms.
Work well even without an internet connection.
Enable a preview from the original video to the output.
2. Splice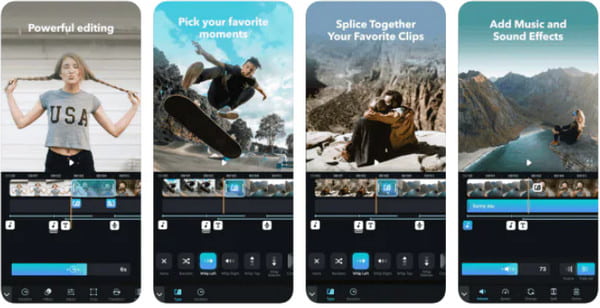 The Splice app is convenient with various functions, including a video stabilizer, chroma key, and more. Its editing workflow helps users to keep the projects on track and which files they should delete. The app is available to download on Google Play and App Store.
Features:
A wide library of music with an auto-generate subtitle function.
Excellent speed to slow down or speed up videos.
Intuitive interface for better user experience.
Suitable for TikTok and Instagram creators.
3. iMovie
iMovie is a professional app for Apple devices, and its video stabilizer is available for smartphones. With your iPhone, you cannot only make your video stable but also blur a video in iMovie. However, the app only offers limited features, which can hinder video editing.
Features:
Free and easy to use.
Easily retrieve videos from the iPhone's gallery.
Excellent solution for go-to video editing.
Export videos in a smooth downloading process.
Part 4: FAQs about Video Stabilizer
How to stabilize video when shooting a video on a smartphone?

If you are using an Android phone, you can enable video stabilization on the camera settings. For iPhone users, go to Settings and navigate to the Camera menu. Then, toggle on the Enhanced Stabilization button on the Record Video option.

Which equipment should I use for stabilized filming?

You can use a portable handheld camera holder for a more stabilized hold while filming. Of course, you must search for the best one that fits you, especially if you are switching between a mobile device and a cam recorder. Plus, go for a more affordable one with many shooting options.

Does stabilizing my video affect the quality?

Yes. Stabilizing your video may lead to quality degradation because of motion compensation and lack of image sensors. Due to this circumstance, the video will comprise steady frames with a smaller sensor area, reducing resolution.
Conclusion
A video stabilizer is an essential tool for video editing. Reducing the shakiness will be easier with the recommended video stabilizers for Windows, Mac, Android, and iOS. Alternatively, you can use online tools to edit for free. Try a professional video stabilizer like AnyRec Video Enhancer to see outstanding results for your videos. You can even upscale video to 4K with the help of AnyRec.