How to Convert WPP to MP3 with Effective and Easy Methods
When you get a WPP audio file from WavePad, there is a high chance that you will not be able to open it on any other media player besides SerifWebPlus. The reason for this is that the WPP format is it initially created for WavePad Sound Editor Project. So if you want to play WPP audio without limitations, the best thing to do is convert WPP to MP3, which enables you to share and play MP3 files to any media player. This post will give you three effective methods to convert WPP files to MP3 without losing quality.
Part 1: 100% Workable Method to Convert WPP to MP3 for Playback
Since WPP is the project created by WavePad, it is the best WPP to MP3 converter you can easily use. So, suppose you have no idea how you can make it work; here are the adequate steps for converting WPP to MP3 to make it playable on any device.
Step 1.Launch the WavePad software on your device. If you still don't have it, you can search and download the tool to the safest website you can find. Also, ensure that you download the latest version.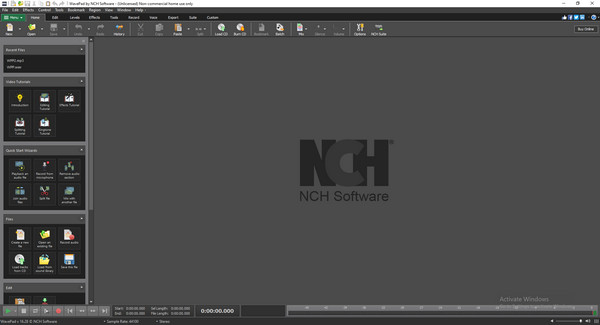 Step 2.Once launched, click the File button on the left part of the page, then click the Open Project button to import the desired WPP file. Alternatively, you can open the file explorer folder and drag it directly to the tool.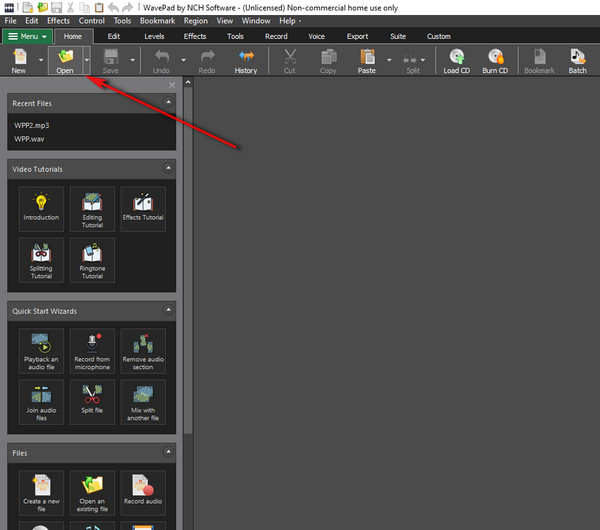 Step 3.After that, click the Down button beside the Save As button. You can choose which designated folder you want to save the converted file when the folder appears. Then, write the desired name for the converted file.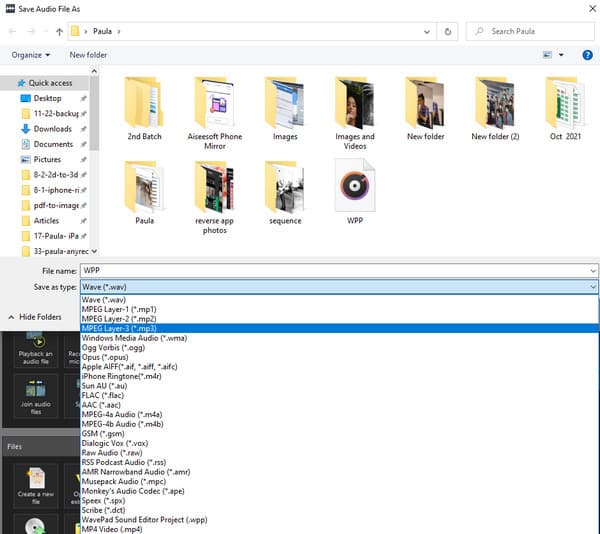 Step 4.At last, click the Save As Type dropdown list and click MPEG Layer 3 (MP3) button to convert the file effectively. Click the Save button to apply all the changes. Go to the designated folder to preview the converted file.
Bonus Tips: The Best Audio/Video Converter for You
If you find yourself in a bind with incompatible formats like WPP, you can use AnyRec Video Converter for a more straightforward method. This professional tool is the best alternative to converting WPP to MP3 and even tricky formats such as WebM, MKV, WAV, etc. It follows with more essential functions to enhance audio files by giving you the complete control to adjust bitrate, quality, sample rate, and encoder. AnyRec Video Converter is the best solution to convert WPP to MP3.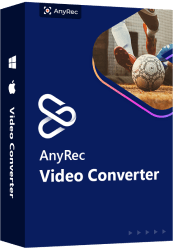 AnyRec Video Converter
High-maintenance tool to convert any audio format without distorting the quality.
Produce the desired sample rate and channel with the advanced custom output.
50X faster speed to imported audio files for batch conversion without size limitation.
Offer other solutions such as MP3 booster, video maker, quality enhancer, etc.
Part 2: How to Convert WPP to MP3 Format Online for Free
First option:
Gladly, there are some solutions you can rely on to convert WPP to MP3. Like the Convert Helper, an online tool that you can use to convert WPP to MP3 for free. This online tool is so simple that it will not be challenging to convert files. It also allows you to do other conversions like AIFF to MP3, WPP to MNT, WPP to FRG, WPP to SUMO, WPP to RDL, WPP to HHT, etc.
How to convert WPP to MP3 using Convert Helper:
Step 1.Go to your browser and search for Convert Helper. Once you are on the website, start by clicking the Upload button.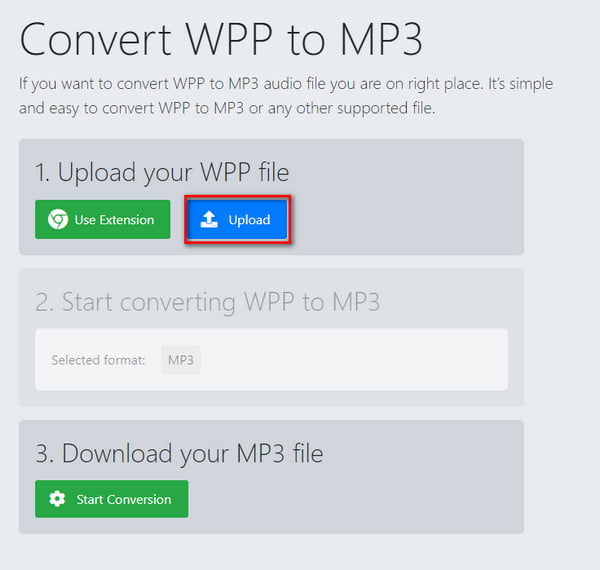 Step 2.Choose the format you want under the second section of the online tool. Then, click the Start Conversion button to begin the conversion process. And depending on the size file, the process may take some time.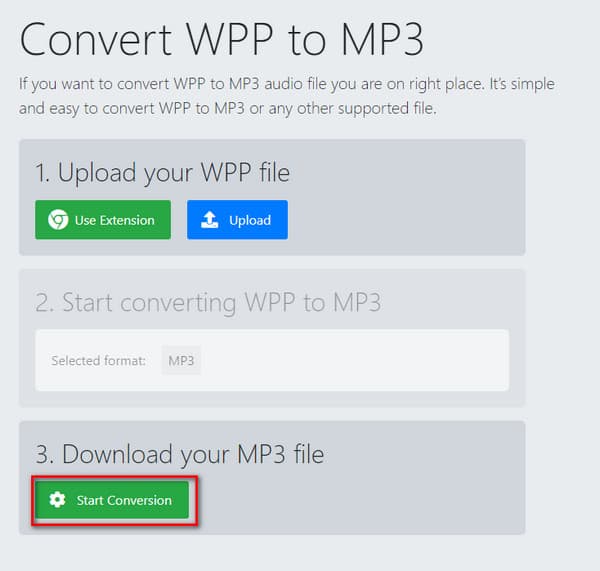 Step 3.Once the conversion finishes, click the Download button to save the converted file to your device. (Pro Tip: The online tool also offers a Chrome extension. This means you can use it to convert WPP to MP3 whenever pages and windows you are.)
Second option:
Audio Converter is a magnificent online tool to help you convert WPP to MP3. The interface looks outdated, but it is enough to convert any audio file without losing quality. It also enables the users to import files from Google Drive, Dropbox, or URL. The advanced settings enhance the audio by compressing and controlling the bitrate, encoder, and sample rate. Try this second option by following the steps below.
How to convert WPP to MP3 using Audio Converter:
Step 1.As you are on the actual website, click the Open Files button to obtain the desired WPP file. You can also use the other methods to get files by clicking one of the hyperlinks beside the blue button.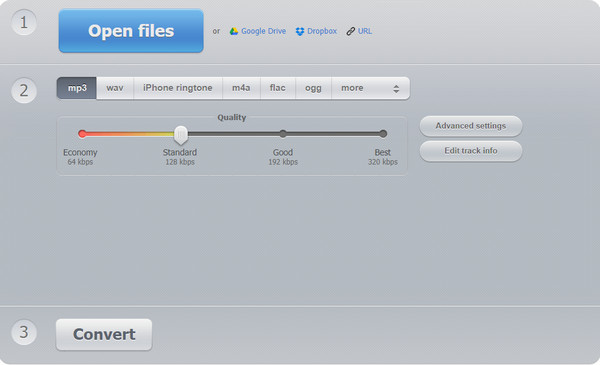 Step 2.After successfully uploading the desired file, choose the MP3 format among the available file formats. Glide the Quality horizontal slider to choose audio quality. You can also click the Edit Track Info button to rename the title, artist, album, year, genre, and comment of the file.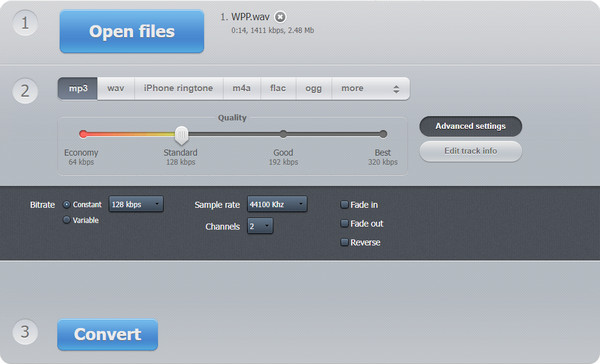 Step 3.Click the Advanced Settings button to edit the audio output. Then, click the Convert button to start the process. When the conversion process is done, click the Download button to convert WPP to MP3.
Tips
If you want to get high-quality WPP MP3 audio, you can use our free online MP3 recorder as well. No ads. No maximum time limit. No viruses.
Part 3: FAQs about Converting WPP to MP3
1. Which is better: WPP or MP3?

The two audio formats are very different from each other. The WPP is only created to be contained with a website development project with SerifWebPlus. Although WPP can hold data like text, images, podcasts, and YouTube videos, it cannot be opened to any media player. While MP3 is a well-known audio format for any device, program, and operating system, it surpasses WPP.

2. What are the file types to use the WPP file extension?

As it is for Serif WebPlus, you can open a WPP file to the related tools such as WebPlus Project FIle, WavePad Project FIle, and WordPerfect Color Palette.

3. Can I convert WPP to other formats aside from MP3?

Yes, you can convert your WPP files to other formats like WAV, RDL, FTB, AAC, AC3, and more. However, since you can only use the WavePad to convert WPP effectively, the given exported formats may be unavailable.
Conclusion
Converting WPP to MP3 is tricky without WavePad on your device. This powerful tool can single-handedly convert all your WPP files to MP3. And you can also rely on AnyRec Video Converter to convert any unique file format and extension easily. The free trial version of this essential software is waiting for you to try! If you have more questions about converting WPP to MP3, please contact us now.
More Related Articles