Silence the Buzz: Guideline to Remove Background Noise from Audio
Clear audio is important for a successful stream, whether you are recording a voiceover, podcast, or commentary for a video. And removing background noise from audio is a professional way to provide a clear audio file. However, capturing audio without background noise is difficult, especially if you are conducting a live broadcast in a crowded place. If you want a solution to remove and reduce background noise from audio, you are in the right place! This article shows the best desktop and online tools to edit audio files on your computer.
Part 1: 3 Ways to Eliminate Background Noise from Audio on Windows and Mac
How to remove background noise from audio using desktop software? Indeed, this is the question for many people, and this time, the answers will be given to you! Let's see the professional ways to eliminate background noise from the recorded audio.
1. Adobe Au
This stand-alone audio editor enables you to remove background noise from audio. It offers effects to enhance the sound, which you can also apply to videos. Adobe Audition is designed for better production workflows, delivering a polished and pristine sound. But since the program has many advanced functionalities, it is a challenging learning curve for new users.
Step 1.To reduce the background noise from your audio, launch Adobe Au and upload the file from your folder. Go to the Effects menu, hover your mouse over the Noise Reduction/Restoration option, then select Hiss from the submenu.
Step 2.From the dialog box, sample the hissing audio and use Capture Noise Floor to hear the noise. When you tick the Output Hiss Only checkbox, slider controls will appear to reduce the noise. You can generally reduce the background noise from the Noise Reduction option by selecting the hiss sample and clicking the Capture Noise Print.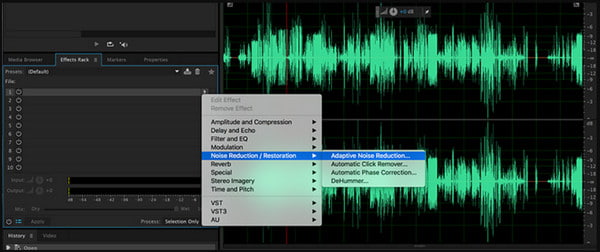 2. Audacity
Audacity is a free platform to edit audio files such as MP3, WAV, ACC, and others. The open-source program also allows you to record live audio using a microphone or mixer and digitize audio from websites and media. When using Audacity, ensure you have the latest version to prevent unwanted and unknown bugs.
Step 1.Download Audacity from a trusted source and launch it to start removing background noise from audio. After uploading the audio file, select the section you want to remove and drag it using the Selection Tool.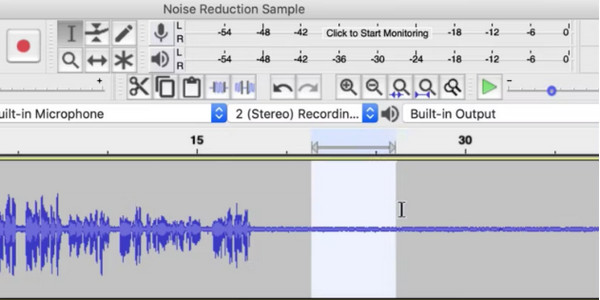 Step 2.After isolating the clip, it is time to apply noise reduction. Go to the Effect menu and choose the Noise Reduction option. Clicking the Get Noise Profile button allows Audacity to filter out the frequencies.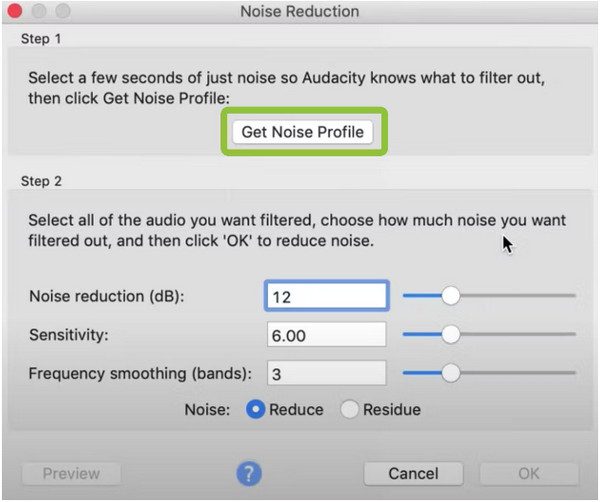 Step 3.Select the entire audio track to remove the frequency, then go back to the Effect menu and choose Noise Reduction to clean the background noise. Check the audio and save it to your computer.
3. OBS Studio
Even if professional, OBS Studio is free to download on Windows and Mac. This open-source program has built-in tools that help remove background noise from audio. It lets you record live broadcast audio with advanced settings and filters, which helps to reduce background noise. If you are not familiar with OBS Studio, follow the steps below to edit audio
Step 1.The first thing to do is to navigate to the Audio Mixer section. Click Settings gear and select the Filters option. Proceed to click the Plus button and choose one from eight filters. Noise Suppression and Noise Gate are recommended for noise-canceling purposes.
Step 2.Adding the Noise Suppression filter helps to minimize the background noise. The best start with this filter is to set the default value at -30 db. You can play with the suppression level to figure out effective background removal. You can partner this filter with Noise Gate, but it still depends on your case.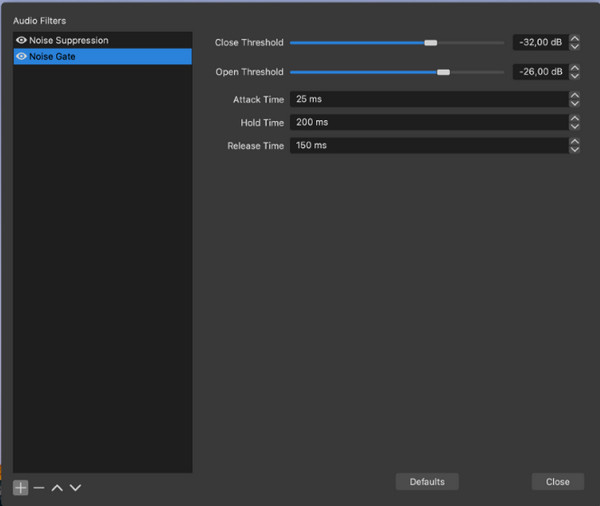 Part 2: 2 Ways to Reduce Audio Background Noise for Free Online
If you are not down for professional and complex audio editing, you can use online tools to remove the background noise from audio. You can try the recommended online tools below for a free and effective edit.
1. Kapwing
Unlike other tools, Kapwing offers intuitive UI for the effortless removal of noise from audio online for free. Of course, it also offers more video and audio editing features with customizable canvas or aspect ratios. Unless you are looking for an audio editor which can export files in different formats, Kapwing is an excellent solution for saving audio files to MP3.
Step 1.Search Kapwing background noise remover on your opened browser and click the Upload Video or Audio button from its main interface. Import the audio file by selecting the source (Google Drive, Google Photos, and URL).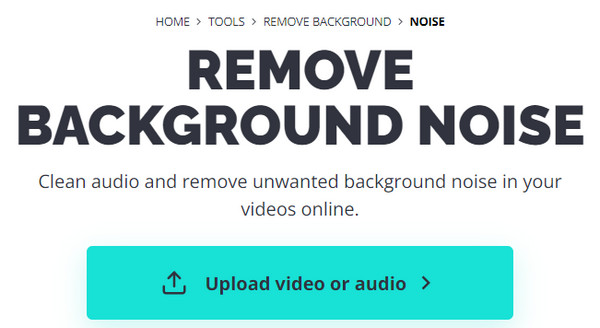 Step 2.After uploading, go to the right panel and click the Clean Audio button under the AI Tools. Make adjustments to the audio if necessary. Afterward, click the Export Project button to download the edited sound.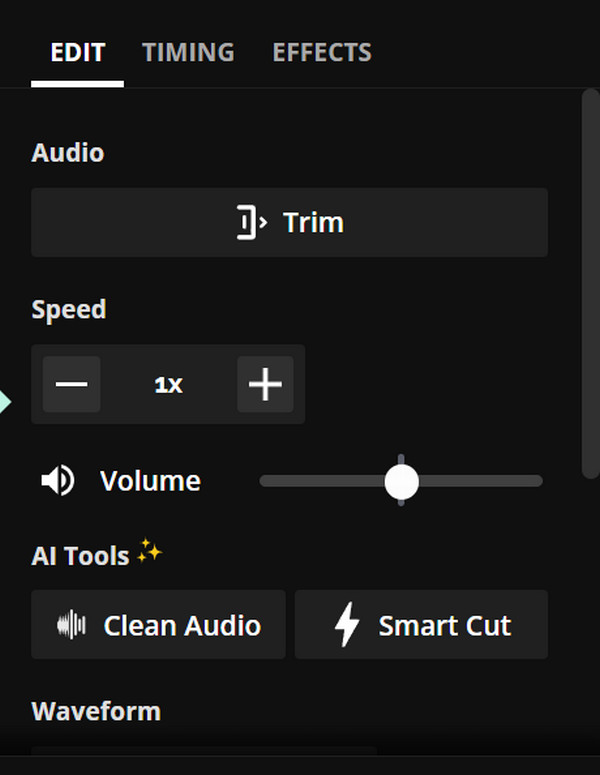 2. VEED
VEED is another way to remove noise from audio online for free. The background noise remover lets you quickly delete unwanted noise from your recorded audio, and it only takes a few clicks to achieve a clean sound. It supports various input formats, including MP3, WMA, ACC, etc., giving more audio editing options.
Step 1.Go to the online tool and click the Choose Audio button. Upload the audio from VEED's main interface. You can also drag audio files or upload file from cloud service on VEED.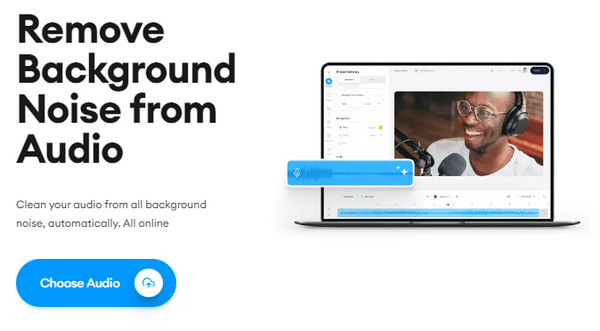 Step 2.Click the Clean Audio button to apply the effect from the left panel. Proceed to make other edits for the audio, like trimming or merging other sounds. Click the Export button once you are finished editing.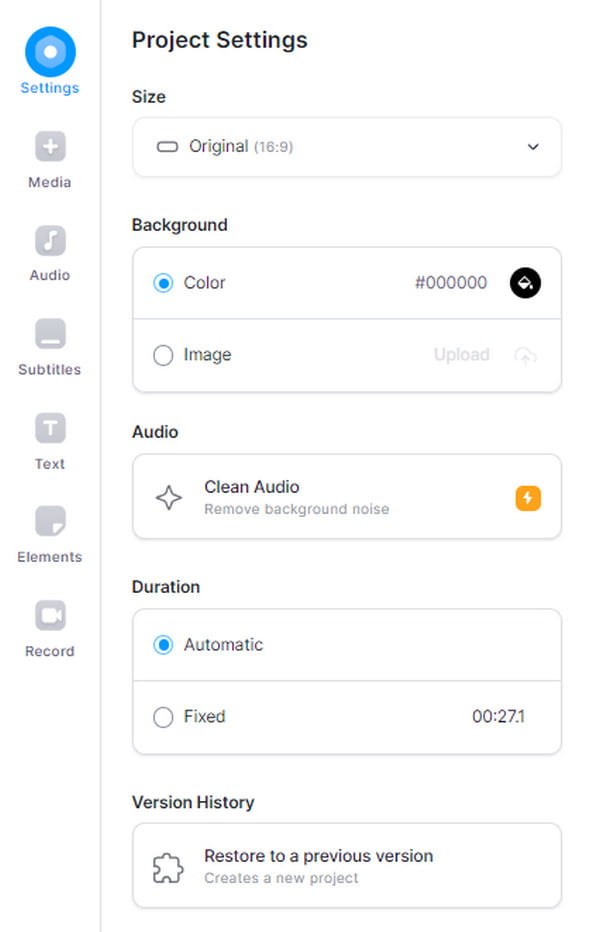 Part 3: Tips and Tricks to Prevent Noise When Recording
Removing background noise from audio is another task after recording, but there must be a way to avoid additional problems while using audio recording software. Here are some tips to help you capture clean sound to prevent too much background noise.
Optimize recording space by using a small and quiet room. Get away from places with traffic, white noise, air conditioners, and HVAC units. Picking the recording space is crucial and a must to improve recording sessions.
A dynamic mic is a recommended tool for lesser background noise. It picks lower frequencies and has less sensitivity. If you are more into recording music, a condenser mic is recommended, as it picks up a wider range of frequencies.
Speak directly to your mic to focus the tool on picking the frequencies of your voice. Turning down the mic's gain or sensitivity also helps for a clean recording.
Set up your mic far from your computer. PC or laptop creates much noise when they start to heat up.
Bonus Tip: Remove Background Noise from the Video
For a more professional way to remove background noise from video, AnyRec Video Enhancer. The desktop software handles video files to improve resolution, remove video noise, and enhance overall quality. It is also an excellent tool to clean the sound from your video without distorting the quality. Moreover, you can upload and export files with different formats, as AnyRec Video Enhancer supports many popular file formats. Other features also include: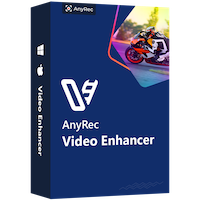 AnyRec Video Enhancer
Unrestricted file size for uploading video and audio files to edit.
Remove background noise from audio clips in a straightforward UI.
Provide essential audio tools to trim, cut, crop, and merge files.
Export audio format to compatible with various devices.
Part 4: FAQs about Removing Background Noise from Audio
1. Does background noise affect the audio quality?

No. Background noises are also called noise sources from the outside measurement box. Fortunately, the noise does not affect the measured sound from the main source, meaning it does not affect the audio quality.

2. What other background noises can be removed from audio?

A background noise remover can delete various noises, such as whistles, hums, hiss, buzzes, and even tape hiss. You can also remove fa noises and carrier noise from FM or radio. However, most background noise removers are not suitable for deleting sounds from traffic and an audience.

3. How to record on the phone without background noise?

The best method to capture sound using a smartphone is to use a headset and place it close to your mouth, approximately two centimeters or less than one inch. Since background noises are inevitable to pick up, better use a filter or an app to reduce noises.
Conclusion
After learning the best audio background noise removals, they will help you to reduce the unwanted noises from recordings. Of course, it is best to avoid background noises by using tips and tricks to record MP3 on Mac, Windows, Android, or iPhone, or better yet, use AnyRec Video Enhancer for videos. Download the best video and audio editor on Windows and Mac.
Related Articles