Video Looper – 7 Best Tools to Repeat Video for Instagram Boomerang Effect
Create laughable effects by looping a certain moment or action in your video. With the help of the video looper, you can quickly obtain this video-editing skill. If applied properly, your video will entertain more audience or amuse your friends. Moreover, you can easily acquire the Instagram Boomerang effect by doing so. Following are the latest top 7 loop-video apps or tools you can make sure of online and offline, including free and paid. Get started with the loopers' complete features below.
Part 1: Free Video Looper – 4 Best Online Tools for Looping Effects
When you have many videos to loop, efficiency and convenience are the most important factors for choosing a video looper. Online platforms and extensions can meet these requirements. These tools are usually free and easy to operate. Moreover, the four online loopers here help make your video more engaging.
1. Video Candy – Loop Video
Video Candy, a free online video editor website, is a tool factory full of different video tools and editing gadgets. The video looper online is just the tip of the iceberg. You can find other video tools and apply more effects to make your video interesting. When looping a video, the maximum file for uploading is 2GB. Besides, there are six looping options, including the infinite looping effect. These options make the looping process quicker since you do not need to repeat copying and pasting the video.
Pros

No registration, and free of charge.
Clean and user-friendly UI design.
Loop videos without any watermark.
There is no quality loss after exportation.
Make a GIF out of the video with infinite looping.
Cons

Loop the whole video instead of the part.
Slow uploading and processing speed for large video.
You can't choose the output video format.
2. Kapwing
Kapwing is a comprehensive and popular website offering professional video-editing tools. This website is more versatile and contains different resources than other video loopers online. Besides creating a looping effect for your video, you can apply fancy filters, Instagram templates, etc. You can repeat your video up to 10×, and the whole process is automatic. But, the looped output video will have a watermark. To remove it, you must upgrade. The free version only allows seven-minute video editing.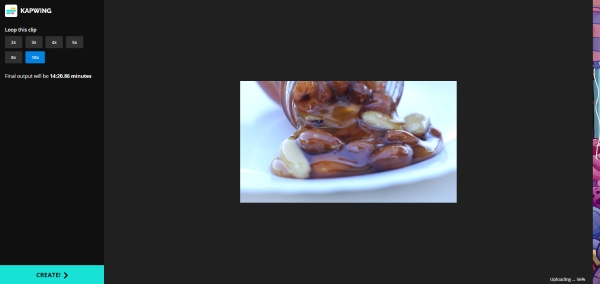 Pros

Unlimited exportations.
Simple and clean looping process.
Loop videos from online sources via URL links.
Collaborate with others for video looping or editing.
Cons

Expensive subscribing fees.
Free version exports 720P video only.
Long uploading process for videos over 100MB.
3. FileConverto – Online Video Loop
FileConverto is another all-in-one site with various video tools. The free video looper from this platform helps users repeat the video up to 7×. You can upload a 500MB video for looping for free. The process is also straightforward, like many other online video loopers. However, the final video file you get might have a quality drop after looping and the website might also shrink your video file size.
Pros

There is no advertisement.
Looping and processing are efficient.
No trouble in finding the right looping button.
Unlimited video file uploading.
Cons

Unstable web connection.
No editing features for looped video.
Downloading takes a long time after looping ends.
4. Video Looper Extension – Google Chrome
The last video looper on the list is a looping extension from Google Chrome. The tool is free; you can even loop an online video during playback on your browser. Meanwhile, you can choose whether to loop parts or the whole video on your web. This way, you can repeat an exciting moment in the video online without downloading it. As a small extension, this video looping extension also takes up only a little space, which is negligible.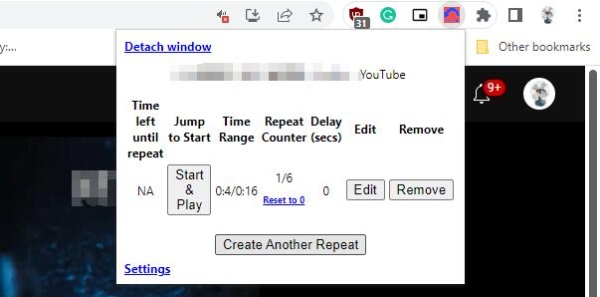 Pros

Allow delays for looping.
You can choose to loop a random part of a video.
Workable on most online video websites.
Set up several repeats for a video simultaneously.
Create repeats to loop a video with a customizable option.
Cons

Not compatible with

Microsoft Edge

browser.
You can't loop offline or local videos on the device.
Part 2: 3 Easy Loop Video Apps across Devices [iOS/Android]
Online video loopers require a Wi-Fi connection to repeat videos. Offline alternatives are necessary when you want to loop a video without an Internet connection. For different devices, the following content has gathered 3 different loop video apps accessible on iPhone and Android. These video looper apps can cover all your basic demands for looping a video.
1. Loopideo – Loop Videos [iOS]
Accessible on both iPad and iPhone, Loopideo offers a seamless looping video experience. You can select videos for looping for the camera library on your iPhone, Dropbox, or OneDrive. Loopideo has no time restrictions and creates perfect looping effects for your slideshow, social media posts, presentations, etc. You can also cast the looping video to external displays through this app.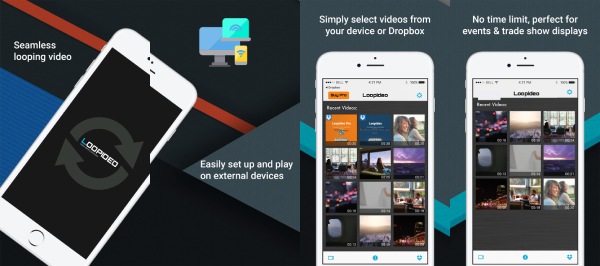 Pros

No signups and no privacy leaks.
Repeat your video with a tap.
Loop multiple videos on the iPhone simultaneously.
Create never-ending looping playback for videos automatically.
Cons

You can't save the looped video version to the iPhone.
Incorrect thumbnails might appear in some iOS systems.
There is no looping option for videos from the download folder.
2. Instagram [iOS/Android]
Instagram Boomerang is a popular effect that can loop your video on Instagram. Boomerang is an effect that can make a specific moment repeat or make actions in the video back and forth. Instagram used to launch a video looper – Boomerang from Instagram, but the app has shut down. But you can still apply this effect on Instagram and share the looping video directly on Instagram or Facebook. Moreover, you can find other effects next to Boomerang and edit your video. For example, Layout allows you to create a side-by-side video. But, instead of uploading existing videos, you can only apply these effects after recording the video on Instagram.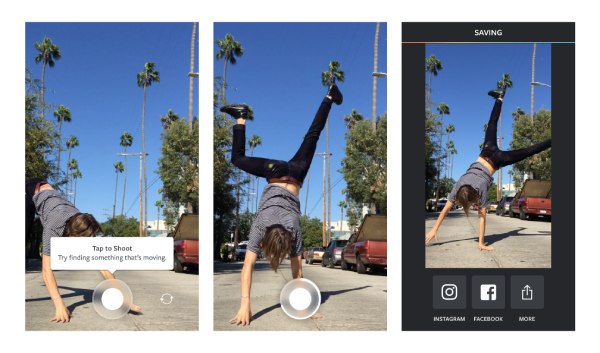 Pros

Directly share looped videos on Facebook and Instagram.
Offer a trimming tool and beautiful filters after looping the video.
Apply a looping effect instantly after recording the video on IG.
Cons

Limited video length.
The looping effect is not available for uploaded videos.
No options for looping times.
3. VivaVideo [iOS/Android]
VivaVideo is a video editor available on iOS and Android. This editor can also act as a video looper on your phone, for you can easily loop a video with the multi-track feature. You can also combine different video clips, put them on the same track, and loop them. Meanwhile, there are also many video quality options for exportation, or you can directly share the video on social media. The downside of this app is that there is no automatic looping button.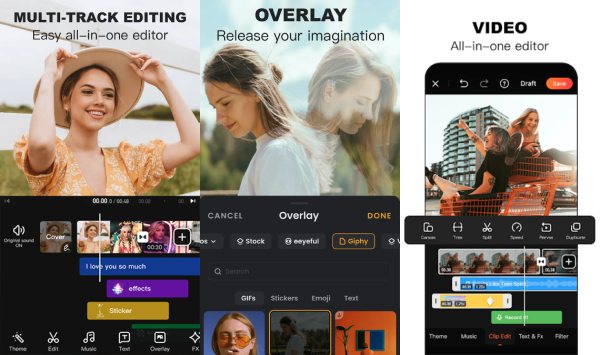 Pros

Possess a large library of diverse templates and filters.
Advanced editing features except for looping videos.
Polish your looped videos with free music inside the app.
Cons

Manually edit the video for a looping effect.
Occupy a large space on your mobile phone.
Extra Loop Video App: Create Never-Ending Looping Animation for Videos
AnyRec Video Converter is the best alternative video looper for you to create a never-ending looping effect for videos. You can apply the loop animation to your video with the GIF Maker in this editor. With this small maker, you can extract the frames from your video, loop these frames forever, and make them into a GIF. Meanwhile, you can preview the effect before exporting the looped GIF. Moreover, the editing and trimming tools make the looping process more engaging and help you precisely control the duration.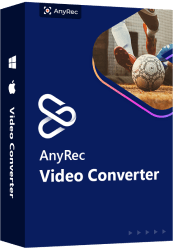 AnyRec Video Converter
Apply loop animation for the video with one click.
Generate a GIF quickly regardless of the video file size.
Trim the source video to get a GIF with an ideal length.
Support multiple importing video formats for looping.
Step 1.After downloading this video looper for free, install and launch it on your device. Then, go to Toolbox, find GIF Maker, and click on it. A pop-up window will appear, and you must choose Video to GIF. Then, click, select your video, and import it into the app.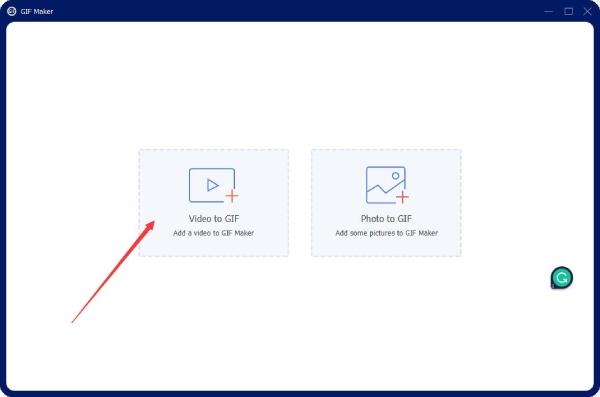 Step 2.Next, tick the Loop Animation option under your video preview. You can also click the Cut button and delete unwanted parts of the video. Meanwhile, enter new values and change the output size of the GIF.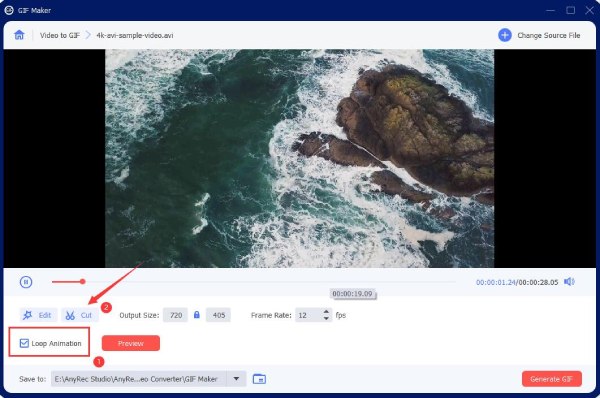 Step 3.You can select a destination folder for your GIF through the Save To dropdown button. After confirming it, click the Generate GIF button below to let your video loop forever and get a GIF.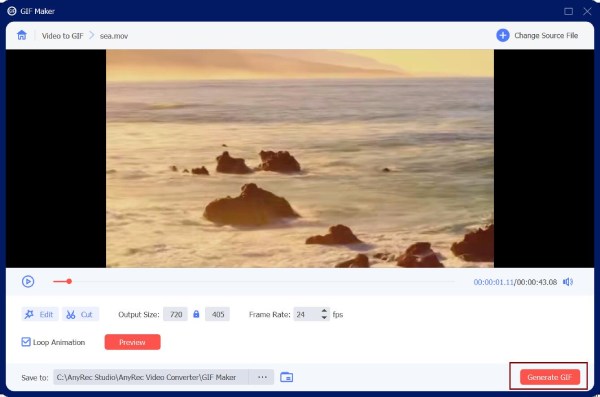 Part 3: FAQs about Video Looper
How can I make a YouTube video loop?

With the help of the video looper extension above, you can easily solve this issue. Add this extension to your Google Chrome, open a video on YouTube, click this extension, and loop a part of the video as you wish.

Can I loop a video without a watermark?

Yes, you can. Among the video loopers above, Video Candy and FileConverto are free online tools that can loop your video without any watermark.

Is there a built-in video looper on iPhone?

No, there isn't. You can acquire help from third-party apps for video looping. iPhone can only loop your live photos with the Photos app.
Conclusion
All the above 7 video loopers enable you to loop a video or multiple videos with ease. Once you choose a preferred looper, the other tools on the list can be the alternatives when the one is unstable. Meanwhile, if you want an infinite looping effect, AnyRec Video Converter is the most suitable for you.
Related Articles