Honest Review of Upscale.media and Alternatives on Windows/Mac
Image upscaling tools have become essentials for everyone that need to enhance their pictures. Many people have read reviews of Upscale.media and wonder whether it is worth using. With Artificial Intelligence continually advancing, improving digital pictures has become less challenging. This is one of the advantages of Upscale.media, and it is a user-friendly online tool you can use for free. But before jumping to the utility of this photo editor, let's see its detailed overview and how it can help to enhance images.
Part 1: What is Upscale.media
Upscale.media is known for its state-of-art AI algorithm to enhance pictures. It is a free online editor that supports image types such as PNG, JPEG, and WEBP. Low-resolution photos can be upscaled up to 4x without compromising the original quality. The enhancement also maintains the smoothness of the picture's texture to make it look more realistic even after processing it. This upscale online tool is for everyone that wants to improve photographs for E-commerce, business, professional, and personal purposes.
Key Features:
Upscale photos in a few clicks with quick results.
Support resolution up to 1500 x 1500 px.
Improve SD images to HD without losing the colors and edges.
Enhance files in bulk with a fast process.
Pros

Real-time preview with a side-by-side comparison.
Enhancement options to balance the sharpness and softness.
No watermark is applied to downloaded photos.
Cons

Limited supported input formats without an option for output formats.
Part 2: Top 5 Alternatives of Upscale.media
Upscale.media is almost perfect for photo enhancement but is not flexible regarding supported formats. To solve this problem, it is suggested to have an alternative tool for image upscaling, and this part will reveal five tools you can try.
1. AnyRec AI Image Upscaler Online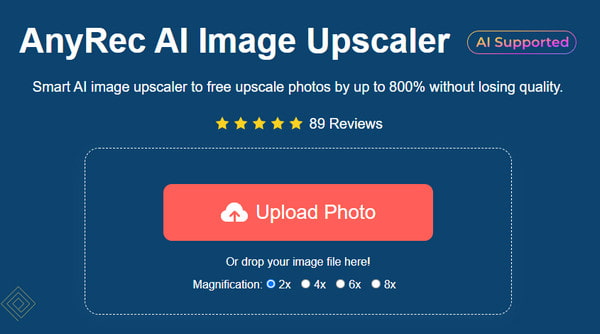 AnyRec is the most recommended tool to upscale images. It is free to use without requiring users to log in or create an account. This alternative enhances photos by up to 800% without distorting the quality and even fixes the blurred spaces. It surpasses traditional image enlarging methods like PhotoZoom because of the latest AI technology and easy-to-use process. AnyRec AI Image Upscaler Online is an accessible Windows, Mac, iOS, and Android tool.
Features:
Excellent image enhancer with visual quality improvement.
Support formats like BMP, GIF, TIFF, PNG, and other popular types.
More Magnification options to upscale resolution to 2x, 4x, 6x, and 8x.
Protect users' privacy by deleting all uploaded pictures after the process.
Pros

100% free without launcher installation.
No advertisements in any part of the webpage.
Cons

Only allow photos up to 10MB.
2. Scale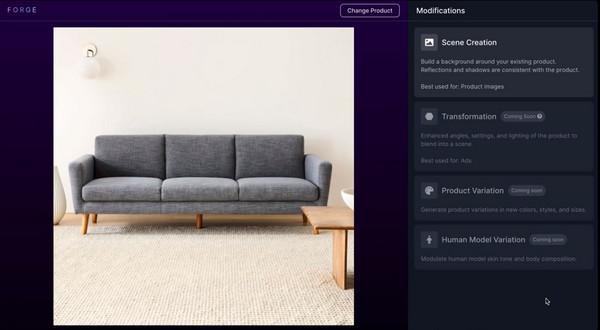 Scale is one of the best tools made by Scale AI that helps to generate picture in high quality. It is suitable for product photos, advertisements, and more. Its algorithms include enriching scenes with pop-up colors and excellent resolution to depixelate the picture. Scale is a great alternative if you wish for guaranteed results for your pictures. For convenience, you can try the free trial version by creating an account on the website.
Pros

Built-in themes and background to let users experiments with photo editing.
Generate photos by inputting short descriptions.
Cons

Does not support Gmail or Yahoo accounts.
3. Microlink.io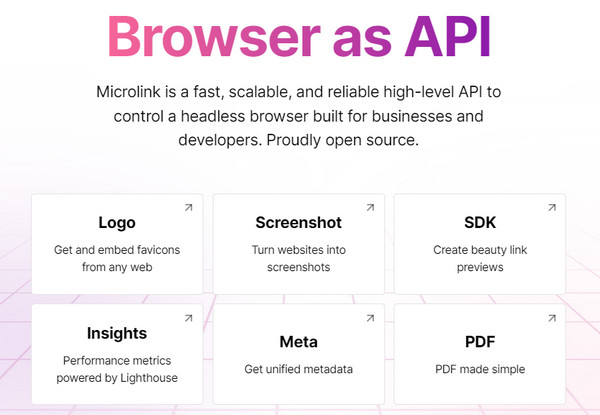 This Upscale.media alternative is a multifunctional online tool with reliable high-level API to create browsers for businesses and developers. Since photos are required for making your interface, Microlink will generate them for you. Aside from photos, it also helps to create other elements, such as logos, PDFs, and Insights. It is an excellent solution for a fully programmable browser.
Pros

An open-source solution for editing.
Support browsers without servers to maintain.
Cons

Complex tool for beginners.
4. Imagen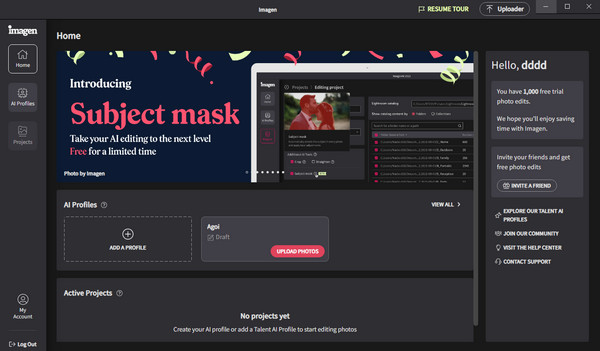 Imagen is a downloadable tool for Windows and macOS that helps to enhance photos. It allows one to edit skin tones by adjusting the white balance, clarity, and vibrance. Since it is best for camera shots, many users find Imagen excellent in enhancing JPEG and RAW files like weddings, parties, etc. The Upscale.media alternative offers an affordable $0.05 per photo with extensive editing features.
Pros

Consistently provide pre-built styles for various edits.
Improve images with AI to perform the best photo editing styles.
Cons

Only support uploads from the Lightroom Classic catalog.
5. Zyro AI Image Upscaler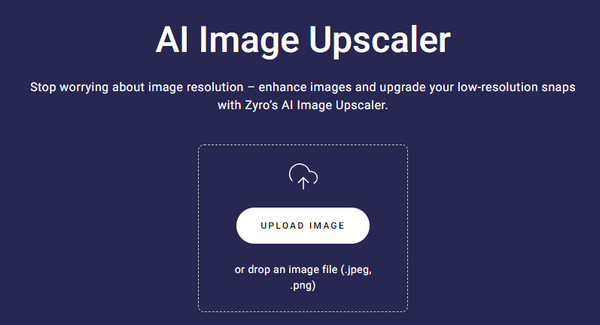 The online photo editor is an excellent solution to enhance resolution and quality. It enhances camera shots that take an unblurred picture with just a few clicks and adjustments. The best part of Zyro is that you can use its tool for free without having a watermark applied to the finished product. Moreover, you can integrate the tool into apps to create a smooth workflow.
Pros

Side-by-side preview of original and upscaled images.
No upload limits for image types like JPEG and PNG.
Cons

No additional features, such as resolution and quality adjustments.
Part 3: FAQs about Upscale.media
How to use Upscale.media online tool?

First, visit the website and click the Upload Image button from the main interface. You can also use the URL or drag and drop the file from your folder. The algorithm will automatically process the upload, which only takes a few seconds. Save the output by clicking the Download button.

Can I enhance anime with Upscale.media?

Yes. Anime photos or digital drawings are easier to enhance since AI can generate more pixels to lines and one-based colors. PixelBin ensured that Upscale.media could improve low-resolution images, especially cartoons.

What is the pricing of Upscale.media?

It offers different pricing if you wish to unlock features with the online tool. The price starts at $29. With 100GB storage, 300 transformations, and 90K fundamental transformations. Followed by the Basic option at $89 per month with upgraded offers from Starter. Lastly, the Premium option costs $299 monthly with 1.5TB storage, 1.6TB bandwidth, and 5000 transformations.
Conclusion
Upscale.media offers a free outstanding editor for low-resolution pictures powered by Artificial Intelligence. Its excellent algorithm draws users of any age because of its convenient interface that is easy to navigate. You also found the five recommended Upscale.media alternatives for photo enhancement, accessible online or by downloading the app. For better enhancement up to 800%, visit AnyRec AI Image Upscaler Online and improve resolution and quality in a hassle-free environment.
Related Articles