3 Ways to Convert Photo to Sketch - Experience Different Art Styles
Do you like me to add some filters to make photos more attractive before sharing them on social platforms? Converting pictures to sketches is a good way to make your photos look like the sketches drawn by artists. Moreover, if you want a portrait of yourself, you don't need to find a professional painter. Just use tools to turn the picture into a sketch. Here are four free ways with detailed steps. Keeping reading to learn more about it!
Part 1: 3 Free Photo to Sketch Converters Online
1. Fotor
Fotor is an online tool to convert photos to sketches for free. This converter has filters to transform pictures, including pencil and ink sketches. Moreover, it has a fast conversion speed and provides high-definition images. Unfortunately, the converted images will have watermarks.
Step 1.Search the Fotor in your browser to open the official website. Then you should click the Turn Your Photos into Sketch Now button to launch the converter.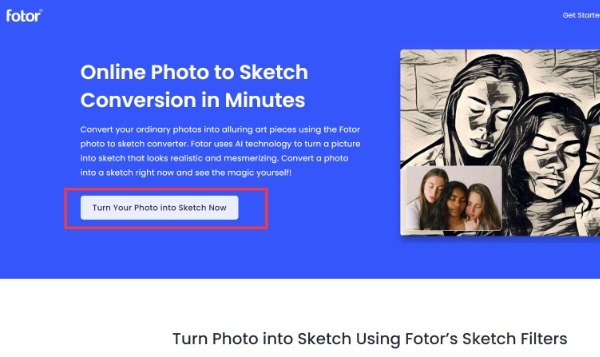 Step 2.Click the Open Image button to upload your photos. You can also drag your photos directly to the square to import your files. Once you upload successfully, this tool will automatically convert the picture into a sketch. If you don't like this filter, you can select other effects according to your preferences.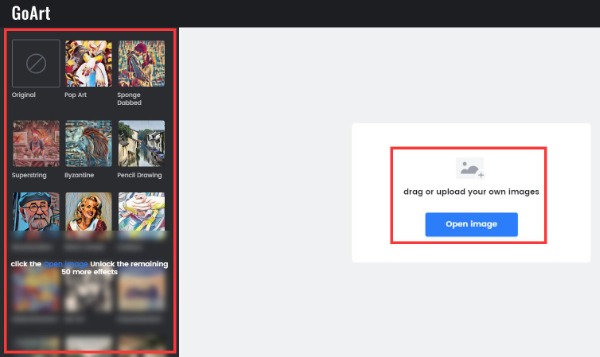 Step 3.You can adjust the intensity of the pictures by sliding the slider at the bottom. Then click the Download button when you are satisfied with the effect of the photo. But if you want to remove the watermark from the image, you need to use another tool.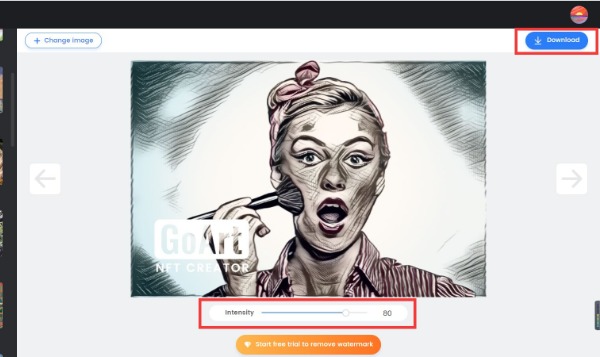 2. BeFunky
If you want to convert pictures to sketches with powerful editing features, you can try BeFunky. This excellent online tool has various effects to turn your images into sketches, such as Graphic Novel, Inkify, Cross Hatch, Pen Art, Sketcher, and Ink Wash. Moreover, it also provides essential editing functions to adjust your images. But the drawback is that the converted photos will have a watermark.
Step 1.Open your browser and copy this link to open the BeFunky, Go to its photo to sketch page. Then click the Get Start button at the interface to launch the online Sketch converter.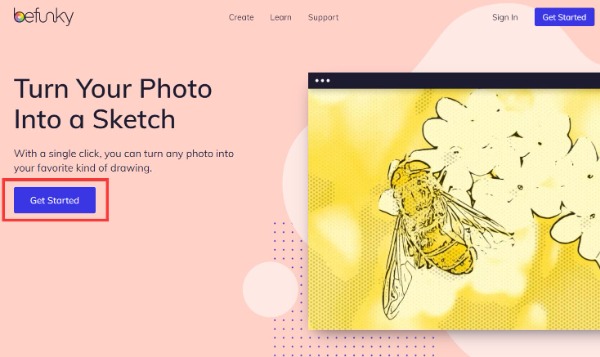 Step 2.You need to click the Open button to upload an image. You can import your photos from your computer, Google Drive, Google Photo, or BeFunky.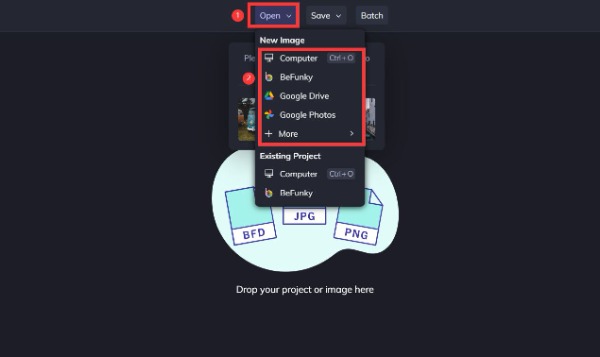 Step 3.After that, click the Artsy button at the left to choose Sketcher. Then it will show you six different effects to convert photos to sketches, and you can select the one you like.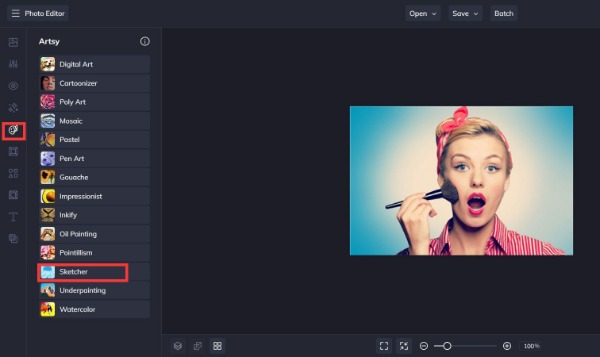 Step 4.Finally, you should click the Save button at the top to save your image.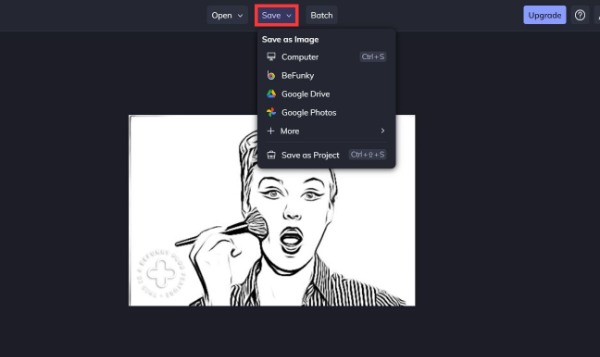 3. Sketch My Pic
Sketch My Pic is a good choice if you just need to convert the picture into a sketch without any editing. You can preview your photos before and after the conversion. The important thing is that it has no watermark. But this tool has no more effects for you to choose from and no batch conversion.
Step 1.Open Sketch My Pic directly on your browser. Then slide the page down to click the Upload Image button to import your photo to this converter.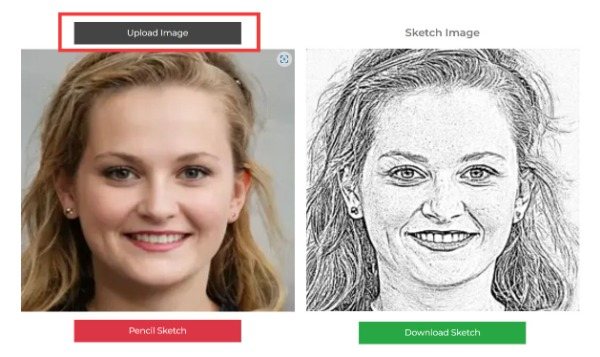 Step 2.After uploading an image, it will automatically convert it to a sketch. You don't need to adjust any settings. Then click the Download Sketch button to save your photos.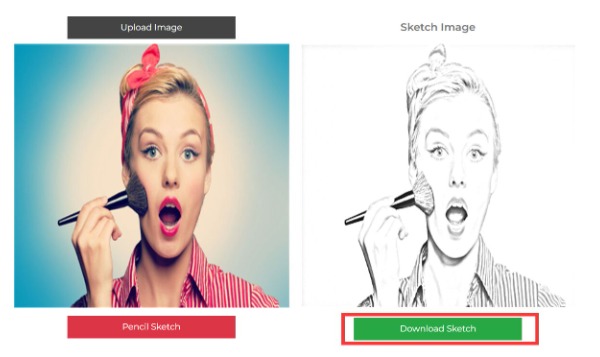 Part 2: Bonus Tip: How to Convert Video to a Sketch with AnyRec Video Converter
When you want to add a sketch effect to a video like a picture, AnyRec Video Converter must be the best tool you can't miss. This excellent tool supports more than 1000 formats, and you can convert any video to a sketch. And you can edit your videos without file size limitations and no watermarks. Moreover, it also provides powerful editing features, like cropping, trimming, rotating, and adding subtitles.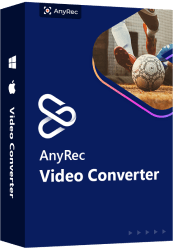 AnyRec Video Converter
Convert video to sketch without any limitations and no watermarks.
Support 1000+ formats that can convert any videos to sketches.
Provide batch conversion to convert multiple videos with sketch effects.
Professional editing tools to adjust your videos.
Step 1.Once you download the AnyRec video converter, launch it immediately. Upload your videos by clicking the Add Files button. You can also drag your video files directly to the square to import your videos.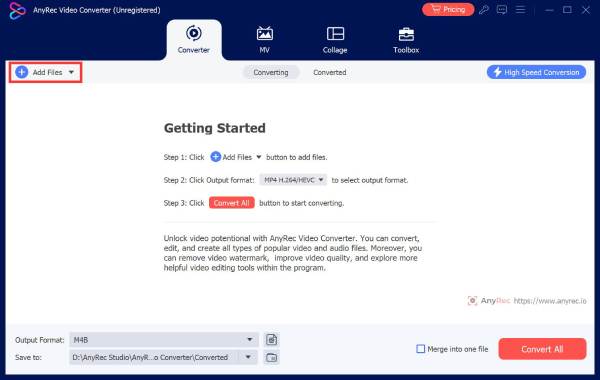 Step 2.Click the Edit button to open the new window. Then choose the Effect & Filter option at the top menu. You should click the Sketch filter in the Filters section. This tool allows you to preview the videos before and after adding effects. Then click the OK button.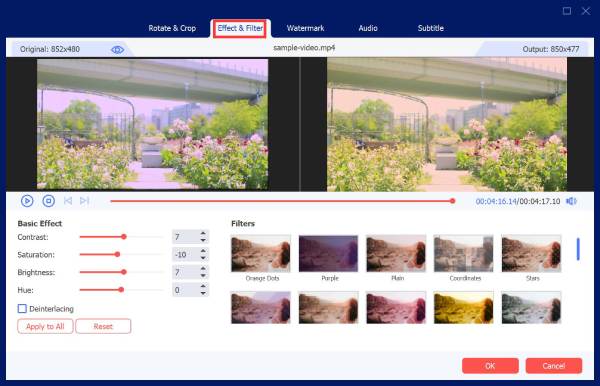 Step 3.You can also change the video format by clicking the Format button. Finally, click the Convert All button to convert your video to a sketch. You can choose the Merge into one file option if you want to convert various files into one file.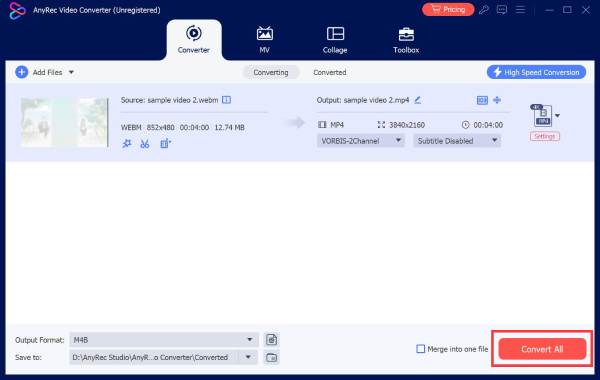 Part 3: FAQs about Photo to Sketch
1. How to convert photos to sketches with Photoshop?

You should upload your images to the software and make a copy of them. Then click the Filter button to choose the Filter Gallery option. Select the graph pen under the Sketch category to convert photos to sketches. Finally, you can adjust the parameters according to your needs.

2. What software can convert pictures into sketches directly on mobile phones?

You can download the Pencil Photo Sketch Editor from your App Store on your iPhone. Sketch Me! is an app for Android users to convert images to sketches.

3. Can I convert the video to a sketch?

Yes. Some video editors can add filters, such as the AnyRec Video Converter. You can add the sketch filter to your videos easily.
Conclusion
Thanks to this brilliant guide, you can convert pictures to sketches easily in three ways. Moreover, this post also mentioned a way to turn videos into sketches. AnyRec Video Converter is an all-in-one tool to edit, convert, and compress your videos. It was easier for you to turn the video into a sketch. You can free download this software to explore more features!
Related Articles: