Top 6 SVG Compressors to Reduce Large File Size on PC/Mac
You might have encountered where SVG images take too much disk memory on your computer. So, many people want to use an SVG compressor to save space. And SVG takes too much memory because SVG is an image file format for online photo sharing. It differs from other image formats because it uses lines and points instead of pixels. Therefore, it is suitable for image printing, cutting, and crafting. Still, using an SVG compressor to maintain the exporting process is better. Here are the best tools to try.
Part 1: What is SVG
Scalable Vector Graphics, or SVG, is an image format that relies on vector data instead of pixels used by most images. A vector uses a specific magnitude and direction in mathematical formulas to dictate the shape and placement of points or lines. The file format also allows you to increase the resolution to any scale and is helpful for web design.
But since SVG is built differently from other formats, it also has the form of paths and nodes, causing bulk in size. This matter causes too much storage consumption for users, so using an SVG compressor to reduce or remove some access codes is best.
Part 2: Top 4 Free SVG Compressors [Online]
For online compression, there are many options to choose from. So, this part cuts out the list and picks the best online SVG compressors, which are mainly free and easy to use.
1. AnyRec Free Image Compressor
AnyRec Free Image Compressor helps to compress SVG files without quality loss. It supports various formats, including PNG, JPG, GIF, TIFF, SVG, and so on, with fast-speed compression for multiple uploads. AnyRec Free Image Compressor helps reduce the pictures' file sizes to 80% to save some of your device's storage memory. You can easily access this convenient tool on any browser.
Features:
Compress SVG without apparent quality loss.
Accept up to 40 uploads to compress immediately.
Free to use without a watermark and registration.
Delete your SVG from servers after compressing.
Step 1.From the main interface of AnyRec Free Image Compressor, click the Add Images button to open your computer's folder and upload the SVG file. Click the Open button to confirm your selection.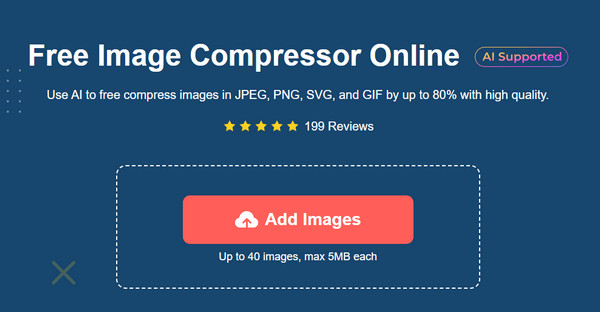 Step 2.The online compressor will automatically start reducing the file size of the imported photo. Use the Add Images or Upload Images button to import more pictures. Compression will only take a few seconds, depending on the original file size.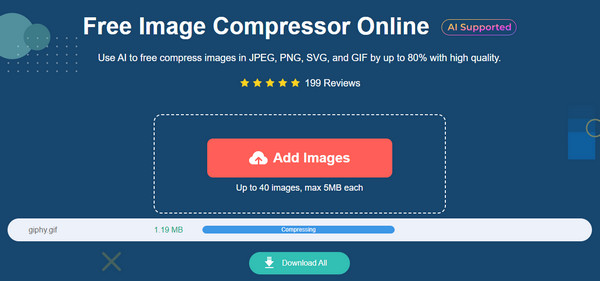 Step 3.Afterward, you can see the compression percentage on the right part of the uploads. Proceed to save the compressed pictures by clicking the Download All button. Repeat the procedure to compress more files.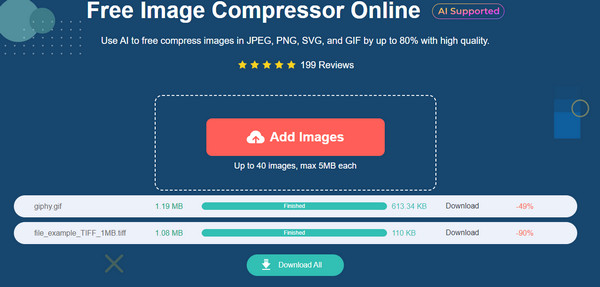 2. iLoveIMG
iLoveIMG efficiently reduces image file size by a few clicks. It is known for its free online service to compress GIF, PNG, SVG, and more. It allows you to choose the sources like Dropbox and Google Drive to import the pictures. Although its interface is too plain, it is still an excellent online SVG compressor.
Step 1.Visit the iLoveIMG website and import the image by clicking the Select Images button, or use other options like Google Drive, Dropbox, and the drag-and-drop method.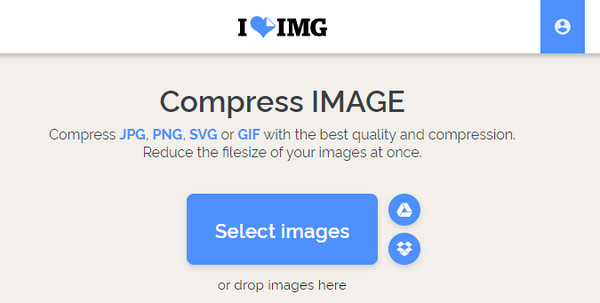 Step 2.Add more pictures as desired and click the Compress Images button to begin the SVG image compression. After it is finished, a zipped folder will be auto-downloaded on your device.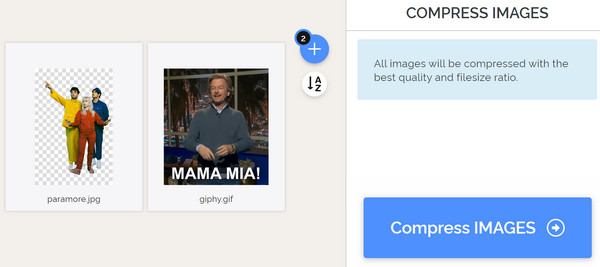 3. Vecta.io
Vecta specializes in compressing SVG, SVGZ, and DXF files. It can reduce pictures by up to 22% and promises reduced workflow for embedded fonts. It also guarantees less bandwidth which helps to load the images faster. Unfortunately, this is not a suitable online SVG compressor if you have more than 10 pictures to compress.
Step 1.Select the SVG button from Vecta's main interface to open your local folder. The online compressor will prepare the approximate reduced size for the uploaded image.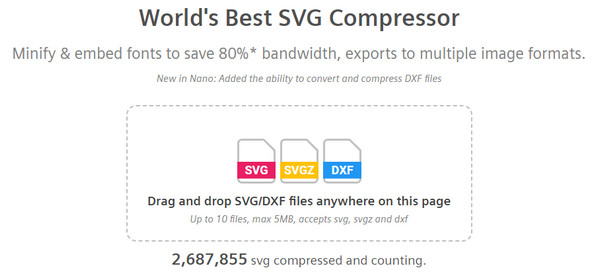 Step 2.Check the preview below to see the difference between the original and the compressed version. Click the Download button to save the compressed picture.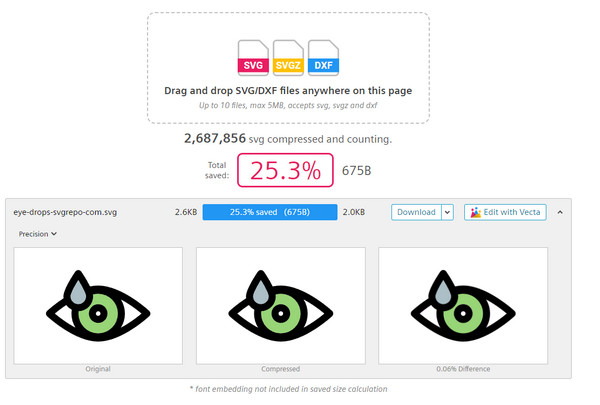 4. Compress-Online
This SVG compressor highlights compressing images and videos without purchasing anything. It enables users to compress WebP, JPG, PNG, GIF, and various video files. Using the online tool can freely import pictures via URL and Dropbox.
Step 1.Click the Upload File button or use other supported methods to import a file. The compressor will run a process to reduce the size of SVG images.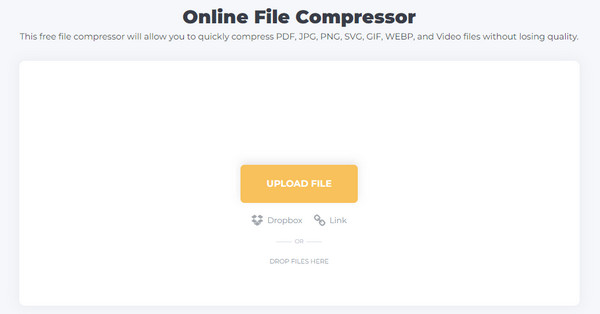 Step 2.Add more files to compress more pictures. Then, click the Compress button to start the SVG compressing process. Download them after reducing the file sizes.
Part 3: Top 2 Desktop SVG Compressors [Windows/Mac]
More perfect SVG compressors for Windows and Mac await you. Try these two professional tools to minimize large picture sizes and save some memory space.
1. Adobe Photoshop
An excellent photo editor but also compress SVG while keeping the quality. Adobe Photoshop supports most image formats, allowing you to access and edit information such as resolution and dimension. Additionally, you can fix flaws using touch-up functions.
Step 1.Launch Photoshop and upload the picture from the File menu. Once the SVG images are uploaded, click the Export button from the File menu. From the submenu, click the Save for Web (Legacy) button.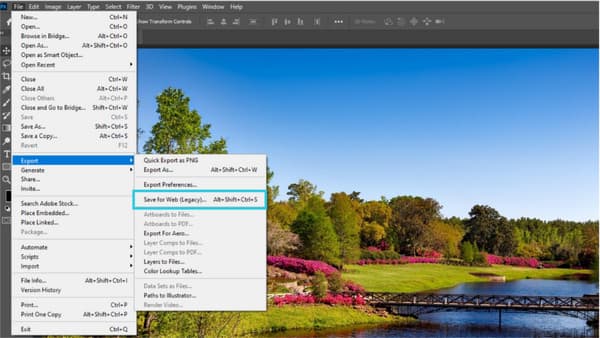 Step 2.From the popup window, click the 2-UP button to see a preview. Use the compression settings to increase or decrease the reduction level. Save the compressed image on your computer.
2. GIMP
GIMP is a popular photo editor that can be an alternative to Photoshop. The cross-platform program focuses on various image formats like JPG, GIF, TIF, BMP, etc. GIMP can remove background, enhance resolution, edit the image, etc. However, GIMP can be a challenging tool for beginners.
Step 1.Open a picture on GIMP. When a prompt appears, choose the Keep option to preserve the file's original data. From the File menu, click the Export As button and set the image quality.
Step 2.Use the horizontal scrollbar to increase or decrease the quality level. Click the Export button to save the changes and get your SVG on your computer.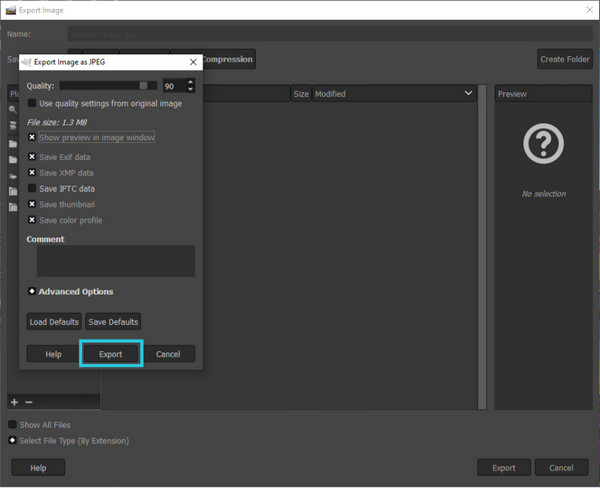 Part 4: FAQs about SVG Compressor
What are the common disadvantages of SVG?

SVG is ideal for logos but not for detailed pictures because of the usage of paths and points. This image format is also not fully supported by platforms and legacy browsers, even if it was already around 1999.

What SVG is best to use?

SVG is excellent for displaying vector icons, logos, and geometric designs. It is also ideal for graphics that need to be updated in sizes, devices, and screens. For creating a simple animation, SVG helps to interact with JS and CSS to make transitions, complex motions, and line animations.

How to open SVG on a smartphone?

You can use a third-party app to view SVG files. You can use SVG Viewer, SVG Viewer: SVG to JPG, PNG Converter, and SVG & SVGZ Viewer. Most of these apps can be downloaded on Google Play and App Store.
Conclusion
These recommended SVG compressors can save you when you have low storage space. But when you don't want to encounter a slow compressing process, using AnyRec Free Image Compressor Online is best. This online tool could help you with many image formats like compressing TIFF, PDF, and so on. Visit the website to compress image files freely.
Related Articles