5 Best Skyrim Recorders and Mods You Must Try on Windows/Mac
Do you want to use a Skyrim recorder to capture the epic adventure in the Old Scroll land? This game was released a long time ago, but it also takes your device's CPU usage. You may need a well recommended Skyrim recorder to capture the epic gameplay. Thus, this article will give you the best recommendations for high-quality game recording. Moreover, this article will give you some mods to enhance the quality of your gameplay to help you have a better recording video.
Part 1: Top 5 Skyrim Recorders You Should Try
There are many easy-to-use screen recorders for gameplay. However, only a few can capture high-quality clips without lowering your CPU's performance. Let's see the screen recorder for Windows and macOS without further ado.
1. AnyRec Screen Recorder

Capture your epic adventure on The Elder Scrolls V and other games with AnyRec Screen Recorder. It is a cross-platform program that records high-quality videos on your screen. Since it is flexible, it supports any content displayed on your monitor, including gameplay, movies, and online meetings. The screen recorder is ideal for long recording sessions without interrupting the activity or degrading the quality. The best part of the Skyrim Recorder solution is that you have full control over the output settings to change the video codec, resolution, quality, and other information.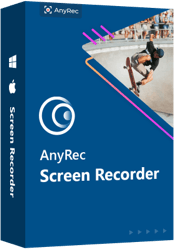 AnyRec Screen Recorder
Record games with customizable screen adjustment for full-screen and partial recording.
Save long-hour records in any supported output format like MP4, MOV, WMV, and more.
Built-in video trimmer and metadata editor to cut to edit video duration and information.
Add text to the recorded video for Skyrim footage, task tutorials, and more kind videos.
2. NVIDIA Shadowplay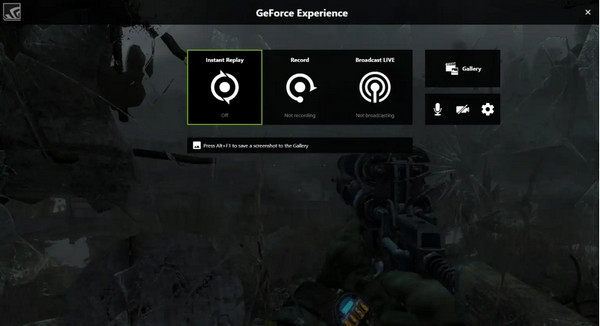 Shadowplay is a solid screen recorder for gameplay and live streams. It can capture videos for up to 30 minutes with 1440p resolution and 60FPS. The recorder is also powered with hardware acceleration, so it will start recording when playing games like The Elder Scrolls, Minecraft, etc. You can also use the Broadcast Live function to stream your gameplay live on YouTube, Twitch, and other social media apps. This alternative for the Skyrim recorder has a straightforward interface for more straightforward navigation while playing games.
Features:
Built-in Ansel to screen capture gameplay with 360-degree game shots.
Special functions GIF creator to create GIFs and instantly share them to social media.
Screen record from five to 20 minutes to capture the game's highlights.
Excellent general performance with easy keyboard shortcuts for in-game recording.
3. FRAPS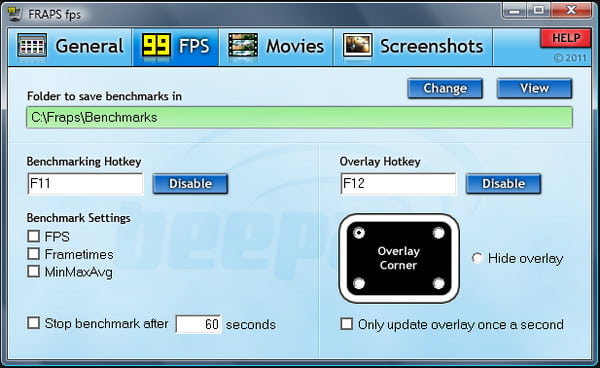 This universal Windows app screen recorder captures games with DirectX or OpenGL graphic technology. It has three main features: a special tab for frame rate adjustments, a default screenshot function, and a real-time recorder with up to 120 frame rates. FRAPS is free to install and use, but you can also buy the premium membership that unlocks features such as unlimited recordings and no watermarks.
Features:
Helpful user management and bench making.
Measure the frame rate between two points and statistics.
Work best with AMD Radeon or NVIDIA GeForce graphics card.
Provide audio recorder, image, and video editors.
4. Bandicam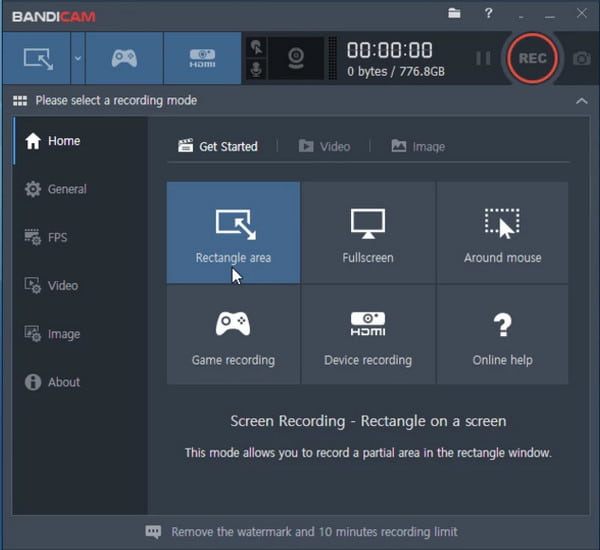 Skyrim Recorder solution is a well-known screen recorder for online classes, meetings, and games for Windows 10/8/8.1/7. It allows you to add narration while recording with a simple microphone plugin. Its gameplay recorder captures in high quality, which you can configure to 4K UHD with 144FPS. Bandicam is a simple recorder for screen content with customizable screen adjustments. And it is not like OBS takes high CPU usage when recording the video. Furthermore, you can unlock the advanced features by purchasing the pro version.
Features:
Offer real-time drawing effects to make an engaging recording.
Produce and export high-quality videos without distorting the quality.
Enable capturing input and output audio while capturing videos.
Schedule recording to stop at a specific duration.
5. Game DVR (Windows 10)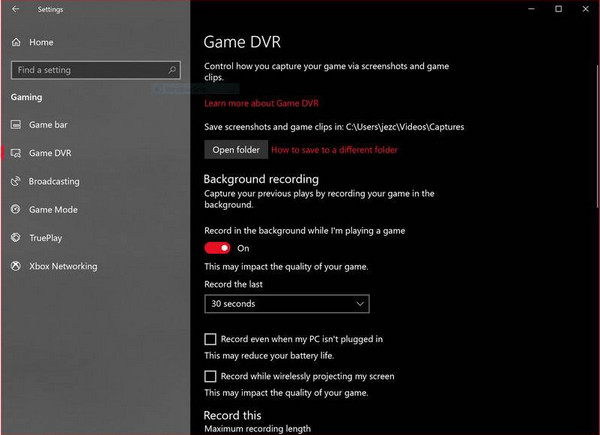 Originally from the Xbox app, Game DVR is now available on Windows 10. Aside from Game Bar, this screen recorder runs in the background to capture all the epic moments in the gameplay. It stores the recorded clips and screenshots, which you can directly share with your social media accounts. Although this solution does not lower the system performance, many users find it annoying and how it pops up uncontrollably.
Features:
Expanded features for editing and GIF creation.
Assist recording process in the background.
Compatible with many games like Skyrim.
Export recorded clips in HD MP4.
Part 2: Popular Mods to Compatible with Skyrim Recorder for Best Quality
For this part, you will learn other mods to bring new content once you finish the game's primary campaign. You have the option to play new settings with many settings to tweak. Moreover, mods can be compatible with your Skyrim Recorder for more enjoyable gameplay.
1. Falskaar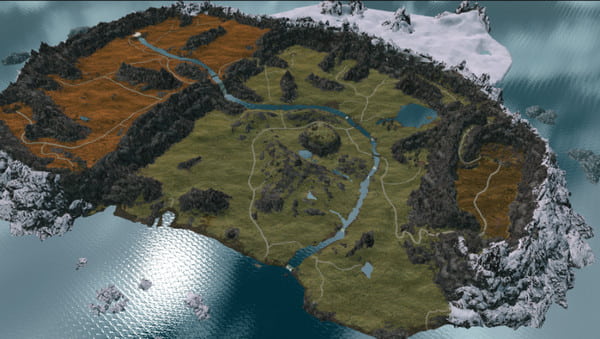 It is a high-quality mod, providing much new content out of the campaign. You can journey on a new landmass and take new side quests from the NPCs. Falskaar received praise from many gamers and critics because of the expected expansion quality from the developers. Using this mod, you will meet new characters voiced by various actors, new items to obtain, and 14 unique soundtracks.
2. Moonpath to Elseweyr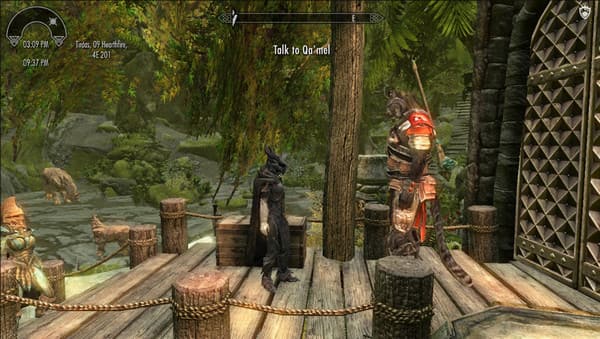 For a big fan of Skyrim's feline race, you might love this mod for its serious quest content. Other than the new locations and stories, Moonpath to Elsweyr has new monsters and other settings that can be done seamlessly. With over one million downloads, this mod opens a new opportunity for the creator, Tomas Sala.
3. Sounds of Skyrim: Complete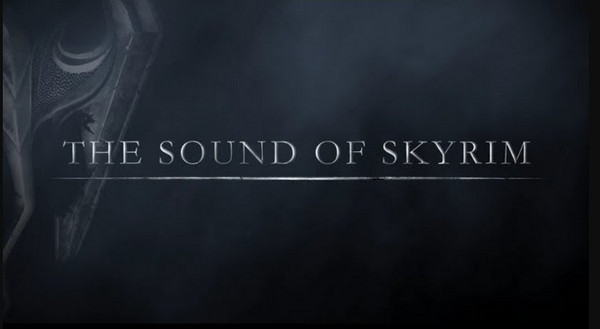 This mod contributes a massive role to Skyrim's mesmerizing plot. Since its release some years ago, it remains steadfast as one of the longest-running series. It also overhauls the game's audio experience with hundreds of new effects. Sounds of Skyrim adds audio effects for three significant spaces: the wilderness, environments, and dungeons.
Part 3: FAQs about Skyrim Recorder
1. What is Recorder from Skyrim?

PotasticPanda makes a character mod called Recorder in Skyrim. It is not her real name, but she captures the player's adventure, thus, what she is called. You will encounter her in Riverwood, inside the Sleeping Giant Inn.

2. Is it possible to use OBS Studio as a Skyrim Recorder?

Yes. To use it for Skyrim gameplay, install OBS on your computer and open it. Adjust the settings from the Settings tab at the bottom right corner. Click the Game Capture button from the Sources box and choose the recording mode for full or partial screen region. Then, click the Start Recording button to begin capturing the gameplay.

3. How to use Game Bar to capture Skyrim on Windows 10?

Game Bar is a default function on Windows 11 and 10. To activate it, open Settings to enable Xbox Game Bar. Then, Press the Windows and G keys on your keyboard to open the screen recorder. Click the Capture button from the widget menu and click the Record button.
Conclusion
This post recommends the best Skyrim Recorders to capture your best moments in the game. Of course, you can also use them for other purposes, such as online meetings and short films. For a more flexible recorder, AnyRec Screen Recorder will be a good recorder for webcam, audio, and video recording with up to 4K resolution. Try the software by clicking the Free Download button from the official website.
Related Articles: