What is the Best Secret Dating App to Find Love? [Anrdoid/iOS]
Internet love is a popular thing to do nowadays. And with hundreds of dating apps you can download on your device, it is almost impossible to keep it a secret from your friends or family. There is also a chance that your friends are also on the same app you use. If you want to look for love in incognito mode, this post gives you the best secret dating apps that guarantee you to keep your dating activities away from prying eyes.
Part 1: Top 10 Secret Dating Apps
Finding a partner is not easy, and you might find it exhausting the repeated introductions like the tell-me-about-yourself routine. But you can't give up now that everyone is almost into secret dating apps. Try the top ten secret dating apps where you can keep your dating history from other people.
1. Happn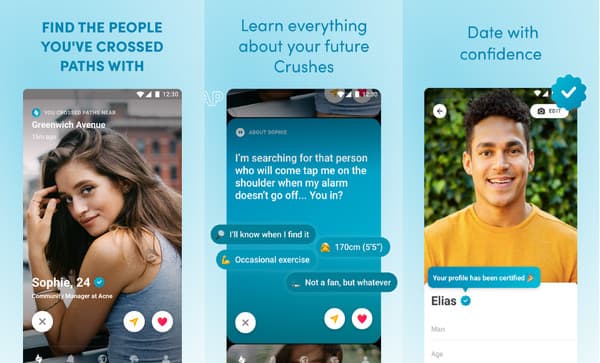 Happn is an excellent secret dating app where you can message people you like. You can start a conversation by sending a voice message or your recommended Spotify song. The best part of Happn is you can edit your status and show your most highlighted activity.
Features:
◆ Users can like someone secretly and be mutual if they like them back.
◆ Enable users to send a FlashNote to someone they like before a match.
◆ The location is not visible to other members.
◆ The interface is pretty straightforward to use.
2. Jaumo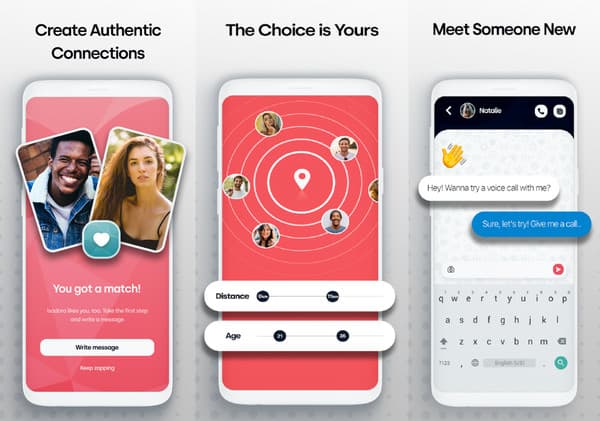 Another secret dating app that offers unique key features for free. The perfect match is anywhere in Jaumo without purchasing the pro version. It allows you to browse the members that swiped right to your profile freely, and you can send them a message instantly.
Features:
◆ Prioritize the user's privacy by finding matches most safely.
◆ Diverse members can be local or foreigners.
◆ Unlimited sorting filters like location, age, and hobbies.
◆ The messages are received instantly.
3. Hinge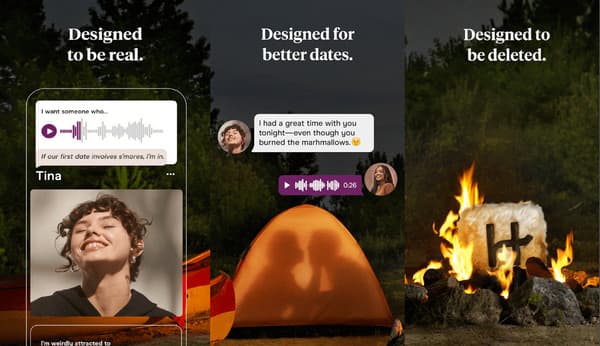 Hinge is one of the most likable secret dating apps that is free. You can join the app with your phone number or Facebook account. Like popular dating apps like Bumble and Tinder, you can swipe right to the person you find attractive and send them a message.
Features:
◆ Give more control towards profile to stand out.
◆ The service maintains to have an inclusive environment for everyone.
◆ Users can give details about their selves like political views, plans, etc.
◆ Provide unlimited Likes to give to the user's match.
4. The League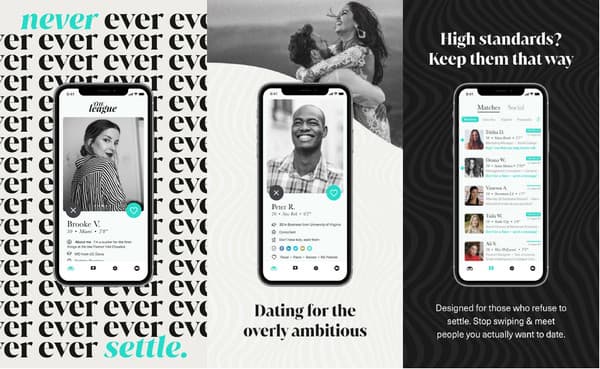 If you don't want your friends to know that you are using an app, you can use The League. This secret dating app doesn't look like a dating app because of its name. Its initial objective is to help a single person to have their love life bloom without trouble.
Features:
◆ Only match people to other locations to avoid bumping friends.
◆ The video speed dating feature allows users to join a mutual stream.
◆ Support groups and events with the same interests.
◆ Enable to customize profile on in-app purchase.
5. Clover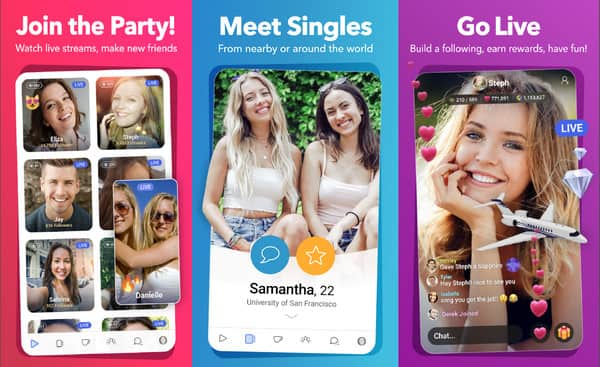 Clover is an excellent dating app for looking for love or friendship. It is easy to use and offers more if you support its premium version. Different from the sugar momma dating app, it limits the remember at least 18 years old so that you can talk to people the same age as you.
Features:
◆ Effective search filters for a nearby location.
◆ Provide virtual video dates.
◆ Suitable for group chats.
◆ Live function to earn followers and rewards.
6. Secret – Adult Acquaintances
If you are looking for a secret dating app that can spice up your love life, Secret is suitable. With its whopping reviews of 32.8 Trillion, the app has also gained 4.7 rating stars. You can almost do everything with this app to meet new people.
Features:
◆ Select the best match for every user.
◆ User-friendly system and interface.
◆ Ensure safe and privacy protected.
◆ Provide private chat rooms.
7. Skout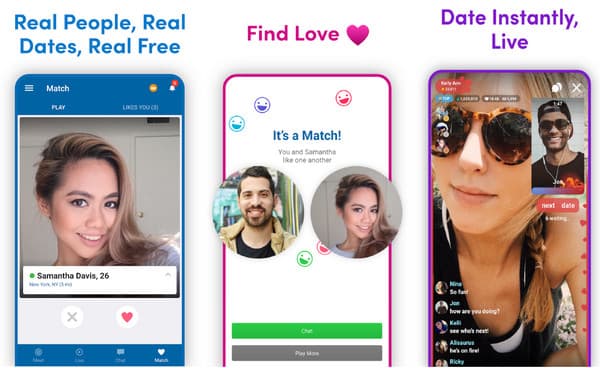 Another secret dating app that only looks like a standard game. Its name and icon will not give away that you are looking for a lover. Skout is also an excellent choice for finding friends. You can build connections through friendship, and maybe you will find the right one for you.
Features:
◆ Chat with people across the globe.
◆ Broadcast live streaming.
◆ Browse profiles through the Match room.
◆ Free to download.
8. Woo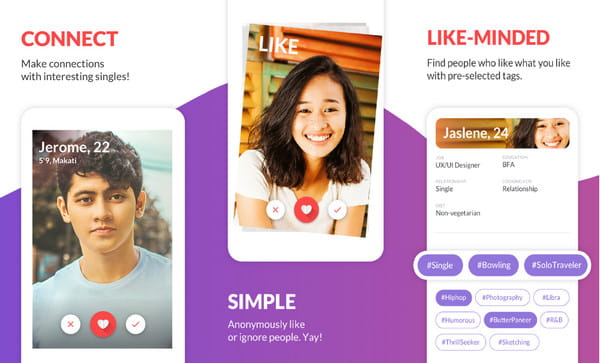 Woo is a secret dating app where you can specify your target location to find love. Its active mechanism removes bots and fake accounts so you can chat with real people. You can send the person you like with a Crush sign to tell them that you like them.
Features:
◆ Almost all users are looking for serious relationships.
◆ Enable to reach people from North America, Asia, etc.
◆ Users' information will remain confidential.
◆ Offer questionnaires to make the chat going.
9. Blendr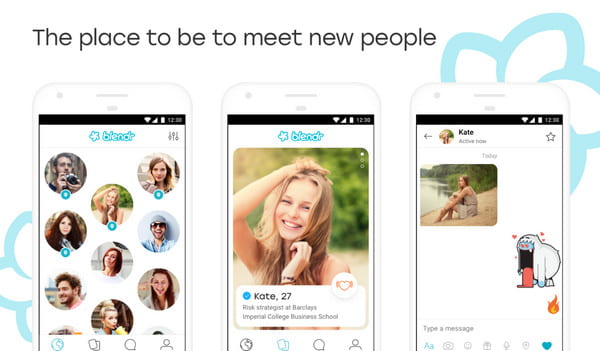 Although many single people use this secret dating app, your identity remains anonymous unless you match with a good individual. You can let the other party know about yourself as you chat daily.
Features:
◆ Provide matches from around the world.
◆ Free to join group chats.
◆ Excellent matching algorithm.
◆ Customizable profile.
10. Smitten
The last recommended secret dating app is Smitten. It is a newly developed app, so no one can see that you are for something fun. It has a manageable interface without lagging or buffering. It provides you with questionnaires that are enjoyable to answer. It is like you're playing a game!
Features:
◆ Support inviting friends with code.
◆ Provide icebreakers for users.
◆ Enable users to send photos or GIFs.
◆ Fun Fact feature to show interesting hobbies or personality.
Bonus Tips: How to Keep the Joy Moment with Others
Once you find the love you are looking for, you will want to record the video chats or calls. Use AnyRec Screen Recorder for a high-quality video recording. It is a multifunctional tool that provides various recorders for phone or webcam chats. It allows you to configure the output file settings like the video format, quality, and resolution. Excellent for every call you receive from a secret dating app on Windows and macOS.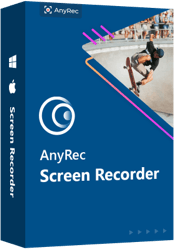 AnyRec Screen Recorder
Unlimited video recording from a secret dating app with the best video quality.
Provide more features such as screenshots, real-time drawing effects, and soundcheck.
Straightforward interface that is easy to navigate during video recording on the device.
100% safe to record secret dating apps and will keep one's data private.
Part 2: FAQs about Secret Dating Apps
How to keep a secret dating app hidden?

Some apps allow you to be anonymous or hidden from some people. When you get comfortable with the other party, you can give information about yourself in the talking stage.

What are the dos and don'ts of a secret dating app?

Rather than being mysterious and shy, you need to be open-minded with people online. You can give minor details about yourself. Of course, you also need to be careful with first chats with strangers. Even with tight security in a secret dating app, there are bots and swindlers.

Do secret dating apps work?

Yes, looking for love online is possible today. It is popular with the youth and adults. A study shows that about 60% of users have a positive experience with a dating app.
Conclusion
You can keep your love hunting hidden with a secret dating app. You can try the top ten recommended apps without being seen by your friends or family. But once you are ready to take to another level with your newly founded love, you can record the video chats with secret screen recorder. Try the free trial version today!
Related Article