Size Matters Not: 5 Ways to Reduce Image Size in KB Anywhere
Sending pictures online can be an issue sometimes. One of the reasons is that you need to reduce image size in KB because the file size is too large, which many social apps restrict to a specific size. Since this is a common problem even for emailing services like Gmail, there are ways to reduce image size in KB. This article provides all the best solutions for your pictures for nonstop sharing online with friends.
Part 1: 3 Tools to Reduce Image Size in 50/100 KB [Online]
The following tools are accessible online. They offer free services to compress pictures in specific file sizes. Without further ado, here are three image reducers to try.
1. AnyRec Image Compressor
For an effective way to reduce the image size to 50/100 KB, use AnyRec Free Image Compressor Online. The online tool has the latest AI algorithm, which helps to compress photos up to 80% without losing quality. With the side-by-side comparison, there is no massive difference between the original picture and the output. The good thing about the Free Image Compressor is that it supports multiple image file formats, including JPEG, TIFF, SVG, PNG, GIF, and more.
Features:
Support reducing multiple image formats to KB with fast speed.
Allow uploading up to 40 with 5MB in file size to compress.
Optimize the picture to guarantee high-quality output after exportation.
Delete the uploaded and compressed photos to protect privacy.
Step 1.Visit AnyRec Free Image Compressor Online on your tab. Click the Add Images button to choose the picture. Confirm to upload by clicking the Open button.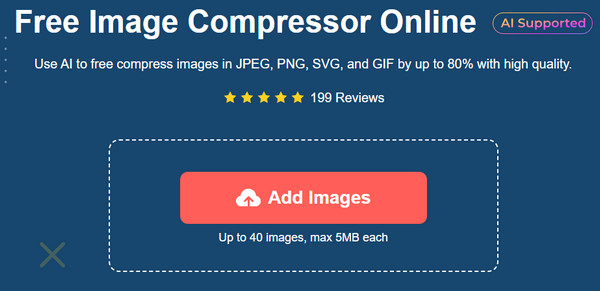 Step 2.Since the online tool generates photos in a few seconds, upload more files by clicking the same button. The progress of each upload will show with the parameter.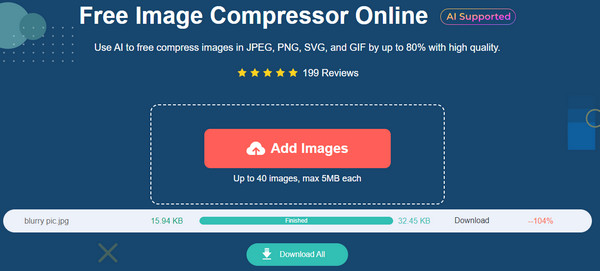 Step 3.Once all pictures are uploaded and compressed by the online tool, click the Download All button to save the files to your computer.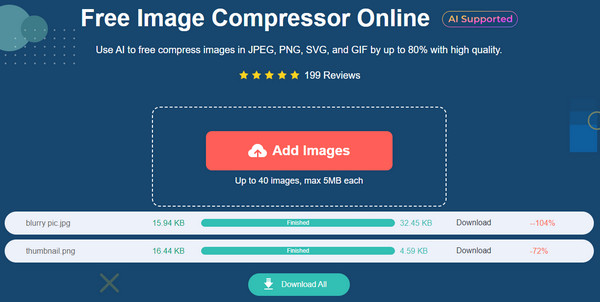 2. 11zon
11zon is a multifunctional online tool with converters and compressors for various file types. Aside from reducing the image size to 50/100 KB, 11zon allows compressing PDF, JPEG, WEBP, and PNG to your desired size. You can also try other tools like Word to PDF, Merge PDF, Add Watermark, and Image Converter. But because 11zon is free, its interface is full of advertisements, which can be annoying.
Step 1.Go to the official webpage and select the Compress Image button. Click the Select Image button to upload pictures from your folder. Look for the new site under the uploaded photo.

Step 2.Control the level by moving the slider, then click the Compress button to generate the new size. Do batch compression by importing more pictures. Once done, click the Download button to save the outputs.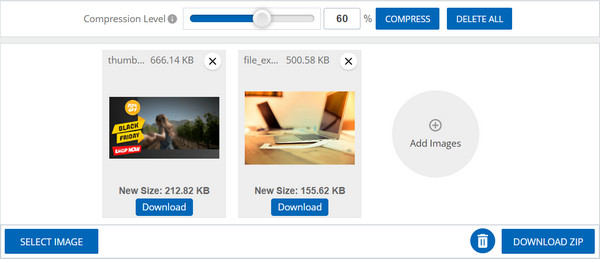 3. ResizePixel
ResizePixel is a simple online tool that reduces the image size to 50/100 KB. But contrary to its simple interface, it provides settings to manipulate the aspect ratio by changing the width and height of the file. Along with the essentials, users can also use other tools, such as resize, crop, mirror, and more. See the demonstration below on how to use ResizePixel.
Step 1.From the webpage of ResizePixel, click the Upload Image button to open and select the photo. Once uploaded, change the aspect ratio of the picture. Alternatively, toggle on the % option to resize the file by percentage.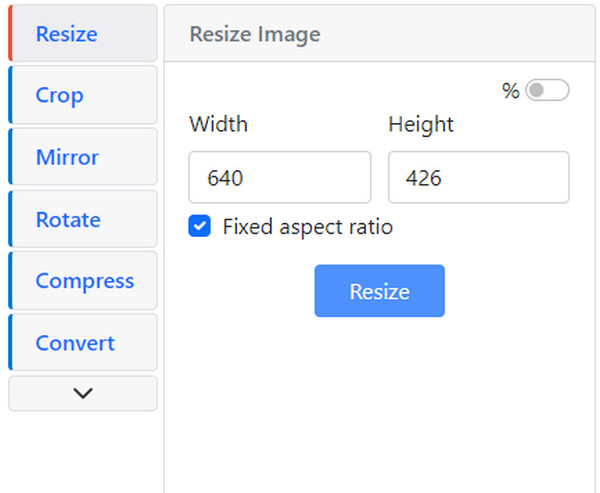 Step 2.Click the Resize button to generate the new output size. Then, click the Go to Download button from the bottom right corner of the site. Import another photo by pressing the Upload New button.
Part 2: 2 Tools to Downsize Image to 20/50/100KB [Windows/Mac]
If you constantly need to reduce image size in KB, this post recommends two desktop tools for Windows and Mac. For professional and efficient compression, see two software worth trying.
1. Photoshop
Adobe Photoshop is a professional photo editor with a method to reduce the image size to 100 KB, 50 KB or even smaller. Since it is cross-platform, you can download it on Windows, Mac, and Linux. It offers multiple options to increase or decrease the file size while you can optimize the quality. If you are unfamiliar with Photoshop and its challenging learning curve, follow the steps below to resize images in Photoshop.
Step 1.Open the app on your computer and upload the image by dropping it from the folder. After uploading, go to the File menu and click the Save for Web button.
Step 2.When the dialog box appears, choose the output format, quality, and other settings. Click the Save button to apply all the changes and save the compressed picture to your device.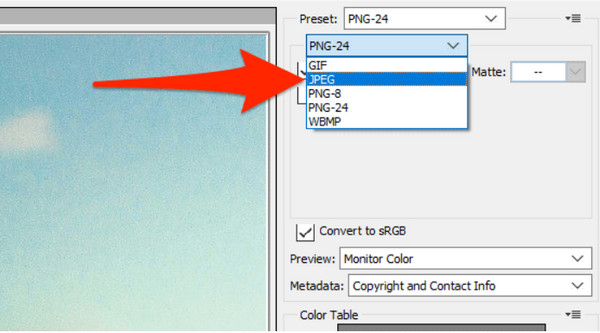 2. Preview on Mac
If you are a Mac user, using Preview to shrink the image size to 100 KB is best. It is the default photo viewer and provides editing features, such as drawing tools and an image resizer. Unlike Photoshop, Preview is user-friendly and free to use but, unfortunately, only available for Mac versions.
Step 1.Open Finder and select the image you want to compress. After opening the photo on Preview, go to the Tools menu at the top toolbar and choose Adjust Size.
Step 2.Use the unit of measurement accordingly. Options include resizing the image by pixel, inch, and percentage. Click the OK button to apply all the changes.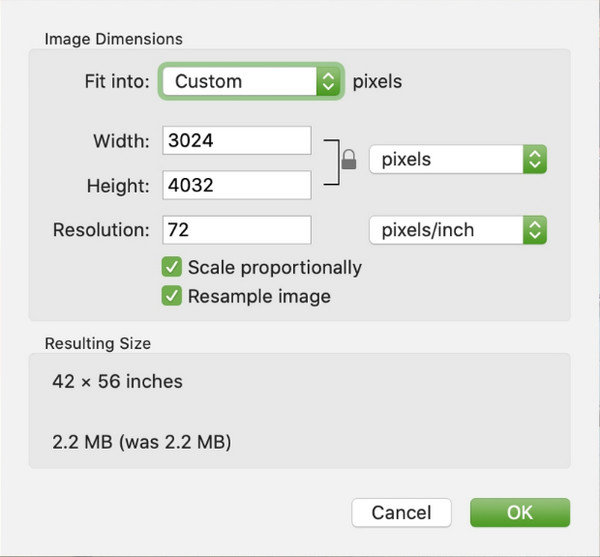 Part 3: FAQs about Reducing Image Size in KB
Does cropping a photo reduce file size?

Yes, cropping some portions of an image can reduce the file size. However, remember that cropping means more noise or digital grain when the photo is enlarged to its original size. So, it is still suggested to use an image compressor to reduce file size without losing too much quality.

How does reducing image file size work?

An image compressor or reducer is a tool that minimizes a photo's file size to bytes without deteriorating the image quality below the standard. This process helps to share photos to social apps that have restrictions toward file size and even saves some device space by compressing all high-quality pictures.

How to reduce image size in KB in smartphones?

Online image compressors are available on a browser of your mobile device. But you can also install apps to reduce file size. Try Video & Image Compressor Size, JPG Converter Image, Compress Image Size in KB & MB, and Photo Compressor Resizer. These apps are available on App Store and Google Play.
Conclusion
Now, you can easily share pictures online with the best quality to resize photos for Instagram, Facebook, Reddit, and more websites! Learning more about reducing the image size in KB allows you to compress pictures using the default tool on your device or online compressors. Use AnyRec Free Image Compressor Online for a more efficient and professional compressor to reduce the image size to 20, 30, 40, 50,100 KB without registration!
Related Articles