NTSC vs. PAL: All You Want to Know about Quality, Resolution, etc.
If you are a movie nerd or a gamer, you probably know about NTSC and PAL. They are two color encoding systems designed for the visual quality of televisions and content on HDTVs. Given their native designation, NTSC and PAL are only accessible to some countries and only relevant to some cases. This post will give you more information if you want more knowledge about NTSC vs. PAL. And you can learn how to have a format conversion between these two formats.
Part 1: What Is NTSC
NTSC is the abbreviation of the National Television Standard Committee. It is an analog TV color system commonly used in North America and some South America. It is also available in Asian countries, including the Philippines, Taiwan, and Japan. NTSC has the capacity to deliver 30 frames per second at a 720 × 480 aspect ratio. Its receivers can make color corrections when the colors are off-hue since NTSC systems have higher saturation, which needs some adjustments. This format was initially developed in 1953 to be compatible with all TV sets, even if they were still in black-and-white color.
Part 2: What Is PAL
PAL is a TV color system primarily used in Europe, Australia, and some parts of Africa, Asia, and South America. It delivers a frame rate of 25FPS and an aspect ratio of 720 × 576. Unlike NTSC, PAL uses automated color correction by alternating phases of the color signal to remove hue errors. Moreover, the format automatically eliminates chrominance phase errors. Still, it experiences grainy pictures when there are extreme errors, especially when the decoder circuits are not appropriately aligned. PAL is specifically designed to deal with some lack of NTSC, such as signal stability under poor weather conditions.
Part 3: Which Is Better: NTSC vs. PAL
The real question now is which format is better. NTSC and PAL have differences in quality, color encoding, frame per second, and the number of resolution lines. When it comes to picture quality, NTSC has about 525 lines of resolution, and they indicate better quality. While PAL's total lines of resolution are 625, they can go out at 50 per second. In the case of frame per second, NTSC uses 30FPS for every alternation of 60Hz. Unfortunately, since TV sets back in the day were only in black and white, the additional chrominance for color interpretation caused prolonged time to transfer frames, reducing FPS to 29.97. PAL, however, uses various types of current outlets with 50Hz frequency, making it 25FPS.
Lastly, these standards use several resolution lines, and NTSC has 525 lines, while PAL corresponds to 625 lines. In the PAL video signal, each line is reversed in the color information phase, leading to automatic corrections of phase errors. However, vertical color resolution can get lost and blur the adjacent lines. Still, if you are using NTSC or PAL, you should only mind the frame rate and resolution. This also applies to DVDs without carrier wave-based signal coding and formatted on a particular TV set.
Part 4: How to Convert Video Between NTSC and PAL
AnyRec Video Converter is an effective conversion for NTSC and PAL. It has the tools to change color, upscale the quality, and compress videos. Its built-in video editor helps you edit videos by applying filters, changing the aspect ratio, rotating, and boosting the audio volume. The video converter also allows users to upload any video file because it supports over 1000 formats that range from MP4, MKV, MP3, AAC, WAV, AVI, and so on. Download AnyRec Video Converter and watch high-quality movies on Windows or macOS.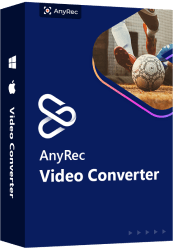 AnyRec Video Converter
Support NTSC and PAL to convert to compatible formats to watch movies on a laptop, PC, mobile, etc.
Configurable settings to change the output format, resolution, frame rate, sample rate, and others.
User-friendly interface with AI-based algorithm to instantly upscale converted files without distortion.
Provide more tools for other purposes, including GIF Maker, video merger, audio sync, and file compressor.
Step 1.Download AnyRec Video Converter on your computer. Follow the prompts until the software is ready to launch. Click the Add button to upload the NTSC or PAL file from the local folder. Additionally, you can import multiple videos in a folder by clicking the Add Folder button.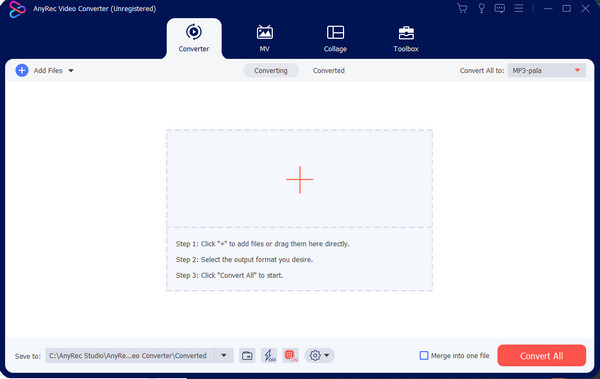 Step 2.Head to the Format menu beside the uploaded files and choose the output format from the list. If you intend to convert a batch to the same format, you can easily select the desired format from the Convert All To menu at the top right menu.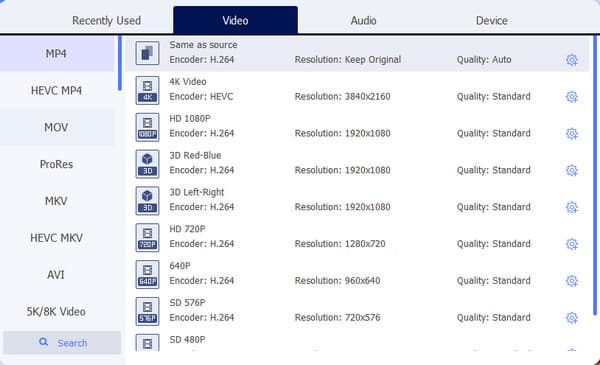 Step 3.Click the Custom Profile button from one of the gear icons to make adjustments. The dialog box will present video codec, quality, bitrate, frame rate, and other settings. Click the drop-down lists to see other options. Once done, click the Create New button to apply all the changes.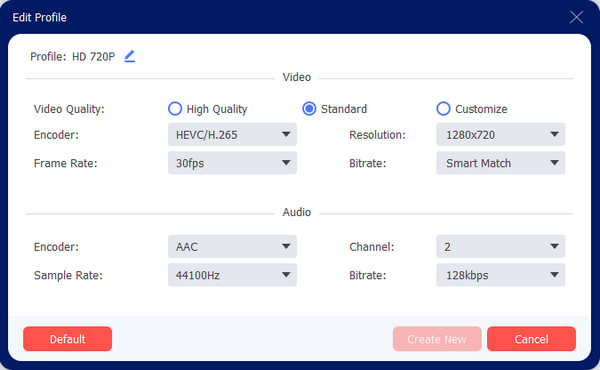 Step 4.Afterwards, go to the Save To menu to browse for the designated folder of your output. Proceed to click the Convert All button to start the process. After the conversion, navigate to the folder and open the converted files. Share with your friends over social media!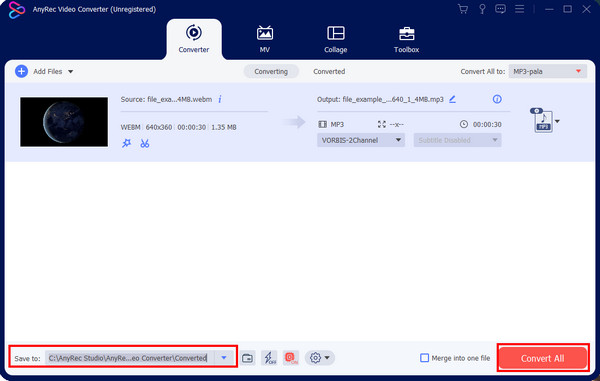 Part 5: FAQs about NTSC and PAL
Why NTSC and PAL are still around?

These standards are meant for TVs and are irrelevant to today's technology. However, NTSC and PAL can still be found on DVDs and Blu-rays, which need parameters like timings, resolution, and FPS for modern television displays. They are also used to add another layer of protection by the national copyright laws, protecting the illegal distribution of videos, games, and other content.

Is NTSC or PAL suitable for games?

Yes. Retro video games and old game consoles use NTSC and PAL as analog video output. They can be used but with certain requirements. For example, you can use PAL for Super Nintendo in Australia; however, it will not work on television in America as they use NTSC.

What will happen if NTSC is converted to PAL?

When you convert NTSC to PAL, there are additional five frames per second, causing jerky action. If you do the conversion in the opposite, the five frames will be removed, and the action will be slower than the original output.
Conclusion
Even if HD and digital signals are becoming the standards for television, some people even need to convert VHS to digital to watch it. But NTSC and PAL relevance continue as the primary video standards. To convert NTSC and PAL, AnyRec Video Converter is an excellent solution to take care of the resolution, color coding, and quality you need for the video. You can even increase the video resolution with this software. You can try the free trial version by visiting the official website!
Related Articles