10 Best Wireless Spy Camera Apps for iPhone
For security reasons, you may install a hidden camera in your room or other sensitive areas, or you may keep a watch on what is going on in a room while you are not around. Furthermore, there may be situations when you need to take a snapshot or secretly shoot a video, especially if you want to do some prank or catch things for a witness. Hence, installing a wireless spy camera app iPhone within a room is simple, but taking a different camera or placing it in your body is more challenging. Worry not because iPhones have improved to the point where you don't have to buy one more camera. Different available apps can grant access to your iOS device.
Part 1: Top 10 Spy Camera Apps for iPhone
1. SP Spy Camera App
SP iPhone spy camera imitates on-screen images like a clock or a web browser to make it appear as if you're not using it. Place the spy camera in a specific spot, and it will record any motion that occurs. You may also set it up to take images every few seconds automatically. An SP Camera is available for $9.99. Worry not because your documents are safe in a password-protected folder.
Pros
At the same time, you can take images and videos.
You have the option of recording videos in slow or fast motion.
It allows you to alter the resolution in video recording.
Cons
On older devices, not all functionalities are available.
There is no free version available.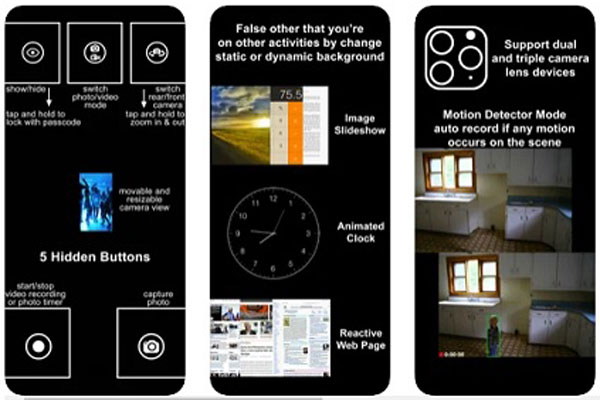 2. Presence
Pros
It supports many viewers.
This iPhone spy camera allows iOS users to monitor their houses for free.
Cons
It doesn't have an IFTTT ( If This Then That) channel.
It's always attempting to offer you third-party items and alternative fee-based cloud storage enhancements.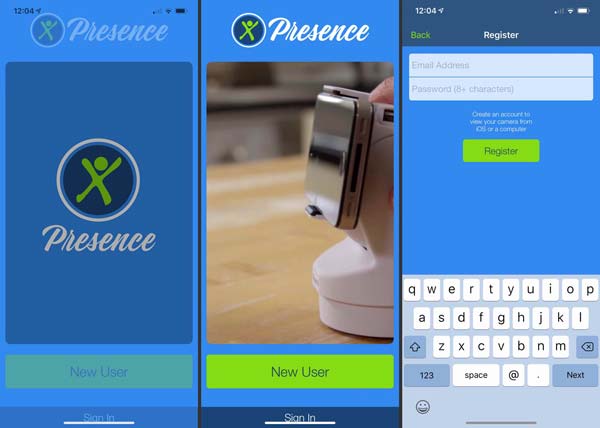 3. SpyEra Spy Camera App
SpyEra Spy Camera app allows you to monitor activities on phones, computers, and tablets and use their cameras remotely. SpyEra has effective GPS tracking, geofencing, live call recording and listening, instant messaging monitoring, and device screen capturing. You have to install this app first on your target device to monitor. The data from your device is then shown on the web dashboard.
Pros
The SpyEra can work invisibly; the program's activity is invisible.
On spyera.com, you can check your device's compatibility.
Cons
When compared to its competitors, this app is more expensive to purchase.
To download and install SpyEra, you must first do a jailbreak.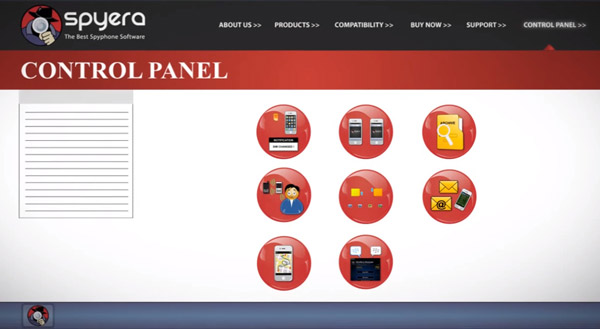 4. iKeyMonitor
Nowadays, busy parents are unable to monitor their children's online activities. The correct parental control app is helpful in various ways, from social sites to text conversations. With the spy camera app on iPhone, you can look after your kids if you are not around. Acknowledge this app as a high-tech parent because it is a keylogging app that collects information from SMS, WhatsApp, Skype calls, chats, IMs, and more. It is invisible by the user and provides complete access to the device, and thoroughly monitors all activities carried out on the phone.
Pros
It supports several languages.
You can try it free for 3-days.
Cons
It's necessary to jailbreak the iOS device.
Do not alway work to get the desired files.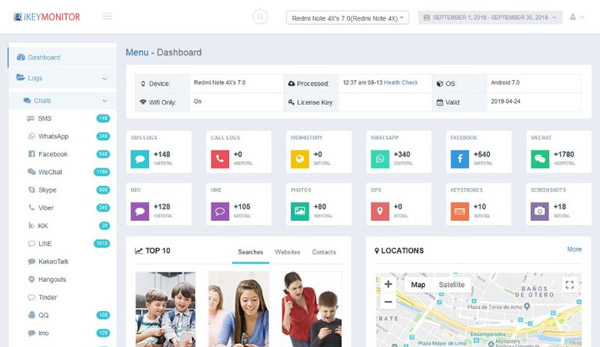 5. Alfred Home Security Camera
While SP Camera is lovely for capturing photos secretly while out and about, Alfred Camera is the app for you if you'd prefer to focus on protecting your belongings at home. This iPhone spy camera is a do-it-yourself security system that enables two computers, tablets, or mobile devices, as well as the Alfred camera app, to set up an IP camera system. You may set up as many surveillance devices as you want with Alfred, as far as they match the firm's storage and internet requirements.
Pros
Communication is possible in two-way.
From a mobile phone, you can record video and detect movements.
Low-light filtration aids camera visibility in low-light scenes.
Cons
Typical-style security devices are not available.
Low-resolution footage.
For use, an extra phone or webcam is required.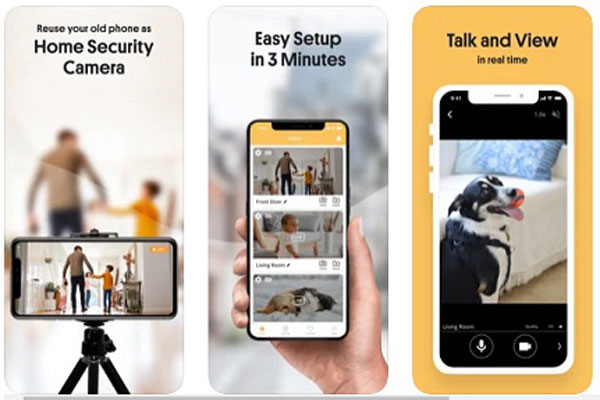 6. FlexiSPY
FlexiSPY is a full-featured iPhone spy camera that can track location, record calls, and monitor keystrokes. It has remote control capabilities, allowing you to turn on the video camera or microphone to capture whatever is happening on time. It includes parental control software, employee monitoring, direct device delivery, and more other features. Moreover, there are more other version to monitor the computers and tablets.
Pros
Non-jailbroken iPhones can use FlexiSPY.
You can control the phone remotely.
Cons
It is most effective on jailbroken devices.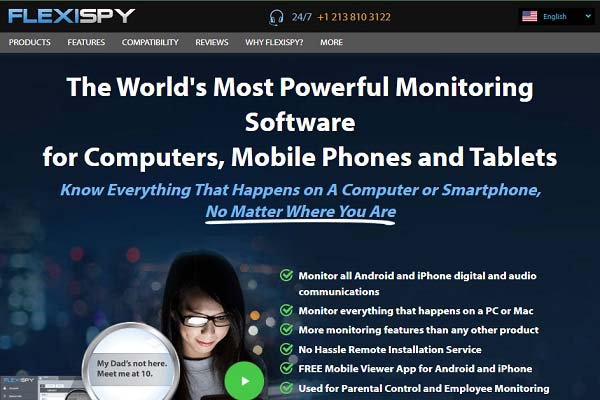 7. mSpy
mSpy is a mobile tracking tool that you can install on your child's phone to track their phone calls, social media engagement, and more. Once downloaded on the phone, the software runs in the background and is fully hidden. The program then tracks the child's phone usage and provides reports to your mSpy account, which you can monitor from any device. The software supports Jailbroken iOS devices, non-jailbroken iOS devices, Android devices, Windows computers, and Mac computers.
Pros
This is a legal professional cell phone surveillance software.
Apart from your child's phone's GPS location, it can also record and transmit the exact place where your child has been the whole day.
When you have a problem, excellent customer service is available 24 hours a day, 7 days a week.
Cons
Every license is only valid for one device, making it costlier for parents with numerous children to use.
The data on the target phone cannot be restored using a backup if it is wiped.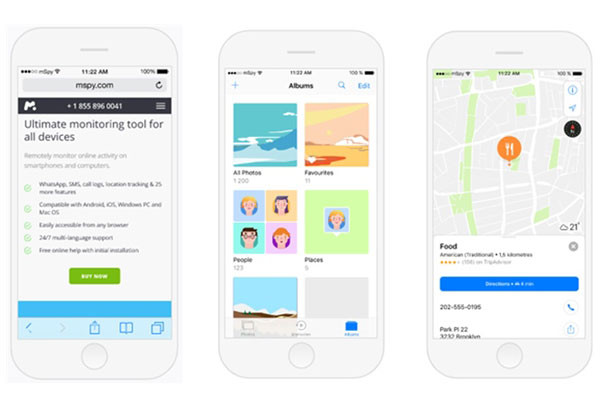 8. Auto Forward iPhone Spy
Auto Forward is more than an iPhone spy camera app, but also a tracking program that allows you to track the location of another person's phone that is compatible with iOS and Android. You can follow the monitored device remotely, but you must first install the software on the target phone. The Auto Forward account owner can see everything you do, including messaging, talking, and surfing the web, and you can also see the deleted information.
Pros
The installation process for Android and iPhone is relatively straightforward.
For $69.99, you can purchase a lifetime membership with Auto Forward.
Cons
It is impossible to record a call or listen to the surrounding life.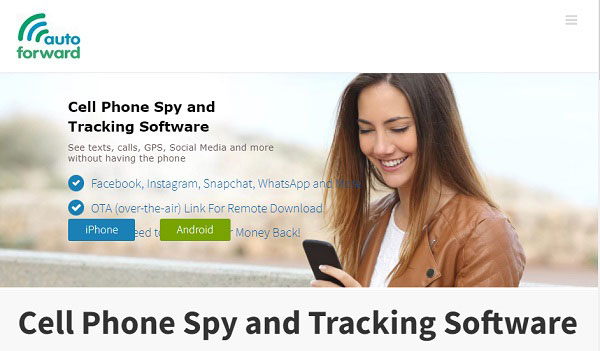 9. Xnspy
This iPhone spy camera enables corporate leaders and managers to track online actions both in the workplace and remotely, such as browser history, app usage, scheduled tasks, email engagement, Google Maps screenshots, and more. XNSPY can assist in keeping staff productivity on track with the least amount of distractions possible.
Pros
Receive real-time notifications on specific words in SMS, emails, phonebooks, and locations 24/7.
You can see the names and locations of the Wi-Fi networks they use the whole day.
Cons
In order to receive data in real-time, the intended device must be connected to the internet at all times.
When an iPhone user switches off their iCloud backups or modifies the settings to create backups after days or even weeks, the monitor's control panel cannot retrieve the latest information on the iPhone.
10. Mobistealth
Mobistealth gives you remote access to a child's call logs, conversations, GPS positions, and browser histories, as well as the ability to record phone calls. You'll need access to your child's mobile to install the Mobistealth app. After that, you can use your smartphone or computer to keep track of your online activities.
Pros
MobiStealth supports android, Windows, iOS, and Mac operating systems.
Mobistealth offers a no-jailbreak solution that eliminates the need for physical access to the target device.
Cons
It's a monthly subscription based app.
Their iOS membership costs a lot more than their iOS and PC subscriptions.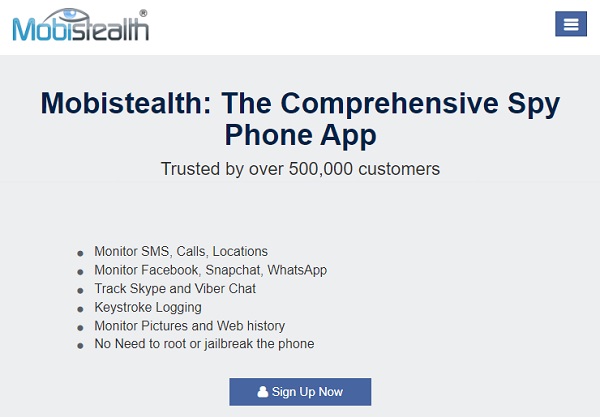 Part 2: Best Video Editor to Polish Video Footage
Listed above are the most recommended iPhone spy cameras for you to keep track of your stuff and look after your kids even when not around. However, if you want to edit your video footage, especially your prank videos, AnyRec Video Converter has some powerful features to help you out! With this, you can convert your video footage from over 1000+ multiple formats after editing.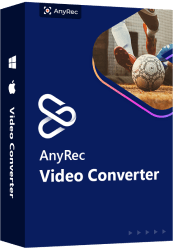 AnyRec Video Converter's Features
You can flip the video, rotate it, clip it, trim it, merge it, add watermarks, and use other video effects.
Because you can get 44+ distinct split-screen layouts here, you can put two, three, four, and more videos in one frame. Each split-screen arrangement is configurable.
Edited footage can be converted in a swift time; you could save a lot of time.
Part 3: FAQs about Spy Camera App for iPhone
1. Is it safe to use spy camera apps?

It is illegal to install spy camera apps on other phones to record text messages, phone calls and track locations without their permission. If you plan to install a spy camera app, make sure that you are not breaking any local laws.

2. Can I install a spy camera app without others' phones?

Whether using an iPhone or an Android, you can install spyware without touching others' phones. You can even monitor their cell phone's activity without touching their phones, such as recording Facebook videos.

3. How can I notice if there is someone spying on me on my phone?

Unknown apps will appear, the battery will deplete quickly, your device will be 'jailbroken,' unusual SMS messages will appear, strange activity will be in standby mode, and your phone will become extremely hot. These are some of the most typical warning indicators.
Conclusion
That's it! We hope to assist you by showing you the top-notch iPhone spy camera apps. Yet, keep in mind any further monitoring of another person's phone would be regarded as a violation of their privacy and may result in legal action. However, we highly encourage you to download the AnyRec Video Converter, which has been proven to edit and convert high-quality videos.
More Related Articles