Top 5 Hidden Camera Detectors and Scanners
There is nothing more important than your safeness. But, how sure are you that your privacy is safe? Have you ever encountered a hidden camera? Hidden cameras might cause harm to your life. Let us tackle these best recommended hidden camera detectors to protect you and your rights in your private life!
Part 1: 5 Best Hidden Camera Detectors
Top 1: SPYFINDER PRO Hidden Spy Camera Detector
SpyFinder Pro is a small hidden camera detector and battery-powered tool that provides an arrangement of ultra-bright LEDs to find all hidden cameras swiftly. If you notice a flickering reflection back through the lens, it could be a camera lens. The brightness of the LEDs may be changed to 3 distinct stages, with the brighter settings being suitable for larger rooms. Overall, the SpyFinder Pro did an excellent job detecting the camera lenses that were hidden throughout the home.
Pros

It is easy to use due to the one-push control.
Designed conveniently.
Cons

You need a hard case for traveling.
Other Reflective Objects are stored in this database.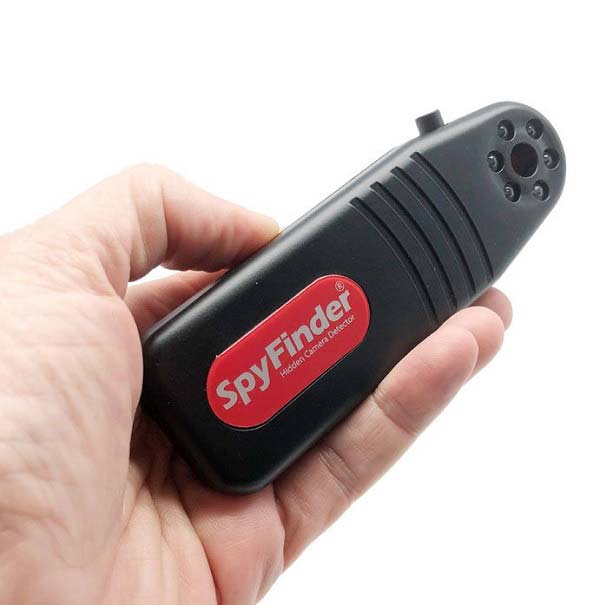 Top 2: Hidden Camera Detector Mini LED Hidden Device Detector
The Hidden Camera Detector Mini LED Hidden Device Detector will keep you safe from spying and videotaping. You may rely on it to locate a GPS tracker in your vehicle, monitoring devices on your phone or in the boardroom, and a concealed camera in the hotel and other establishments. This is also a signal detector for hidden devices. By collecting any 2G/3G/4G/5G sim card signal and 1MHz-6.5Ghz wireless connections in a 15sqm area, this expert wireless radio detector will help discover surveillance equipment for spying, jammers, and bug devices, warning you about the specific location of the secret device through an excessive sound with increased MP3 volume.
Pros

This hidden camera detector incorporates an anti-thief vibration alarm.
You can carry this easily anytime and anywhere because it is light and portable, weighing only 0.110 oz and measuring 3.3*1.46*0.7 inches.
Cons

The usage of small cameras is limited.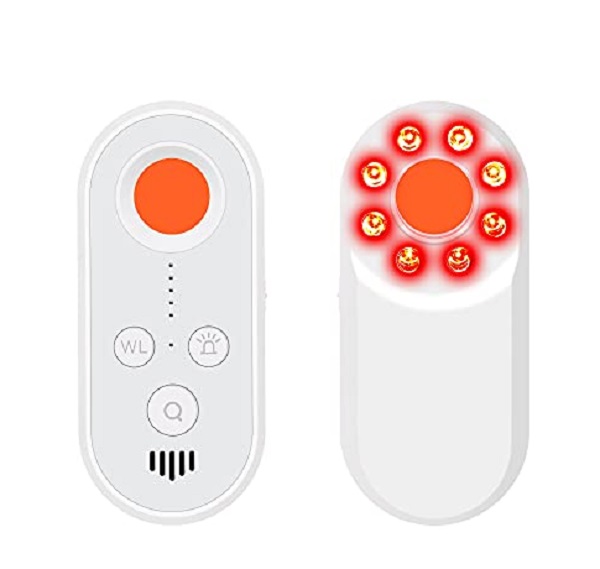 Top 3: Spy-Hawk Pro 10G
Designed to be simple to use, the Spy-Hawk Pro takes your standard RF bug detector and modernizes it for an increasingly digital world. This model can detect many more types of bugs but can still be used by amateurs. It is a hidden camera detector that resembles a stud detector more than an RF signal detector in terms of design. At first, all buttons and switches were terrifying, but we quickly realized that they were all quite simple to operate.
Pros

Pro-10G is capable of detecting 99 percent of wiretapping and spying devices.
A broad sensing range.
Cons

The enclosure is constructed of plastic.
Because this detector is so effective, you'll need to prepare the area before looking for a bug in it. Before beginning the work, you must unplug all routers, cordless phones and turn off all mobiles.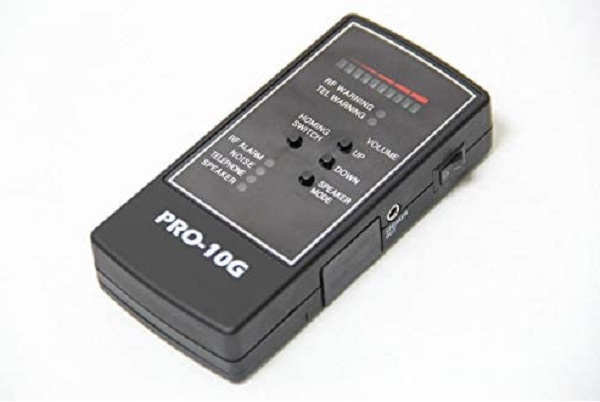 Top 4: JMDHKK Anti Spy Detector, Bug Detector, Hidden Camera
This wire detector can identify 1.2G/2.4G/5.8G cordless cameras, hidden tiny cameras, wireless audio bugs, body wires, wiretapping, phone taps, GSM/CDMA/DECT cellular audiovisual bugging devices, intrusive GPS trackers, and a variety of other bug devices and bug carriers. JMDHKK detects RF signals with a frequency range of 1MHz to 8GHz. Because of its strong anti-interface, ultra-far recognizing capacity, long-lasting power consumption, and total signal accumulation and algorithm, JMDHKK Anti Spy Detector operate wisely and effectively.
The JMDHKK RF Detector& Camera Finder combines three functions into one device.
◆ Active RF bug transmitters such as transmitting cameras, GPS trackers, and wireless audio bugs are detected using Radiofrequency signal detection.
◆ The Camera Lens Finder Camera Detector uses an innovative infrared laser-scanning sensor to track hidden pinhole cameras with a simplified check.
◆ Magnetic Field Detection is a technique for locating unwanted magnetized GPS trackers commonly utilized. Excellent for both personal and business use.
Pros

Small and light, it's convenient to take with you on your trips.
The lifetime warranty provided by JMDHKK is a plus. Their customer service team is available 24 hours a day, seven days a week, to provide expert assistance.
Cons

You won't contact them right away because their customer service personnel will respond to your complaints in 4-10 hours.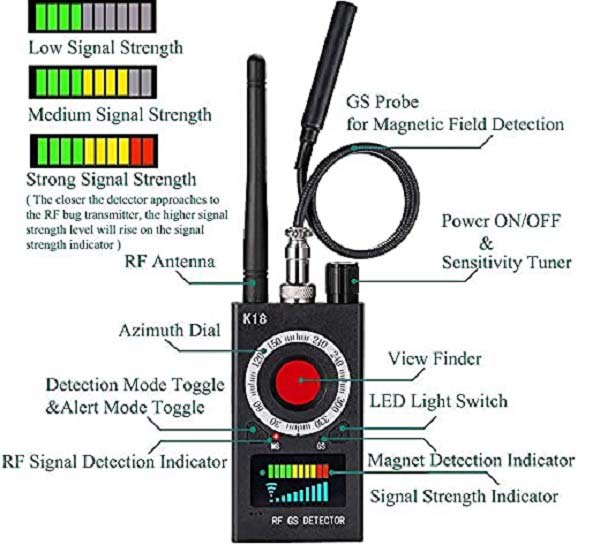 Top 5. Jeffco G4 Pro Anti Spy Detector For Wireless Audio Bug Camera
This RF signal detector is a versatile hidden camera detector and scanner that can detect snooping devices, pinhole cameras, wired and wireless concealed cameras, GPS trackers, and other gadgets. Can successfully protect your personal information from being leaked. Radio waves, 2G, 3G, and 4G mobile signals, and SIM card bugs can all be detected. The detection range is 1Mhz to 6.5Ghz. Assist you in trusting your surroundings.
Pros

The battery life of this concealed camera detector is a plus. Its rechargeable rocking chair batteries can last up to 25 hours on a single charge.
As light as a pen (just 30g). Ideal for use at home, at the workplace, on the road, and wherever.
Cons

Magnetic detection is not supported.
The sound of the alert is excessive.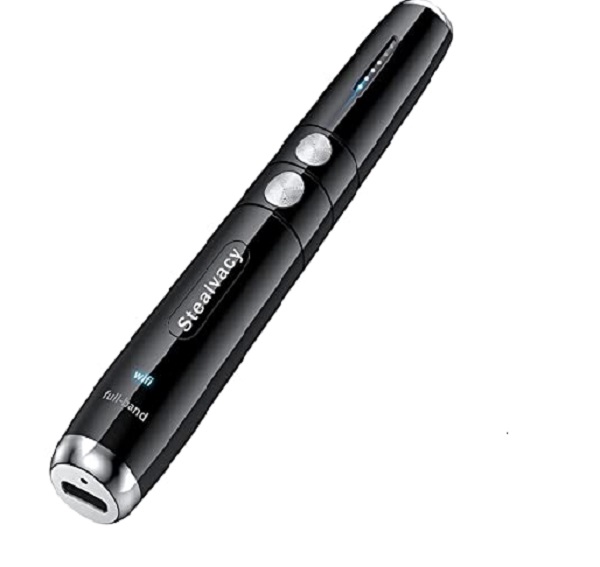 Part 2: FAQs about Hidden Camera Scanner
What is the maximum recording time of a hidden camera?

Normally hidden cameras have a recording time of 1 to 5 hours first before the battery drains. However, certain types can be hooked at power outlets and have power 24/7 a day, seven days a week. The battery's capacity and the storage page are two factors that influence how long a hidden camera can record.

Are cameras that detect hidden cameras reliable?

Experts say bug detectors made specifically, for this reason; perform better than smartphone apps for detecting hidden gadgets. To avoid recording Skype calls and more other private conversations, you have to look around beforehand.

What are the workings of camera detectors?

This sensor monitors temperature changes in the monitored region. It detects infrared heat released by humans, animals, and automotive engines operating in cooler temperatures.
Conclusion
That concludes our discussion. The most effective hidden camera detectors are listed above. It would be best to be more aware of your surroundings if you weren't terrified or scared.
Related Article