How to Export GarageBand to MP3: Here Are 2 Reliable Ways
For someone who loves podcasts or creating music with drums and other virtual instruments, then GarageBand is the perfect tool, and export the GarageBand to MP3. It is a fully equipped music creation studio for Mac Apple that has been used these days. After you've done the recording and mixing, it will be saved as an M4R file by default. However, most music applications do not support it, leading you to trouble listening and sharing it with others. So exporting GarageBand to MP3 is necessary. By the end of this post, you will learn the detailed steps and ways to convert GarageBand to MP3.
How to Export GarageBand to MP3 on Mac
The reason behind learning how to export GarageBand to MP3 is that most audio players do not support the default format. No matter how good the music you've created, it is useless if you cannot listen to it whenever you want. Let's start with the easy way how to save GarageBand as MP3.
GarageBand supports exporting music to MP3. But, this export feature to your chosen formats was moved to the 10.0.0 version and added 10.0.2 to a higher software version. So, to easily export GarageBand to MP3, ensure to have updated to the latest version, then follow the guide below.
Step 1.On your GarageBand project, click the "Share" button from the above menu. Then, click the "Export Song to Disk" button in the drop-down list.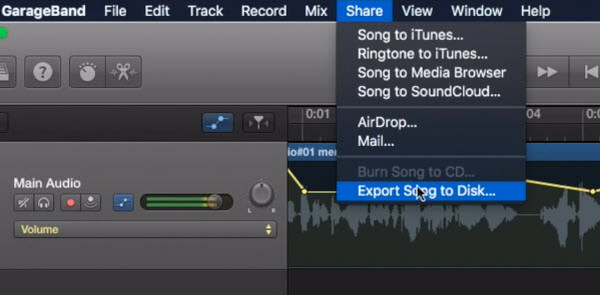 Step 2.Next, in the pop-up box, set MP3 as your target format. There will be radio buttons below for offered audio formats.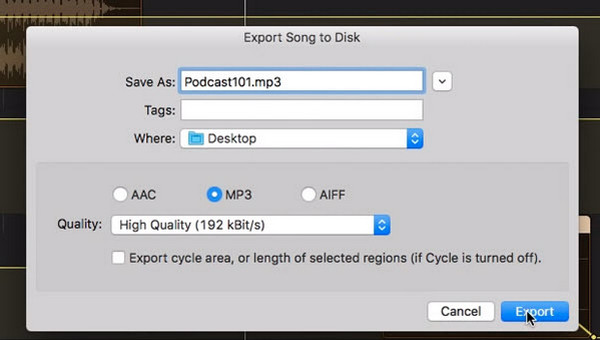 Step 3.You can edit the file name and choose a destination folder before saving it. You can then select the audio quality below. Finally, click the Export button.
How to Convert GarageBand to MP3 on Windows and Mac
If the version you're using won't let you export MP3 from GarageBand, you can use some alternatives. One is a converter that works flawlessly on Windows and Mac — AnyRec Video Converter. With this GarageBand MP3 Converter, you can convert video and audio files to more than 1000 popular formats, such as MP3, AAC, WAV, etc. You can also reduce MP3 file size after exporting the large GarageBand file.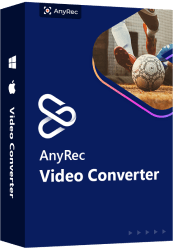 AnyRec Video Converter
Have several output formats for video and audio files.
Custom video and audio settings to get desired quality.
Add GarageBand MP3 to your video as an audio track.
Compress large GarageBand music files to a smaller size.
Step 1.On the main screen, you will see all the main tools it provides; go to the Converter tab. Import your file by clicking the "Add Files" button or dragging it directly in the middle.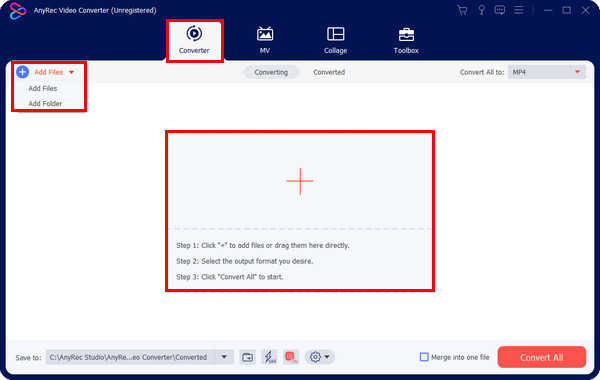 Step 2.To select MP3 as your format, navigate to Convert All to the menu to show all listed file formats and device presets. Go to the Audio section, then select MP3.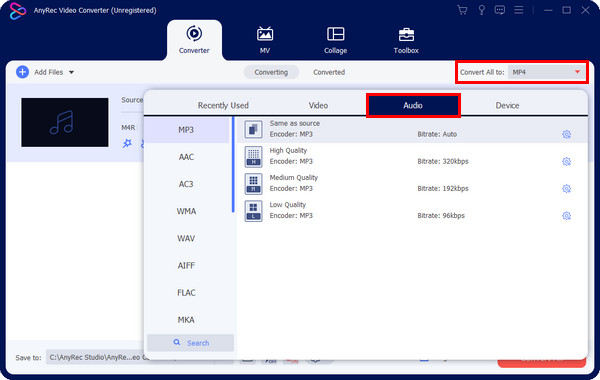 Step 3.After that, you can adjust the audio settings in the Custom Profile with a Gear icon. You can edit the encoder, sample rate, channel, and bitrate from there.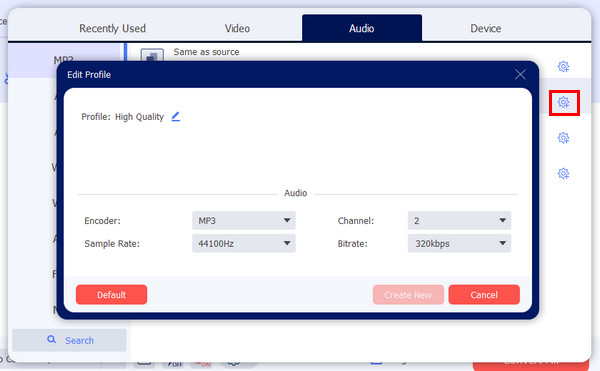 Step 4.Next, you can click the audio file to check if something is to be edited. Finally, if satisfied, click the "Convert All" button to export GarageBand to MP3.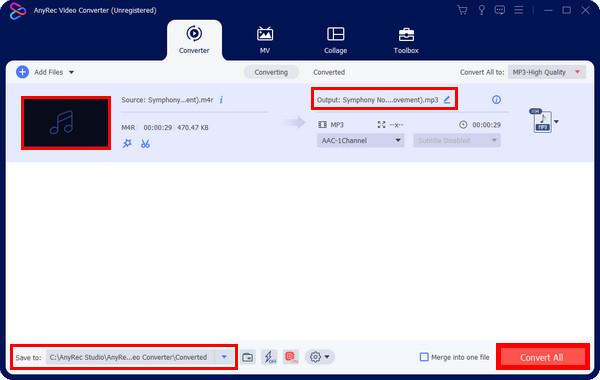 What Formats Are Supported by GarageBand
After learning how to save GarageBand as MP3 in two ways, as mentioned above, you can choose which format to export your music depending on what GarageBand you have. Aside from MP3, what GarageBand supports other formats? Fortunately, the app can export music to several audio formats and are MP3, CAF, WAV, AIFF, AAC, Apple Lossless, and MIDI files.
However, if you want to import MP3 files into GarageBand, unfortunately, you cannot. GarageBand only accepts files that have yet to be downloaded. Luckily, there's a great way to get you out of this problem! You can use AnyRec Video Converter, a GarageBand MP3 Converter, to convert files that cannot be opened in GarageBand without recording GarageBand. If you're having trouble with your MP3 file, consider converting it to AIFF or WAV, as these formats work well with Apple's editing and mixing production.
FAQs about GarageBand to MP3
Why can't some MP3 files be imported to GarageBand?

Some MP3 files have a problem opening in GarageBand since the app only plays standardized audio files. Those are the ones that have yet to be downloaded from YouTube to MP3 using a converter. However, you can convert the MP3 file to a much more supported format by Apple or change the file extension to lowercase .mp3.

Can I use Audacity to export MP3 from GarageBand?

Yes. Audacity and GarageBand are both effective in terms of editing audio files. And with Audacity, you can copy the GarageBand file you wish to convert, open it on the program, and export it as MP3. But, once you make your edit with Audacity, you cannot undo them.

Can I save GarageBand to MP3 on iPhone/iPad?

No. The process of saving your work from GarageBand to MP3 differs slightly on your Mac. And, unfortunately, GarageBand for iPhones and iPad allows you only to save music in an M4A format. However, you can use a converter to convert it to MP3 or use the Files app to assist.
Conclusion
Undoubtedly, GarageBand for Mac can produce such excellent quality music. And now, your problem with How to convert GarageBand to MP3 is solved! With the above ways, you can now quickly save GarageBand as MP3. Everyone has different ways to convert GarageBand, but finding reliable, super-fast software that offers excellent conversion features is a plus. Don't forget to give the program AnyRec Video Converter a try!
Related Articles