DVD vs. Blu-Ray Discs: Differences in Multiple Aspects
Movies can be in any central disc media format: DVD and Blu-ray. Even with the advance of technology today, the traditional way of storing movies is still used. The two formats have been in the market for a long, but what makes them different? Are there any pros and cons, or is one better than the other one? This article shows that the difference between DVD and Blu-ray has yet to be debated.
Part 1: Difference Between DVD and Blu-ray: Which is Better
Device compatibility is the first noticeable for the two media disc formats. They are only sometimes supported on all devices or depending on the installed software. This part will discuss all possible differences to help you distinguish their functions.
DVD vs. Blu-ray: Image Resolution
Keeping a high-quality video on a disc is essential since it will make watching more enjoyable. But it will be a question of which disc you must use to keep the resolution. In this category, Blu-ray has the upper hand. It is made of HD, capable of a display of 1080 HD to all Blu-ray movies. Unlike DVD, it can only show 480 SD, which is lower than expected. Furthermore, Ultra HD Blu-ray was made in 2016, allowing you to store more information in 4K resolution.
Storage Capacity
Another great thing about Blu-ray is its 50 GB of data storage capacity for a double-layer Blu-ray disc. Meanwhile, a standard DVD can only hold 4.7 GB of data to store one movie. If the video lasts two hours, you might need a double-layer or two DVDs that can keep around 9GB.
Quality of Audio
A DVD format supports three audio formats: Linear PCM, Dolby Digital, and DTS Digital Surround. Any of these formats can produce standard audio quality. On the other hand, Blu-ray includes audio formats like Dolby Atmos, Dolby TrueHD, DTS-HD, and more. It creates a crisp sound that is suitable for a home theater setup.
Laser Technology
DVD and Blu-ray use lasers to read the discs. When it comes to DVD laser, it has a red color and works at a 650nm wavelength. Meanwhile, Blu-ray is blue and works on shorter 405nm wavelengths to read information closer. The best part of Blu-ray is that the modern player can stream content directly from the internet, other devices, and flash drives.
Here is a summary of the DVD vs. Blu-ray comparison:
| | | |
| --- | --- | --- |
| Category | DVD | Blu-ray |
| Image resolution | 480 SD | 1080p, 4K |
| Storage capacity | 4.7GB, 9GB | 50 GB |
| Audio quality | Support Linear PCM, Dolby Digital, and DTS Digital Surround | Dolby Atmos, Dolby TrueHD, DTS-HD, etc. |
| Laser Technology | Red laser, 650nm wavelength. | Blue laser, 405nm wavelengths |
Part 2: How to Create DVD and Blu-ray
With all the free movies you can download online, you want your burn a Blu-ray or DVD. And whether you want a DVD or Blu-ray, some solutions can help you store movies on CDs. Here are the best tools from AnyRec.
AnyRec DVD Creator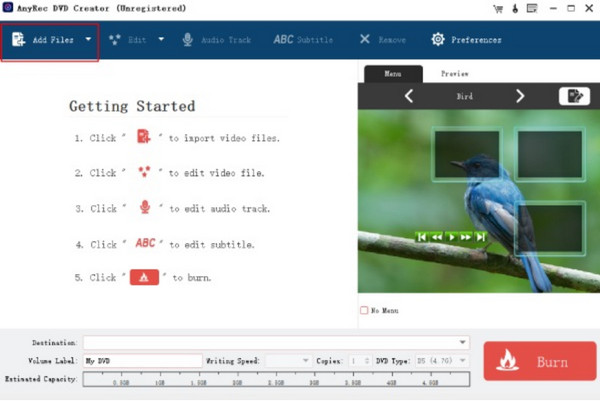 AnyRec DVD Creator lets you burn video, audio, and image files to disc, folder, and ISO files in a few clicks. It is designed to help users to create personalized DVDs with the default menu editor and functions. DVD Creator supports various video formats, including AVI, MP4, AVCHD, and so on, with supported codecs such as H.264 and H.265. Since it is a flexible app, you can burn any video, like clips from your camera, smartphone, and other digital devices.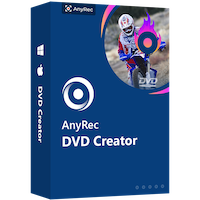 AnyRec DVD Creator
Burn videos into DVDs without losing the original quality.
Support types of DVDs like DVD-5, DVD-9, DVD-R, and DVD+R.
efault video editor to trim, merge, rotate, and apply video effects.
Enable to add new background music and a menu to categorize videos.
AnyRec Blu-Ray Creator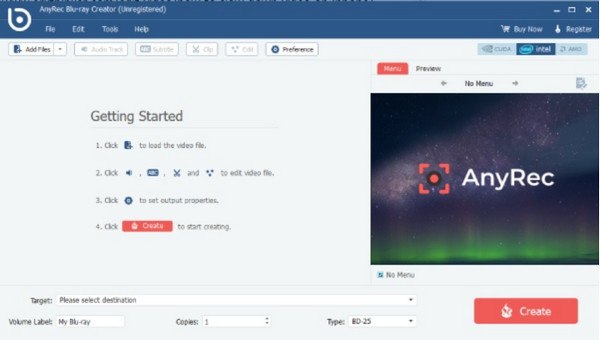 AnyRec Blu-Ray Creator is essential to keep your videos on a disc. Its intuitive interface creates a smooth workflow to burn long-hour movies or homemade. With ease and a fast-speed process, AnyRec Blu-Ray Creator can work with famous Blu-ray players such as Sony BDP-S5, Samsung BD-F, and others in a folder and ISO file. One of its valuable functions is that you don't have a disc to burn videos, but it will allow you to convert the file extension to Blu-ray formats. Download this professional Blu-ray creator on the latest versions of Windows and macOS.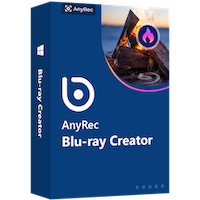 AnyRec Blu-ray Creator
Excellent video editor with default menu, subtitle, and audio settings.
Built-in menu templates for specific genres, themes, and occasions.
Support advanced Intel, CUDA, and NVIDIA AMD for a speedy process.
Suitable for batch conversion to burn multiple videos simultaneously.
Part 3: FAQs about DVD and Blu-ray
1. Does my Blu-ray player support DVDs?

Yes. All Blu-ray players support DVDs. You can still play it with a modern player if you don't want to throw or waste your DVD collections. However, it will not be the case if you don't have a Blu-ray player since a DVD laser is too big for a Blu-ray disc.

2. Who invented DVD and Blu-ray?

BDA, or the Blu-ray Disc Association, developed Blu-ray. It is a group of consumer electronics and media manufacturers with over 180 companies worldwide. On the other hand, DVD was developed by famous companies today: Sony, Phillips, Toshiba, and Panasonic.

3. How many movies can I fit on a Blu-ray and DVD?

DVD has a smaller storage capacity of 4.7GB. Depending on compression, it can store around 120 to 133 minutes of video. For Blu-ray discs, it can store nine hours of high-definition videos in 50GB. For SD or standard definition, it can keep 23 hours of video.
Conclusion
So, which is better: DVD or Blu-ray? This article discussed the differences between the two media disc formats for DVD and Blu-ray resolution, audio quality, storage capacity, and laser technology. It may sound like Blu-ray offers more features, but DVD is still the standard format for burning CDs. You can use AnyRec's DVD Creator and Blu-ray Creator for better results in burning videos. Visit the official website for more video, audio, and image editing essentials. Or you can click the download button below to start with AnyRec Blu-ray Creator first.
Related Articles: