DVD Resolution – All You Want to Know in Details
Do you want to watch discs with a high DVD resolution? While technology advances, DVDs are being left behind as all media can be watched on the internet. If you have to rip your collections to import them on your devices, you must take care of the resolution. This post will illustrate the information about DVD resolution for you. And for other specific reasons, you can also learn how to burn DVDs with other information mentioned in this post.
Part 1: What You Should Know about DVD Resolution
DVD has been an excellent way to store media files such as videos or audio, and you can find them stored usually on Blu-ray discs. But does it matter to mind about DVD resolution? Definitely, yes! DVD resolution has two standards to comply with, and the following details are all about it.
DVD resolution for NTSC is 720 × 480 with a total of 345, 600 pixels and 525/60Hz. Meanwhile, the PAL DVD resolution is 720 × 576 with pixels of 414, 720, and 576i/576p. You can use these standards on 4:3 and 16:9 aspect ratios. You can also search for a flag in the video data to see if the DVD resolution you chose is permitted under the standard. Another information that should be included in that DVD resolution is important for pixels and dimensions, so you can have a better viewing experience once you rip or burn the DVDs.
But the real point is, do you need to make the DVD resolution much higher? Although HD DVD resolution exists, it has 1280 × 720 and 1920 × 1080, and even 4K UHD, 480p is the standard resolution that allows great data information. Now that you have learned the basics about DVD resolution, is it possible to burn your videos on a disc? Let's see which tool you should use by reading the next part.
Part 2: How to Burn DVDs with High Resolution
You can still store media files on a disc with AnyRec DVD Creator. The DVD resolution is taken care of, with advanced settings to configure the desired output. The desktop tool is lightweight with a straightforward UI for an easier way to burn all your videos, audio, and photos on DVDs. It also provides the best theme presets and templates to customize the menu with frames, thumbnails, and button styles. With AnyRec DVD Creator, burning DVD is both simple and professional!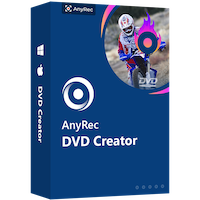 AnyRec DVD Creator
Burn DVD with output levels from low to high resolution or create in TV standard for unlimited DVD playing.
Effective built-in video editor to trim, merge, and apply effects for a better DVD resolution.
Enable users to add music backgrounds and customized watermarks with free-hand placements in any region.
Support adding subtitles in various formats such as SRT, SUB, SSA, and ASS and audio tracks.
Step 1.Download AnyRec DVD Creator from the official website. Follow the prompts to install the software on your device. Once DVD Creator is launched, click the Add Files button to import the videos in an empty disc or an external DVD drive. Alternatively, you can add a folder with multiple videos to the program.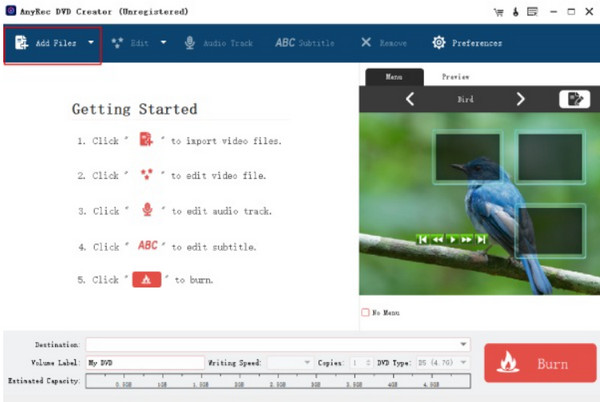 Step 2.To access the video editor, select one video from the list and click the Edit Video button from the top part. The Effects menu includes configuration for saturation, brightness, contrast, and audio volume. Ticking the Apply to All checkbox will allow you to apply the same effects on other video files. Click the OK button to save all the changes.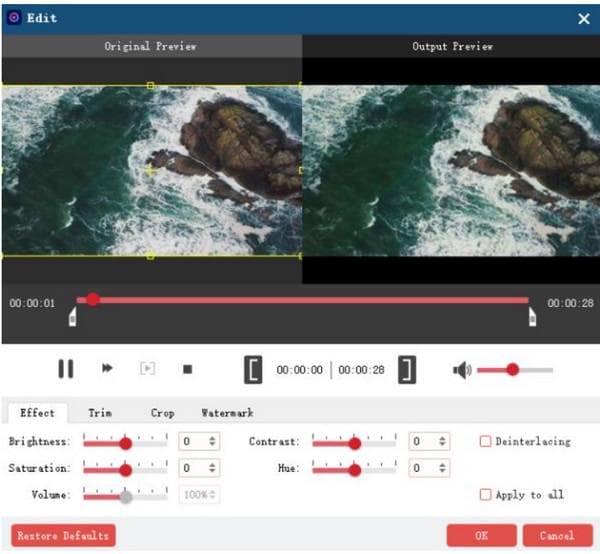 Step 3.Next, go to the trim section to cut the start and end parts of your video. You can adjust the trimming with the time spots on both ends. The Crop menu enables you to change the aspect ratio to your desired size. Then, you can create your own logo on the Watermark section with pictures, text, etc. Click the OK button to apply all the edits.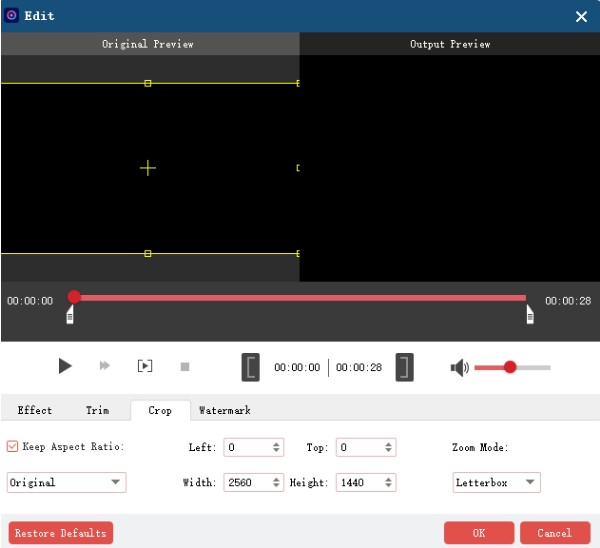 Step 4.Back from the main interface, go to the Destination menu and browse for the designated path of the output. You can also change other settings, such as Writing Speed, Volume Speed, or make DVD copies. Finally, click the Burn button to start the burning process.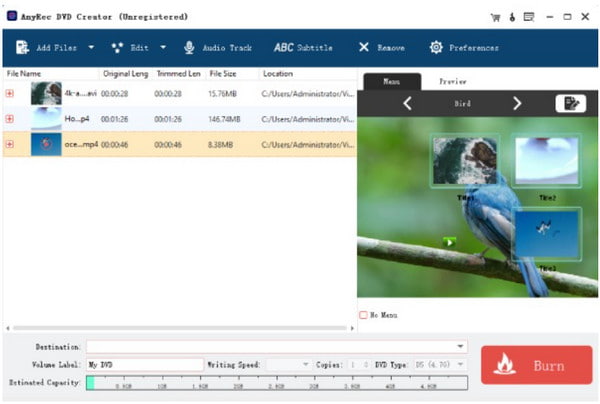 Part 3: FAQs about DVD Resolution
1. Is there a difference between DVD resolution and Blu-ray?

Yes. There is a huge gap between DVD resolution and Blu-ray, specifically in the resolution they support. Blu-ray supports a variety of resolutions, and the majority are in Full HD or 1920 × 1080p. It is over six times the resolution for DVD standards because it can deliver videos with more detailed and sharper looks.

2. Does using a higher DVD resolution good for video quality?

Yes. To have better video quality over the footage, video bitrate is more important than DVD resolution. When the bit rate of a source is low, there is a tendency for video quality degradation, resulting in a much worse scenario, such as a fuzzy image.

3. Is it suitable to use an SD DVD on an HDTV or 4K TV?

No. It is not recommended to upscale or use SD DVDs for upgraded devices. This is because visual effects depend on multiple factors, including DVD resolution, display size, and more. For example, a 480p video is enough for your smartphone, but the quality may not be apparent for HDTV and 4K TV.
Conclusion
After reading this post, you have learned about DVD resolution and which is better to use as the standard. HD resolution is an excellent method to view the upscaled video on TV, Windows, and Mac DVD players; however, it is not recommended for repeated ripping or burning. But to achieve the best video quality when burning DVDs, AnyRec DVD Creator is the best solution. Aside from being easy to use, you can also configure the output to edit and improve video quality. Click the Free Download button and burn DVDs in high quality!
Related Articles: