What Resolution is Blu-ray and How to Watch It on Laptop
What resolution is Blu-ray? Is it of the same quality as 4K? Which one should I choose? There are so many questions about this popular resolution. You must be confused by determinations before Blu-ray resolution, and there seem to be so many derivatives. All these puzzles will be answered today, here, in this article. You will thoroughly understand Blu-ray, its definition, the comparisons, and the best way to enjoy such a movie. Follow the lead of the content below and check all the answers.
Part 1: What is Blu-ray Resolution
Blu-ray resolution, or simply Blu-ray, is derived from the Blu-ray Disc – a digital optical data storage format. A video with the standard Blu-ray resolution is about 1920 × 1080 pixels. So, you may hear about the 1080P Blu-ray quite often as well. There are only two types of Blu-ray discs, 1080P Blu-ray and 4K UHD Blu-ray. Standard Blu-ray looks great. You can enjoy an excellent audiovisual experience if you have a Blu-ray movie. But the 4K UHD Blu-ray is even better, with around 3840 × 2160 pixels, which is 4 times as much as a standard Blu-ray.
Part 2: 1080P Blu-ray vs 4K UHD Blu-ray Resolution
Except for Blu-ray resolution, you may see 720P Blu-ray and 2K Blu-ray before. The former refers to video resolution instead of the Blu-ray disc resolution, and the latter is the same as the 1080P Blu-ray. Therefore, if you want a closer look at Blu-ray, comparing 1080P Blu-ray and 4K UHD Blu-ray will be enough. If you have a Blu-ray disc, the videos you see will be in high-definition 1080P resolution. As for the 4K UHD Blu-ray (4K Ultra HD), it is a whole new level with better audiovisual quality, and you will need an Ultra HD Blu-ray player to play such discs if your existing player is old. Besides a higher visual fidelity, 4K UHD Blu-ray has a broader color range than Blu-ray resolution. You can see more differences in the chart below.
1080P Blu-ray
4K UHD Blu-ray
Resolution
1920 × 1080
3840 × 2160
Codec
MPEG-4 AVC (H.264)
HEVC (H.265)
High Dynamic Range
Yes
No
Storage Capacity
66 GB (dual-layer)
100 GB (triple-layer)
25 GB (single-layer)
50 GB (dual-layer)
Region-free
Yes
A/1; B/2; C/3; ABC/Free
Color Gamut
BT.709
BT.2020
Peak Video Bitrate
40Mbps
100Mbps
The chart above shows that the 4K UHD Blu-ray outweighs Blu-ray in so many aspects. But, if you want to buy such a disc with 4K UHD Blu-ray resolution, here are some disadvantages you need to know. First, the price is relatively higher than the standard Blu-ray, while the tiles are fewer in a 4K UHD Blu-ray disc. Second, the branding also matters when choosing such discs, and the quality of different brands also varies. Last, online streaming can also meet your requirements for 4K video. Instead of buying the disc, setting up the player, and connecting it to your TV, you can directly stream video from 1080P to 4K on sites like Netflix.
Part 3: How to Watch a Movie with Blu-ray Resolution
Now, you've got so much knowledge about Blu-ray resolution. It's high time to know what things you need to enjoy a Blu-ray movie at home. All you need are a laptop, a compatible Blu-ray drive, and a powerful player on your desktop. The experience will be damaged if one of these misses. Speaking of the player, AnyRec Blu-ray Player is exactly what you need. This player allows you to browse any discs here freely and supports all kinds of DVD and Blu-ray formats. The player guarantees that your video on the Blu-ray will not be diminished, and it will present you with the original audiovisual experience.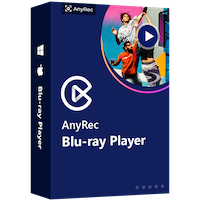 Anyrec Blu-ray Player
Play the movie with excellent all-around stereo sound.
Enjoy Blu-ray resolution videos in full extension.
Add subtitles and adjust the aspect ratio with ease.
Navigate to any chapter and previous play record.
How to Play Blu-ray Resolution Movies in AnyRec Blu-ray Player
Step 1.You need to free download and install this Blu-ray player on your computer. Then, insert your Blu-ray disc into the Blu-ray drive. Connect the drive to your computer and launch the player. If the movie does not start automatically, click the Open Disc button on the main interface.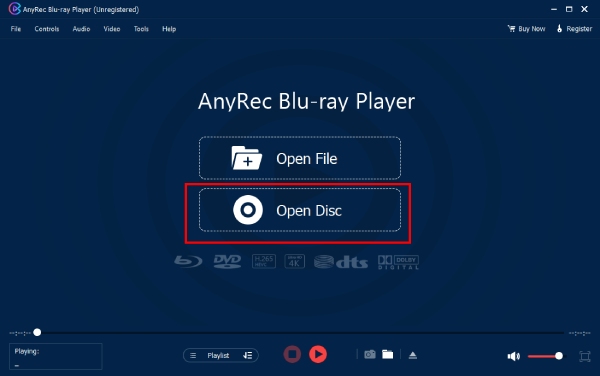 Step 2.You can adjust the playback via the playback control panel while watching your movie. For example, you can stop the video, go backward/forward, and adjust the volume. Besides, you can adjust your movie to a 4:3 aspect ratio through the Video option above.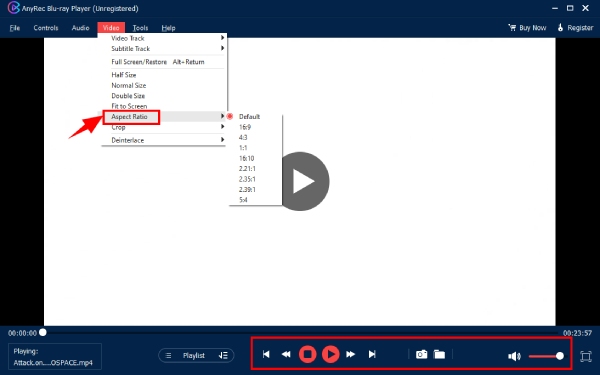 Part 4: FAQs about Blu-ray Resolution
Can a Blu-ray player play 4K UHD Blu-ray?

It depends on your player's specifications. Some Blu-ray players support 4K UHD Blu-ray discs, while some old models do not. If your player has Ultra HD, you can play your 4K UHD Blu-ray discs.

What is 720P Blu-ray resolution?

If you see something like 720P Blu-ray, it refers to the video resolution instead of the Blu-ray discs. These videos are ripped from a Blu-ray, so they are often called 720P Blu-ray.

Which Blu-ray resolution should I get?

If you have compatible devices at home like Ultra HD Blu-ray player or compatible TV and enjoy the best video quality, then the 4K UHD Blu-ray is a good choice. If you are not a fan of extremely good quality, Blu-ray can be your best choice since the discs and devices are more affordable.
Conclusion
That's all for all the fundamental knowledge about Blu-ray resolution and the necessary tool you need to play such discs at home. Hope you have gotten all the answers you need for the questions regarding Blu-ray. Now, you can grab a Blu-ray, try the AnyRec Blu-ray Player, and enjoy your time with excellent movies.
Related Articles: