Does BeReal Notify Screenshots for Posts & How to See Who Screenshotted
BeReal is a social platform that encourages people to post pictures without using filters. Does BeReal Notify screenshots? This is the first thought when they capture others' posts. These filter effects have been around social media and are mainly used to cover blemishes and lighten skin color. But since the rise of BeReal in 2020, people have loved the new concept of no filters on posted pictures. The only question is, does BeReal notify screenshots when you save others' authentic images? Let's see the answers by reading this article.
Part 1: Does BeReal Notify Others When You Take a Screenshot
The simple answer of does BeReal notify screenshots is Yes. BeReal notifies users when someone takes a screenshot of a posted picture. Unlike other social apps such as Instagram and Twitter, this newly risen app has given people the to be themselves by posting pictures without filters and other effects. It also gives the two-minute rule: the app will notify you to take a picture and post it within the given time. Moreover, front and back cameras will capture the place and activities you do now.
Since you are sharing with little time to get ready, the app made a system that protects photos by notifying you who took a screenshot. The pictures you post are only seen by friends you added, so you know in the list who might've taken the screenshot. BeReal promotes authenticity, where you can be yourself without extra filters and effects. Others may not like unflattering images, but the app encourages everyone to socialize in the best way of simplicity.
Part 2: How to See Who is Taking Screenshots of My BeReal
Besides whether BeReal notified screenshots, the real question is how to learn who among your online friends took the BeReal screenshot. The notification is more than just enough to catch the person, so you have to learn them by face and why. This part shows the detailed steps to figure out the person capturing your posted picture.
Step 1.Open the BeReal app and tap the Screenshot button from the corner of the picture. Note that the icon will be different for Android and iOS. You will see a bracket with a number inside if you are an iPhone user. For Android, the icon is similar to a camera lens.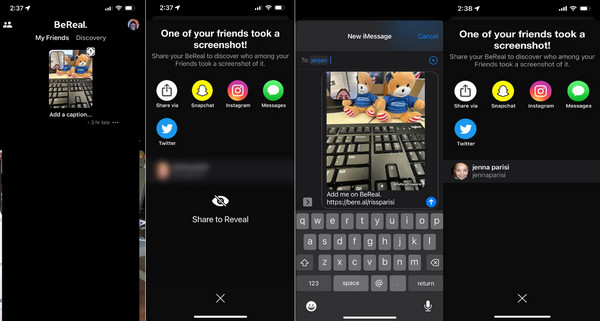 Step 2.To see who among your friends took a screenshot of the photo, share the picture with other social apps like Snapchat, Instagram, or Twitter. Other BeReal app versions will include a link that directs to your profile, but Android will show the person without additional sharing options.
Part 3: The Private Way to Screenshot BeReal Without Notification
If you want to capture someone's BeReal post without getting caught, then it is best to use AnyRec Screen Recorder. You can use this software to screenshot BeReal without notification. The desktop tool is a magnificent app that allows you to capture onscreen activities like video, meetings, gameplay, and discussion. Aside from this, it also has the SnapShot function that captures images in PNG, JPEG, BMP, GIF, and TIFF without blurry parts. With its intuitive interface, screenshots will be easier for Windows and Mac.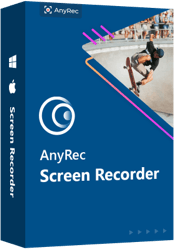 AnyRec Screen Recorder
Capture images on BeReal or other apps without notification.
Output screenshots with high quality and various image formats.
Record BeReal posts in the video without notifying other people.
Share recorded videos to social media directly on software.
Step 1.Download AnyRec Screen Recorder and install the software on your device by following the prompts until completed. Click the SnapShot button from the main interface.

Step 2.Your cursor will turn to a cross grid to take a screenshot. Click and drag the cursor to the desired area of the screen. One tap of the mouse button will also snap a picture.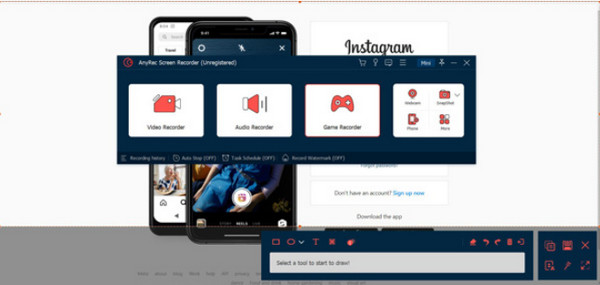 Step 3.A widget menu will appear once you take a screenshot. Use drawing tools with brushes, text, and shapes. After editing the photo, click the Save button to export the picture.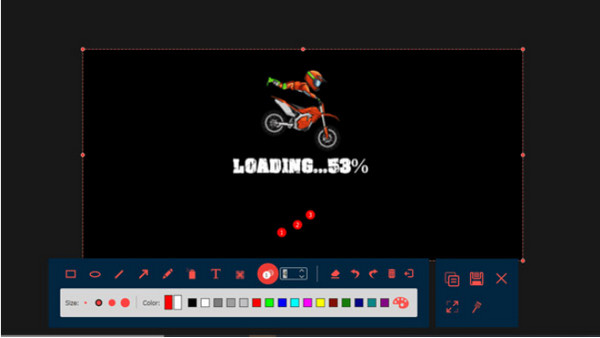 Tips
Go to the Preference menu. Under the Output tab, pull down the Screenshot Settings and select the output format of your screenshots.
Part 4: FAQs about BeReal Screenshots
1. Can I make my photos private in BeReal?

Yes. BeReal already made posting private by default. People you only added as friends can see the pictures you post daily. There is also a setting in which you can make your profile public or private to other users. In this way, only you and some friends can see posts daily.

2. What should I know about BeReal?

The social app has a different approach when it comes to posting selfies. If you love posting everything on social media but want to limit your screen time, the app only allows you a post per day. Furthermore, the front and back cameras will capture the setting, so your friends see your activity at the time.

3. How long will my friends see my BeReal post?

The allotted time for the BeReal post is only 24 hours before it disappears from the newsfeed. If you want to save the picture, the app creates a Memories function storing all previous posts.
Conclusion
This post answered the question, does BeReal notify screenshots? For safety purposes, the app forbids users to screenshot others' posts. This is to maintain a safe place while encouraging people to post their photos without filters applied to them, unlike amounts Snapchat and TikTok filters to use. BeReal is also a great alternative if you want to cut your screen time short. If you do not want BeReal to notify screenshots, you can use AnyRec Screen Recorder with the SnapShot tool to take high-resolution screenshots. Use the free trial version and see other video and audio recording features.
Related Articles: