10 Popular Audio Joiners to Create Music Mix for Cheer or Dance
While having a long drive, it is nice to listen to your favorite music while enjoying the view. But, it's quite inconvenient to switch your music when you do not want the following song. That's why you need to know the best audio joiners to merge your favorite music without having any trouble.
Fortunately, this post has gathered the best and most trusted audio joiners online and offline. They are all tried and tested for your convenience. Continue reading to find out what will work best for you!
Part 1: The Ultimate Audio Joiner to Merge Music on Windows/Mac
If you want to merge your favorite music into one file without having to consider its time limitation, AnyRec Video Converter is perfect for you! This tool is a video and audio converter, but it works well as a video editor. It allows you to merge your favorite music without time limitations, lags, and hassle. Moreover, this audio joiner has many features that are jaw-dropping and mesmerizing. If you want to know them, download this powerful tool on your device and experience it first hand.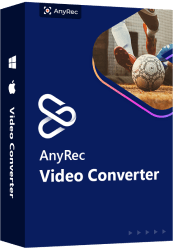 Key Features of the Best Audio Joiners for Windows/Mac:
The audio joiner merges a batch of music in just a few clicks.
Merge large files quickly with up to 50 times faster speed.
Support changing audio to other formats for different usages.
Many additional tools to clip, enlarge, and enhance the audio tracks.
Steps to Follow:
Step 1.To begin with, download and install the AnyRec Video Converter on your Windows or Mac device. Then, please open it and click the Add Files button or the Plus (+) button in the middle to add the music you want to merge. You can also combine videos.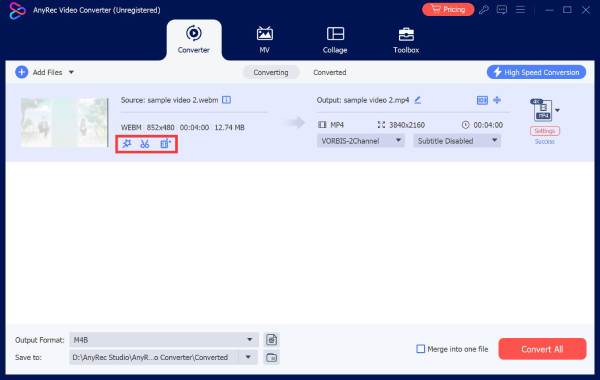 Step 2.After the files have been imported to the software, click the Cut button with the Scissor icon, and a pop-up window will appear on your screen. There, you can split your song into several segments by adjusting the starting and ending point on the Time Bar. Once finishing cutting, click the Save button.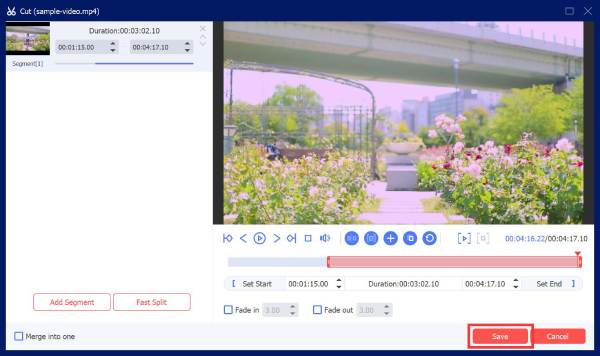 Step 3.Go back to the main interface and adjust the order in this audio joiner. Finally, enable the checkmark before the Merge into one file button to combine audio successfully. Then, click the Save To Dropdown list and choose a file location. After that, click the Convert All button to save it on your files.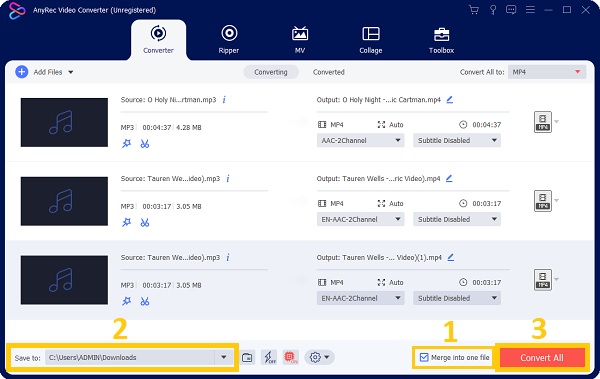 Part 2: Top 5 Best Audio Joiners on Windows/Mac You Should Also Know
Aside from the most potent tool introduced above, you can also consider the following audio joiners on Windows or Mac below. Take a look at each app and see if one can meet your preference.
1. Audacity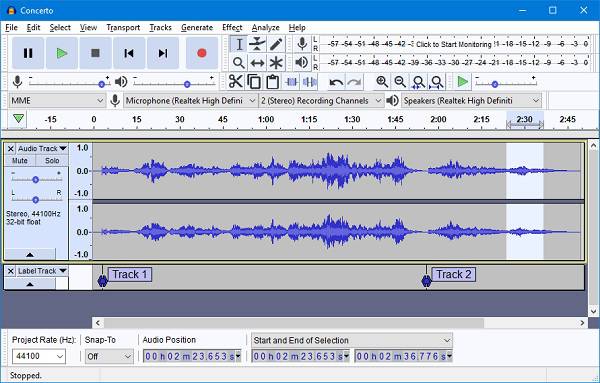 A well-known audio joiner provides reliable tools for editing and combining audio files. By looking at its interface, you can immediately notice that it is a professional audio mixer and MP3 louder. With that being said, newbies might get a hard time utilizing it.
Pros
Change the tempo and speed of the music without affecting the pitch.
Allows you to record an external microphone.
Cons
It lacks loops, sequencers, and a music-making interface.
2. Joyoshare VidiKit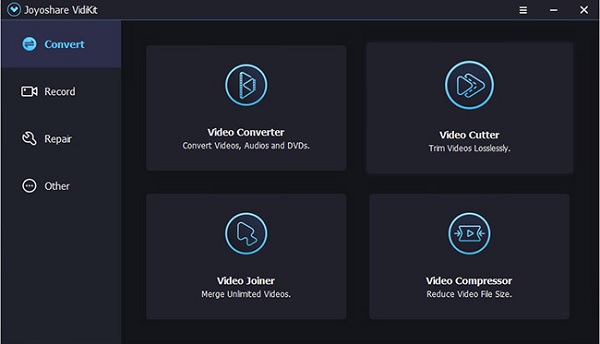 Joyoshare VidiKit, a versatile audio joiner, includes a powerful merging feature for smoothly joining videos and audio files. It can merge a significant number of audio files into a single one at an incredible 60X speed. As a bonus, you may save your merged audio file in MP3, M4A, AC3, OGG, FLAC, WAV, M4B, and so on to fashionable devices.
Pros
Audio files of any size can be joined in a single batch.
Customize the codec, bitrate, channel, and other parameters.
Cons
Only up to five audio files can be joined using the trial version.
3. Wavepad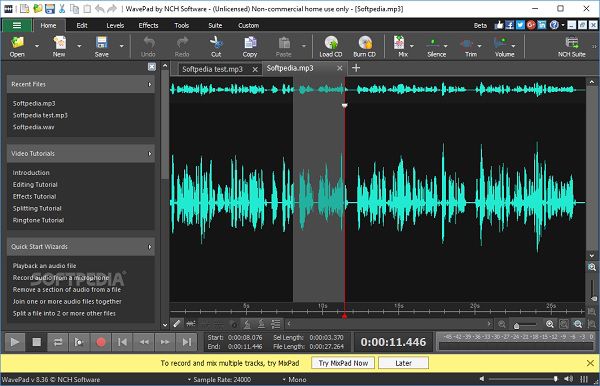 When dealing with many audio files, WavePad is another audio joiner that you can use. Auto-trim and compression of imported audio are also supported. Moreover, the sound quality of digital audio can be improved through audio interpolation.
Pros
This audio joiner is equipped with a built-in burner.
It includes sound effects, filters, and a sound library.
Cons
It's too complex for the average person to use.
4. MixPad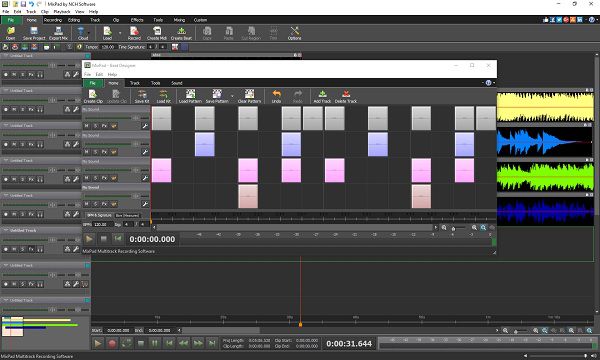 MixPad is an audio joiner that you can use to mix and record all kinds of audio files, including voiceovers and music. Moreover, adding audio effects like EQ, reverb, compression is possible while merging audio files with this audio merger.
Pros
It is possible to save a mixed audio file as an MP3 and burn it to CD.
Enhance your audio files with a wide range of effects.
Cons
The graphic equalizer is unavailable.
5. MP3 Toolkit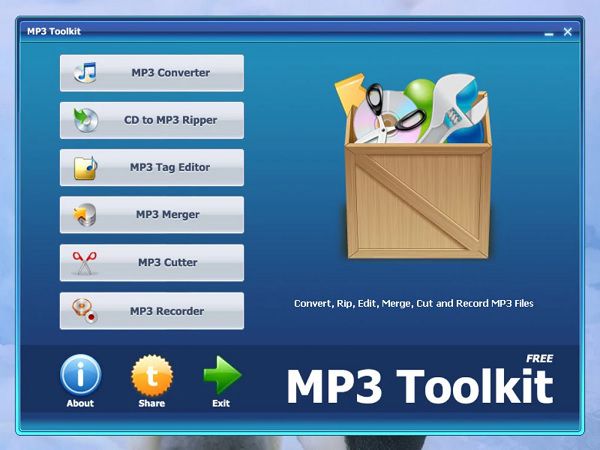 MP3 Toolkit is an excellent audio joiner for merging audio files. It has an MP3 joiner that allows you to combine all of your favorite portions into one. Additionally, this program's feature set includes an mp3 ripper, cd converter, tag editor, mp3 merger, mp3 cutter, and mp3 recorder.
Pros
A wide range of file formats is supported.
Audio bitrate and audio channel can be changed in the settings menu.
Cons
It's a little challenging to use.
Processing multiple files at once is not free.
Part 3: 4 Easy-to-use Online Audio Joiners to Combine Audio Files
In this section, you can see the best online audio joiner to merge your music into a single file. But please keep in mind that online platforms may have a lot of irritating advertisements and may have limited features. Without further ado, you may take a look at the audio joiners online below.
1. Clideo
Clideo's user-friendly interface makes it suitable for users with no prior experience merging audio files. You can upload as many files as you want using this audio joiner. Moreover, after uploading the files from your computer and opening the editor, you can merge them.
Pros
Many popular audio formats are supported.
When merging music files, use crossfade to transition between them.
Cons
You'll need Internet connectivity.
It does not allow you to split files.
2. Audio Joiner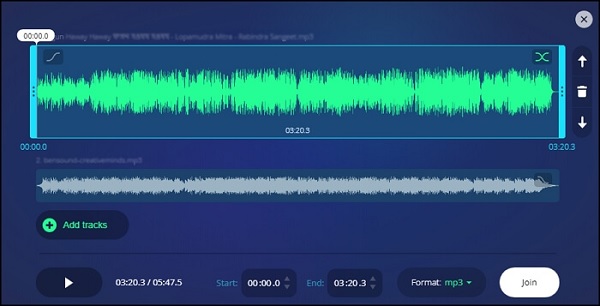 If you want to combine several audio tracks into one, you can use Audio Joiner to do it. You can mix and match songs and crossfade between them. The files on your computer can be added by browsing or by using the drag and drop method.
Pros
The tool can read more than 300 types of files.
You can add songs from its online library.
Cons
There is no way to split and add audio to another video.
3. MP3Cutter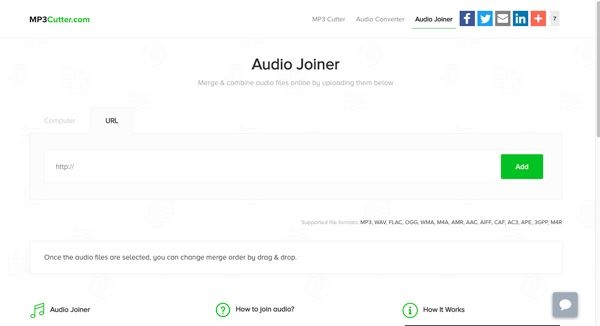 This audio joiner online tool lets you combine audio files in different formats, like MP3, WAV, FLAC, AAC, and many more. You can use it to merge audio files that are in various formats. In the interface, files that can be added from your computer and a web address can be added. As another way of adding files, you can also drag and drop them on top of the screen.
Pros
Provide fade-in and fade-out or crossfade to add transition.
You can also upload audio files from your computer and URLs.
Cons
It only works with a few types of audio files.
4. Animotor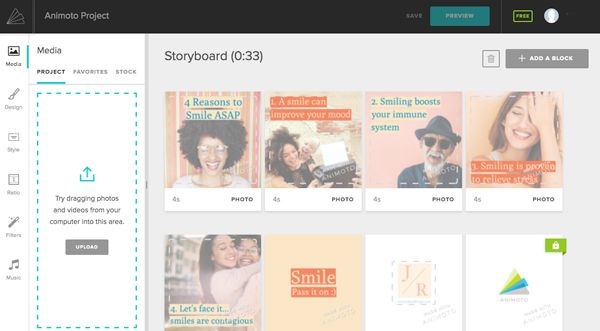 Animoto is more than just an online audio joiner tool. You can tell a story with the audio, videos, and images you use in the program. You need to set up an account to utilize the free and personal services, which offer more than 350 songs. It is a service that lets you make a video slideshow and a custom presentation in the cloud.
Pros
Adjust the audio volume, loop the audio, and even get free lyrics.
Most of the audio and video formats are supported.
Cons
This tool lags frequently.
Part 4: FAQs about the Best Audio Joiner
1. What is an audio joiner?

Audio joiners are tools that allow you to merge two, three, or more audio into one file. They are being used if you are tired of switching songs from one to another. Audio joiners can also be helpful if you want to remix songs and use them in dance competitions or projects.

2. Is there any audio joiner for Android/iPhone?

Of course, you can find many audio joiners on Google Play and App Store, including Audio Editor Tool, Handy Audio Editor, etc.

3. How can I merge audios online?

If you want to merge online, you can utilize Clideo Audio Joiner. Go to the official website, then click the Choose Files button. Then, click the Add more files button to upload more files to merge. Then, click the Export button, and you are all done.
Conclusion
To sum it up, this post has given you the ten best audio joiners available both online and offline. Which among them suits our needs? If you're still unsure about it, you can try using AnyRec Video Converter. It will not just make your merging audio easy, but it will also give you excellent outcomes without putting so much effort.