Ultimate Guide to Convert WLMP to MP4 [Step by Step]
WLMP is a project file used by Windows Movie Maker. This file may contain effects, music, and transitions related to slides or movies. But you must convert WLMP to MP4 or other formats for playback on a popular media player or computer. Here are 5 easy ways with specific steps for desktop or online. After reading, you can share the four WLMP to MP4 converters with your friends!
Part 1: Top 2 Methods to Convert WLMP to MP4 [Windows/Mac]
Top 1: Windows Live Movie Maker
Windows Live Movie Maker is comparable to Apple's iMovie. It provides the ability to create and edit videos and enables you to publish videos on Facebook, OneDrive, YouTube, and other platforms. Moreover, you can use this tool to convert WLMP to MP4 or WMV. However, sometimes during the conversion process, audio and video may be out of sync, and audio loss and other problems. And it has no editing function to let you edit the video.
Step 1.You must launch Windows Live Movie Maker on your computer. Then click the File button in the upper left corner to choose the Open project option from the list to upload your WLMP file.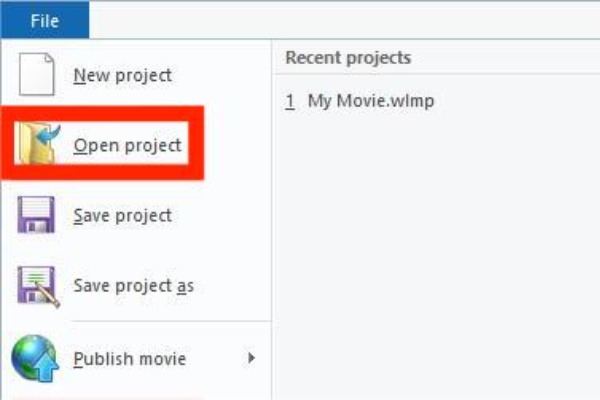 Step 2.After uploading, you should click the File button again and choose the Save movie option from the list.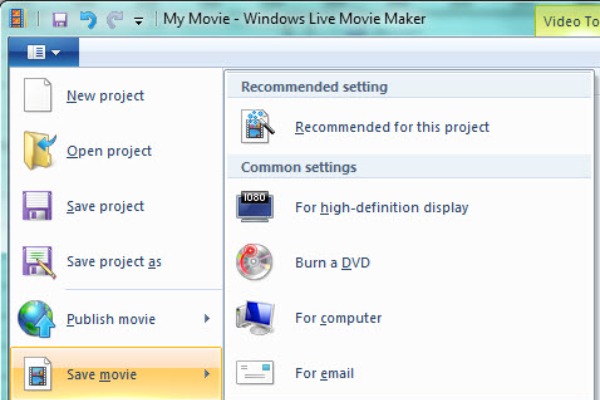 Step 3.Lastly, you can choose the MP4 format from the Save as Type. Then click the Save button to convert WLMP to MP4.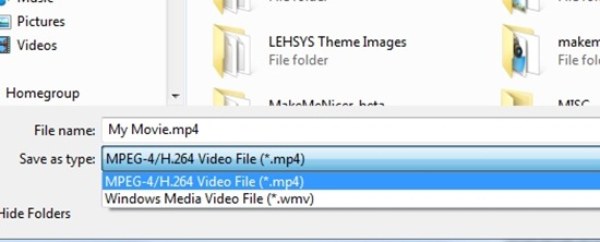 Top 2: Handbrake
Handbrake is a famous video converter that supports converting various video formats, including converting WLMP to MP4 for free. It provides many preset conversions to different formats with various settings. Meanwhile, you can also set encoding, apply effects, adjust frame rate, cut too large video, etc. However, the conversion speed of this WLMP to MP4 converter is slow, and the homepage is complex and unfriendly to novices.
Step 1.Download Handbrake on your Windows or Mac, and click the Source button at the top to import your file.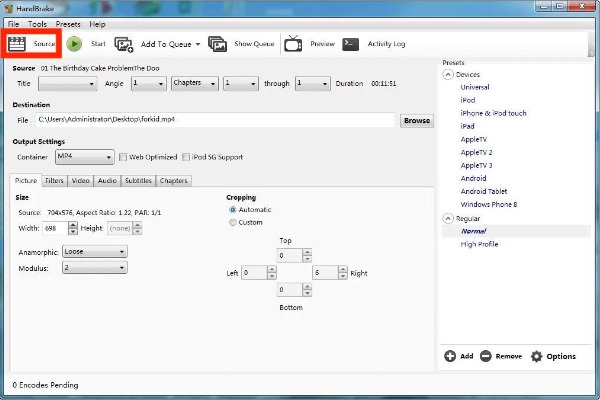 Step 2.After that, you should click the Browser button to choose the output path. Then choose the output format by clicking the Container button.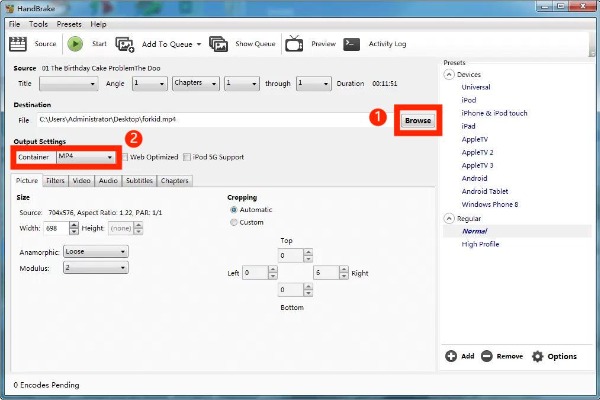 Step 3.The last step is to click the Start button at the top to convert WLMP to MP4.
Extra Tips: Professional Tool to Convert Videos to MP4 with High Quality and Powerful Editing Features
If you want to convert other formats (like WMV, WebM, and TS) to MP4 without quality loss, you can try AnyRec Video Converter. It provides more than 1000 formats, and many preset to convert the video to MP4 without hassle. This excellent tool is a video and audio converter and can be used as an editor. It supports rotating, flipping, cropping video, trimming, merging, and adding watermarks. The most important thing is that it supports fast lossless conversion, and you can customize the video quality to 720p, 1080p, and 4K.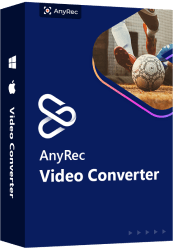 AnyRec Video Converter
Provide 1000+ formats to convert videos to MP4 without watermark.
Support batch conversion to convert multiple files to MP4 at once.
Powerful editing tool to add effects and filters to video.
High-quality conversion by customizing the settings, like resolution and bitrate.
Part 2: 2 Ways to Convert WLMP to MP4 #91;Online]
Is there an online converter that supports the conversion of WLMP to MP4? Yes! This article recommends two free online converters for you. You can easily realize the conversion without downloading any software.
Method 1: Zamzar
Zamzar is a popular online converter that supports more than 1100 formats. This powerful online tool can convert video, audio, image, and document. You also use it as a WLMP to MP4 converter. Unfortunately, it supports a maximum file size of 100 MB and has no editing function.
Step 1.Search Zamzar on the browser and open its official website. Then you can upload your WLMP file by clicking the Choose Files button.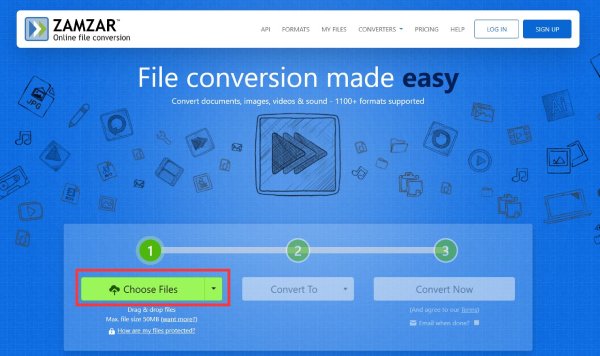 Step 2.Click the Convert To button to choose MP4 from the list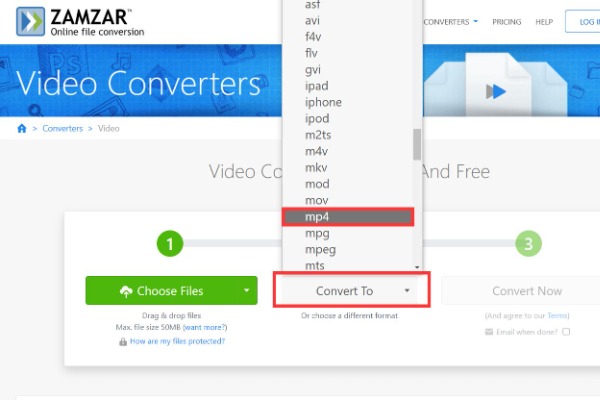 Step 3.Finally, you can click the Convert Now button to convert WLMP to MP4. Then click the Download button to save your video file.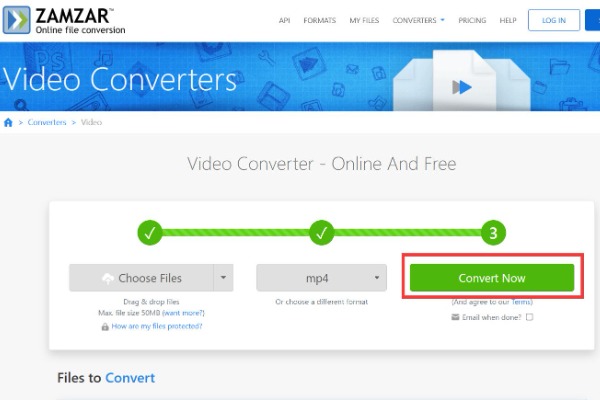 Method 2: Online-convert
If you want to get a WLMP to MP4 converter with advanced settings, Online-convert is a nice choice you can try. This amazing online converter allows you to set the screen size, bitrate, and frame rate. Moreover, this online WLMP to MP4 converter also provides essential editing features, like cutting, cropping, and flipping. However, the size of uploaded files is limited, and every conversion is not guaranteed to succeed.
Step 1.Open Online-convert's official website on any browser and choose the Video Converter. Then you need to select the Convert to MP4 option from the webpage.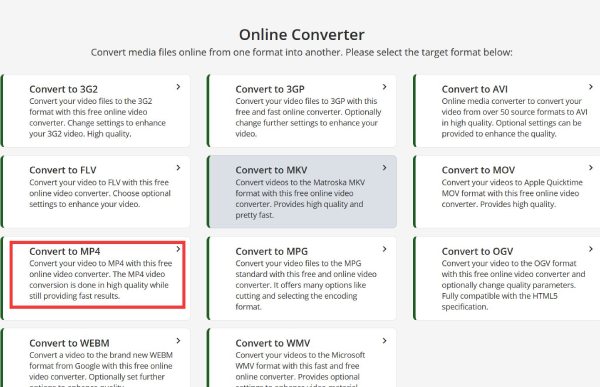 Step 2.You can import your WLMP file by clicking the Choose File button. You can upload the file from the computer, URL, Dropbox, and Google Drive.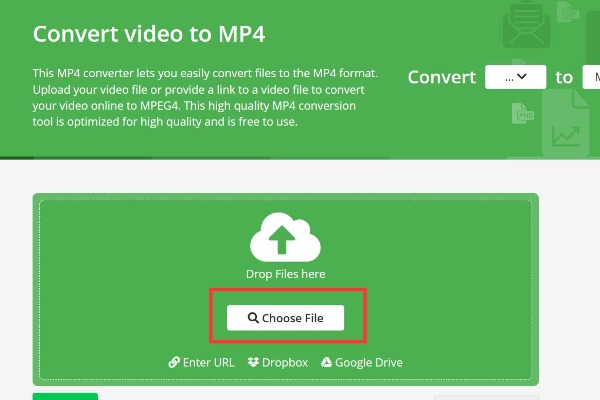 Step 3.Slide the page down, and you can see the Optional Settings. You can change the screen size by adjusting the width and height.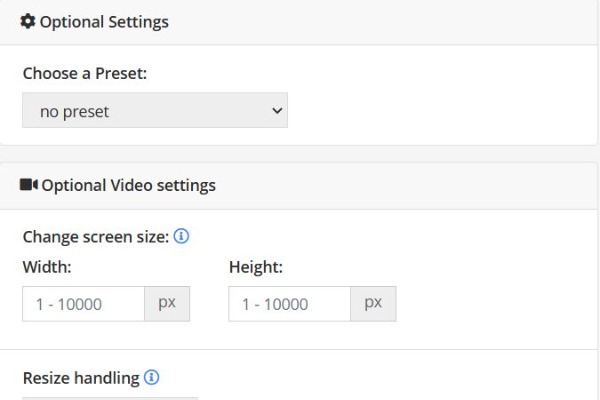 Step 4.Convert WLMP to MP4 by clicking the Start button. After conversion, click the Download button to save your video.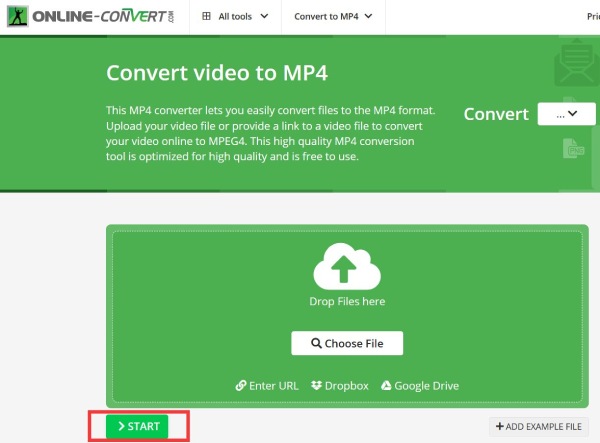 Part 3: FAQs about WLMP to MP4
How can I open the WLMP directly?

You can open WLMP files directly using Windows Live Movie Maker. In addition to this player, you must convert WLMP to MP4 or other formats to play on other players.

How do I play WLMP files on Windows 10/11?

The only program that can play WLMP files is Windows Movie Maker. However, it has been discontinued and is no longer pre-built on Windows 10/11 PC. Fortunately, you can download the Windows Live Essentials 2012 installer to restore Movie Maker 2012.

What is a WLMP file?

WLMP files are project files created by Microsoft's Windows Movie Maker program. It does not store all actual media files but stores music, effects, and transitions related to movies or slides.
Conclusion
These are all the converters that convert WLMP to MP4, including Windows, Mac, and online. As you can see, even if you are new to video conversion, it is very easy to convert WLMP files. With WLMP to MP4 converter, you can play videos created by Windows Movie Maker on your computer and mobile device without worry.
Related Articles