Top Cameras to Shoot 4K 60 FPS Videos and Best Tool to Upscale Them
4K and 60 FPS are the video's profile settings. The higher the number, the clearer the video's resolution and quality. You can see many websites that provide the 4K videos for you to watch. And you may not know what 60 FPS is. But do not worry. This post will give you everything you should know. And there are some cameras recommended for you to capture 4K and 60 FPS videos. Moreover, if you want to upscale your videos to 4K, a tool is introduced to help you.
Part 1: What is 4K 60 FPS
4K is a resolution for videos. It means the horizontal pixel values per row are close to 4096. This UHD resolution can provide a theater experience when you watch videos at home.
And FPS refers to Frames Per Second. It means how many images can be refreshed and appealed to per second on your screen. The higher the FPS is, the more fluent your screen is.
So 4K 60 FPS means the 4K resolution video has 60 FPS. This configuration can clearly capture and show almost every detail in the video. If you want to shoot these high-resolution videos, you need some special equipment. And if you want to upscale your video to this resolution, you also need some special software. You can read the rest two parts to learn from this.
Part 2: How to Shoot 4K Videos at 60 FPS
You need suitable cameras if you want to shoot videos in 4K at 60 FPS. This part will introduce you to some hit camera models who can do it.
1. Panasonic GH5
Panasonic has a series of cameras that can shoot 4K videos at 60 FPS. G5 is a basic model you can choose from. And the range of FPS choices on this camera device is extensive. You can choose from 24 FPS, 30 FPS, 50 FPS, 60 FPS, etc. And it has Waveform Monitor and Vector Scope, two powerful features for professional photographers.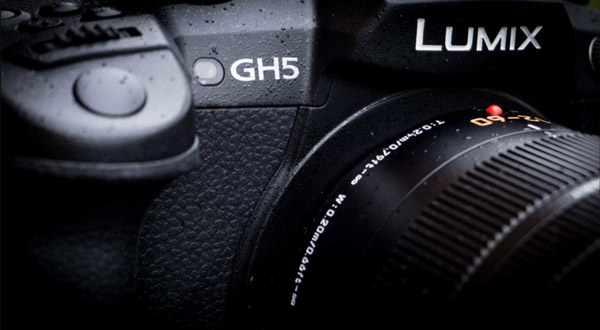 2. GoPro Hero11 Black
This is the best device to shoot 4K and 60 FPS videos that GoPro published in 2022. This device even could capture videos with 4K at 120 FPS. So, it is an easy piece for GoPro Hero11 Black to shoot 60 FPS videos. And this model can shoot videos with higher quality in low-light conditions. The smoothness of videos is also contained in this GoPro model.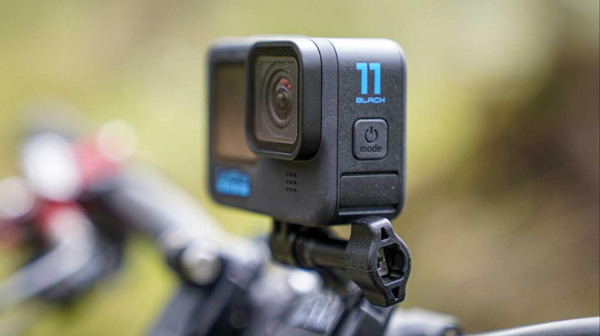 3. Sony A7 IV
Sony A7 can shoot 4K videos at 60 FPS in Super 35mm mode. But if you want to use the entire sensor area, you can only shoot 30 FPS videos, but the highest resolution can reach 7K. And the most powerful feature of this camera is its heat-dissipating design. You can capture 4K and 60 FPS videos that last for one hour without getting hot.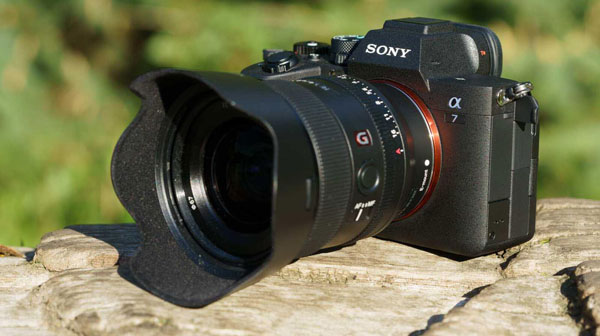 4. Fujifilm X-H2S
This powerful camera can easily record 4K and 60 FPS videos. It can record 4K videos in 240 minutes without making the device hot. And this powerful camera could even record 6K and 7K videos. Moreover, there is an HDMI port in the Fujifilm X-H2S. You can also use videos on an external device and use a 4K screen recorder to record them.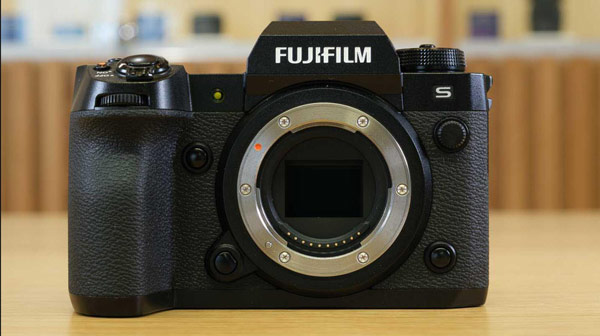 Part 3: Use AnyRec to Upscale Videos to 4K and 60 FPS
If you cannot capture 4K at 60 FPS videos, you can use AnyRec Video Enhancer to upscale the resolution and FPS. Or if videos are not clear enough to watch, you can also use this software to upgrade the quality. This software could help you upscale any era of your video from 720P to 1080P, 1080P to 4K.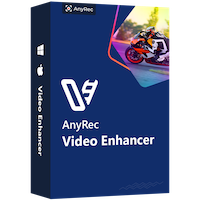 AnyRec Video Enhancer
Improve the resolution of any era on your video to 4K.
Reduce video shaking when you capture 4K videos with a camera.
Add more effects like making 3D to your 4K videos.
Lighten up your videos if you capture them in low-light conditions.
Step 1.When you launch AnyRec Video Enhancer, there is a simple guide on the main screen. You can click the Add File button to add your video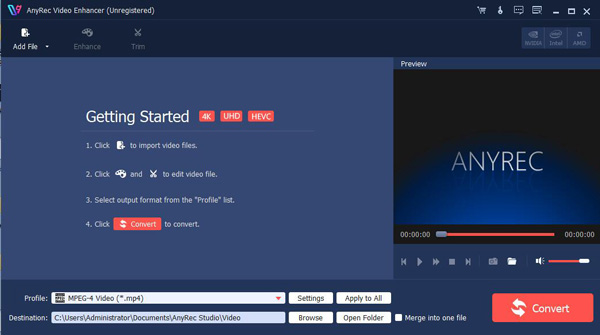 Step 2.After adding the video, click the Enhance button. And there are four options for you. You can click the Upscale resolution button to improve quality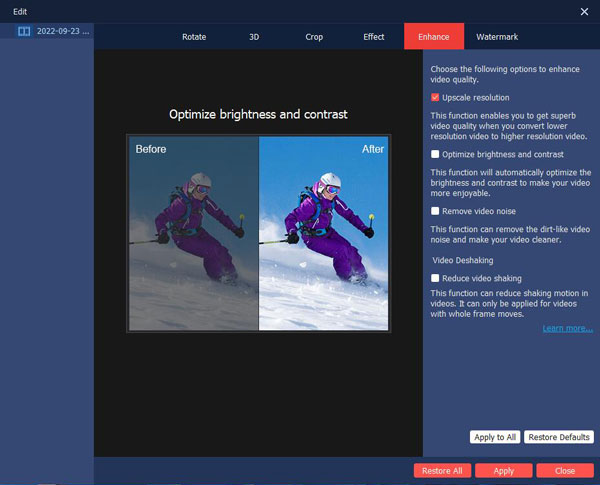 Step 3.You can click the Settings button to change the frame rate of your video. In the Video Settings section, there are many frame rate choices for you to choose from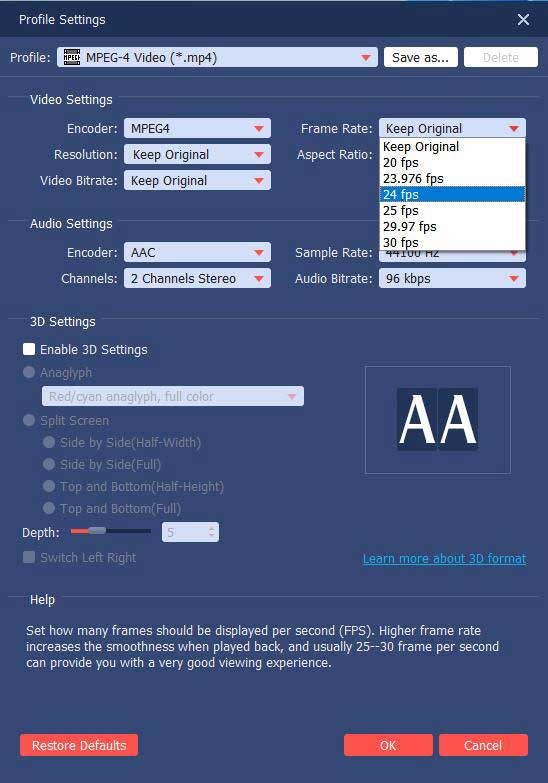 Step 4.When all the settings are done, you can choose the destination of your saved video. And then, you can click the Convert button to finish enhancing your video
Part 4: FAQs about 4K and 60 FPS
How much space for 4K at 60 FPS videos will take?

There will be much space being taken by 4K 60 FPS video. A 4-minute video clip will take 4 or 5GB.

What is the best video to watch 4K 60 FPS videos?

You should find the player which supports 4K videos. Like AnyRec Blu-ray Player, you can play 4K videos smoothly with quality.

Can I play 4K 60 FPS videos on YouTube?

Yes. And the highest frame YouTube supports is 60 FPS. You can play them with high internet speed.
Conclusion
Now, you must know what 4K and 60 FPS are. And with the recommended cameras, you can capture videos with high resolution and FPS. But if you cannot record high-resolution videos, you can use AnyRec Video Enhancer to upscale videos to 4K.
Related Articles