Video Compressor Review – Find the Best Apps to Compress Videos on Smartphones
To save more videos to your smartphone, a video compressor is a nice choice to reduce the size of videos. Whether you need to shrink the videos for the capture videos or downloaded movies, what are the best video compressor apps for Android and iOS? Here is the review you can find the best apps to get the desired video. And now, without further ado, let's take a look.
Part 1: Top 12 Best Video Compressor Apps on Android/iPhone
Top 1. VidCompact (Android)
VidCompact is a top-rated and free video compressor app to compress, crop, and convert videos on Android. It works with any video regardless of its format and size. The easy and intuitive interface and a faster compression process make VidCompact a popular tool among the masses. Similar to some other video compression apps, it supports a batch compression function to cope with the task faster.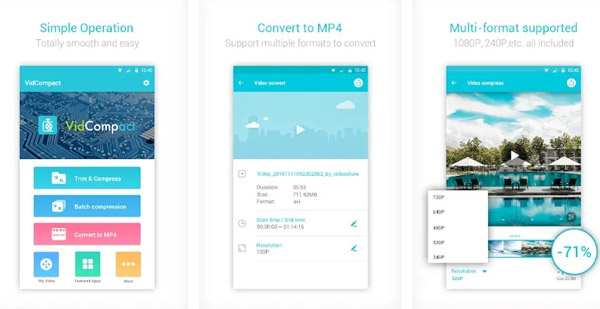 Top 2. Resize Video (Android)
Resize Video claims to be the best video compression app that reduces the video file size without compromising the quality. You can choose the video size, or trim the length of the video before starting the compression process. It can remove audio from the video or add music according to your choice. Once the compression is complete, you can just share the video on social networks with your friends at once.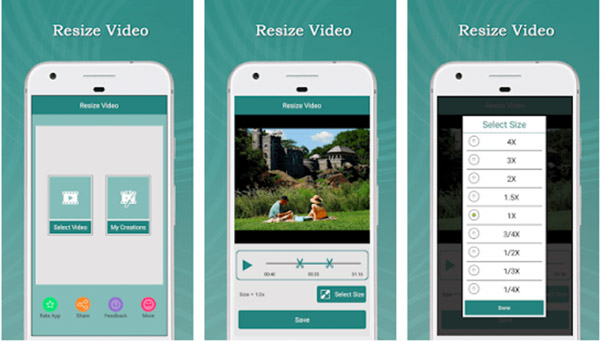 Top 3. Video Dieter 2 (Android)
Video Dieter 2 is a multifunctional video compressor for Android with a beautiful interface. It's loaded with multiple amazing features, which include sharing on social media, trimming a video clip, and adding/removing audio from the video. You can quickly compress video clips and choose the output resolution easily. Moreover, the app also allows you to personalize images by offering 24 photo filters.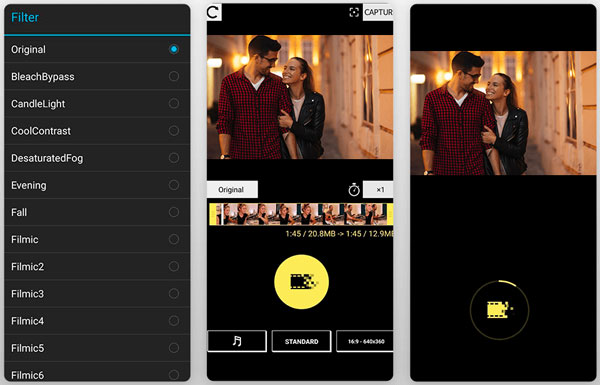 Top 4. YouCut (Android)
YouCut is an all-in-one video compressor app with a bunch of features other than just compressing the videos. With this app, you can transcode, trim, cut, and share the videos directly to Facebook, Twitter, YouTube, Instagram, etc. It supports multiple video formats and aspect ratios for the video output. You can use advanced technology to save more than 90% size without losing much quality.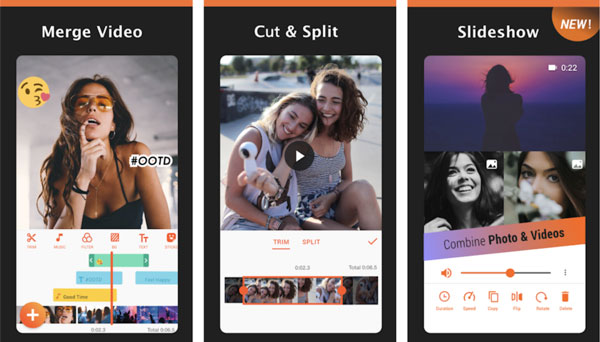 Top 5. Video Compressor Panda (Android)
When you resize your videos without hampering the original quality, Video Compressor Panda is a great video compressor app that is integrated with compression and editing functions. It supports you to merge, cut, trim, and edit videos with transition filters. In addition, you can get compressed video without a watermark. It supports multiple video formats, such as MP4, AVI, MKV, FLV, RMVB, 3GP, MPEG, WMV, and MOV.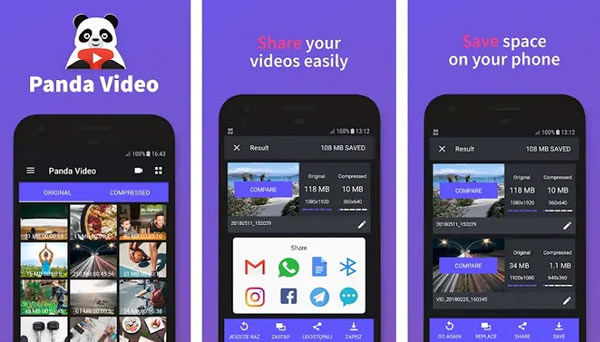 Top 6. Video Compress (Android)
Video Compress is the desired video compressor app to shrink video size and extract audio files. It enables you to adjust the video quality in different compression, which you can save up to 80% storage space. It supports all kinds of video formats and allows you to remove audio if you want. Moreover, you can also share the compressed video via the social media websites within the application directly.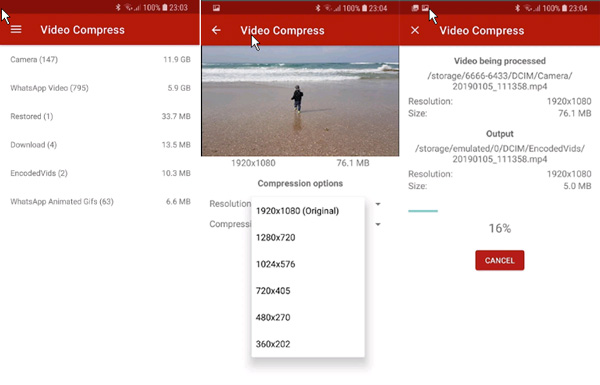 Top 7. Desqueeze (iOS)
Desqueeze is an efficient app that automatically detects clips in the memory of your phone and immediately displays exactly what you can compress. The video compressor app for iOS provides built-in compression templates, set the different bitrates/dimensions for video compression, and plays videos on the Main and Result screens within the program. In addition to the videos, the application also works with images.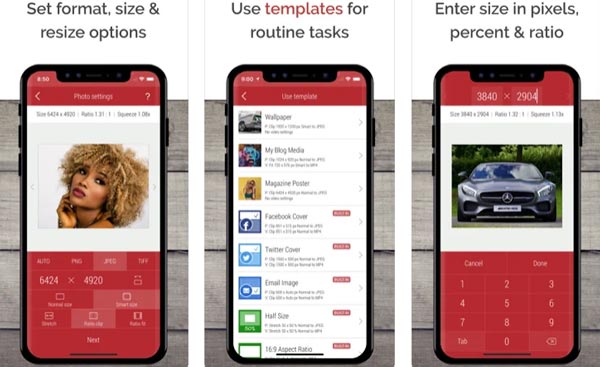 Top 8. Compress Video & Resize Video (iOS)
Just as the name of the video compressor app, it is capable of editing videos other than just compressing and resizing them. It supports a wide range of video formats, including MP4, M4V, MOV, H.264, MPEG-4, and HEVC. But Compress Video & Size Video is free for download with in-app purchases. You can get the ad-free experience, edit the video files, and explore more features with the Pro version.
Top 9. Video Compressor & Editor (iOS)
Video Compressor & Editor has a simple user interface and commendable features. It allows you to trim, crop, cut, split, and merge videos on your iOS devices. You can choose different resolution options for HEVC and H.264. Multiple bitrate options and preview operation are provided as additional features for users. Moreover, the video compressor app also enables you to reduce video sizes via frame rate.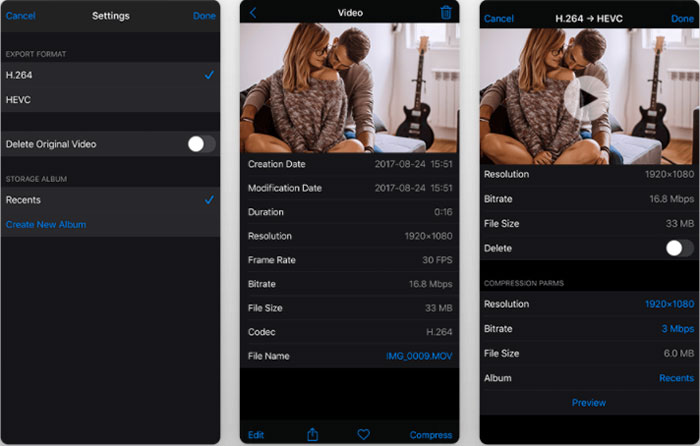 Top 10. Video Slimmer (iOS)
Video Slimmer is a great blend of editing and compression apps for videos. You can adjust the video size and quality parameters easily. Moreover, you will be able to merge short videos or split long videos. It can reduce the video size by up to 80% of storage and supports batch conversions. You can adjust video dimensions, video file size, and video quality with various optimized presets in clicks.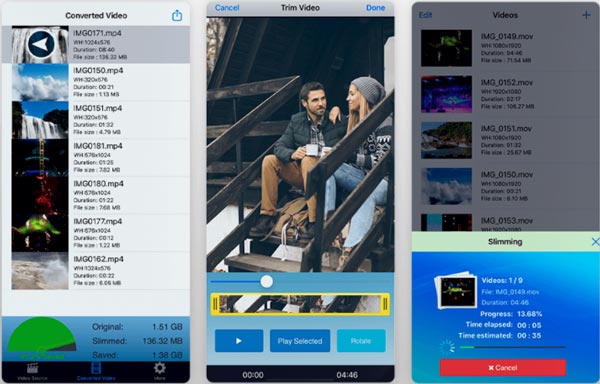 Top 11. Video Compress - Shrink Vids (iOS)
Video Compress - Shrink Vids is an iPhone video compressor app that works with multiple files at the same time. It enables you to preview the disc space before/after compression, select the video resolution, speed, compression level, as well as the quality before compression with your choices. It supports 4K videos that have been recorded with the iPhone and offer the removal of the original video to save space.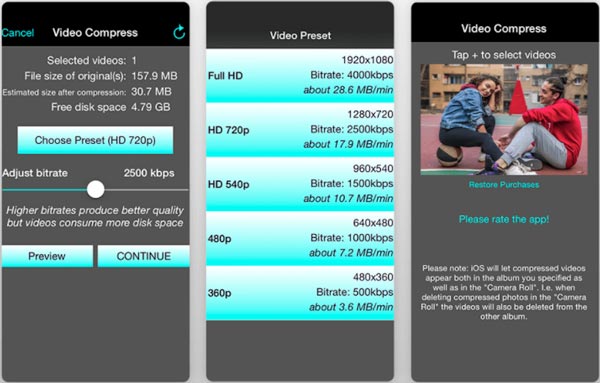 Top 12. Video Compressor (iOS)
Video Compressor is one of the most popular iOS video compress apps on the App Store. Depending on the quality of conversion and the original file size, you may be able to reduce the video for Instagram. It will display the video size directly, which you can adjust the bitrate, frame rate, and more settings, or set the compression rate to share the videos with others or send them via an Email.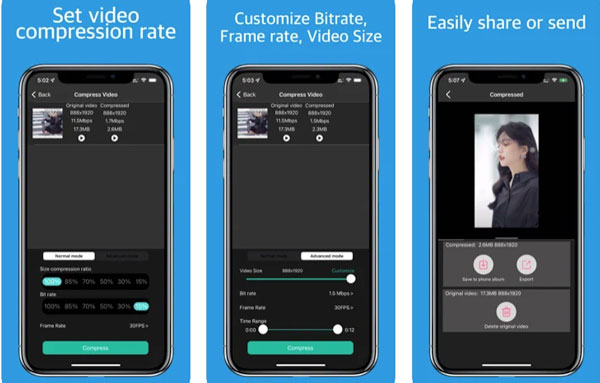 Bonus Tips: The Best Video Compressor for Windows/Mac
Is there an efficient method to compress videos in batches? Whether you need to reduce video size for multiple videos or tweak the different parameters, AnyRec Video Converter is a versatile method to shrink the video size. It enables you to adjust the frame rate, bitrate, video codec, and more settings to reduce the video size. You can also crop out the desired part, and use multiple video compression presets to achieve the video easily.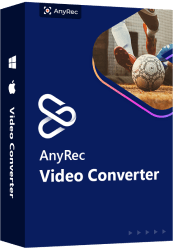 AnyRec Video Converter
Compress more than 500 video/audio formats with the original quality.
Provide different compression methods to shrink and reduce video size.
Hardware acceleration to reduce sizes for multiple videos simultaneously.
Advanced editing features to polish videos, make slideshows, and more.
Part 2: FAQs about Video Compressor App
How many types of video compression techniques are there?

There are two major techniques of video compression: Lossy and Lossless compression. The Lossy technique is when compression is done to such an extent that the original information is impossible to obtain. On the other hand, Lossless compression allows for the compression of data by correctly reconstructing the original data.

How does Video Compression work?

A video compressor analyzes the number of pixels in a single frame of video and compresses the video by bringing similar pixels together in batches to become a larger block. Due to the bunching of pixels, a compressed video will contain less information.

How to compress video without video a compressor app?

When you need to compress video directly, you can launch the Settings app and tap Camera. Tap Record Video and choose an option that balances both the size and the quality of your videos. Choose the lower number to reduce the video size.
Conclusion
When you need to reduce the video size for online streaming sites or Email on your smartphone, here are the 12 best video compressor apps. Since your iOS or Android devices are limited in storage space, you can also choose the professional video compressor and editor on Windows and Mac to compress the video with the optimal quality.